Commentary
Celebrity tourney hosts harken back to an older generation
Updated:
January 17, 2008, 12:15 PM ET
By
Bob Harig
| Special to ESPN.com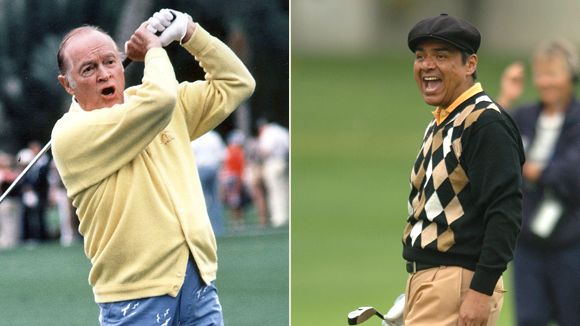 Getty ImagesOne of only two current PGA Tour events with a celebrity host, the Bob Hope Chrysler Classic presented by George Lopez will take place this week.
If your birth certificate is getting a bit yellow around the edges, or if you once had a television with four channels and no remote, then you likely remember the days of persimmon woods and sansabelt slacks.
Back before golf's monetary explosion, before the game became so huge that only big-pocketed corporations could afford to sponsor tournaments, most PGA Tour events were known simply by the town in which they were played.
Or by the celebrity who attached his name to the event.
The Hope and the Crosby became synonymous with tour stops in Palm Springs and Pebble Beach, respectively. Fort Lauderdale had Jackie Gleason. San Diego had Andy Williams. Los Angeles had Glen Campbell.
Hosts with the most
Celebrity tournaments used to be a big part of the PGA Tour. Now there are just two. Here are the old names and what the tournament is cuurently called: • Celebrity: Andy Williams
First called: Andy Williams-San Diego Open Invitational
Celebrity affiliation: 1968-88
Now: Buick Invitational • Celebrity: Bing Crosby
First called: Bing Cross Professional-Amateur
Celebrity affiliation: 1937-85
Now: AT&T Pebble Beach Pro-Am • Celebrity: Glen Campbell
First called: Glen Campbell Los Angeles Open
Celebrity affiliation: 1971-83
Now: Northern Trust Open • Celebrity: Jackie Gleason
First called: Jackie Gleason's Inverarry Classic
Celebrity affiliation: 1972-80
Now: Honda Classic • Celebrity: Dean Martin
First called: Dean Martin Tucson Open
Celebrity affiliation: 1973-75
Now: Tuscon now hosts the Match Play Championship • Celebrity: Joe Garagiola
First called: Joe Garagiola Tuscon Open
Celebrity affiliation: 1976-83
Now: Tuscon now hosts the Match Play Championship • Celebrity: Danny Thomas
First called: Danny Thomas Memphis Classic
Celebrity affiliation: 1970-84
Now: Stanford St. Jude Championship • Celebrity: Sammy Davis Jr.
First called: Sammy Davis Jr. Greater Hartford Open
Celebrity affiliation: 1973-88
Now: Travelers Championship • Celebrity: Ed McMahon
First called: Ed McMahon-Jaycees Quad City Open
Celebrity affiliation: 1975-79
Now: John Deere Classic • Celebrity: Frank Sinatra
First called: Frank Sinatra Open Invitational
Celebrity affiliation: 1963
Now: Frank Beard won the only year of the event • Celebrity: Bob Hope
First called: Bob Hope Desert Classic
Celebrity affiliation: 1965-present
Now: Bob Hope Chrysler Classic presented by George Lopez • Celebrity: Justin Timberlake
First called: Justin Timberlake Shriners Hospital for Children Open
Celebrity affiliation: 2008 is the first year
"I was friends with them all," said Arnold Palmer, who won several of their events. "I knew Gleason very well, he was a good friend. As was Hope. [Dean] Martin and Sammy Davis, not as close, but I knew them well. Glen Campbell is still a good friend. That was a very big part of the whole thing."
Palmer, 78, was reminiscing this week about a time when he was a dominant player and golf got a big boost from the celebrities who helped promote PGA Tour events. In recent years, this week's tournament in Palm Springs, the Bob Hope Chrysler Classic, was the only one left. Palmer's association with the event goes back to 1960, when he won the Palm Springs Desert Golf Classic. It became the Bob Hope Desert Classic in 1965. Palmer won the tournament a total of five times, including the last of his 62 PGA Tour titles in 1973. Despite Hope's death in 2003, his name remains on the tournament. This year, comedian George Lopez's name got on the masthead as well, making it the Bob Hope Chrysler Classic presented by George Lopez. Justin Timberlake brings the number of celebrity-named tournaments to two this year with the Justin Timberlake Shriners Hospitals for Children Open in Las Vegas. (Palmer and the late
Byron Nelson
are golfers whose names grace tournaments). "We were very anxious and pleased to have people like Bob Hope and Sammy Davis and Dean Martin … all the guys who were celebrities who put their names on golf tournaments," Palmer said. "It helped in a couple of ways. It helped with the general public and got attention to the tournament itself. "It also encouraged amateurs to participate in the pro-am and to come and be a part of the tournament. And it did help with corporate sponsors, too. It was very important to the game and the professional tour." To think back to this era, you have to keep a couple of things in mind. There was no wall-to-wall sports coverage. Golf Channel, ESPN and cable did not exist. Golf tournaments got weekend coverage, at best, and many tournaments were not televised at all. So the celebrities and the friends they could recruit to an event helped draw more spectators and attention. And for those events that did warrant television coverage, a non-golf fan might be more likely to tune in. Of course, as golf became more popular and the cost of putting on a tournament escalated, the celebrity host went the way of the balata ball. "They went by the wayside most likely because of title sponsorships and the huge money that came into golf that way," said John Foster, a 20-year member of the Bob Hope tournament's executive committee. "Chrysler had a long association with Bob Hope and had a great respect for that name and had no problem sharing. Most of the others, there is not enough room for two names up there, they only want theirs. And you can understand that. It's a large monetary commitment." The sponsorship of a regular PGA Tour event runs about $7 million a year these days. For that kind of money, companies want their name and their name only on the tournament and don't want to run the risk that it will be referred to as "the Hope," or "the Crosby," which years ago became the AT&T Pebble Beach Pro-Am. "Another reason is it's a lot of work," Foster said. "It's easy for one year to lend your name, but it's difficult to keep going. There are certain things expected of you. But you have your life, too. If you're in show business, you don't know when you're going to have a job. It's difficult to make that commitment and without the commitment, it doesn't work very well. It is not an easy job to put your name on a tournament. You are not going to see many of them for that reason. "Now if the economics of the tour change, it might come back in vogue. But it would be very difficult." And very unlikely. The Hope is televised entirely by the Golf Channel, which means the sponsor pays less than if the weekend rounds were televised by a network. Same for Timberlake's event, which is part of the Fall Series. But it works at the Hope, where four courses (two of them were designed by Palmer) make up the rotation in the 90-hole event that begins Wednesday. It is the only such event on tour. Players compete on all four courses -- with three amateurs each day -- before a cut is made before the final round. "We're a different tournament," Foster said. "We ask the pros to come in and share their lives with amateurs, 384 amateurs. And there are 30 celebrities. People come from all around the United States. It's truly a unique situation. That is one of the positive things our tournament does, it gives you a window into the tour player's life. They are playing with three amateurs for four days. That's 12 different people they are going to play with while trying to make a living. "We're kind of a niche. We're able to show a lot of people, 384 every year, what it would be like to be a PGA Tour pro." Palmer, who played in the event for 42 years, the last in 2002, understands. "It's one I participated in for many, many years," he said. "It was a major event for me. I enjoyed the fact that I could play with amateurs and enjoy it as much as I did. That association was very important to me."
Bob Harig is a frequent contributor to ESPN.com. He can be reached at BobHarig@gmail.com.
SPONSORED HEADLINES
MORE GOLF HEADLINES
MOST SENT STORIES ON ESPN.COM
EDITORS' PICKS
Rory's Open win set him on course for a great stretch of golf.
Harig »

A Pinehurst No. 2 win landed Kaymer his second major.
Bob Harig »

Bubba struggled most of 2014 after a second Masters win.
Bob Harig »