Commentary
After Villegas' win, Singh takes drama out of Tour Championship
Originally Published:
September 7, 2008
By
Bob Harig
| ESPN.com
ST. LOUIS -- He looked more like a man who was going to have to shell out $10 million rather than receive it, but then again, bogeys never make Vijay Singh happy, even if there is a pot of gold waiting for him.
[+] Enlarge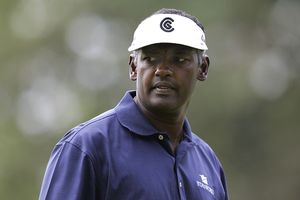 AP Photo/Jeff RobersonHow easily can Vijay Singh win the $10 million playoff bonus? Even if he didn't break 100 any of the four days at the Tour Championship, as long as he plays all 72 holes and doesn't get disqualified, the money is his.
Yep, Singh declined interviews with NBC, Golf Channel, print reporters. No words of thanks to FedEx or BMW or the PGA Tour or even
Camilo Villegas
, who won his first PGA Tour event and basically made it impossible for anyone to catch Singh -- unless he misses his tee time in Atlanta, gets disqualified or decides to stay at home and begin practicing for next year. And even then, Villegas or
Sergio Garcia
would have to win that tournament to overtake Singh. They are the only ones with miracles left. Perhaps they'll consider running over Vijay's toes with their courtesy cars if either one of them is in contention, but a golfer would not stoop to such a level, would he? Hmmm, maybe the tour should consider such a punishment -- or maybe a more humane monetary penalty -- for its inconsiderate and unthankful players. Singh told a PGA Tour media official that the tournament was not over and that he had nothing to say on camera or to those who wanted to get his thoughts on all but securing the shiny FedEx Cup. OK, so why not wait around the hour or so until Villegas finished? No matter what, Singh would either have had a commanding lead (if
Jim Furyk
or
Anthony Kim
had won) or known that playing just 72 more holes for golf's ironman would clinch the remarkable payday. All of this ought to make the Tour Championship the usual snoozer it has become instead of the action-packed season finale all envisioned. Now the tournament is just another money grab for players who seemingly are not moved by making more. "The only way you could do anything about that is to increase the points at each tournament as you go," said
Stewart Cink
, a member of the PGA Tour's policy board. "But I don't think that is fair, either. I think Vijay just won the FedEx Cup by playing well the first two tournaments."
BMW Championship
Leaderboard

1. Villegas (-15)
2. Hart (-13)
T-3. Kim (-12)
T-3. Furyk (-12)
T-5. Ames (-11)
T-5. Choi (-11)
T-5. Trahan (-11)

• Complete scores
That's certainly not Singh's fault. If you are a player, you don't care about drama. But is there a way to make it more interesting heading into the final playoff event? All kinds of theories have been tossed around, most of which do not appeal to the PGA Tour and sponsors. They want the big names to make it to the final tournament, so they are not in favor of any system by which anyone can be knocked out the first or second week. They want there to be some meaning attached to doing well through the regular season. Even
Padraig Harrington
, who won two major championships this year but didn't qualify for the Tour Championship, admits his fourth-place standing at the beginning of the playoffs gave him plenty of advantage. But he missed two cuts and tied for 55th at the BMW. He dropped to 50th in the standings, missing the Tour Championship by 1,700 points. Had he simply made the cut at either the Barclays or the Deutsche Bank Championship, he would have advanced. "I think it's probably right," said Harrington, who was headed home to Ireland before returning to Louisville next week for the Ryder Cup. "I think the whole idea is this is a four-week event. It has a little reflection of the year, but it's really a four-week event, and it's the guys that do the best in those four weeks who should be there." Harrington suggested the tour look at reducing the amount of points available during the first two tournaments for simply making the cut and increasing the points available at the third event, the BMW Championship, perhaps even doubling them to make it more volatile. And then doubling them again at the Tour Championship, which might mean Singh wouldn't have clinched it at this point. "I think the system needs tweaking, but I don't think it needs tweaking to keep people in there," Harrington said. "I think you need to have people missing out. We need to have players get knocked out. That's what happens in a playoff." What doesn't happen in playoffs is the eventual winner taking off before he knows it's over. Could you imagine Eli Manning walking off the field at the Super Bowl in Arizona during the final moments and not waiting to see whether Tom Brady could mount a winning drive? Manning, of course, waited -- then said he was headed to Disney World. Perhaps Singh couldn't wait to get there.
Bob Harig covers golf for ESPN.com. He can be reached at BobHarig@gmail.com.
SPONSORED HEADLINES
MORE GOLF HEADLINES
MOST SENT STORIES ON ESPN.COM
EDITORS' PICKS
Could Walker's early-season success continue?
#AskESPNCaddie »

Eight players are within a shot of the Humana Challenge lead.
Story »

Jason Dufner "didn't really have a choice" to change.
Bob Harig »