Commentary
Woods could face some unruly fans
Originally Published:
March 31, 2010
By
Bob Harig
| ESPN.com
Even in the usually calm, complimentary and conciliatory world of golf, things can get a bit rambunctious outside the ropes. Rowdiness is not typically the norm, but it happens.
And given the proximity of spectators to players, a well-timed blast from a boisterous fan is sure to ring in the ears of even those adept at tuning out the noise.
[+] Enlarge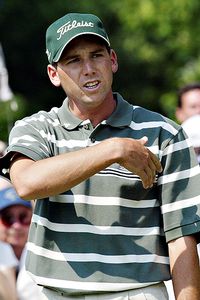 Don Emmert/Getty ImagesAt the 2002 U.S. Open at Bethpage Black, "New York's finest" could have referred to fans who were sharing some not very nice words for Sergio Garcia. At one point, Garcia even directed an obscene gesture at the fans.
All of which brings us to Tiger Woods and his return to the public stage next week at the Masters.
It has been more than four months since Woods hit a golf shot in a tournament, and never before did anyone dream that the world's No. 1 player and one of its most popular figures would ever have to worry about putting up with unruly fans.
But that possibility is very real in the aftermath of Woods' acknowledged extramarital affairs. If he can be the subject of late-night talk show fodder, it is certainly reasonable to expect a few wise guys getting into the act at golf tournaments.
"I don't think he's going to be the bad guy; he's going to be 99 percent the good guy," said two-time U.S. Open champion Retief Goosen. "There's going to be that 1 percent that makes comments, and that is probably going to make him feel a little bit like the rest of us."
Goosen knows from experience. In the final round of the 2004 U.S. Open at Shinnecock, he heard a few negative words from gallery members hoping Phil Mickelson would pull off the victory.
"You have comments from people trying to put you off and make mistakes," he said. "So, in a way, I think the most interesting thing to see is what's going to happen when he actually gets out and see what the crowd is going to react like toward the situation."
Most observers figure Woods will receive a warm welcome at Augusta National, where poor behavior is frowned upon by the club, which holds a menacing stick: Patron badges, many of which have been part of families for generations, can be revoked.
Is getting off a couple of verbal barbs at Woods' expense worth that risk?
Then again, those who attend the practice rounds, where tickets are sold through a lottery, might exhibit more bravery.
Even popular players such as Mickelson have had to deal with some uncomfortable moments. It happened Saturday at the Arnold Palmer Invitational, where one fan who apparently was emboldened by beverages managed to taunt Lefty. The guy more or less made a fool of himself, but it still was uncomfortable.
"It's always the minority that spoil it for the majority in any sense," said European Ryder Cup captain Colin Montgomerie, whose career has been marked by spats with fans, especially in America. "But Tiger is different. He has a spotlight and has had it on him for the last 10 years. … So he's been used to this most of his professional career.
"So I don't envisage many problems arising with that at all. He's the most focused sportsman I've ever known, and I think he will adapt accordingly."
If anything, Woods can use Monty as an example of what not to do. Typically the Scotsman would seek out the offending party, drawing more attention to the situation and likely providing satisfaction to those attempting to provoke him.
One of the ugliest scenes occurred at the 1999 Ryder Cup in Brookline, Mass., where Monty was verbally abused throughout his final-day singles match with Payne Stewart -- who was so upset by the behavior that he tried to calm the crowd and later conceded the 18th hole to Montgomerie, resulting in a 1-up victory for the Scot.
Sergio Garcia, too, knows what it is like to be on the wrong end of some evil-minded spectators. He got an earful at the 2002 U.S. Open at Bethpage outside New York City, where he was at the height of his annoying habit of gripping and re-gripping his golf club numerous times before hitting a shot.
At one point, Garcia got frustrated enough to make an obscene gesture to the crowd.
"In a way, it definitely can pull you in a way to think, 'I am going to show them,'" said Garcia, who finished fourth at that Open. "If you take it the right way, it can help you, make you stronger. If you take it the wrong way, it might go a little south.
"It's going to be interesting to see, to see how people react. There are obviously going to be people there to watch golf, and they are going to pull for his golf. And there are going to be people there pulling for other reasons. … Even before everything happened, you still hear people saying things that they shouldn't say to him, to all of us. You might hear a little bit more now.
"If you are mentally strong like he is, you will be all right."
And yet, even Woods suggested he is a bit uneasy about his return. In his first interview last week with ESPN's Tom Rinaldi, Woods was unsure about how he would be treated.
"I'm a little nervous about that, to be honest with you," Woods said.
Woods has always been so good at putting aside the distractions. Despite his popularity, commotion and annoyances are common, simply because his group gets the most attention.
At the Masters, there won't be any media or officials inside the ropes.
But once he attends his first regular PGA Tour event, the climate -- inside and outside the ropes -- will be far different. And, for the first time in his career, Woods might find himself the bad guy.
"I hope not," Kenny Perry said. "I think people will forgive. I don't know anybody in this room that is perfect. We have all made mistakes. … I hope America forgives. I hope we are that country that will forgive, and give him a second shot.
"You know what, everybody deserves a second chance. We have all said this, and we will just have to see. We all heard the press conference, what he said. If he honors it, we need to stand behind him. That's just the way I look at it."
Bob Harig covers golf for ESPN.com. He can be reached at BobHarig@gmail.com.
SPONSORED HEADLINES
MORE GOLF HEADLINES
MOST SENT STORIES ON ESPN.COM
2010 MASTERS

When the world's top players stroll down Magnolia Lane in April, each one will be in search of the famed green jacket awarded to the Masters champion. Championship Central
Date:
Apr. 8-11, 2010
2009 champion:
Angel Cabrera
Course:
Augusta National Golf Club
Where:
Augusta, Ga.
Yardage, par:
7,435 yards, par-72
TV coverage:
ESPN, CBS
ROAD TO AUGUSTA
MASTERS.com
MASTERS MOMENTS VIDEOS