Commentary
Goydos' 59 a rare (but legitimate) feat
Originally Published:
July 8, 2010
By
Bob Harig
| ESPN.com
In more than 20 years as a professional golfer, Paul Goydos has been witness to plenty of change in the game.
He has seen persimmon drivers go the way of hickory shafts, balata balls go the way of gutta percha.
He has seen 12-ounce curls in the bar replaced by barbells in the gym.
He has even seen golfers referred to as athletes, something likely to cause the 46-year-old golfer with two career PGA Tour titles to go off on a self-deprecating monologue.
[+] Enlarge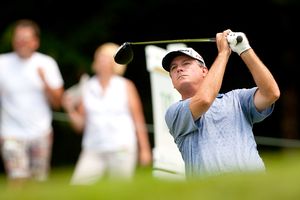 Darren Carroll/Getty ImagesPaul Goydos shot a 12-under 59 on Thursday at the John Deere Classic, tying the lowest score ever in a PGA Tour event, shared by three others.
But what Goydos, and the rest of golf, has not seen is an assault on scoring.
All of which makes his accomplishment on Thursday at the John Deere Classic all the more remarkable.
Golf balls fly an unprecedented distance, powered by titanium drivers and players who now work out on a regular basis and play on courses in immaculate condition.
And yet, Goydos became just the fourth player in the long history of the PGA Tour to reach the game's Holy Grail and shoot 59.
"That's just a mythical number in our game," Goydos said at the TPC Deere Run, where he joined Al Geiberger, Chip Beck and David Duval as the only players to break 60 in an official PGA Tour event. "It's an iconic number."
How rare is that score?
It has been more than 11 years since Duval shot a final-round 59 at the Bob Hope Classic to win the tournament.
Tiger Woods has gotten within 2 of it three times, his career low being a 61. Jack Nicklaus, amazingly, never went lower than 63 -- but holds a share of the U.S. Open record with it.
Only 21 times has 60 even been shot on the PGA Tour -- until Steve Stricker became No. 22 later Thursday. The previous two times were by Zach Johnson, who did it at the 2007 Tour Championship and again last year at the Valero Texas Open.
The only player to shoot 59 on the LPGA Tour was Annika Sorenstam in 2001. The European Tour has seen 14 scores of 60, but no 59s.
Scott Van Pelt
Golfer Paul Goydos reacts to shooting a record-tying 59 in the opening round of the John Deere Classic. Goydos comments on how nervous he was on the 18th hole and his status for the British Open.
Why not more?
"Golf is hard," Goydos said during a conference call with reporters. "It's hard for everybody and eventually it gets to everybody as well. It's just a really, really, low, low number. I think my best on tour before this was a 62.
"I think there is a little bit of a barrier. I would imagine there are a boatload of 60s. There's a slight psychological barrier."
On Thursday, Goydos missed just one fairway and only two greens, made 12 birdies and six pars on the 7,268-yard par-71 course. He made eight birdies on the back nine, including the last three, and a nervous 7-foot putt on the final green.
"That's why you play," he said. "These are the things that I think are kind of cool."
Goydos pointed out that his round was played under "lift, clean and place" conditions due to a wet golf course that otherwise might have been unplayable.
"I don't shoot 59 if I don't have ball in hand, I don't think," he said.
Some will want to put an asterisk by his score because of that -- Geiberger also played the ball up during the second round of the 1977 Memphis Classic on the way to a 59 -- but the fact is Goydos' score was the best of the morning by 5 strokes, until Stricker came within one stroke of him later.
And when it came down to it, he needed to hit a 7-iron approach to the green and had to make a 7-footer for birdie.
"That's probably the most nervous I've ever been over a putt," he said.
Perhaps that best explains the lack of 59s.
The size of the hole remains the same.
Bob Harig covers golf for ESPN.com. He can be reached at BobHarig@gmail.com.
SPONSORED HEADLINES
MORE GOLF HEADLINES
MOST SENT STORIES ON ESPN.COM
EDITORS' PICKS
Few global icons moved Tiger the way Nelson Mandela did.
Bob Harig »

Zach Johnson owns a 1-shot lead at Tiger's tournament.
Recap »

Tiger's event means different things to different people.
Bob Harig »