Commentary
For Jim Furyk, oh what might have been
Originally Published:
September 24, 2010
By
Bob Harig
| ESPN.com
ATLANTA -- Technically, he was ruled ineligible, which is not the same as being disqualified, although the result was the same.
When Jim Furyk overslept for his pro-am tee time last month on the day before the Barclays was to begin, PGA Tour rules stipulated he could not play in the tournament.
Ineligible. Disqualified. No matter.
Furyk had to sheepishly pack up and leave, and now has heard a never-ending stream of alarm-clock barbs that he has handled with aplomb while taking responsibility for his gaffe.
The way things are going at East Lake this week, that mistake could prove to be very expensive.
[+] Enlarge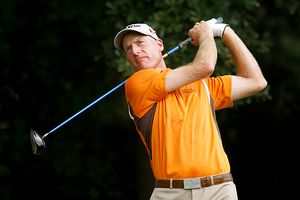 Scott Halleran/Getty ImagesJim Furyk's cell phone battery -- or lack thereof -- might end up costing the golfer the FedEx Cup title ... and its $10 million prize.
Forget the $7.5 million purse Furyk forfeited a shot at, including $1.35 million that went to winner Matt Kuchar.
The cell phone malfunction that kept Furyk from waking at the appropriate time could now, ultimately, play a part in denying him a $10 million bonus here at the Tour Championship, the final event in the FedEx Cup playoffs.
As is the case with everything related to the FedEx Cup, a bunch of arithmetic must be used to calculate the various permutations.
But it is safe to say Furyk could win the tournament Sunday and come up agonizingly short of capturing the $10 million bonus, depending on the finishes of other players. (Of course, if he finishes second in the playoffs, a $3 million bonus is not such a bad consolation.)
"It was like missing a cut," said Furyk, whose 5-under-par 65 on Friday put him in a tie with Luke Donald after 36 holes of the Tour Championship. "I like that golf course [Ridgewood Country Club]. I feel it suits my game well. Anything I would have done but making the cut would have helped put me in a better position and given me a better seed and a better opportunity.
"But it happened. It's done with. There was nothing I could do to change it. I've kind of put it to rest."
It will be impossible not to wonder, however.
FedEx Cup Profile

ESPN.com Topics has you covered on the history, format and news about the FedEx Cup, the PGA Tour's annual playoff. FedEx Cup » Tour Championship »
Even for Furyk, who has amassed more than $46 million in his career, the thought of potentially squandering that kind of money due to such an easy-to-understand mistake might cause a few sleepless nights.
Especially when you consider that in the aftermath of the fiasco, PGA Tour commissioner Tim Finchem suspended the rule, meaning the same penalty no longer applies.
"I've always been able to kind of laugh at myself, and the only way to handle that situation was to really make fun of myself," he said. "I mean, it was my fault. I said immediately, if I whined or complained or anything about the rule, it's just going to make me look worse.
"My peers actually did plenty of that for me, so I think it was probably somewhat sympathetic ... and they gave me my due crap, as well, which I deserved."
It is true that had Furyk missed the cut at the Barclays, there would not be any aggravation whatsoever. Such things happen, and while he might have kicked himself for playing poorly, it is part of the game.
But to not even give yourself a chance?
Furyk would have needed a third-place finish at the Barclays in order to have assured himself of being in the top five of the FedEx Cup standings this week -- in which case he would have controled his own destiny.
And yet, had he made the cut and finished, say, 25th, he would have been eighth in the standings instead of 11th, where he is now. That means he still would have needed a victory to capture the FedEx Cup, but fewer other variables would have been in play.
"The only thing I can really control is to go out and play good on the weekend, try to win the golf tournament, and at that point there's nothing else I can do about it," Furyk said.
A victory Sunday, whether it results in the FedEx title or not, still would be the topping on the best year of Furyk's career.
The winner of 15 PGA Tour titles, including the 2003 U.S. Open, Furyk, 40, has never won more than twice in any season. So a victory here would give him three, on top of his wins at the Transitions Championship and the Verizon Heritage.
"I want to win every week I tee it up," Furyk said. "I've won twice this year, I've had a great year, but I've probably lost 20 times now. So that's humbling.
"But I love East Lake. I'd really like to win on this golf course because I think it's a good golf course, and I've never won the Tour Championship."
Bob Harig covers golf for ESPN.com. He can be reached at BobHarig@gmail.com.
SPONSORED HEADLINES
MORE GOLF HEADLINES
MOST SENT STORIES ON ESPN.COM
EDITORS' PICKS
Relive 2014's most memorable golf moments -- in photos.
The Masters

Ryder Cup defeat caused the PGA to look in the mirror.
Bob Harig »

Martin Kaymer's Players win catapulted him higher in 2014.
Bob Harig »