According to Woods, the streak is over
Updated:
October 11, 2006, 9:39 AM ET
By
John Hawkins
| Golf World
As was the case in 2001, when he won the Masters to claim his fourth consecutive major title, Tiger Woods' latest feat of dominance has become a matter of interpretation. An eight-stroke romp at the WGC-American Express Championship earlier this month was Woods' sixth straight PGA Tour triumph, a fact that cannot be argued. A first-round loss at the HSBC World Match Play Championship (a European Tour event but not a PGA Tour one) in September, however, might warrant an asterisk in Woods' pursuit of Byron Nelson, who won 11 straight tournaments in 1945.
Says who? Woods himself. Asked about his streak before winning the AmEx, Tiger's response was pretty simple: "It ended two weeks ago." Four days later, he didn't let a fifth AmEx trophy and 12th career WGC victory alter his thinking too much. "I lost two times [including the Ryder Cup] between my five in a row and now," Woods assessed, although he did leave himself wiggle room in terms of chasing Lord Byron. "If you look at it, I'm barely halfway there," he added. "What he did was absolutely remarkable, and I'm just thrilled I've been able to win six in a row twice."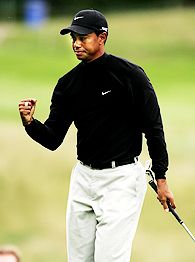 Richard Heathcote/Getty ImagesWoods' triumph at the AmEx was his sixth PGA Tour victory in a row.
Indeed, a pair of half-Nelsons in this era is astonishing -- Woods' average margin of victory in the six wins is a whopping 3.3 strokes. When he won six straight in 1999-2000, the margin wasn't half that size, nor did it include a major. This streak features a British Open and a PGA Championship, a pair of WGCs, plus a pile of triumphant Sunday duels involving seven of the world's top 15 players. In terms of quantity and quality, Woods has never done a better job of separating himself from the competition over such a lengthy period of time.
In all likelihood, Tiger will skip next week's Funai Classic for only the second time in his career, then wrap up his regular season at the Tour Championship in early November. The Funai is played at Disney World, which is 20 minutes or so from Woods' Isleworth home, but it was also the site of one of the few missed cuts of his pro career, in 2005, and he hasn't won there since 1999. For the disposed, opportunity knocks. "We're all up against it," said Adam Scott, who shared second place at the AmEx with Ian Poulter. "I've got to start playing in the events he doesn't play in, that's for sure."
If Tiger waits until the Tour Championship to go after his seventh consecutive tour win, he will find a couple of skeletons in his locker. He is known for his remarkable ability to protect 54-hole leads, having won 38 of 41 times when holding at least a share, but two of those three failures have come at East Lake GC. Phil Mickelson rallied to beat Woods in 2000; Retief Goosen did the same in '04.
A victory at East Lake, however, could affect Tiger's early-season schedule in 2007. With the streak at seven, he would probably pass up the Mercedes-Benz Championships, where he has won just once in six tries since the tournament moved to Hawaii (and which he also skipped at the start of 2006), and make his first start of the year at Torrey Pines, where he has won three of the last four Buick Invitationals. He might be downplaying his chase of Nelson at this point, but if Woods heads into the offseason with the streak alive, nobody will care about the Match Play loss in London.
The increased media attention would only fuel Tiger's competitive drive. He will become even more selective in deciding where he plays, and with the FedEx Cup playoff series looming at the end of next summer, he's not about to burn himself out in January and February, anyway. It's all educated conjecture for the time being, but after missing just 11 fairways and seven greens at the AmEx, after winning by eight shots despite a putter that gave him little help on the weekend, Woods doesn't look like a man who will get beaten anytime soon.
It's also worth remembering that before Woods redefined the parameters of greatness, the Grand Slam had all but become extinct in the modern era. He then won four straight majors -- an achievement underappreciated by those who dwelled on it not happening all in one calendar year. Thus, we were introduced to the term "Tiger Slam," as if it were some lesser imitation of the one produced by Bobby Jones. Woods might not match Nelson, but those betting against him should be advised that the man who makes history is the only person entitled to rewrite it.
"Let's just try and get there," Woods said of scaling Mount Byron. "Let's just talk about it if that day ever happens. It would be a nice thing to talk about."
John Hawkins is a senior writer for Golf World magazine
SPONSORED HEADLINES
MORE GOLF HEADLINES
MOST SENT STORIES ON ESPN.COM
EDITORS' PICKS
McIlroy's 66 gave him a share of the Round 1 lead in Dubai.
Story »

Tiger's article likely produced the opposite intended effect.
Harig »

Park, Lewis are unquestionably the top two LPGA Tour players.
Voepel »