This is as good as it gets
Updated:
January 1, 2006, 12:07 PM ET
By
Mark Kreidler
| Special to ESPN.com
The short list of the most difficult things to do in sports almost compiles itself. Winning a championship is hard, but repeating as a champion is infinitely harder. Keeping a roster together for any length of time, through salary caps and free agency and dull-normal change, has become the great Sisyphean task of the age.
For an athlete, figuring out how and when to retire is a classic brain-twister. Go too soon and you risk leaving both production and money on the table; go too late and you become the cautionary tale, playing on fumes -- the guy who wouldn't leave the Christmas party even though the hosts are yawning and the kids need to get to bed.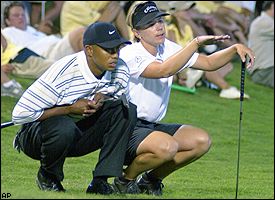 Woods and Sorenstam combined to win four major championships in 2005.
And to that list, let us add this from the fan perspective: It is remarkably difficult in sports, if not well-nigh impossible, to actually admit that this -- an era, a title, a performance, whatever -- might be as good as it ever gets.
Your year in golf, 2005: This might be as good as it gets.
We are living in a golden age of the sport. That's really what it comes down to. Annika Sorenstam and Tiger Woods are the standard-bearers of the generation. They are the greatest golfers of their time and arguably either among the tiny handful of the greatest ever (Woods) or simply the best in the history of the field (Sorenstam).
And this is the time to embrace that reality, not later. As much as hindsight and perspective are a part of the sporting experience in America (example: it could take a few years for people to really grasp how difficult a feat the New England Patriots pulled off in winning three Super Bowls in four years), Sorenstam and Woods demand attention right now.
No need to look for the next great thing in golf; it's already here. No need to wait to understand what is going on: You're getting the opportunity to watch the two most spectacular active golfers at the peak of their careers. It's the real thing.
You can argue that Woods has had better individual seasons than what he turned in in '05, but you won't get too far down the road with it. In addition to winning the Masters and the British Open again, Woods finished the season with 10 victories overall and six on the PGA Tour. He swept the Player of the Year, money leader and Vardon Trophy (for lowest scoring average) titles for the fifth time.
He was, if not dominant, almost ludicrously in command of his game (more than $10 million in earnings in 21 PGA Tour starts), even after yet again reconstructing the mechanics of his swing -- the second such makeover he has initiated in his relatively brief career. Did I say brief? Woods doesn't even turn 30 until Dec. 30. It only feels like he's been around forever.
Look, enjoy this man while he's in the thick of things. Don't wait until it's over to acknowledge the excellence involved. Savor the run-up to history. Woods stands at 10 major titles. He wants the all-time record, which is currently 18. As he recently noted, the annals of the sport argue fairly convincingly that many of the greatest golfers really came into their own in their 30s -- and, as the year 2005 has amply demonstrated, Woods isn't finished as a competitive force in the sport. He might yet be getting started.
That both he and Sorenstam should come into greatness at the same point along the golf timeline is one of those unplanned bouts of serendipity. It might have taken a while for the men's side of the sport to understand it, but Sorenstam is in every way the complementary superstar. She's Woods without the public mania.
It's almost impossible to overstate Sorenstam's effect on the women's game. For all the inspired imaginings that the pending arrivals of people such as Michelle Wie and Morgan Pressel tend to evoke, Annika Sorenstam is already there -- already achieving at historic levels. She's in her own orbit out there, competing against her own standard as much as anything. And what's shocking is how often she wins that competition.
Her 2005 season was almost predictably brilliant. Sorenstam logged 10 victories in 20 starts on the women's tour. She won two majors, reeled off five straight victories at one point. She was statistically unassailable, winning the money title and the Vare Trophy (lowest scoring average) and was the LPGA Player of the Year.
More to the point, though, Sorenstam at 35 walked those golf courses with the presence of the true champion. Like Woods, Sorenstam knows exactly how good she is and genuinely embraces the responsibility that accompanies her talent. It's championship mentality, all of the time.
Sorenstam will go down as a contemporary trailblazer for having shown up at Colonial on the men's tour a couple of years ago, but by rights she ought to be remembered as the most dominant golfer of the era. It's fitting that over the past few years, she and Woods have struck up a professional relationship, taken to questioning each other about approaches to certain shots and the like. These are the minds of the golf generation. On some levels, they should walk together.
It's hard to be in the here and now and still find time to step back and draw a larger picture -- hard, when you get down to it, to be watching Michael Jordan and the Bulls grinding for another NBA title and still have the presence of mind to say, "Whoa! Golden time."
From all appearances in 2006, Tiger Woods and Annika Sorenstam might well appear to be another couple of golfers trying to live up to their legacies. That much is true. It's just that their legacies are the kinds of things that people in sports will be talking about for 50 or 100 years. This is the time, right now.
Mark Kreidler is a columnist for the Sacramento Bee and a regular contributor to ESPN.com. Reach him at mkreidler@sacbee.com.
Page 2
Regular contributor to ESPN.com
Author of "The Voodoo Wave" and "Six Good Innings"
Radio host, "The Rise Guys Show," Sacramento
SPONSORED HEADLINES
MORE GOLF HEADLINES
MOST SENT STORIES ON ESPN.COM
EDITORS' PICKS
Martin Kaymer's Players win catapulted him higher in 2014.
Bob Harig »

Rory McIlroy sealed his place in golf's elite with PGA win.
Harig »

Rory's Open win set him on course for a great stretch of golf.
Harig »