Mickelson joins the 30-win club
Updated:
February 15, 2007, 11:18 AM ET
By
Tim Rosaforte
| GolfDigest.com
Thirty wins. In any era, that number is an off-the-charts accomplishment. Greg Norman won 20 times, Lanny Wadkins 21, Raymond Floyd 22, Gary Player 24, Johnny Miller 25 and Lee Trevino 29. So in any passage of golf time, winning 30 PGA Tour events is automatic entry to one of the top floors at the World Golf Hall of Fame.
So it doesn't matter how he does it, or where he goes in between, or what he looks like at times, or whether you love him or hate him. You've got to respect him. Whether it's off a hospitality tent at Winged Foot or loping along the Monterey Peninsula like the 2006 U.S. Open was in the rear-view mirror, Phil Mickelson has cast himself not only among the game's greats, but also among the best entertainment packages in sports television.
If it's a non-Tiger event, as this week's Nissan Open is, then at least there's alternative programming. With Woods, we know what we're going to get: sustained excellence, every time out, a warrior who wears out the field on Sunday with heart and will. With Mickelson, the beauty is not knowing what we're going to get, the unpredictable, up-and-down nature of golf's most-watched roller coaster. He's up. He's down. He's back up again.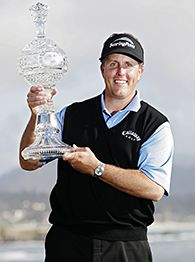 Michael Cohen/WireImage.comMickelson had been stuck on 29 wins since last year's Masters.
Wednesday he was on a conference call organized by Augusta National, where he has won two of the last three green jackets, and where he suddenly looks strong in the role of defending champion. "Everybody's really excited about the Masters this year, as always," were his first words. "I think from a player's point of view, we start thinking about it after the PGA is finished. We have the biggest anticipation for the Masters."
While he doesn't have a menu for the Champions Dinner, Mickelson will come with two driving utensils, one being the square-headed driver that goes straight, another from the Callaway bin that he's been using since The Hope. That's the one he can work, and used so well in the crosswinds of the Monterey Peninsula. If they work as well at Augusta as they did the AT&T, then it's like Kevin Sutherland said after finishing five back: It doesn't matter who it is, from the middle of the fairway, Phil will be tough to beat.
It's not like Tiger will be quaking when he hears that, but Phil did play Pebble Beach like Mike Reid on steroids, hitting nearly 82 percent of his fairways at an average of 300 yards. After three listless, rust-removing weeks on the West Coast, where he finished T-45, T-51 and MC, Mickelson showed up for the first time in seven months both mentally and physically aligned. The byproduct was a return to the form Mickelson displayed from 2004, through the Masters last year. It was like Winged Foot never existed.
He even admitted that much on the conference call. "I don't think it was critical to have won," he said. "I haven't really thought much about last year's ending." But that's Phil, and as much as we've come to expect the unexpected, the unexpected still surprises us and captivates us, whether good (72 holes at AT&T) or bad (the 72nd hole of the 2006 U.S. Open), whether it makes sense or doesn't. With 30 wins, he ties Vijay Singh and now has Tom Watson (39) and Walter Hagen (45) in his sights. Considered dead yesterday, his career is alive again. At 36, he is seven years younger than Singh, making the 50-win milestone quite conceivable. One minute, he's "such an idiot" after blowing Winged Foot. The next minute, he's headed to Augusta just brimming with confidence, driving the ball, "better than I ever have."
The problem for Mickelson is that he's competing against the uber-athlete, who has 25 more wins, nine more majors, and who is compared to Roger Federer in the category of world's most dominant sportsman. The good news is he's back in the game with a positive spin on his most negative moment. "I think the coolest thing is that I'm going to take what happened at Winged Foot and make it a plus the rest of my career," he said.
So while Tiger rests, and prepares to extend his winning streak at next week's WGC-Accenture Match Play Championship, Phil will commute via private jet from his home near San Diego to test his game and fitness on the tree-lined corridors at Riveria, in what will be his fifth-straight week in competition, against the strongest field of the year. And in the real-time world in which we live, he's the Phil Mickelson who was one tee shot away from three consecutive majors. He's no longer the Phil Mickelson who would never be the same after Winged Foot.
Meanwhile, Tiger just keeps being the same merciless Tiger: First at San Diego, third at Dubai, seven-straight PGA Tour victories. Other than the downtime between swing changes, there's never any letup, never any rust. When reporters came back to him with news of Ernie Els' three-year plan to be No. 1, Tiger suggested The Big Easy work hard, because he wasn't going to let up. The same holds true for Phil, who has bigger arms, a smaller waistline and showed signs that his fitness level has increased by playing his best golf in the final round, on those soft fairways, at Pebble.
This will be an interesting spring as the game's two most intriguing characters head toward Augusta National for the first major championship showdown of the year, where Phil defends and Tiger goes for three straight majors. They will be on the same playing fields in Tucson at the Match Play, at Bay Hill for the Arnold Palmer Invitational and at Doral for the CA Championship.
What was also interesting: In the entire Mickelson interview, which lasted 45 minutes and went seven pages of transcripts, there was only one mention of Tiger, and that in a generic reference to long hitters having an advantage at Augusta. That might have been a first. Even when addressing his own failures, Mickelson never mentioned Woods' name. "Even the best player in the world deals with failure more than he deals with success," Phil said. "That's part of the game."
And that's part of what makes Phil so Phil. He keeps us guessing.
Tim Rosaforte is a senior writer for Golf World magazine
SPONSORED HEADLINES
MORE GOLF HEADLINES
MOST SENT STORIES ON ESPN.COM
EDITORS' PICKS
Whaley's election puts her in line to influence much in golf.
Fields »

Tiger Woods opened his first golf course design Tuesday.
Harig »

The Bryan Brothers turned their artistry with golf clubs into a charitable cause.
Story »