Is the LPGA a house divided?
Updated:
June 25, 2006, 5:16 PM ET
By
Ron Sirak
| Golf World
It was hard to envision the LPGA having more momentum behind it as the 2006 season approached. A plethora of young talent seemed set to provide appealing storylines throughout the year. But at tournament after tournament, the preseason buzz has vied with off-course turmoil following a change in leadership.
The latest and perhaps most glaring example occurred three weeks ago when three top LPGA staff members quit on the eve of the tour's premier event, the McDonald's LPGA Championship. The resignations were noteworthy for their timing, the apparent coordination of the action and because two of the three employees who resigned were hired by new commissioner Carolyn Bivens, who took office last September.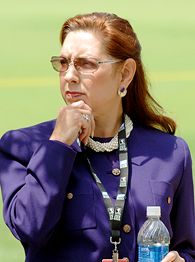 AP PhotoBivens' short tenure has been marked by several resignations from top LPGA execs.
The resignations brought to 13 the number of staffers to depart since Bivens assumed command, seven occupying key positions in an organization with about 60 full-time employees. Those resigning last Wednesday were chief strategic officer Liz Ausman, senior vice president for golf Deb Richard and vice president of partnerships Julie Tyson. Bivens had hired Ausman and Richard for their most recent posts. Tyson was a holdover from the administration of Ty Votaw, who stepped down in 2005 after nearly seven years as commissioner.
"I have dedicated more than half my life to the LPGA as a player, a member of the executive committee and as an administrator," Richard told Golf World. "I would challenge you to find anyone who loves this product more than I have. I think it is the greatest group of athletes in the world. The disappointing part for me is losing faith in the leadership."
Ausman could not be reached for comment, and Tyson, who was with the LPGA for seven years, told Golf World: "While it is not easy to leave an organization that I have invested so much in, it is the right time and decision for me."
Earlier this year Karen Durkin, executive VP and chief marketing officer, left to go to the National Hockey League. Late last year Kathy Milthorpe, executive VP and CFO, quit to go to International Speedway Corp. Rob Neal, VP for business affairs, resigned to join the Tournament Golf Foundation, which runs two LPGA tournaments. Last October Bivens fired senior VP of tournament operations Barb Trammell after 19 years with the tour.
Bivens, who said senior VP and COO Chris Higgs, VP of rules and officials Doug Brecht and senior director of marketing Eric Albrecht would assume the workload of the three who quit, declined repeated requests from Golf World to answer questions about the resignations, instead issuing a statement and sending Rae Evans, the chairwoman of the LPGA board of directors, to speak on her behalf.
"Given the LPGA's incredible mix of talent [and] diversity of personalities, now is the time to take this organization to new heights," Bivens said in her statement. "While we change the business model in order to better monetize our success, fans can continue to expect the very best in women's professional golf. We're committed to collaborating with all of our key constituents to create a stronger LPGA. As women's golf continues to grow and the popularity of the LPGA skyrockets, our organization will continue to evolve. We wish Liz, Deb and Julie success in their future endeavors."
Evans said the staff changes were part of "the normal turnover that occurs when you have a change in leadership" and said the board of directors has full confidence in Bivens. "Is this going to impact the day-to-day functioning of the LPGA in a substantial way? No," Evans said. "I think the resignations say more about the three individuals than [they do] about the LPGA or the commissioner."
Reaction to the resignations revealed serious divisions among the players, LPGA staff, tournament owners and sponsors about the substance and style of the Bivens administration. With nearly a dozen tournaments unsigned for next year, players feared the number of full-field events could be dramatically reduced. Others said Bivens needed to be given more time to make her business plan work.
"I have full confidence in our leadership and am impressed with Carolyn's forward thinking and willingness to attack issues central to the needs of the players," said LPGA Tour president Heather Daly-Donofrio, who was a member of the search committee that hired Bivens, a former marketing executive with USA Today and president of a media strategy firm. "The LPGA is going through some necessary changes right now, changes we need to make to capitalize on our potential in the world of sports."
Among the initiatives created during Bivens' tenure thus far are making a branding coach available to players and using new media such as the Internet, iPods and blogs more aggressively. Bivens also organized a Phenom Forum last December to discuss the issue of teenagers turning professional. Meanwhile the LPGA has added a limited-field tournament in Thailand and made the Lexus Cup--a team competition between Asia and the rest of the world--a sanctioned event. Bivens also told The Wall Street Journal that because of its more aggressive stance on branding the LPGA has taken in more revenue on licensing and footage in the first four months of 2006 than it has in the past five years. Additionally, the tour has extended its "These Girls Rock" advertising campaign created a year ago to feature the multinational nature of the tour by having players say the catch phrase in their native language, ending with the updated phrase: "These girls rock in any language."
Those changes noted, not all players have Daly-Donofrio's patience. "We have all worked very hard the last few years to build the LPGA into the wonderful product we have today," said Annika Sorenstam. "I am quite concerned about some of the decisions and changes I have seen lately. I just wonder where we are headed."
Juli Inkster, Sorenstam's fellow Hall-of-Famer and a former member of the tour's executive committee, agreed. "I'm concerned," said Inkster. "Everyone ... has to be a little concerned. I have faith in Carolyn, but I don't think there is a person out here who isn't troubled about three people quitting on the same day. Nothing seems to be rolling smoothly."
Said Beth Daniel, a 27-year tour veteran, Hall of Famer and member of the search committee that chose Bivens, "It's worrisome to see three people resign on the same day. It's also pretty odd. I'm trying not to jump to conclusions. I don't know what it indicates. With other commissioners there has been a turnover. Carolyn has only been on the job for eight months. We need to give her a chance to put her plan in action."
The resignations also got the attention of tournament owners already upset at the increased financial demands the tour has made on individual events. In an internal memo, a copy of which was obtained by Golf World, the Tournament Owners Association said Richard would keep her ex officio seat on the TOA's board of directors despite her resignation from the LPGA. "[Richard's] role during our strategic plan development brought a keen awareness to the player perspective of tournament business, and she worked with great integrity and ingenuity on behalf of the tour," the memo said. "This is why the TOA board extended her a seat as a non-voting, advising member, and why she will continue to hold that seat at the present time."
Some portrayed the resignations as the normal turnover that occurs with a change in leadership and strategy. "Some of the programs [Bivens is] trying to implement are more difficult than she thought," said Brian Flajole of Raycom Sports, which runs two LPGA events. "Personally, I have a lot of confidence in the commissioner. Some people don't like her style and some people may not think this is the right way to do it, but I like that she is doing things differently and more aggressively than in the past."
Everywhere the LPGA has gone this year, local newspaper pre-tournament coverage has focused to a large degree on off-course issues instead of the on-course product. Among the controversies:
• The first Rolex Women's World Golf Rankings was widely criticized because Michelle Wie debuted at No. 3, despite never having won a tournament. She moved to No. 2 the next week and then dropped completely out of the ranking two weeks later because she had not played enough events in the 104-week point period.
• The LPGA imposed media credential language saying the tour owned the rights to all photos and stories produced at its events. Before the Fields Open, according to a source speaking on the condition of anonymity, Bivens was asked, "What do we do if the media refuses to sign and leaves?" She replied, "They won't leave, Michelle Wie is here." The two Honolulu newspapers, The Associated Press, Sports Illustrated and Golf World were among those who did not cover the first round. Golf World skipped two more LPGA events before reaching credential language with which it was comfortable and resumed coverage at the Kraft Nabisco Championship.
• Players became concerned over what they perceived as selective enforcement of the rules when Daniel was allowed to skip the LPGA Takefuji Classic in violation of the requirement that a player compete in each event at least once in a four-year period. While LPGA members thought it was fine for a player of Daniel's stature to be granted an exception to the rule, they felt that language needed to be spelled out and not arbitrarily enforced.
• In a move toward eventually owning its tournaments, the LPGA told the TOA it would charge events a staging fee of $100,000 a year.
• The LPGA informed tournaments it would no longer pay its half of the weekly $68,000 cost for electronic scoreboards.
• And, in the most curious concern about the new commissioner, many players, caddies and media members feel the constant presence of her husband, retired auto executive Bill Bivens, is a form of intimidation and that he serves as the commissioner's eyes and ears to see who is talking to whom and about what.
"Every time I see him I feel like I want to run a marathon in the other direction," said one major champion with more than a decade on tour, "and it seems like I always see him." Another multiple tournament winner said: "We all know why he hangs out with us. It's to keep an eye on us."
But the most recent complaint about the new administration -- and perhaps the most serious for the future health of the LPGA -- is that decisions are made about tournament issues without discussion involving tournament sponsors and officials. "It is frustrating that [tournaments] have received little or no support for our concerns in addressing some of the issues with the commissioner," said a TOA member speaking on the condition of anonymity. The source said a delegation from the TOA met recently with Bivens and Evans about the added cost to tournaments and was told, "We agree we disagree, end of meeting."
"The pebble that started the boulder rolling down the hill was the Trammell situation," said one former LPGA official. "The knee-jerk way in which that was done foreshadowed a management style."
Trammell, an enormously popular and respected official who worked closely with local tournaments on course setup and event administration, was fired after she refused to let a Hall of Fame player who had failed to enter a tournament play in the event anyway, according to multiple sources. Trammell was told, sources say, that she needed to show special consideration to certain players and was let go when she refused.
Trammell declined to be interviewed, citing the terms of her separation agreement. Her dismissal caught many tournament directors by surprise--the first of many sudden decisions by Bivens that have upset members of the TOA. The latest was the shift of the scoreboard cost to the tournaments and the demand for rights fees. Combined, those moves would add nearly $150,000 to the yearly operational cost of individual LPGA events.
"At this point the tournaments are trying to be creative about [the added cost], but a lot of them don't have that much cash available," said Stephanie Hall, president of the TOA. "There could be a loss of events [as a result]." Hall said 11 tournaments are currently in contract negotiations with the LPGA and are not guaranteed to remain on the schedule.
Jack Benjamin of the LPGA Corning Classic and current chairman of the board of the TOA, said he is hopeful a common ground can be found. "We are trying to get to the point where their business model works with our business model," said Benjamin. "We are in this together. We provide the purse, which is about $50 million this year, and spend about another $100 million putting on tournaments. For some events another $100,000 to $150,000 [a year] is a significant added burden."
It is likely the issues raised by the resignations will get a further airing when the TOA meets prior to the Rochester tournament June 22-25. Asked if he still had confidence in the leadership of Bivens, Benjamin said: "I think it's a wait and see. Carolyn has great skills, there is no question about that. We are waiting to see those skills come into play and make the tour a better product."
Ron Sirak is the executive editor for Golf World magazine
SPONSORED HEADLINES
MORE GOLF HEADLINES
MOST SENT STORIES ON ESPN.COM