Wie fires caddie after T-26 finish
Updated:
August 15, 2006, 2:34 AM ET
By
Ron Sirak
| GolfDigest.com
Greg Johnston, who has caddied for Michelle Wie since she turned professional last October, was fired the day after the 16-year-old phenom finished T-26 in the Weetabix Women's British Open at Royal Lytham and St. Annes, GolfDigest.com has learned.
Wie plunges in World Rankings
It took five months for the LPGA Tour to figure it out, but it finally got around to fixing a major flaw in its world ranking system. Points accumulated over two years now will be divided by a minimum of 35 tournaments.

The change this week resulted in Michelle Wie plunging from No. 2 to No. 7 in the ranking, which will get few arguments.

When the ranking made its debut in February, the minimum number of tournaments was 15 (the men use 40). Coincidentally, that was the exact number of events Wie played, and she started at No. 3.

The original argument was that some players on the Korean circuit played a limited schedule, although any player of moderate skill was spending most of her time on the LPGA Tour. Chris Higgs, a senior vice president of the LPGA who is head of the technical committee for the world ranking, came to this conclusion in the announcement last week.

"We took into consideration that the top 200 players are consistently playing in more than 35 events in the 104-week period," he said. "The divisor will ensure that players' performances will be weighted and valued in a more balanced fashion against other global competitors."

The new ranking has Annika Sorenstam at No. 1, followed by Lorena Ochoa, Karrie Webb, Paula Creamer and Cristie Kerr.

-- Associated Press
According to sources, Johnston, who won four major championships with Juli Inkster in their 12 years together, found out he had been dismissed from Wie's agent while at the gate at Manchester airport Monday on his way home.
Reached by phone Tuesday, Johnston confirmed the details of the situation.
"I was shocked and surprised, I thought we had a successful year," Johnston told GolfDigest.com. "And I was extremely disappointed that no one named Wie gave me the news."
"Greg Johnston's hard work and dedication made him a great partner for Michelle, as he would be for any other golfer," Wie's spokesperson Jesse Derris of the Ken Sunshine agency said in a statement released on Tuesday. "His departure comes as part of Michelle's maturation as a golfer, part of which is learning from many different bright golf minds. We wish Greg the best, and are sure he will have a long and successful career."
Wie finished in the top five in seven of the eight LPGA events in which Johnston was on her bag and had won nearly $720,000 in seven tournaments this year, which would have put her 14th on the money list if she were a tour member. She contended in all three LPGA major championships this year until Lytham.
Earlier this year she missed the cut at the Sony Open on the PGA Tour and withdrew because of heat exhaustion while eight over par after 27 holes in the John Deere Classic, also a PGA Tour event. She made the cut in the SK Telecom Open on the Asian Tour in May, finishing T-35 and earning $4,303, her only check in competition against the men.
The teen had shown progress all year. She closed with a 66 in at the Fields Open to finish third, fired a final-round 70 at the Kraft Nabisco Championship to miss a playoff by one stroke, and closed with a 68 in the Evian Masters to tie for second. She also finished fifth at the McDonald's LPGA Championship, tied for third in the U.S. Women's Open and tied for fifth at the HSBC Women's World Match Play.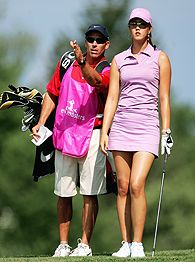 Andrew Redington/Getty ImagesThe recent Evian Masters was one of the last tournaments in which Johnston was on the bag with Wie.
Wie struggled at Royal Lytham, finishing at 6-over 294 and failed to break par in any of the four rounds, but the course was extremely tough for everyone. Karrie Webb, who won the week before at Evian, missed the cut and Annika Sorenstam shot a final-round 79, her highest score in more than seven years. Only eight players broke par.
Johnston, who had done some spot work for Wie while he was still caddying for Inkster, came on the bag full time at the Samsung World Championship last October. Wie finished fourth but was disqualified when a reporter told rules officials on Sunday she had taken an improper penalty drop on Saturday. The disqualification was for signing a scorecard that did not reflect the penalty and thus indicated a lower score. Wie was also penalized two strokes at Lytham, this time for touching a loose impediment in a bunker with her backswing on Friday.
Johnston said he will look for another player, and there was no indication that Wie had contacted any other caddies as yet.
Wie won't play again until September on the men's tour in Europe and the 84 Lumber Classic on the PGA Tour. Her next LPGA event is the Samsung in October, where for the second straight year she will have a different caddie.
Ron Sirak is the executive editor for Golf World magazine