Wie still searching for success against the men
Updated:
September 12, 2006, 12:29 AM ET
By
Ron Sirak
| GolfDigest.com
Without a doubt, Michelle Wie has displayed impressive progress in her seven LPGA events this year. Her play against the men, however, has done nothing to mollify the doubts of those who feel the talented teen should abandon her gender-bending experiment -- for now -- and concentrate on becoming a consistent winner against the women and compiling a résumé rife with records.
If she misses the cut this week at the PGA Tour's 84 Lumber Classic directly on the heels of her poor performance in Switzerland, it will only fuel the arguments of those who feel Wie should petition the LPGA for an exemption to its 18-year minimum age requirement -- a fight she would almost certainly win -- and join the women's tour.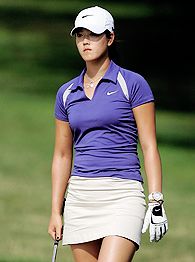 Photo by Ross Kinnaird/Getty ImagesWie shot 78-79 to finish dead last after two rounds at last week's Omega European Masters.
In seven LPGA events this year, Wie, who turns 17 next month, finished worse than fifth only once, when she was T-26 at the Weetabix Women's British Open. Especially impressive was that she finished T-3, T-5 and T-3 in the three major championships before the British. Abundantly evident was that Wie had gotten much better at holding up under final-round pressure, remaining in contention at the Kraft Nabisco Championship, the McDonald's LPGA Championship and the U.S. Women's Open right to the end. The progress she displayed against the women, however, has not translated to her efforts against the men.
Wie has played in four tournaments on three different men's tours this year, and her stroke average for those eight rounds is 74.25 (and it would have been higher had she not withdrawn because of heat exhaustion at the John Deere Classic with nine holes to play). Last year, Wie played in three men's events on two different tours and averaged 73.0 for six rounds. In effect, she's gone backward. Throw out the 54-hole event on the relatively weak Asian Tour in May where she made the cut, and Wie has posted rounds of 77 or higher in four of her last five rounds against the men.
At the European Masters last week, when Wie missed the cut by a bunch with rounds of 78 and 79, she was all over the property with her driver, dumped a wedge shot into the water and was erratic with the putter. Even Wie said she wasn't sure what game she was playing.
Certainly, Wie is playing under a lot more pressure this year -- the pressure of expectation. She is a professional now and with each day she ages, more is expected of her performance. But is there also something else going on?
One theory floating around among students of the swing is that Wie has lost some of her natural rhythm because she is trying to hit the ball too hard to keep up with the men. "She swings too hard now at everything, even the pitch shots," said one coach, speaking anonymously. "She's no longer the Big Wiesy," the coach said, referring to the nickname given to Wie by Tom Lehman when he compared her tempo to the sweet swing of Ernie Els. The coach said overswinging is not a flaw of her instruction but merely a natural response to being consistently outdriven by the men. Certainly, she is better than what we saw in Switzerland.
After the 84 Lumber Classic, Wie has one more men's event this year, the Casio World Open in Japan, and one more LPGA tournament, the Samsung World Championship, where she made her professional debut last year and was disqualified because her scorecard did not reflect that she took an improper penalty drop. Say, for the sake of argument, Wie misses the cut at 84 Lumber, Casio and the Sony Open on the PGA Tour next January and that she finishes in the top five at the Samsung. It's pretty much a guarantee that the cry will be loud and long for Wie to make a commitment to women's golf and forget about playing against the men -- at least for now.
I happen to be one among an extremely small number of people who feels that professional golf will one day be gender integrated. That day, however, is not imminent. But even if it is 10 years down the road before the women are able to compete against the men, Michelle Wie will be only 26 or 27 years old and could be a pioneer in that movement.
You have to love the magnitude of Wie's dreams. Having goals like playing in The Masters and being part of the Ryder Cup team is the kind of "anything is possible" mind-set out of which greatness emerges. The end is not under question here, but it is the means that is under scrutiny.
The other pressure growing for Wie is the fact that with each day that passes, she grows older, and with each day that passes there seems to be another teen sensation on the scene. Kimberly Kim, 14, won the U.S. Women's Amateur this year, and Song-Hee Kim, who turned 18 in July, won five times on the Futures Tour -- three of those coming when she was 17. Angela Park and In-Bee Park, both 18, are also likely to have LPGA cards next year. Wie, while being a rare talent, is not a rare phenomenon. Talented teens abound. Wie might be getting all the attention, but the other teens are getting all the trophies.
In addition to the enormous physical skills Wie possesses, another thing cannot be denied. When she tees it up Thursday at the 84 Lumber Classic, the world -- and not just the golf world -- will pay attention because Wie still creates one of the biggest buzzes in golf. But another message has been sent over the past few weeks by Tiger Woods: The biggest buzz comes from winning.
Ron Sirak is the executive editor of Golf World magazine
SPONSORED HEADLINES
MORE GOLF HEADLINES
MOST SENT STORIES ON ESPN.COM
EDITORS' PICKS
No caddies in the HOF? That's appalling.
Michael Collins »

As far as the course design business, Tiger and Jack are on different paths.
Bob Harig »

Need help finding a present for that golfer you know?
Gift Guide »