Questions and answers for the 2007 LPGA season
Updated:
February 15, 2007, 11:31 AM ET
By
Ron Sirak
| GolfDigest.com
In what probably turns out to be a pretty good two-for-one trade, the LPGA loses a pair of players it would like to have in its season-opening SBS Open this week but benefits from the fact the top dog in all of golf is taking another week off. Annika Sorenstam and Michelle Wie won't be at the Turtle Bay resort when the 2007 season starts on Thursday, but then again Tiger Woods won't be trying to make it eight in a row at Riviera in the Nissan Open. That might help put some attention on the start of the LPGA season.
The two absentees aside, the SBS Open could not ask for a better field. Sorenstam, who will get her season under way March 9 in Mexico, is the only one of the top 25 players from last year's money list not at Turtle Bay. And while Wie will miss both Hawaiian LPGA events to heal two sore wrists and one damaged ego from five consecutive disasters in men's tournaments, her home-state presence will be replaced by Kimberly Kim, who won the 2006 U.S. Women's Amateur at the age of 14. It will be the start of a season with major interesting questions to be answered.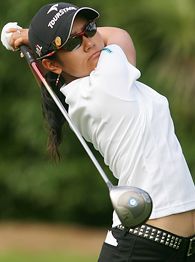 Scott Halleran/Getty ImagesIs Miyazato primed for a big 2007 season?
• Was Lorena Ochoa's six-win season a breakthrough year or a career year she won't repeat again?
• Did we see the beginning of the end of Sorenstam as No. 1 in the world last year, or will she bounce back from the distractions of outside business affairs?
• Is Karrie Webb really back, and does she have the desire to be No. 1 in women's golf once again?
• Who is the best of the Americans, Paula Creamer or Cristie Kerr?
• Is Julieta Granada, No. 4 on the money list last year after winning $1 million at the ADT Championship, the real deal?
• Will Ai Miyazato, a disappointment as a highly touted rookie, get her first LPGA victory this year to go with 14 wins in Japan?
• Which is the real Se Ri Pak, the one who captured the 2006 McDonald's LPGA Championship or the one who missed five cuts last year?
• Will Natalie Gulbis end her 0-for-135 streak in LPGA events?
• Will Morgan Pressel bounce back from a disappointing rookie year?
• Speaking of rookies, who will be the best this year?
• And will Michelle Wie, who turns 18 on Oct. 11, become the youngest winner in the history of the LPGA by grabbing a title this year?
Those are the questions, here are the answers:
• Ochoa is only 25 years old (although the LPGA has done its best to hide that fact from the public by removing birth dates from its media guide this year) and is likely still getting better. She may not win a half-dozen tournaments again this year, but don't bet against her getting her first major championship. Her 69.236 scoring average last year was the fourth best in tour history.
• The days of the 11-win season may be past for Sorenstam (in part because she will only play 17 or 18 times this year), but at 36 (or is it 37? -- that media guide has me confused) she is still in her prime. She "slumped" last year with only three LPGA victories, her lowest total since 1999. But her scoring average of 69.821 was still ninth-best in history. Write her down for two majors this year, including the Women's British at St. Andrews.
• Webb is really back, and she really wants it this time -- or at least really appreciates it more than she did the last time she was the best in the world. She comes into Turtle Bay off back-to-back victories in Australia. A very gifted athlete, it all depends on her desire and whether she can keep from turning on herself when things go wrong. She got an A in both areas last year.
• Kerr may get the nod over Creamer because she is more experienced. The 29- or 30-year-old Kerr won three times in 2006 and has eight wins in the last three seasons. All that's missing on her résumé is a major championship. Creamer didn't win last year but she also didn't play poorly, winning $1,076,163. She'll win this year.
• The purse at the ADT inflated Granada's place on the money list, but her talent and work ethic are based in reality. A top-10 player.
• Miyazato is never going to win as often on the LPGA as she has on the JLPGA, but she will be a consistent champion -- beginning in 2007.
• Pak is a living, breathing question mark. She needs to win a couple of times this year to prove she is really back.
• You get the feeling Gulbis is one of those players who, when she gets her first win, will become a consistent winner on tour. That was the case with Kerr, who needed 136 tries to get her first LPGA win. The SBS Open is Gulbis' 136th try.
• Pressel had problems with the putter in her rookie season, but still made 21 of 23 cuts and finished in the top 10 nine times. Still a teenager, she has lots of wins in her future.
• The new Kim on the block (there are 11 on the LPGA this year) is Song-Hee Kim. All she did was win five times last year on the Duramed Futures Tour. She's the early favorite for Rookie of the Year.
• And then there is Michelle Wie. Will she win this year? That depends. Is she the player who finished in the top five in her first six LPGA events last year -- including three majors -- or is she the player who failed to break par in her last eight rounds of the LPGA season? She comes into the season injured -- both wrists -- but still puts the hurt on the golf ball and is one of the 10 best women in the world. The intangible is her mind-set. Have all those failures against the men taken a toll?
One thing is clear: As the LPGA transitions from the Sorenstam Era to whatever comes next -- and whenever that comes -- it is loaded with talent and has learned how to market its international makeup for significant financial gain. Last year, 11 LPGA players won $1 million or more, shattering the old record of six.
Three Hall of Famers won major championships in 2006 -- Webb, Pak and Sorenstam -- and Ochoa emerged as a possible future Hall of Famer. The Weetabix Women's British Open will be played on the Old Course at St. Andrews for the first time, and the Solheim Cup is going back to Sweden. Seems like a good year for the LPGA to get the attention it deserves -- if it can just get Tiger to take a few more weeks off. When is that baby due?
Ron Sirak is the executive editor of Golf World magazine.
EDITORS' PICKS
Track the final round of the Honda Classic.
In-progress scores »

Lydia Ko claimed her 10th career victory Sunday in the New Zealand Open.
Story »

Don't read too much into Rory McIlroy's missed cut.
Bob Harig »
MOST SENT STORIES ON ESPN.COM