Time for the HOF to change its entry rules
Updated:
June 26, 2007, 2:13 PM ET
By
Ron Sirak
| GolfDigest.com
Suppose Ichiro Suzuki of the Seattle Mariners plays three more years and retires with 2,000 hits in nine major league seasons. The rules say he won't be eligible for the Hall of Fame because he did not play 10 years. But what about his nine campaigns in Japan with a .353 batting average and seven Gold Gloves?
The rules also say Laura Davies has not qualified for the LPGA Hall of Fame, falling two points short of the required 27. But what about the 47 tournaments she won overseas? With the irreversible globalization of sports a reality, perhaps it is time to establish hall of fame standards that cross national borders. Golf can lead the way.
Who can argue Davies is not a Hall of Fame player? She has won 20 LPGA events, four major championships, a Rolex Player of the Year award, all those events abroad -- and she was the most dynamic power hitter of her generation. The LPGA Hall of Fame has it right. Its point system protects against the flukes produced by a voting system in which personality and publicity sometimes matter more than performance. But with all honorees now enshrined in the World Golf Hall of Fame in St. Augustine, Fla., world standards need to be created.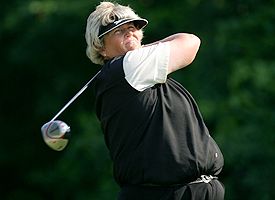 Andy Lyons/Getty ImagesDavies is very close to earning entry into the Hall of Fame.
PGA Tour, Champions Tour and international players gain entrance to the World Golf Hall of Fame by being named on 65 percent of the ballots. The Hall of Fame board of directors can also select from the veterans category and the lifetime achievement category. Then there is the LPGA points system, which provides a perfect blueprint for a unified qualification standard for all tours but needs to be expanded to recognize global achievement.
To gain entrance to the LPGA Hall of Fame, a player must compete on tour for 10 years, accumulate 27 points and win at least one major championship, one Vare Trophy for lowest scoring average or one Rolex Player of the Year. Two points are awarded for a major. In the 57-year history of the LPGA, only 20 players have qualified off the points system, the most recent being Se Ri Pak when she completed her 10th year on tour at the McDonald's LPGA Championship in June.
There are compelling cases to be made for players who have not earned enough points but have had Hall of Fame careers. Meg Mallon is five points short with 18 victories and four majors, as is Hollis Stacy. And there is reason to be concerned about a dearth of qualifying players down the road. After Mallon, the next active player with the most points is Liselotte Neumann with 14, followed by Lorena Ochoa with 13. Then again, when the LPGA lowered the bar in 1999 -- the second time it did so in a decade -- no one saw the surge coming by Annika Sorenstam, Karrie Webb and Pak.
The LPGA needs to stay strong. Its Hall of Fame standards have the most integrity of any in sports. Mallon and Stacy eventually will get in off the veteran's committee. Davies could get in on a vote under the international category but has asked not to be placed on the ballot, wanting to earn her way in. But Davies doesn't need more wins; rather, the system needs to recognize the wins she already has. Such a tweak could provide an international qualifying system for the World Golf Hall of Fame.
It is, after all, a world game.
Ron Sirak is the executive editor of Golf World magazine.
EDITORS' PICKS
Will Adam Scott use his anchored putter for the Masters, and was Dustin Johnson treated fairly?
#AskESPNCaddie

Baddeley's birdie at the Valero Texas Open included a penalty stroke.
Michael Collins »

What was Henrik Stenson so worked up about?
Bob Harig »
MOST SENT STORIES ON ESPN.COM