Sights and sounds from every match
Updated:
February 28, 2006, 12:52 AM ET
By
Jason Sobel
| ESPN.com
CARLSBAD, Calif. -- There is no easy way to cover the first round of the Accenture Match Play Championship. Find one compelling match and follow it through to fruition? Pick and choose, buffet-style, between three or four interesting pairings? Or simply kick back in the media tent and watch it all unfold on TV?
None seems like a terribly viable option, so instead a plan was devised to give you greater insight into all 32 first-round matches: Follow every single one of 'em.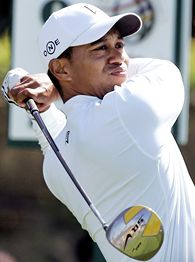 AP Photo/Chris CarlsonWoods was one of 64 players on the course Wednesday, though judging by his convincing win, he was the best.
OK, so it's technically not possible to walk with all 64 players in the field and observe every Phil Mickelson high-five, John Daly cigarette-flick and Tiger Woods scowl. But it sure sounds like a fun thing to try.
Taking to La Costa on a brisk, but pleasant Wednesday morning, there was only one simple rule for completing this task -- no cheating. We're not talking "A Million Little Pieces" type of make-believe stuff (although that probably won't fly, either); just no standing at the first teebox with a checklist, basking in the sun while each group plays through. If we're going to do this, we've got to hoof it around the course. Here's the result:
9:28 a.m. PT: Adam Scott vs. Lucas Glover, No. 11 green.
As they say, plenty of good seats still available for this one. The first match of the day (they teed off at 7:25 a.m. local time), to say there is a "smattering" of fans would be too generous. A crowd of about 10 people watch closely as Scott's pitch shot from the rough lands on the front of the green, prompting him to yell, "No!" while slamming his club into the ground. No matter, as Scott simply knocks home the 46-footer, then wins the hole as Glover blows a short putt.
9:42 a.m. PT: Stuart Appleby vs. Tom Lehman, No. 11 tee.
Either Lehman is stepping up his exercise regimen or he's so nervous about captaining the Ryder Cup team that he can't eat. We're sure it's the former, as he looks more fit and trim than he has in years. Adorned in a flower-print shirt and puka shell necklace -- perhaps to make Appleby, the reigning "King of Kapalua," feel at home -- Lehman appears stress-free and relaxed on the course.
9:51 a.m. PT: David Howell vs. Steve Elkington, No. 10 fairway.
Elkington was once voted by his peers as possessing the prettiest golf swing on tour, and though he's no longer an elite player, his move still seems so effortless. Elk's wedge shot to about 10 feet looks like a three-quarter practice swing for most players.
10:02 a.m. PT: Chad Campbell/Tim Herron, No. 1 fairway.
It isn't often you see a player duck under the ropes and walk down the cart path amongst the fans, but when it happens, it can mean only one thing: trouble. Such is the case for Campbell, who pulled his opening tee shot way left. After chipping back to the fairway, the big Texan knocks his third shot into a greenside bunker. Not exactly the start he envisioned when warming up on the range.
10:08 a.m. PT: Davis Love III/Mark Hensby, No. 9 fairway.
Hensby has grown a beard that makes him look, well, slightly evil. Not sure if the outspoken Aussie did this specifically for the Match Play, but it's not a bad strategy -- looking a bit tough and rugged never hurts the ol' intimidation factor.
10:18 a.m. PT: Colin Montgomerie vs. Niclas Fasth, No. 9 green.
There's a theory going around that Monty is such a good Ryder Cup player because he doesn't enjoy wearing a hat or visor and, unlike regular tournament play when sponsor demands require such a thing, there is no such mandate in international competition. Here's one more theory: The Scotsman only looks comfortable on the course wearing a sweater pulled over his golf shirt. La Costa won't remind anyone of a wind-blown St. Andrews, but Monty looks calm, cool and collected in his long-sleeve outerwear. That can only spell trouble for Fasth.
10:25 a.m. PT: Paul McGinley vs. Shingo Katayama, No. 9 fairway.
Those in the gallery who haven't seen Shingo before have a bemused look on their face. He's rocking a white cowboy hat, kelly-green shirt and tight black pants, held up by a belt that's adorned with some sort of rhinestones and a large buckle. Does he look silly? Yes. Can he play? Absolutely, striking an iron approach to within 12 feet of the hole.
10:34 a.m. PT: Padraig Harrington vs. Rod Pampling, No. 1 tee.
Harrington came out of hiding (or just an extended vacation) at last week's Malaysian Open, his first event of 2006. Like Lehman, he appears to be in better shape. After splitting the fairway with their drives, the players walk off the teebox together chatting, looking more like two buddies enjoying a leisurely afternoon round than match play opponents.
10:41 a.m. PT: David Toms vs. Ian Poulter, No. 10 tee.
Not to harp too much on the subject of clothing, but this is what we've all been waiting for: And here comes Poulter, making his way to the teebox in … a black shirt and black pants? What gives? Though his outfit is accented with a lime green visor and belt combination, we only can guess Poulter was so confident coming into his match against the defending champ that he left the really crazy garb hanging in the closet, waiting for the weekend. In case you're wondering, yes, Toms does have the sweater-vest going today. Typical Toms.
10:52 a.m. PT: Scott Verplank vs. Lee Westwood, No. 14 fairway.
From the fairway, Verplank hits a long iron to the front of the green and promptly receives applause from one fan. Total. One person: Clap. Clap. Clap. Of course, it's more appreciation than is heaped upon Westwood, who receives no recognition after coming up short of the green. Verplank wins the hole when Westy fails to get up and down for par.
11:08 a.m. PT: Kenny Perry vs. Carl Pettersson, No. 14 green.
Pettersson's long putter -- it comes up to the armpits on his 5-foot-11 frame -- looks like an apparatus used to fish golf balls out of a lake. But hey, whatever works, and the Swede certainly looks comfortable with it, rolling a lengthy birdie putt just past the hole, then tapping in to halve the match once again.
11:15 a.m. PT: Phil Mickelson vs. Charles Howell III, No. 11 tee.
As Mickelson and Howell wait for the group ahead to clear the fairway, they share a few laughs with each other, their caddies and John Daly, who is -- surprise, surprise -- playing at a brisk pace in his match against Bart Bryant just behind them. Howell's an interesting guy. Seems to get along well with all of the top American players (he's even vacationed with Tiger Woods before), who probably all thought he'd be an annual Ryder/Presidents Cup teammate by now. Instead, he hasn't made a team since '03 and hasn't won on tour since '02. Maybe both of those streaks end this year.
11:23 a.m. PT: Bart Bryant vs. John Daly, No. 11 fairway.
There were some suspicions before, but now we have absolute confirmation: Daly drives the ball a lot further than Bryant. On No. 11, a 526-yard par-5 where players can truly grip-it-and-rip-it, Daly's tee shot stops bouncing and rolling after 313 long yards; Bryant's drive measures a comparitively measly 263. In this case, the extra length makes all the difference. Daly flies the green, but almost makes his putt coming back, while Bryant blocks his approach to the right and fails to get up and down from there.
11:43 a.m. PT: Chris DiMarco vs. Mark Calcavecchia, No.11 green.
One gets the feeling that Calc is relishing his role as one of the elder statesmen on tour. His say-anything attitude makes him a veritable quote machine. And there must be some chatter in this group because if there's a younger version of Calc out here, it might be DiMarco. Standing over a makeable eagle putt on 11, Calc is either too focused or doesn't hear a "Let's go Lefty!" chant that emanates from Mickelson's group just as he's about to putt. Calc doesn't back away and he misses the putt.
11:48 a.m. PT: Jose Maria Olazabal vs. Brandt Jobe, No. 14 tee.
Each player hits their tee shot with a 3-wood on the tight 446-yard par -4. They use tees, but they're hardly noticable. So is the conversation between players, which is nonexistent as they leave the teebox.
11:54 a.m. PT: Tim Clark vs. Arron Oberholser, No. 12 tee.
Oberholser, who recently won at Pebble Beach, exudes confidence, talking and laughing with his caddie while gauging the wind, which is palpable. He hits a dart right at the flagstick, landing his ball about two feet from the hole -- the birdie putt was later conceded, Clark saying, "I'll take a chance you're going to make that" -- but the South African counters with a terrific shot of his own to within five feet. Fun stuff to watch.
12:05 p.m. PT: Jim Furyk vs. Zach Johnson, No. 12 green.
With Furyk's ball just past the green, he stands over the shot as caddie Mike "Fluff" Cowan helps with the line. If Furyk and Fluff ever went to the mall in street clothes together, there's little doubt the guy signing more autographs wouldn't be the one with a U.S. Open trophy on the mantle. Not sure if there's ever been a golfer/caddie combination you could make that distinction with before.
12:12 p.m. PT: Fred Couples vs. Sean O'Hair, No. 12 tee.
You get the feeling Freddie didn't like the looks of this shot even before he hit it. After standing there, visualizing the shot for a good 90 seconds, he drew the ball to the short, left part of the green -- leaving a very lengthy birdie putt -- but no worries for the ever-cool Couples, who simply handed the club back to his caddie and watched some ducks frolic in a nearby pond.
12:30 p.m. PT: Henrik Stenson vs. Paul Casey, No. 13 tee.
Everything about both of these players screams future star (though maybe current star is a more appropriate label, as both have claimed European Tour titles this season). Watching them tee off, Casey tends to jump at the ball, really putting a lot of power into his drives, while Stenson uses an easy, controlled swing that looks more effortless.
12:37 p.m. PT: Michael Campbell vs. Geoff Ogilvy, No. 12 tee.
For two players who are All Square with seven holes to play, there doesn't seem to be much tension here. Cambo and Ogilvy engage in chitchat while watching Stenson and Casey play their approach shots to the 13th green.
12:40 p.m. PT: Nick O'Hern vs. Fred Funk, No. 11 green.
Whew! Got to this one just in time, as O'Hern sinks a short birdie putt to go 6-up with seven to play. Some guys flourish in match play; others flounder. O'Hern has made the quarterfinals in both career starts at this event, while Funk looks like he's heading for his seventh straight first-round exit.
12:50 p.m. PT: Darren Clarke vs. Shigeki Maruyama, No. 10 green.
Maruyama has a birdie putt … it goes in, and … yes! There it is -- that electric smile! Shigeki wins the hole after Clarke fails to match his birdie, but something much more interesting is happening just behind this pairing …
12:54 p.m. PT: Tiger Woods vs. Stephen Ames, No. 10 fairway.
Here's another match that needed some attention in a hurry, because it could be over soon. Through nine holes, Tiger is 9-up, meaning he has won every single one of 'em -- not even a halved hole in the bunch -- coming to the turn. After Ames hits a lackluster approach, Woods wows his usual large gallery by sticking his shot even closer. They each two-putt from there, meaning the match is over. Wow. Interviewed just off the green afterwards, Ames had perhaps the understatement of the year, saying, "Tiger played exceptionally well."
1:11 p.m. PT: Robert Allenby vs. K.J. Choi, No. 10 green.
Once all the camera crews and screaming fans cleared out from the circus that is Tiger Woods, Allenby and Choi are left to what is once again a more sensible gallery. A marshal tries to move along some fans while Allenby stands over his putt, prompting his caddie to yell, "They're all fine. You need to move," which draws a chuckle from the spectators. Allenby, meanwhile, misses the putt as the players halve the hole.
1:22 p.m. PT: Angel Cabrera vs. Peter Lonard, No. 14 green.
After Lonard sticks an approach shot to five feet, he never even needs to putt, instead watching Cabrera make bogey and concede the hole. Cabrera doesn't play much in the U.S., but the prevailing feeling is that he'd fare well if he ever gave it a go.
1:30 p.m. PT: Luke Donald vs. Richard Green, No. 14 fairway.
The knock on Donald is that he doesn't hit it long enough to hang with the big boys (despite his 285-yard per drive average). That's evident here, as Green is a good 30 yards past the young Brit. Then again, Donald is in the fairway, as usual, while Green finds his ball nestled in the rough. Maybe accuracy is more important than distance after all.
1:43 p.m. PT: Ernie Els vs. Bernhard Langer, No. 11 green.
If Els has any lingering effects from last season's knee surgery, it sure doesn't show. He's walking without a noticeable limp and has played enough golf since his return -- and played well -- that it shouldn't be affecting his game. On this hole, Els gets up and down from a greenside bunker to make birdie and win the hole.
1:52 p.m. PT: Stewart Cink vs. Mike Weir, No. 11 green.
Cink is known as one of the world's top putters, but Weir can hold his own against anyone. On this hole, the former Masters champion rolls home a lengthy eagle putt, then watches as Cink lips out his own attempt.
1:57 p.m. PT: Vijay Singh vs. Graeme McDowell, No. 11 fairway.
Singh and McDowell are farther apart in the World Ranking than any players in the field besides Woods and Ames, but they've placed their drives to within two yards of each other. Singh doesn't have a strong history at this event, but it's really no surprise. In stroke play tournaments, he tends to have a lot of back-door top-10 finishes, just hanging around until the weekend, then closing with a flourish.
2:04 p.m. PT: Rory Sabbatini vs. Miguel Angel Jimenez, No. 11 tee.
Sabbatini walks to the teebox in good spirits -- and why shouldn't he? He's coming off a win at last week's Nissan Open and leads this match, 2-up. Sabbatini then hits a bad pull-hook way left, but it hardly can crush his good mood. "Hmmm, that was interesting," is all he says.
2:12 p.m. PT: Retief Goosen vs. Paul Broadhurst, No. 10 fairway.
Perhaps counteracting the fact that he is likely the least recognizable figure in this week's field, Broadhurst is wearing a you-can't-miss-me-in-this lavender sweater. It doesn't seem to be helping his game. Already 3-down, he knocks his approach to the middle of the green, but seems less than satisfied by the results.
2:23 p.m. PT: Justin Leonard vs. Ben Crane, No. 10 tee.
Karma? Fate? Not exactly. Instead, it was simply the way the draw played out that left Crane in the day's final pairing -- not that anyone was complaining. Known as one of the game's slower players -- he's working on it, he says -- there will be no slowing anyone else down today, as there are no more groups left to play. Crane has battled back problems recently, but his swing here looks pure, showing no ill effects of the injury.
Jason Sobel is ESPN.com's golf editor. He can be reached at Jason.Sobel@espn3.com
Golf Editor, ESPN.com
Jason Sobel, who joined ESPN in 1997, earned four Sports Emmy awards as a member of ESPN's Studio Production department. He became ESPN.com's golf editor in July 2004.
SPONSORED HEADLINES
MORE GOLF HEADLINES
MOST SENT STORIES ON ESPN.COM
EDITORS' PICKS
What's next in the progression of Rory McIlroy?
Farrell Evans »

The tour's schedule is built around roughly a dozen players.
Bob Harig »

Rory, Tiger took the ALS Ice Bucket Challenge plunge together.
Blog »