Should there be mandatory events on tour?
Originally Published:
March 5, 2006
By
Jason Sobel
| ESPN.com
Put the PGA Tour season schedule into bracket form and the Honda Classic is likely to be one of those pesky 12 seeds that knocks off a No. 5 in the first round.
Not known as one of the more prestigious events on tour, the Honda made up for such an image with tough conditions and an entertaining final round that left Luke Donald as the champion.
But with many stars eschewing Mirasol, not everything was copacetic. The Weekly 18 begins with an examination of one interesting proposal.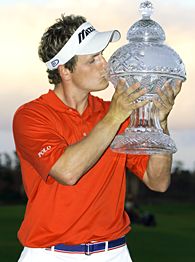 Stan Badz/PGA TOUR/WireImage.comDonald was one of four players ranked in the world's top 20 who competed at the Honda.
1.
Mandatory men?
On the surface, there was nothing wrong with this week's Honda Classic, which saw Donald win by two strokes over
Geoff Ogilvy
. A competitive event, a formidable venue, a deserving champion.
That's all well and good, but there's no mistaking the palpable lack of buzz surrounding the PGA Tour during weeks when the top players aren't competing. At Mirasol, only four of the world's top 20 were entered (and for those who correctly counter with the fact that some of those players aren't PGA Tour members, only six of the top 20 on the money list competed), meaning hardly any elite players in the Florida sun.
Of course, that includes Phil Mickelson, who skipped this week's event, but remains outspoken in calling for a NASCAR-like mandatory event schedule for tour members.
"There are some things that the Tour can steal from NASCAR that would be great," Mickelson said last week at Doral, "such as their model of having the guys play certain [events]. ... Because it would make it a lot easier for us as a Tour to sell it to sponsors, to television and to the fans if everybody knew what tournaments the top players were playing in. I think that's where NASCAR has really succeeded in their model."
This from the guy who simply didn't show up at last year's season-ending Tour Championship -- the only player in the 30-man qualifying field not to compete at East Lake -- or this year's season-opening Mercedes Championships. Let's not pick on Mickelson alone, however. Tiger Woods, Vijay Singh, Ernie Els and Retief Goosen were also among those who skipped the Honda; in fact, golf's so-called Big Five have competed at the same event only twice in the season's first 10 weeks.
PGA Tour members currently need only make 15 starts to keep their status for the next season and, as those words "independent contractor" intone, they can't legally be told when and where they have to play golf.
One idea that's been floated by insiders for some time borrows from an LPGA bylaw which states players must compete in each tour event once every four years. It might be time for the PGA Tour to adopt a similar policy.
After all, the Honda boasted a tricky golf course and boisterous crowds. It should have some elite players once in a while as well.
2.
Putting for dough
How important is making putts when in contention to win a golf tournament? Donald was simply the latest example in an ever-growing list of champions who earned their trophy on the greens. Early in the final round, Donald missed short putts on both the sixth and seventh greens, turning what could have been a birdie-par pair of scores into par-bogey, losing his lead in the process. The young Englishman was able to turn that trend around quickly, however; he one-putted the final six greens of the day, playing those holes in 3-under while claiming the two-shot win.
3.
Tee time for England
Good graphic from the NBC folks over the weekend: Over the last 40 years, the only Englishmen with multiple PGA Tour victories are
Nick Faldo
(nine),
Tony Jacklin
(four) and, now, Luke Donald, who added to his 2002 Southern Farm Bureau Classic victory with the win at Mirasol on Sunday. Seems like an amazing fact, considering how many talented English players have been around over those years.
4.
Double-eagle has landed
If Ogilvy's first-round double-eagle looked like a bird of a different feather, there's a reason. With the par-5 sixth hole playing downwind on Thursday, Ogilvy boomed his tee shot 373 yards, leaving only 169 for his second shot. The rarest of birds, the double-eagle -- or albatross, as it is also called -- is most often a 200-yard-plus shot, hit with a fairway wood or long iron that just happens to find the hole. By comparison, Ogilvy's albatross was an 8-iron that tracked at the hole the entire way, taking three hops and dropping into the cup.
5.
One in a million
According to the USGA, the chances of making double-eagle are one in 1,000,000. (Ogilvy's albatross was the second on tour this year, joining
Brian Gay
, who made double-eagle on the first hole in the second round of the Nissan Open.) By comparison, the odds of a tour professional making a hole-in-one are only one in 3,700.
6.
Crash and burn
Prior to a live interview with NBC on Saturday,
Jeff Gove
referred to himself as a real-life Crash Davis, in reference to the career minor-league character in Bull Durham. He isn't too far off. At No. 2 on the all-time Nationwide Tour money list (only
Chris Couch
has more minor-league cash), Gove has played full-time on the PGA Tour twice before ... only to find himself back on the Nationwide circuit the next season. On Sunday, he was in contention for a $990,000 winner's check at the Honda that was $16,292
more
than his entire career Nationwide winnings. Gove actually led around the time he made the turn, but played the final six holes in 4-over to finish in a share of seventh place.
7.
Chop-ping away
Thanks to a 5-over 77 while paired with Tiger Woods in the final group last Sunday at Doral (leading to a T-20 finish),
Daniel Chopra
ranked 93rd on the PGA Tour in final-round scoring average with a 71.67 average in six total rounds. That number isn't going to improve following another disappointing final day at the Honda. Chopra entered the final round in a share of fourth place, just two strokes behind the leaders, but shot a 4-over 76 to finish tied for 13th. He's played a lot of great golf over the last two weeks without the results to show for it.
8.
Ready, Ames, fire
Rumors of
Stephen Ames
' demise may have been greatly exaggerated. After the one-time PGA Tour champion lost 9 and 8 to Tiger Woods in the first round of the Accenture Match Play Championship, there was some thought that he may return to the lower depths of the tour roster, perhaps finding it tough to contend, at least for a while. But there was Ames on Sunday, shooting a 4-under 68 to leap into a share of seventh place at the Honda, proving the loss to Woods had less of an effect than many would have thought.
9.
The Gron zone
One man's sadness is another man's fortune. When Nick Faldo withdrew from the Honda to be with his ill father in England, it opened the door for alternate
Mathias Gronberg
in the tournament field. The Swede took full advantage in the first round, shooting a 5-under 67 to grab a share of first place and was still in contention following rounds of 71-72 the next two days. But he couldn't keep the formidable scores going, tailing off with a Sunday 76 that left him in a share of 16th place overall.
10.
Hal of a round
Hal Jacobs
, who plays on the South Florida mini-tours, made the Honda field by shooting a 4-under 68 in a qualifier on Feb. 17. It's a feat in itself to even make it to a PGA Tour event with such stringent qualifying restrictions these days, so we relay the following information not to poke any fun at Jacobs, but simply to relay how tough Mirasol was playing in windy conditions on Thursday: Jacobs shot a first-round 19-over 91 that included two triple-bogeys, three double-bogeys, eight bogeys, four pars and one birdie. You won't see many scorecards like that in tour events. To his credit, Jacobs returned the next day for a much more respectable 7-over 79.
11.
Three the hard way
Some annoyances and intrusions from TV broadcasts during recent weeks ...
Third place: We understand the importance of sponsored elements throughout TV telecasts, but enough is enough when it comes to the FedEx Reliability Zone. It's a good tool for the analysts to illustrate a point to the viewer ... in moderation.
Second place: Hey, did anyone notice The Players Championship is coming up soon? Viewers have been treated to promos ad infinitum during the past two weeks. It's a good tournament. It's on NBC. We get it.
First place: Nothing against The Villages, "Florida's friendliest hometown," but the retirement community with early-1980s style commercials, complete with singsong theme music, boasts commercials that seem out of place anywhere but cable access TV.
12.
Ken-knee Perry
As first reported by the Orlando Sentinel, last year's Bay Hill champion
Kenny Perry
will not be back to defend his title this coming week, nor compete in The Players Championship or The Masters in coming weeks, due to a lingering knee injury. Perry will undergo arthroscopic knee surgery on Monday and should miss four-to-six weeks of action.
13.
Bow-ing out
The mysterious travails of
Steven Bowditch
continued this week. Following a beginning to his PGA Tour rookie season that included four missed cuts and three disqualifications, Bowditch decided to return to Australia's somewhat-less-prestigious Von Nida Tour to try to rediscover his golf game, The Australian reported. "With the season as long as it is on the PGA Tour, I decided to come home and work things out early with [coach] Peter Heiniger," Bowditch said. Instead of teeing it up with the world's top players in the U.S., the 22-year-old Aussie will next compete in this week's Southern Classic at Woolooware in Sydney against the likes of defending champion Michael Wright, Order of Merit winner Adam Bland, Victorian Open winner
David Diaz
and Jacobs Creek Open runner-up
Michael Sim
.
14.
Steroid testing?
As Barry Bonds' alleged steroid use continues to make national headlines, the notion that the PGA Tour should have its own steroid policy is gaining more momentum. Our thoughts: It couldn't hurt, right? A recent Sports Illustrated player survey found that only one percent of PGA Tour pros have known about a peer taking steroids, but Commissioner Tim Finchem should stop this problem before it even starts, by adding it to the tour bylaws. Of course, the players have to agree to such a stipulation, but failure to do so would make them look like the negligent party, rather than the tour.
15.
Looking out for No. 1
Good stat pointed out by the AP recently: The point differential between Woods and Singh -- the top two players in the World Ranking -- is greater than that of the tandem atop the Women's World Ranking,
Annika Sorenstam
and
Michelle Wie
. Although the point systems are highly dissimilar, there should be no player within swinging distance of Sorenstam (let alone a 16-year-old without a professional win to her credit), who proved once again on Sunday that all the conjecture about young players on the LPGA is premature. Annika won the MasterCard Classic by one stroke in her debut event of the season. The younger players will challenge her for the throne. Someday. But Sorenstam isn't giving up the crown just yet.
16.
Lee genes
There are five players named Lee on the LPGA Tour, but there should be no mistaking rookie Seon Hwa Lee, who has outplayed more heralded first-year players like Morgan Pressel and Ai Miyazato through the season's first three weeks. After a T-13 in her second professional start on tour in the SBS Open at Turtle Bay (she previously missed the cut in the 2004 U.S. Women's Open), Lee lost in a playoff to Meena Lee at the Fields Open and again was runner-up at the MasterCard Classic this past week. The 20-year-old South Korean is no stranger to top finishes. After turning pro at age 14 in 2000, she won three KLPGA tournaments in the next five seasons and had 12 top-10 finishes on the Futures Tour last year.
17.
The space between
Man, this distance thing is really getting out of hand in golf. Here's one story about golf balls being hit into orbit that doesn't even include the names
Bubba Watson
or
J.B. Holmes
: Russian astronaut Pavel Vinogradov will chip a gold-plated golf ball this summer that is expected to travel some 2.1 billion miles before burning up in the atmosphere. If it seems like a cheap ploy for new company Element 21 -- after all, Vinogradov isn't even a golfer -- well, it is; at least we can count on gravity to keep driving distances to a decent minimum on tour.
18.
Quote of the week
"It's fine. I'd rather be good-looking than ugly."
--
Camilo Villegas
, on his newfound status as PGA Tour heartthrob.
Jason Sobel is ESPN.com's golf editor. He can be reached at Jason.Sobel@espn3.com
Golf Editor, ESPN.com
Jason Sobel, who joined ESPN in 1997, earned four Sports Emmy awards as a member of ESPN's Studio Production department. He became ESPN.com's golf editor in July 2004.
SPONSORED HEADLINES
MORE GOLF HEADLINES
MOST SENT STORIES ON ESPN.COM
EDITORS' PICKS
Is Kirk now in the Ryder Cup conversation?
Collins & Steele

Who should Tom Watson select for Team USA?
Four-Ball »

Alex Perry breaks down the chances of the five Euro contenders for captain's picks.
Story »