Woods still living life under the microscope
Updated:
April 18, 2006, 2:14 PM ET
By
Jason Sobel
| ESPN.com
Score a pair for the younger generation.
Aaron Baddeley, 25, and Lorena Ochoa, 24, each claimed victory on their respective tours this week, lending more credence to the theory that today's younger players are learning to win earlier and earlier.
(Hey, if you were to combine Baddeley and Ochoa, they still wouldn't qualify for a senior tour event!)
The Weekly 18 reports on both of these winners, but begins with another young player who's always known how to win. Tiger Woods didn't compete this week, but he was still very much in the news.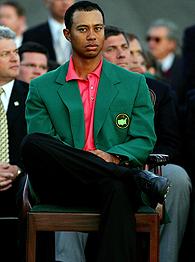 Andrew Redington/Getty ImagesThe latest criticism of Woods came after his T-3 finish at last week's Masters.
1.
Under the microscope
It's been a rough week for Tiger Woods.
After failing to make a final-round charge at The Masters, Woods told CBS Sports, "I putted atrociously today. Once I got on the greens, I was a spaz."
Subsequently, he was roundly lambasted by media outlets around the world -- and especially those in Europe -- who felt that his comments were inconsiderate at best and derogatory at worst towards those with spastic conditions.
Since then, Tiger has issued an apology ... sort of. Though Woods was conspicuous in his lack of post-flak reaction, his agent Mark Steinberg was quoted on TigerWoods.com as saying, "Tiger meant nothing derogatory to any person or persons and apologizes for any offense caused." Woods shouldn't be criticized -- although it's very possible he will be -- for not speaking on the matter himself; he was in California this week tending to his ill father.
With Spaz-gate evidently behind him, Woods could have turned on his television Sunday morning to catch ESPN's "The Sports Reporters" criticizing him for faults of a different nature. The panelists discussed whether Tiger is a "frontrunner" and debated if and when he will ever claim a major championship in come-from-behind fashion. (In each of Woods' 10 major victories, he has held or shared the lead entering the final round.)
Such is life for the world's top-ranked golfer and most recognizable athlete, whose every movement, gesture and comment is cause for fodder among the masses. Among the other criticisms of Woods is that over the years he has become a virtual canned quote machine, utterly predictable when addressing the press and hardly ever speaking from the heart.
Not that you can blame him. This most recent controversy just proves, once again, that Woods lives under a figurative and omnipresent magnifying glass. He will continue to choose his words carefully, preferring to speak through his actions instead.
Based on this latest scrutiny, you've got to wonder when he'll stop opening his mouth altogether.
2.
So Badds
It's taken a little while longer for the Aaron Baddeley story to fully develop than some may have thought, but the one-time phenom is beginning to reach his potential, earning his first career PGA Tour victory at Harbour Town. In only his fourth full season on tour, the Aussie wasn't exactly overdue for this initial title, but considering his brilliant amateur career, most experts -- not to mention his peers on tour -- knew it was only a matter of time before Badds would come out on top. How good was Baddeley as an amateur? He won his country's Open championship as an 18-year-old in 1999, then successfully defended his title as a professional the next year. This will be no one-and-done title for Badds; now that the first win is under his belt, expect many more in coming years.
3.
Joining the foursome
Good stuff from the CBS television crew with the mention that not only did Baddeley grow up with framed photos of
Jack Nicklaus
,
Greg Norman
,
Nick Faldo
and
Nick Price
adorning his bedroom walls, but each of those players claimed a title at Harbour Town as well.
4.
Feeling the Love?
What's up with
Davis Love III
these days? In 10 starts at stroke-play events this season, the longtime tour pro has a best result of T-12 (at Doral) and has finished outside of the top-20 in his nine other tournaments. To be fair, Love did finish as runner-up at the Accenture Match Play Championship, but if there was ever a week he'd get back on track, you had to figure it would be at Harbour Town, where he's won five times. Love was in contention after the first two rounds, but shot 73-73 on the weekend to finish T-47. It was Love's worst finish in the event since 1995 (excluding a WD in '99).
5.
Close, but no cigar
He entered the final round very much in contention, but
Ernie Els
struggled to an even-par 71 and finished in a share of seventh place. Interestingly, he sounded like a certain top-ranked golfer in assessing his game after the tournament. "I keep saying it, 'I'm close.' " said Els, sounding very much like Woods whenever he's questioned about an ongoing "slump." Of course, Els really is "close" as he says; he's finished in the top-10 in three of his last five starts. "The swing feels good, so [failing to win] is not the end of the world," he said.
6.
Back-side bruises
Hidemichi Tanaka
began playing golf by hitting balls in a vacant lot in his Hiroshima, Japan, neighborhood as a youngster. He's likely one of the very few who wishes the back nine at Harbour Town would be converted into similar property. On Saturday, Tanaka made par on the first four holes of the back side before making two bogeys and a triple-bogey for a 5-over 40. It got even worse on Sunday. Tanaka started his inward nine with double-bogeys on four of his first five holes, then made bogey on three of the remaining four to shoot an 11-over 46. Ouch.
7.
Solo mission
So, you like to play a quick round of golf, huh? Chances are, even with a cart, you couldn't compete with
Ryuji Imada
on Sunday. Playing solo in the day's first "group," Imada got around the Harbour Town Golf Links in a mere one hour, 51 minutes. He walked off the course at 10:02 a.m. local time after firing a 2-under 69.
8.
Standing Pat
Pat Perez
finished T-13 at Harbour Town last year and was looking for another solid result this time around, cruising to 3-under for his first nine holes of the opening round this week. Instead, a recurring elbow injury forced him to withdraw from the tournament. Perez was to have an MRI on Friday, but as long as there is minimal damage, he plans on returning to the tour for the upcoming Wachovia Championship and will play through the U.S. Open (if he qualifies).
9.
Driving for show
If it seems like the PGA Tour is divided into two factions these days -- the guys who drive the ball long and those who drive it straight -- well, it's not too far off. That said, there are still players out there who emphasize each in a best-of-both-worlds type of scenario. Heading the Total Driving category (which adds a player's rank in driving distance plus that in driving accuracy) entering the Heritage was
Robert Allenby
, who was 24th in distance and 31st in accuracy.
Joe Durant
,
Greg Owen
,
Charles Warren
and
Padraig Harrington
rounded out the top five. At the bottom of the list? Two-time U.S. Open champ
Lee Janzen
, who is 163rd in distance and 178th in accuracy.
10.
Stats all, folks
Of course, you can crunch numbers all you want; perhaps the only one that really matters is scoring average. Why are the best players considered the best? It may sound silly, but simply put, it's because they shoot lower scores than everyone else. Entering the Heritage, the top five on the PGA Tour scoring average list consisted of five of the top six players in the World Ranking. In order,
Phil Mickelson
was first, just ahead of
Vijay Singh
,
David Toms
, Woods and
Retief Goosen
. For the record, Els -- the remaining member near the top of the ranking list -- was 21st in scoring average.
11.
Poll position
How many more majors will Mickelson win this year? According to an ESPN.com poll that received 85,000 responses, the No. 1 choice, with 46 percent of the vote, was that Mick would win one more major this year. In second place was zero (with 30 percent) and third was two more (17 percent). And then there are those who are bent on seeing history this year. A whopping (by our estimation, at least) seven percent think Lefty will become the first player ever to complete the Grand Slam in the modern era. Interesting stuff ...
12.
Major player
Trivia time: Outside of the Big Five, who is the highest-ranked player with multiple major victories? If you answered
Jose Maria Olazabal
, consider yourself an expert. In fact, it's not even close. Following his T-3 finish at The Masters last week, Olazabal (who won the event in 1994 and '99) climbed to 12th in the Official World Golf Ranking; the next-highest ranked player with more than one major to his credit is
John Daly
at No. 50.
13.
Ready Freddie
"I'm going to play a lot next year and definitely try to make the [Ryder Cup] team." Those are the words of
Fred Couples
on Sept. 25 last year, just hours after defeating Singh in a singles match to help the U.S. win the Presidents Cup. With his T-3 finish in Augusta, Couples has positioned himself nicely in the ever-changing world of U.S. Ryder Cup points (thanks to a new system, players' rankings are more fickle than ever). Now seventh on the team standings, Couples will certainly need a few more top finishes to assure himself a spot on the team. "I don't want to be picked if I'm not there," he said last autumn. "I probably won't be picked." The former may still hold true, but the latter may have changed. Couples could still be a solid captain's pick by
Tom Lehman
should he fail to finish in the top 10.
14.
Medinah, blow your horn
Sick of hearing about the lengthening of golf courses after months of non-stop debates over Augusta National? Well, we've got some bad news for you. The arguments will continue to rage on, as it was announced this week that Medinah Country Club will play to 7,561 yards for this year's PGA Championship, making it the longest major championship venue in history. Medinah will play 25 yards longer than the previous record-holder, Whistling Straits, was in 2004 and will be 160 yards longer than 1999, the last time it hosted the PGA.
15.
No more O-choke-a?
Good to see Ochoa get into the win column in her first start after losing the Kraft Nabisco Championship in a playoff to Karrie Webb. Still just 24, it's apparent that Ochoa has a world of talent that hasn't always equated to victories. Her win at the Takefuji Classic was the fourth on the LPGA, but it's the titles that have slipped from her grasp that have defined her career. With seven runner-up finishes since 2004, Ochoa has seen her share of heartache and abuse -- one reporter has even referred to her as "O-choke-a" -- but may finally be ready to put those disappointments behind her. Let's hope so.
16.
Great Brittany
Morgan Pressel,
Michelle Wie
and all the other phenoms of the women's game need to make room for Brittany Lincicome in their elite group, too. A veritable old fogey at 20, Lincicome earned her best career finish at the Takefuji, grabbing a solo third, thanks to a final-round 69. Perhaps best known for leading the 2004 U.S. Women's Open as an amateur, Lincicome finished 72nd on the LPGA Tour money list a year ago. Don't be surprised to see her in the top-30 this season; she's already five-for-five in made cuts so far.
17.
Legend-ary
What's next, the Best Golfers Ever Tour? Just a few years after the men's senior circuit was renamed the Champions Tour, the women's version has upped the ante, calling their league the Legends Tour this season. At least the first event since the change was true to its name. Patty Sheehan, decidedly a legend in the sport, won the World Senior Golf Ladies Open Championship in Gotemba, Japan, to claim her third career tour victory.
18.
Quote of the week
"I knew he was one of the best tennis coaches."
--
Peter Lonard
, joking about pro-am playing partner Steve Spurrier, who coaches the South Carolina football team.
Jason Sobel is ESPN.com's golf editor. He can be reached at Jason.Sobel@espn3.com
Golf Editor, ESPN.com
Jason Sobel, who joined ESPN in 1997, earned four Sports Emmy awards as a member of ESPN's Studio Production department. He became ESPN.com's golf editor in July 2004.
SPONSORED HEADLINES
MORE GOLF HEADLINES
MOST SENT STORIES ON ESPN.COM
EDITORS' PICKS
Ryder Cup defeat caused the PGA to look in the mirror.
Bob Harig »

Martin Kaymer's Players win catapulted him higher in 2014.
Bob Harig »

Rory McIlroy sealed his place in golf's elite with PGA win.
Harig »