After Earl's death, what's next for Tiger?
Updated:
May 16, 2006, 2:09 PM ET
By
Jason Sobel
| ESPN.com
It was during the Tour Championship, back in October of 1996, that Earl Woods suffered a life-threatening heart attack. Knowing his dad was in poor health, but unsure of just how serious his condition was, Tiger Woods engaged in the one thing that could lift Earl's spirits, perhaps put a smile on his face when it was needed most. He played golf.
It would become a recurring theme, the best gift this son could give to his ailing father. When Earl was once again in declining physical condition last year, Tiger gave him a meaningful birthday present, shooting 63 en route to winning the Ford Championship at Doral.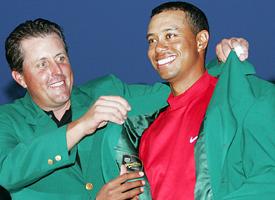 AP Photo/Morry GashJust moments after slipping on the green jacket last year, Tiger gave a tearful speech about his father.
One month later, when Earl made the trip to Augusta, Ga., but didn't attend The Masters for the first time in Tiger's career, the younger Woods slipped on the green jacket and gave a teary-eyed soliloquy for the man to whom he had dedicated the victory.
"This one's for you, Pop," Tiger said in a rare public display of emotion.
While the mere mention of Tiger's playing golf again might seem a morbid suggestion just one day after Earl passed away at age 74, the world's top player will continue to chase the game's most hallowed records on courses around the world. He'll rejoin the PGA Tour -- maybe at next month's Memorial Tournament, maybe at the U.S. Open, maybe not until after those events; Tiger hasn't publicly stated his short-term future as far as scheduling -- because that's where he belongs. It will be a cathartic exercise for Woods, who might ultimately feel closer to his father on the golf course than anywhere else.
The next round of golf Tiger plays will be the first one without his dad just a phone call away. No longer can he consult with Earl for a quick putting tip or a few words of encouragement on the eve of a major tournament.
"My dad was my best friend and greatest role model," Tiger said via his Web site. "I will miss him deeply."
There now exists a void Tiger will never fill. Considering Earl's recent declining physical condition, perhaps the hardest part is over for Tiger Woods, the golfer. Playing golf at an elite level is hardly an easy proposition in itself, but doing so with a heavy heart is an onerous task. After flying to Cypress, Calif., to check on Earl just days before the start of The Players Championship in March, Tiger admitted his father's health weighed on his mind during the course of play.
"I don't think you'd be human if you didn't think about it," Tiger said during the tournament, at which he finished in a share of 22nd place. "It happens, and obviously you need [to] let it go quickly and focus on the shot. Sometimes it's easier than others."
By all accounts, Woods will compete in 12-15 more events this season, including the year's final three major championships, the Ryder Cup and his own unofficial Target World Challenge. It was at the latter that Earl last saw his son compete in person, back in 2004. Tiger shot a final-round 66 to win the tournament, then basked in the glow of his father, who presented him with the championship trophy.
Life without Earl will not be easy for Tiger, but his mind has been freed of the burden of thinking about his dad's attempts to fight a losing battle with poor health. When he returns to tournament golf, we may see a more determined and focused player, one who could be -- dare we say it -- better than ever.
The ultra-talented Tiger has achieved so much success in part because, as golfers say, he has every shot in the bag. From now on, Tiger will be playing golf armed with one more attribute in his arsenal: the memory of Earl Woods. That could be a winning proposition.
Jason Sobel is ESPN.com's golf editor. He can be reached at Jason.Sobel@espn3.com
Golf Editor, ESPN.com
Jason Sobel, who joined ESPN in 1997, earned four Sports Emmy awards as a member of ESPN's Studio Production department. He became ESPN.com's golf editor in July 2004.
Earl Woods: 1932-2006
Born: March 5, 1932, in Manhattan, Kan., the youngest of six children
Died: May 3, 2006, in Cypress, Calif.
Education: Kansas State, sociology, graduated 1953
Profession: Retired lieutenant colonel in the U.S. Army; served two tours of duty in Vietnam
Wife: Kultida; married in 1969
• Diagnosed with prostate cancer, 1998; cancer returned, 2004
Quote: "I knew Tiger was special the day he was born." Earl Woods, in a May 2000 interview with The Associated Press.
Coverage

• Tiger Woods' father, Earl, succumbs to cancer
• Friends, family gather at memorial
• McDaniel: Earl was a teacher, warrior and friend
• Callahan: Earl taught us all
• Sirak: Earl was right all along
• Sobel: What's next for Tiger?
• Rosaforte: Earl taught Tiger the art of winning
• My shot: Earl Woods
• The definitive Earl Woods interview
• Golfers recall Earl Woods' discipline
• Mailbag: Did Earl change your approach as a parent?

Watch: The Earl Woods story
MOST SENT STORIES ON ESPN.COM