'Tiger Woods 07' provides alternative for golfers
Updated:
October 25, 2006, 1:55 PM ET
By
Jason Sobel
| ESPN.com
I used to be an All-American video gamer. OK, maybe not technically -- is there even such a thing? -- but I could ball with the best of 'em in "Tecmo Super Bowl," fly with the greatest of ease in "NBA Jam" and skate circles around the competition in "NHL 94". So what happened? Well, as much as it pains me to say, I grew up. Other things got in the way. You know. Work. Family. Life.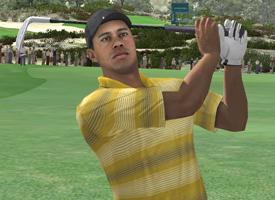 EA SportsYou can take Virtual Tiger to a bevy of new courses ...
Then again, none of these have precluded my personal quest to play golf anytime, anywhere, with anyone. Of course, like almost every other golfer enamored with the game, I don't play nearly as much as I'd like, which leads to the theme of this piece, and the reason my video game console remains intact despite collecting dust for most of each calendar year. Until October, that is, when for a few fleeting months every autumn, I become a carefree kid in a dorm room once again, living vicariously through a virtual lineup that includes some of the world's best golfers.
The leaves change colors, the weather grows chillier and EA Sports releases its annual golf game. It's sad, really. No, not the prospect of a grown man spending hours trying to swipe at an animated ball with an animated club toward an animated hole. Rather, it's what the game dishearteningly represents. For those of us in northern climes, the arrival of "Tiger Woods PGA Tour 07" this past week signaled the impending end of the golf season.
Yup, it's time once again to trade in that aggressive hip turn you've been working on all summer for a quick, rhythmic joystick thumb. Suffice it to say, I'm hardly an expert at the game, so I'll leave the masterful analysis -- playing hints, cheat codes, unveiled secrets -- to the gaming gurus. Instead, let's examine what "TW 07" offers the golfer who, like me, is simply too addicted to the sport to quit playing between tee times.
• The ability to play some of the world's greatest courses without leaving the couch.
Yet again, the game features top-ranked venues such as Pebble Beach, St. Andrews, TPC-Sawgrass and Pumpkin Ridge. The newest additions to the lineup include The K Club (which hosted this year's Ryder Cup), Kiawah Island (which held the event in 1991) and Aviara (a personal favorite of mine in the San Diego area), each of which give the gamer a unique experience of seeing the course from the perspective of a real-life player, without the hundreds of dollars in greens fees.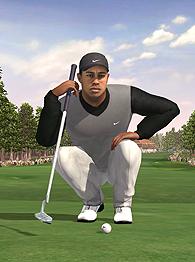 EA Sports... or team him up with a partner in a Ryder Cup-like format.
Enjoy using the game's characters in situations they've faced during their careers? Try Tiger for four rounds at Riviera Country Club, site of his first PGA Tour start, as a 16-year-old in the 1992 Nissan Open, but also the course on which he has played his most professional rounds without a victory. Or take
Annika Sorenstam
back to Colonial, where three years ago she failed to make the cut in her first and only career start against the men.
• Play your own Ryder Cup-like tournaments.
Call it the sport's latest fad, as multiple team golf leagues have sprouted up across the country in recent years. Perhaps trying to cash in on the popularity of the Ryder Cup, these leagues have attempted to impersonalize this most individual of pursuits. Whether the idea achieves success remains to be seen, but this new addition to "TW 07" is a welcome change.
Basically, players can inherit fellow characters in the game to play together on a team, with the ultimate goal of knocking off Woods and a few of his cronies in a mode called Team Tour. Of course, virtual Tiger is a bit stingier than the real-life version when it comes to team competition, whether he's paired with usual Ryder Cup teammate Jim Furyk or not.
• Compete in different game modes other than medal and match play.
OK, so Team Tour isn't enough of a Ryder Cup emulation to stoke your emotions? Then play in team One Ball mode, which is basically alternate-shot format and where the possibilities of true-to-life matches are endless. My personal favorite: Take Tiger and Furyk (or, if you'd like to break up the tandem that finished 2-2-0 in four matches together last month, use Chris DiMarco instead), and match 'em up against Colin Montgomerie and Luke Donald in a true grudge match.
Still find the U.S. coming out on the short end of things? No worries, team up the fellas in red, white and blue with their nemeses from Europe against the rest of the world. In all, there are seven members of the International team from Presidents Cup years gone by who are available in the game: Retief Goosen, Vijay Singh, Adam Scott, Stuart Appleby, Michael Campbell, Steve Elkington and Mike Weir.
You can't play golf every day. (Believe me, I've tried.) And the PGA Tour season doesn't last 52 weeks each year (it only seems like it). To alleviate any withdrawal symptoms you will soon feel, check out "Tiger Woods PGA Tour 07." And be prepared to put work, family and life on hold for a while.
Jason Sobel is ESPN.com's golf editor. He can be reached at Jason.Sobel@espn3.com
Golf Editor, ESPN.com
Jason Sobel, who joined ESPN in 1997, earned four Sports Emmy awards as a member of ESPN's Studio Production department. He became ESPN.com's golf editor in July 2004.
SPONSORED HEADLINES
MORE GOLF HEADLINES
MOST SENT STORIES ON ESPN.COM
EDITORS' PICKS
Martin Kaymer's Players win catapulted him higher in 2014.
Bob Harig »

Rory McIlroy sealed his place in golf's elite with PGA win.
Harig »

Rory's Open win set him on course for a great stretch of golf.
Harig »