On the Hot Seat: Lorena Ochoa
Updated:
December 7, 2006, 12:03 PM ET
By
Jason Sobel
| ESPN.com
As if winning six LPGA tournaments en route to her first career Player of the Year award weren't enough, Lorena Ochoa was recently named Mexico's 2006 Female Athlete of the Year.
So, what's next? Possibly her first major championship title, or a run at Annika Sorenstam's No. 1 ranking, or -- gasp! -- a chance to compete against the men in a PGA Tour event.
ESPN.com asked Ochoa about each of these and more, putting her on the Hot Seat in this e-mail interview.
Q: What were your goals entering the 2006 LPGA season? Did you meet them? Exceed them?
A: My goals entering the 2006 LPGA season were being Player of the Year and being No. 1 on the money list. I knew that there were going to be top scores and [it would be] really hard to achieve them, but at the same time I believe I was playing good and feeling really good with my swing. I worked hard, but it was still a surprise because you never know how the year is going to be. It has been a great year and a great season that I will remember for many years.
Q: How will your goals change for 2007?
A: My goals for 2007 are still to keep myself in that place, to be No. 1. I think it is more important just to maintain yourself. I know the competition is going to be really tough, but I think I can do it. I still have room to improve in different parts, in my swing and in my mental game. I am really ready to keep playing good and I especially want to win a major in 2007.
Q: Where does winning a major rank on your list of priorities?
A: Winning a major is a priority, but at the same time I do not want to put too [much] pressure on myself. I think it is going to come in the right time for me, but I also believe I am ready. It would be great to do it in 2007.
Q: Do you feel like you need to win a major to be considered an elite player?
A: I think it makes a big difference if you are a major winner, so I want to do it. It is always very important to play for your dreams. When you dream about winning a certain tournament and you win it, then that is a big difference. I can imagine the taste of a major victory. I am really motivated to do it.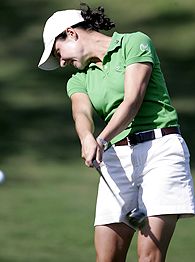 AP Photo/Lynne SladkyOchoa earned six LPGA victories during the 2006 season.
Q: So, which would you rather: A six-win LPGA season with no major titles or a major victory with, say, only one other win?
A: I would never change my 2006 season. It has been a great season in all ways. It has been a great year and not winning a major does not mean anything. I think the most important thing is that I finished No. 1, that I finished Player of the Year, and just to be on the top and beat Annika. I was waiting for that for many years.
Q: How has Annika influenced your career? How much does it mean to you to pursue her No. 1 title on the current World Ranking?
A: It is hard to describe, hard to put it into words, but Annika has been a big influence in my career. I admire her very much and she is a great player, a great person and she keeps me motivated to keep practicing and keep playing good. Now being in her position is just a dream come true, but at the same time I want to keep being up there. I want to be No. 1 and not only for a small period of time, not only for one year, but for many more years.
Q: Who do you think, right now, is the best women's player in the world?
A: I think Annika is still the No. 1 player in the world. I think she was struggling a little bit at the end of the season, but her struggles were finishing at the No. 3 or 5 position. She is an amazing player and I believe that she deserves that position of being the No. 1 player in the world.
Q: What are your thoughts on Michelle Wie competing in men's events?
A: I respect Michelle Wie very much. I think she is a great player, but sometimes I believe that she is making some mistakes that could hurt her confidence in her game. I think she does not give good results in the men's events, and I think it is hurting her confidence level because she is not getting good results and she is not winning any tournaments. My advice to her would be to play more women's tournaments and achieve her goals first in the women's events.
Q: Would you ever consider playing in a PGA Tour event someday?
A: I might consider playing in a PGA Tour event someday, but I first want to accomplish my goals in the women's events. Maybe one day in the future I would participate in a PGA event in Mexico, to help the sport become more popular and improve my own game. I'll never say no, but right now I am not ready to play with the men.
Q: You've seen Michelle play a decent amount. If -- or when -- she decides to join the LPGA for a full season, how do you think she'd fare?
A: I think that it is obvious that Michelle Wie is ready to play on the LPGA Tour. Every time she plays, she gets good results. She always makes the cut. She has been top three, top five, top 10 many times. So I think it would be good for her and for us if she would join the LPGA for a full season. It would be more exiting and more fun for the tour.
Q: The LPGA's new commissioner, Carolyn Bivens, has received plenty of criticism in her first full season. How would you assess the job she's done so far?
A: I am really impressed by Carolyn Bivens. I know that it was hard to believe in her in the beginning because she wanted to make a lot of changes for the tour, but we can see with the time and results we had in 2006 that she has a great confidence in herself and she believes those changes are going to be good for us. And I, as an LPGA player, support her very much. I always give her a lot of credit for the good changes and the good things that are coming to the tour. She has really done a great job, and I really admire her and I support her because she represents our tour.
Q: Is there a sense in the locker room each week that others feel the same way?
A: I think in the talks that we have in the player locker room, you see that we have the same point of view. Just like any other person in the world, sometimes you fear some changes or you fear the results because you are not sure how they will turn out. But we believe in her. She has been very honest. She has been very intelligent. And sometimes she takes big risks, but you have to take a risk to make big changes and get results. I cannot speak on behalf of all of us, but I have heard a lot of positive comments from other players saying she is doing a good job.
Q: Bivens recently announced that the LPGA will begin drug testing in 2008. Your thoughts?
A: I can only say that it is fair because it is the same for everybody. I can say that if it is something that she chooses to do, I want to support her. I will always support the decision of the commissioner and it is for our own good. I will always support a decision if it is the same for all the players, because it is fair that way.
Q: Have you ever seen or heard of any fellow competitors -- either on the LPGA or in college -- using any sort of performance-enhancing drugs?
A: Not really. I have no experience in hearing about anybody using performance-enhancing drugs in college or with the people surrounding me or my coach. I think the only thing that we should do is be careful with injuries -- your back or any other muscle -- and be very careful about the substances you take. I think it [drug testing] is a positive thing for all of us.
Q: OK, just a few more tap-ins. Let's play fill in the blank. The major you'd most like to win:
A: Nabisco.
Q: The PGA Tour player you most enjoy watching:
A: No favorite.
Q: Excluding yourself, the best young LPGA player:
A: Ai Miyazato.
Q: Your final win total for 2007 will be:
A: Six.
Q: And last question: You'll pass Annika for the world's No. 1 ranking:
A: In 2007.
Jason Sobel is ESPN.com's golf editor. He can be reached at Jason.Sobel@espn3.com
Golf Editor, ESPN.com
Jason Sobel, who joined ESPN in 1997, earned four Sports Emmy awards as a member of ESPN's Studio Production department. He became ESPN.com's golf editor in July 2004.
2006 Year in Review
2006 was quite a year in the world of professional golf. ESPN.com chronicles the season that was in our Year in Review package.
MOST SENT STORIES ON ESPN.COM