FedEx Cup beginning looks very familiar
Updated:
January 4, 2007, 10:26 PM ET
By
Jason Sobel
| ESPN.com
KAPALUA, Hawaii -- It was hardly a shot heard 'round the world. It wasn't even a shot heard 'round Maui. K.J. Choi stepped onto the first teebox, under a radiant blue sky dotted by puffy white clouds, spectators lining the outer ropes as witnesses, and launched a low, curling blow off the face of his 3-wood that landed dead center in the fairway. It was the opening tee shot of the Mercedes-Benz Championship, the opening tee shot of the 2007 PGA Tour season. And with it was launched, quite officially, "a new era in golf."
Since this is perhaps the most divine view the PGA Tour will behold all year, with the nearby island of Molokai framing the players' sightline off the tee, it seems as good a place as any to cultivate a clear picture as to what the season may contain.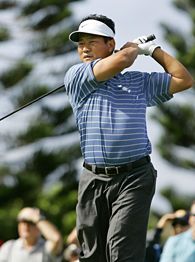 Eric Risberg/AP PhotoChoi started off the "new era in golf" by hitting the first shot of the 2007 season.
After all, Thursday was the first step in the Brave New World that is the tour's new FedEx Cup schedule. But as far as professional rounds of golf are concerned, it was as eventful -- or uneventful -- as any other, featuring blustery winds, a modicum of sunshine and the quintet of Choi, Will MacKenzie, Brett Wetterich, Stephen Ames and Vijay Singh atop the leaderboard upon the day's conclusion, following equal rounds of 4-under 69.
What became utterly apparent was, like most things in the plodding procession that is the sport of golf, this reinvention will have more of a gradual impact than anything abrupt and immediate.
And so it was that the season's opening round looked eminently recognizable -- like, well, just about every other round in the days pre-FedEx Cup, which should heretofore be referred to as, ostensibly, "the old era in golf." (Now there's a slogan somehow left off the TV promos in years gone by.)
It has become so exasperating, in fact, this rhetoric surrounding the new schedule, that some players were growing weary only one round into the new era.
"There's so much going on about FedEx Cup, I'm tired of listening to it" said Singh, eliciting laughter in his post-round interview. "There's still tournaments out there that we have to focus on and not focus on the FedEx Cup itself."
The presence of Singh and 33 other tournament winners from 2006 notwithstanding, the Mercedes-Benz Championship lacks some of golf's major drawing cards. No Tiger Woods or Phil Mickelson, both of whom elected to pursue the start of their PGA Tour campaign elsewhere. No John Daly, Ernie Els or Fred Couples. No Michelle Wie. No velvety-green vistas of Augusta National. No discourse and debate over the Ryder Cup.
Such are the people, places and events that really matter to golf fans, those which transform the sport from a passing interest into one of genuine concern among the masses.
Until we reach each of these situations -- Tiger and Phil making their debuts, the recurring hot-button issue of Wie continuing to receive sponsor's exemptions, the year's first major, further discussions of the biennial international competition -- the PGA Tour will remain what it has always been, despite the new-look refinements.
This isn't to say the FedEx Cup will be a soporific failure. And it may not be a rousing success, either. Only time will carry such judgments, no matter how much we'd like to feel the sudden impact of such reconstruction.
Consider the underwhelming response of Choi when asked whether he felt additional pressure by inaugurating such an historic occasion in the life of the PGA Tour.
"I hit it just like a regular shot, you know, with a mindset that I've got to hit the fairway," Choi said through his interpreter, Eujone Kim. "It would be like any other first tee shot in any other tournament."
As well it should have been.
Such was the overriding theme on Day 1 of the FedEx Cup. The difference was impalpable in this, the "new era in golf."
One round down. One hundred and sixty-two to go. It can only get more exciting from here.
Jason Sobel is ESPN.com's golf editor. He can be reached at Jason.Sobel@espn3.com
Golf Editor, ESPN.com
Jason Sobel, who joined ESPN in 1997, earned four Sports Emmy awards as a member of ESPN's Studio Production department. He became ESPN.com's golf editor in July 2004.
EDITORS' PICKS
Rory's day at Doral didn't quite go as he had hoped.
Bob Harig »

Before Bubba's Masters wins, he lost Doral by 1. Coincidence?
Harig »

Paula Creamer drained a bomb again, this time in heels.
Watch
MOST SENT STORIES ON ESPN.COM