On The Hot Seat: Will MacKenzie
Updated:
January 17, 2007, 12:51 PM ET
By
Jason Sobel
| ESPN.com
HONOLULU -- You can call him a sensation. Just don't call him an overnight sensation.
Will MacKenzie made headlines last week by playing a little golf in between catching waves at Kapalua, earning a T-4 at the season-opening Mercedes-Benz Championship. But the result hardly came out of nowhere. MacKenzie was a talented junior player who reacquainted himself with the game some seven years ago. His rise through the mini-tours and minor leagues helped claim a spot on the PGA Tour, where he won last year's Reno-Tahoe Open.
The Hot Seat caught up with Willie Mac after his Sony Open practice session on Wednesday, asking him all about surfing, living in caves and, yep, even golf.
The MacKenzie file
| | |
| --- | --- |
| | |
| | MacKenzie |
Full name: William Ruggles MacKenzie
Birthdate: Sept. 28, 1974
Height: 5-foot-11 Weight: 170 lbs.
Turned professional: 2000
Joined PGA Tour: 2005
Special interests: Kayaking, snowboarding, rock climbing
Q:
Are we going to forever remember you as the guy who gave out his hotel room number on national TV?
A:
Don't think so.
Q: Was it the most embarrassing thing you've ever done?
A: I guess it is, but I don't really care. I mean, that doesn't bother me. It's a little mistake, but life's a big book of mistakes. You just learn from 'em. And I just hope more girls are listening next time.
Q: I heard someone say "Congratulations" to you earlier and you answered, "On what?" What do you feel like you accomplished at Kapalua?
A: I think I just finished tied for fourth out of the 34 winners from last year, besides Tiger [Woods] and Phil [Mickelson]. But I think they're congratulating me because I hung in there. You know, it's not like I went backwards on the weekend. I sort of almost did, but I hung in there. I've had a lot of shooting four- or six- or eight-under on Thursday and Friday and then go backwards. If I would have ended the tournament at 3- or 4-under, it would have been miserable. But I hung around and had a nice finish.
Q: How did it feel to become a media sensation?
A: Oh, I don't know if it was a media sensation or not, but I think it was awesome. I've always been one who's been the guy that's not sponsored, but could have been, kind of -- in snowboarding, in kayaking, my other sports. So I was always trying to have a breakthrough. Went to Alaska, rode with the best snowboarders in the world and they were like, "Wow, you're sick." Still, I really didn't have a breakthrough there. And I think that was sort of my breakthrough.
Q: Are you getting recognized out in public more often after last week?
A: Definitely. At least in Hawaii. I mean, I'm having just random Hawaiians come up to me and say, "Oh, you're Will MacKenzie? Sweet!" Or I'm having people come up and go, "Will! Will! You're the reason I'm here." You know, little things. A lot more people are recognizing me than normal.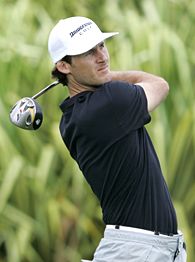 Eric Risberg/AP PhotoMacKenzie finished T-4 at last week's Mercedes-Benz Championship.
Today, I played with the president of [Waialae Country Club]. I met his wife and she said a lot of people are really into my story and she's like, "You weren't here last year, were you?" And I'm like, "Yeah, I played here last year, but nobody knew me." So that's pretty cool.
Q: What is it like to have all those people paying attention to you?
A: Oh, it's epic. It's just perfect. I want them to pay attention to me because of my golf, but you're already pretty good if you're on the PGA Tour, so I have accomplished some things. I want to accomplish a lot more, and win, but I want people to recognize me and I love it. I think it's awesome.
You want people to recognize you for the right reasons, though. I mean, I don't want to be the guy who's just chucking clubs out there and angry and that's why they know you, as the hothead. I want to be known as a guy who's pretty passionate for his sport and wears his emotions on his sleeve.
Q: The one thing we kept hearing last week was, "This is what golf needs. A guy with a personality." Do you agree?
A: I guess so, but I try to bring personality out in people. A lot of the golfers, maybe they're saying that these guys don't have a lot of personality, but I think golfers so have a personality. I think most of the guys out here have pretty good personalities, so I don't know why they're saying that golf needs personalities. I like to bring out the best in people. I like for people to be happy. You know, that's just one of my deals. But yeah, maybe I am a little bit good for it. You'd have to ask them.
Q: What did your family say when you left home at age 19 and moved to North Carolina?
A: "Good luck. Don't call and ask for money." That's what my dad said. He said, "Look son, if you're going to run off to Montana, that's cool, but don't be coming over here trying to hundred-dollar me to death, because it ain't gonna happen. Go out there, get your job and work, and do you're your thing." He supported me, but it wasn't his exact idea of what I should be doing.
Q: Guys like Tiger, Vijay [Singh], Phil have talked about going a few weeks without touching a club at times. What's the longest you've gone?
A: I went for 10 years without playing golf. But since I started playing golf again, I don't barely take any time off, because I've been trying to make up for lost time. I've been trying to hang out here. When I started back in 2000, I just said, "I'm not going to miss a day. You know, I've got a lot of time I've got to make up." But I had a great foundation in golf, so it wasn't like I was starting all over again.
I really haven't taken any time off, but now I'm starting to wilt and take a little time off, because it is pretty intense. For the last three years, I've been playing a pretty intense schedule and I want to be able to take three weeks off and not touch a club and just feel so recharged when I come back.
Q: What's the worst thing about sleeping in a van?
A: I used to have mice living in my van. I've had several mice run across my sleeping bag and I had one run right across my neck one time. I've got a picture of me with two traps, I put peanut butter on two traps, and I trapped these two mice who were living in my van. You don't want to have mice living in your van.
Q: What's the worst thing about sleeping in a cave?
A: A snow cave is just really moist, really wet. I've also messed around and slept in caves, like in the Southwest. Hard floors, those caves had a little smell to 'em. But I don't know, it's not too bad, man. I don't mind it at all. That's why I did it.
Q: Last week you talked about getting into "surfing shape." What would you rather: 18 holes or an afternoon riding the waves?
A: Probably a little afternoon session in the ocean would be awesome. But, man, I do love golf so much. It's just so amazing to play. I'm going 50-50. I'm a fence-sitter.
Q: What's your surfing handicap?
A: I'm about a 10 right now. Unfortunately.
Q: Butch Harmon told me Adam Scott is about a 12-handicap surfer. You agree?
A: Yeah, I'll go with that. But I'm being conservative with me then [laughs]. Adam's a 12. I'm a 10. I probably just have a lot more wave knowledge than him, but he's beginning and he's doing well. I saw him surf the other day, he's standing up and riding the line. He's figuring it out.
Q: Who's the celebrity most people say you resemble?
A: [Jeff] Spicoli [from "Fast Times at Ridgemont High"] is one. I get Sean Penn. You know, whoever's really good-looking [laugh].
Q: Is your love for all of these other sports getting a bit blown out of proportion, almost like people think you don't like golf that much?
A: Yeah, it's just because they grab me and they talk about my story. But I think it is a little blown out of proportion. It's all golf for me now. I'm trying to compete and I'm trying to do the right things to compete on the highest level for the rest of my career. I'm glad that people have embraced my past a little bit, but I don't want to be the dirtbag that doesn't have any respect for the game. I have a huge respect for the game. I have a passion and love for the game. I love what golf is all about. It's about controlling your body and your mind.
" I'm glad that people have embraced my past a little bit, but I don't want to be the dirtbag that doesn't have any respect for the game. I have a huge respect for the game. I have a passion and love for the game."
Q: That said, if you could only pick one sport to take part in for the rest of your life, which one would it be?
A: I'm going to do the politically correct thing and go with golf.
Q: What are your goals for this season?
A: I'm pretty conservative. I want to definitely try to become a top-70 on the money list guy. I'm just going in progressions. I'm not trying to be number four, or number 10. I want to be. You know, deep down, I really want to play in the Masters, I want to get into the World Golf Championships, do all that stuff.
If I can just progress, maybe get into the top-70 on the money list, I'll feel like my progression is getting greater and greater. I'm not going to try to go with outlandish stuff, because I've got a lot of flaws in my golf game still. I'm still learning a lot out there, so I'd be happy with top-70. If I don't get it, I'm going to be a little unhappy.
Q: Think big thoughts. If you could win any tournament, anywhere, what would it be?
A: Masters. Hands down. I've been watching it on TV forever. British would be the most amazing scene in golf, probably. U.S. Open is dear because it's the U.S. Open. But Masters is the coolest theater, coolest golf course ever to me.
Q: That's it. You're off the Hot Seat.
A: Sweet.
Jason Sobel is ESPN.com's golf editor. He can be reached at Jason.Sobel@espn3.com
Golf Editor, ESPN.com
Jason Sobel, who joined ESPN in 1997, earned four Sports Emmy awards as a member of ESPN's Studio Production department. He became ESPN.com's golf editor in July 2004.
EDITORS' PICKS
Walker became the first 54-hole leader to hang on to win since January.
Story »

Cristie Kerr became the first American to win in 2015 on Sunday at the Kia Classic.
Story »

Will Adam Scott use his anchored putter for the Masters, and was Dustin Johnson treated fairly?
#AskESPNCaddie
MOST SENT STORIES ON ESPN.COM