Qualms with Q School
Originally Published:
February 5, 2007
By
Jason Sobel
| ESPN.com
It's official: Aaron Baddeley only wins on national holidays.
OK, so maybe his recent FBR Open victory on Super Bowl Sunday didn't have quite the same impact as his initial PGA Tour win at HarbourTown on Easter last year, but it was a festive day nonetheless. And if we were a fellow competitor, we'd be wary of Badds at the U.S. Open (Father's Day), Zurich Classic (Earth Day) and, of course, the Houston Open (April Fool's Day).
Then there's Jeff Quinney, who's gone straight from the Nationwide Tour to hard-luck loser in the big leagues. At least he's been in contention, which is more than we can say for the recent graduating class from Q School.
The W-One-Eight, as our friends like to call us, begins with a notion that even diehard golfer Alice Cooper could love: School's out forever.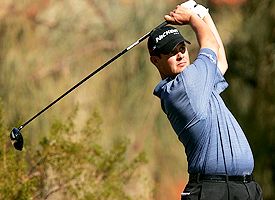 Stephen Dunn/Getty ImagesQuinney is the latest example of a Nationwide grad playing up to the PGA Tour competition.
1.
Q is for qualm
Goodbye, Q School. It was fun while it lasted.
No, the PGA Tour hasn't abondoned its annual season-ending stomach-churn ... yet. But if you ask us, they should.
If you've ever watched the grueling six-day PGA Tour Qualifying Tournament in December, affectionately known as Q School, you know it's filled with the highest of highs and the lowest of lows, the ultimate act of schadenfreude coming when a player yanks a four-foot putt that could have claimed a year-long exemption on tour. Its results are more critical, you could say, than any regular season event or even any major, as players are competing not for a trophy or big check, but for their livelihoods. A noble pursuit, certainly, but one whose time has come and gone, as it fails to ensure quality players joining the big leagues year after year.
Though the action might be gripping, Q School's dirty little secret is that it fails to produce as many qualified players as its brother-in-arms, the Nationwide Tour. In the past few weeks alone we've seen the likes of Quinney, Brandt Snedeker and Andrew Buckle contend for titles. All are rookies this season, all came directly from the Nationwide circuit.
In fact, the numbers so far this season are staggering. Though nearly double the amount of players reached the PGA Tour via Q School than the Nationwide Tour (40 to 22), those from the Nationwide currently take up 12 spaces in the top-100 on the money list, while Q School players only own seven such spots. Look even deeper and you'll notice there are six Nationwide grads in the tour's top-40, but the highest Q Schooler is only 45th.
Conventional wisdom says the PGA Tour would find the best competition for its current players from a crop of those who prove their mettle over the course of a 32-tournament season rather than one six-day spurt. And the tour has acknowleged this, in part, affording five more promotions to Nationwide players for future seasons.
It's a good start. But it's not enough. Q School's run should end soon, before it takes away more deserving spots from players who really could make a difference on the PGA Tour.
2.
Badds for us?
Though he was raised in Australia and has an accent from Down Under, Baddeley actually was born in New Hampshire and owns dual citizenship in the United States. We know what you're thinking, and we're one step ahead of you. No, there's no chance Badds could make an appearance for the American side on the Ryder or Presidents Cup in the future. He already is listed on the points list for this year's International team (29th entering this past week, right behind
Taichi Teshima
and somehow already trailing Andrew Buckle), which means both
Jack Nicklaus
and
Paul Azinger
can cross him off their captains' lists of eligible players.
3.
Left out
There were 17 players in the FBR field with ties to the Scottsdale, Ariz., area, either as a native, current resident or Arizona State alum, and you didn't have to search too far down the leaderboard to find them. Baddeley lives just five minutes from the host course, as does Quinney, and fifth-place finisher
Billy Mayfair
resides about an 8-iron away (the latter two are also Arizona State University grads). Considering their success, it was interesting to note that another ex-Sun Devil,
Phil Mickelson
, shot 72-69 to miss the cut by a stroke at a venue he likely knows as well as any. It's been a peculiar start to the year for Lefty, who owns a T-45 (Bob Hope Classic), T-51 (Buick Invitational) and MC in his first three starts. Compare this with last season, when he finished T-5, T-8, T-7 at those very same events, and you've got to wonder about that ever-pressing question, What will Phil do next?
4.
Not up to par
Talk about an all-or-nothing player. You can say this for
J.B. Holmes
, who missed the cut in his title defense at the FBR: The guy has some pretty colorful scorecards. Here are his statistics for his four starts so far this season:
| | | | | | |
| --- | --- | --- | --- | --- | --- |
| Tournament | Total holes | Birdies | Pars | Bogeys | Double-bogeys |
| Mercedes-Benz Championship | 72 | 20 | 41 | 10 | 1 |
| Sony Open | 36 | 8 | 14 | 12 | 2 |
| Buick Invitational | 36 | 11 | 16 | 9 | 0 |
| FBR Open | 36 | 11 | 17 | 6 | 2 |
No need to do the math; we've already taken care of it. For the year, Holmes has played 180 holes, recording 50 birdies and 37 bogeys. Meanwhile, he's made just 88 pars, taking a level score on less than 50 percent of his holes played. The tour doesn't keep any sort of par-percentage stat, but we've got to think this would be among the lowest in a long time.
5.
Big Bubba
"My mental game is just so bad ... but physically I think I've always had it." Those were the words of
Bubba Watson
, following his second-round 67 at the FBR. If by "it" Watson means the ability to crush the ball farther than anyone else, then we agree. In Scottsdale, the super soph finished T-8, his second consecutive top-10 finish. And -- surprise, surprise -- he continues to lead the tour in driving distance, averaging 320.5 yards per moonshot.
6.
Warren's piece
While Bubba continues to drive for show (and dough),
Charles Warren
is putting for dough (and, well, we suppose show, too). Warren has parlayed a 1.690 putting average -- tops on tour -- into two top-20 results so far this season, including a T-18 at the FBR. Pretty heady stuff for a guy who finished in 148th (at 1.797) in that category a year ago.
7.
Greens with envy
If you watched the Dubai Desert Classic throughout the week, you no doubt heard the TV announcers lamenting the fact that eventual champion
Henrik Stenson
didn't own a six- or seven-shot lead throughout the week. Why was that? We need look no further than his greens-in-regulation statistic, which was truly remarkable. Stenson hit 66 of 72 greens in regulation, including 51 of his first 54 over the opening three rounds. By comparison, the PGA Tour's 72-hole GIR record is 69, set by
Peter Jacobsen
at the 1995 AT&T Pebble Beach Pro-Am.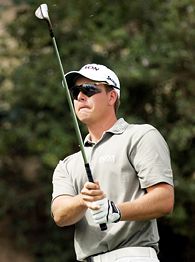 David Cannon/Getty ImagesStenson captured the Dubai Desert Classic after a spectacular ball-striking week.
8.
The future's so bright ...
Though we've hardly (ever?) seen
Tiger Woods
don sunglasses in competitive play on the PGA Tour, there he was Sunday, doing his best
David Duval
impersonation with dark shades hiding his eyes. Perhaps it was just another Super Bowl Sunday wardrobe malfunction, as he likely was wearing them not to protect himself from the sun, but instead from sand that was kicking up around the course. In any case, Woods never saw eye-to-eye with his game, shooting 69 and finishing two strokes off the pace.
9.
The Fisher king
We had fun seeing Woods pal around with playing partner Ross Fisher in Dubai, but probably not as much fun as Fisher himself. A 26-year-old journeyman, Fisher said the only other time he had gotten close to Woods previously was when he worked on the World Match Play driving range seven or eight years ago. He didn't look too awed by the situation, though, finishing T-4 for his second top-five result this season.
10.
Hairy situation
Roger Federer was on hand to watch Tiger compete in Dubai, but it was hardly just a friendly meeting. After the event, the two superstars announced that they, along with soccer sensation Thierry Henry, will be part of a worldwide advertising campaign for Gillette. Let us be the first to write that, in the debate over which player is more dominant, Federer has shaved it close, but Tiger remains ahead ... by a whisker.
11.
Roaring about Rory
You heard the name here first: Rory McIlroy. If it sounds like a Hollywood creation from the movie "Tin Cup," well, you're close. McIlroy is from Hollywood ... Hollywood, Northern Ireland, that is. The accomplished amateur had his best finish in a professional event this past week, as even a final-round 76 netted him a T-52 in Dubai. Might not sound like much, but consider this: He's still three months shy of
his 18th birthday.
McIlroy entered this past week in third place on the R&A's amateur rankings (2006 U.S. Amateur champion Richie Ramsay was in first) and recently shot a course-record 61 at famed Royal Portrush. If you're looking for the next big star in golf, Rory might just be your guy.
12.
Asian Tour sensations
Prom Meesawat and
Jyoti Randhawa
each finished in a share of seventh place in Dubai, which should help to prove their worth on an international scale. (And how can you not like Meesawat, a burly 22-year-old who is nicknamed "The Dolphin"?) Last season, Meesawat and Randhawa finished third and sixth, respectively, on the Asian Tour money list. Before you snicker at such a tour, consider this: The men whom they sandwiched on the list,
Charlie Wi
and Andrew Buckle, already have found success early in their PGA Tour campaigns this season. Expect each of these players to rise through the rankings as the year progresses.
13.
Power of equality?
You've got to hand it to the USGA: At least it's not afraid of change. The organization announced on Friday that the U.S. Women's Open, which previously featured an 18-hole next-day playoff scenario, would now require only a three-hole same-day tiebreaker should leaders be deadlocked after 72 holes. "This makes sense for the players, fans, volunteers, vendors, the general media and our broadcast partners regarding the Women's Open," said USGA president Walter Driver. We don't necessarily disagree, but why in the name of equality will the men's competition not undergo the same reconstruction? Perhaps it's all about dollars and sense. Even with the biggest drawing card in the women's game,
Annika Sorenstam
, involved in a playoff (against Pat Hurst) at the Women's Open last year, the tournament saw sparse crowds and low TV ratings. But it still seems strange to change one and not the other.
14.
LPGA on the in-Kline
Gotta imagine
Casey Martin
had a smile on his face while hearing this news last week: Sorenstam announced that her Ginn Tribute event would offer a sponsor's exemption to MacKinzie Kline, a top-ranked 14-year-old junior player with a rare heart condition called Transposition of the Greater Vessels. But that's only half the story. Kline, who gets easily fatigued when walking long distances, will be the first player in LPGA history to be allowed the use of a cart during competitive rounds. Kudos to much-maligned LPGA commish Carolyn Bivens, who said about the ruling, "After an assessment of her circumstances and careful consideration ...we are confident that the use of a cart and oxygen will not provide MacKinzie with an unfair competitive advantage."
15.
Multiplicity
The PGA Tour sent out a note to the media this week regarding players with the most victories at multiple-venue events and -- surprise, surprise -- the results showed that adding courses tends to let the cream rise to the top. Mickelson's 11 wins (three Buick, three Tucson, two Pebble, two Hope and a
Byron Nelson
) lead Woods (five Buick, two Disney, one Pebble, one Frys.com, one Byron Nelson) by one on the current list.
John Cook
(five),
Davis Love III
(four) and
Vijay Singh
(three) round out the top five.
Mark O'Meara
, who is no longer considered a regular tour member, has seven.
16.
Geography lessons
We bring this up every year, but it's worth mentioning the geographical inaccuracies of some tours once again. The Nationwide Tour commenced its season in the nation of Panama and will play in Australia and New Zealand in upcoming weeks. The Canadian Tour will contend seven tournaments in the U.S. and Mexico before heading to the Great White North. And the European Tour takes the cake, with a season that begins in China, Hong Kong, Australia, New Zealand, South Africa, United Arab Emirates, Qatar, Malaysia, Indonesia, United States, Thailand and Singapore -- none of which are actually in Europe -- before its Madeira Island Open in Portugal next month. If you're keeping track at home, that's 17 non-European events on the European Tour before it finally comes home.
17.
Sunday drivers
What does driving 500 times around a circle have in common with driving a golf ball? Apparently nothing, but that won't stop many NASCAR folks from teeing it up at the Daytona 500 in a few weeks. Among the favored venues during race week is Victoria Hills GC, which has played host to Michael Waltrip on occasion and saw Kyle Petty and his crew knock it around just last week. But the venue isn't just for guys who go left; noted fade-shot artist
Chris DiMarco
reportedly also considers the course among his favorites, too.
18.
Quote of the week
"It's the closest event we have on tour to an actual football game."
--
Joe Ogilvie
, on the FBR Open atmosphere.
Jason Sobel is ESPN.com's golf editor. He can be reached at Jason.Sobel@espn3.com
Golf Editor, ESPN.com
Jason Sobel, who joined ESPN in 1997, earned four Sports Emmy awards as a member of ESPN's Studio Production department. He became ESPN.com's golf editor in July 2004.
SPONSORED HEADLINES
MORE GOLF HEADLINES
MOST SENT STORIES ON ESPN.COM
EDITORS' PICKS
After Rory's win Sunday, the Masters can't come soon enough.
Bob Harig »

Brooks Koepka captured his first PGA Tour win in Phoenix.
Leaderboard »

Don't expect 17-year-old Lydia Ko to struggle with the mantle of No. 1.
Bill Fields »