Woods falls well short at Bay Hill
Updated:
March 20, 2007, 4:33 PM ET
By
Jason Sobel
| ESPN.com
During these days of March Madness, we can consider Sunday's final result at the Arnold Palmer Invitational to be Awesome, baby, with a capital A.
Of course, Vijay Singh is no mid-major Cinderella; it's just that anytime powerhouse Tiger Woods doesn't provide a super, scintillating, sensational performance these days, the golf world turns into Upset City.
The Weekly 18 begins with a look at how Tiger went from first to cursed in the final round at Bay Hill in Orlando, Fla.
1.
What happened to Tiger?
Tiger Woods stood expressionless, staring at the water that had just swallowed his golf ball. His familiar take-no-prisoners visage had long ago withered in the Florida sun, replaced by a quizzical look of diffidence we don't often see on the world's top player.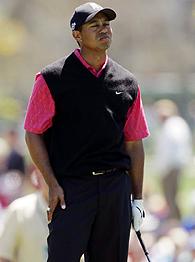 AP Photo/J. Pat CarterWoods shot a final-round 76 and went 6-over on his final three holes of the day.
Minutes later, Woods tapped in a putt with his wedge for triple-bogey on the final hole of the Arnold Palmer Invitational, putting his disappointing final round out of its misery, the culmination of a remarkable turn of events on the back nine of the tournament.
How remarkable? Just a few hours earlier, Tiger had entered the final round with a share of 10th place, but started birdie-birdie to send an early warning signal to the leaders, who had yet to even tee off. He made the turn a mere 1 stroke off the lead, very much in the hunt for his fifth career title at Bay Hill. But a poor drive and three-putt led to double-bogey on 11, then a run of four pars was halted by bogey on 16, double-bogey on the par-3 17th when he fanned his tee shot in the water hazard and that triple on 18. The result was a profoundly un-Tiger-like back-nine 8-over 43, half of a final-round 76 that left him at T-22 for the week, 11 strokes behind Singh.
Making this downslide all the more shocking was the fact that another Woods victory seemed an inevitability just three days earlier. After he shot a 6-under 64 to claim a share of the first-round lead, we figured he'd cruise through three more rounds of par or better, tap in a par putt on the 18th green Sunday afternoon and win by, oh, 4 or 5 shots, punctuated by a hearty handshake with Arnold Palmer, a photo op of one legend handing another legend the winner's trophy yet again. "SportsCenter" even ran a graphic chronicling Tiger's success when leading on Thursday. In 23 such instances on the PGA Tour, he had gone on to win the tournament 13 times -- including three in a row -- and failed to remain in the top 10 on only four occasions.
Make that five.
Let the numbers tell the story of Woods' week. On a course that rewards accuracy, he hit the fairways at Bay Hill less than two-thirds of the time. He was 17-of-18 hitting greens in regulation on Thursday but averaged just 11 greens the final three days. But the most telling stat for Tiger was that of his putting. He took an average of 29.8 putts per round, ranking T-59, and was only 2-of-6 from 5-7 feet and 3-of-5 from 7-10 feet.
The final tally on Sunday was his highest single-round score since a pair of Rosey Griers (or, if you prefer, Lou Grozas, Shawn Bradleys or Big Daddy Lipscombs) at last year's U.S. Open and his highest in a non-major since a third-round 76 at the 2003 Memorial.
So what are we to make of Woods' latest hiccup? Well, first off, the game's best closer ever deserves a free pass any time he doesn't come through in the final round. The guy is super, man, but he's not Superman ... and every once in a while, we have to be reminded of his mortality.
Tiger didn't speak to reporters after finishing at Bay Hill, but it's a good bet he'll be excited to tee it up again this week at Doral. Great players -- OK, all players, really -- don't like to let a poor performance linger for too long. The last time Woods was in a similar situation was after the aforementioned U.S. Open last year. After his missed cut, Woods responded with a runner-up finish at the Western Open and a victory at the British Open, the first in a string of seven consecutive PGA Tour wins.
Will Woods' flaws continue to be exposed on the scorecard? Or will he revert to his previous pristine performance? Here's guessing we'll learn an awful lot this week.
2.
Vijay's day
Don't believe for a second that Singh didn't know his career record heading into this year's proceedings at Bay Hill. In 14 previous starts at the event, he had made the cut every single time, with five top-10s and three runner-up finishes. Next up on the hit list for Vijay? The British Open (he has played 18 times without a victory), Players Championship (14 times) and U.S. Open (13 times).
3.
Super seven
With the victory, Singh became the seventh player to own career wins at both Arnie's tournament and that of
Jack Nicklaus
(the Memorial). The other six:
Paul Azinger
,
Fred Couples
,
Ernie Els
,
Hale Irwin
,
Kenny Perry
and Woods. Whew. How's that for an impressive list?
Vijay's Day

Vijay Singh won the Arnold Palmer Invitational on Sunday. His rags-to-riches tale should be one of the best in golf, if he would ever let us in on the full story, writes Bob Harig. Story
• Blog: Best international player?

4.
Life begins at 40?
With the victory, Singh became the first multiple winner on tour this season, earning the 31st title of his career. When he triumphed at the season-opening Mercedes-Benz Championship in January for the Big Three-Oh, Singh spoke of how difficult it had been for him to claim milestone wins 10, 20 and 30. "I'm just going to play and enjoy it and see how many wins I can get before I finish," he said at the time, but it's worth taking a good, hard look into just how many trophies Vijay ultimately will have on the mantel. He turned 44 last month, but still works on his game as much as -- if not more than -- any other player around. Considering he's just three seasons removed from winning nine times, it's certainly not out of the realm of possibility that we'll be talking about Singh winning his 40th title by the end of the decade.
5.
Singh delivers
You might not care about the PGA Tour's newest venture, the FedEx Cup. You might not like it. You might not even understand it. But there's one aspect of the new points system that we all have to agree upon: The format was absolutely made for a guy like Singh, one who plays early, plays often and plays well. With Sunday's win, Singh grabbed the FedEx points lead from
Charles Howell III
. and if you really want to look ahead and project a potential winner of the $10 million first-place prize, keep in mind that Vijay has won at three of the four venues that will host the tour's playoff events. (Then again, so has Woods.)
6.
By invite only?
The PGA Tour has gotten itself into a pretty precarious predicament. Too many players, not enough places for everyone to play. By our count, there are at least 229 players who hold some kind of status this year, not including those with some sort of past champion distinction from years gone by. Add in those amateurs and club pros who gain entrance into events via sponsor's exemption or Monday qualifier and it's easy to see how some guys don't get a chance to compete nearly as often as they'd like. More than ever, this phenomenon is taking its toll on the tour's non-heavyweights. In previous years, with the schedule expanded well into autumn, plenty of nonelite players would have their chance to make the big bucks and prove themselves along the way, but with fewer events in a shorter sched, these guys are hard-pressed to compete, let alone contend.
We know, we know; that's what the tour's Fall Finish is all about. Starting in mid-September, the big guns can take an early vacation while those still battling for placement on the money list can keep playing. Makes sense, really, though we can't imagine too many folks who don't get paid to pay attention (read: us) will give these tournaments even a quick glance. Now, we've always been a big proponent of the idea that if a player doesn't like his status in the world of golf, he needs only play better to improve upon it. But the recent backlash to the announcement that the new AT&T National might be a limited-field invitational event shouldn't be construed as bellyaching. After all, to take a full-field tournament from the players and replace it with a more selective one seems to simply enhance the rich-get-richer philosophy that is becoming all too familiar on tour.
7.
Rocco's rollin'
What got into
Rocco Mediate
this week? The 44-year-old character with the chronically bad back finished in solo second place, two strokes behind Singh, for his best finish since 2003. Not bad for a guy who started the year in Hawaii ... as an on-course analyst for Golf Channel.
8.
Rockin' Rollins
Seems as though we mention this just about every week these days, but take a look at
John Rollins
' record so far this year. Wow. The guy keeps getting better every week. With his T-5 at Bay Hill, Rollins has three top-10s and seven top-25s in nine starts this season. Looking for a dark-horse pick in one of this year's majors? Keep Rollins in mind, for sure.
9.
Wake up
Nice showing by rookie
Kyle Reifers
this week. The young Wake Forest alum -- an alma mater he shares with the tournament host -- used a sponsor's exemption to finish T-12 at Bay Hill, by far his best finish this season. A final-round even-par 70 allowed Reifers to jump 14 places on the leaderboard and earn his first decent check on tour. In four previous starts, he had three missed cuts and a T-71.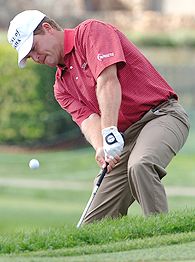 AP Photo/Phelan M. EbenhackBohn played with Woods during the first two rounds at Bay Hill.
10.
Throw him a Bohn
The Weekly 18 has long been a fan of
Jason Bohn
, both for his gutty play on the course and for his easygoing, down-home demeanor. An example of the latter: Grouped with Woods during the tournament's first two days, Bohn reportedly sidled up to the fan favorite and said, "Tiger, I brought some of my friends out to watch you play. Hope you don't mind." Can't imagine there are too many guys who have made that joke with Woods before.
11.
Imperfect 10
Rough week for
Daniel Chopra
. A good friend of
Arjun Atwal
, who is is being investigated for his possible role in the death of a man who was killed while speeding a week ago, Chopra finished T-107, missing the cut after shooting 78-72 in the first two days. The biggest blip on his scorecard? A quintuple-bogey 10 on the par-5 sixth hole in the first round. Here's how it happened: Chopra hit his drive in the water, then hit his third just over the water. He had to chip away from the water with his fourth shot, then his fifth went in the water. He took a drop. His seventh went just behind the green, then he chipped on and two-putted. Ouch.
12.
Holmes ... back on the range?
Before you ask, no, J.B. does not stand for Just Bogeys ... although it could have Sunday.
J.B. Holmes
started his final round with three bogeys, four double-bogeys, a triple-bogey and one lone par for a front-side 14-over 49. Remarkably, he bounced back with a 1-under 34 on the back to salvage a somewhat palatable 83.
13.
Palm(er) reader
This just in: Arnold Palmer is smarter than us. Seriously. When we met up with The King at a public relations event in the summer of '05, we asked him who he thought was the best young player, Tiger excluded, in the world. Fully expecting to hear the name
Adam Scott
or
Sergio Garcia
, we were surprised when Palmer looked us in the eye and instead said, "Charles Howell." Well, it took a few years, but CH3 is proving him right. Although he finished T-56 this week, Howell has yet to miss a cut in eight starts this season and has six top-25 finishes.
14.
Hail, hail, the gang's all here
Don't bother checking the entry list for this week's WGC-CA Championship at Doral -- everyone will be there. All 76 players who were invited to play in the year's second of three World Golf events have confirmed that they will compete at the Blue Monster. That includes
Jim Furyk
, who bowed out of the Palmer because of soreness in his wrist -- the same wrist (left) on which he underwent surgery in 2004. The world's No. 2-ranked player said the injury shouldn't be a major setback and reportedly already was hitting golf balls this past week.
15.
Taking stock
The teams for the annual Tavistock Cup were announced this week, and we find it pretty shocking that a pair of gated communities in Florida just might be able to put together more competitive squads than the entire United States can do for the Ryder Cup every other year. Lake Nona and Isleworth combine to have 12 of the world's top 31 players in the World Ranking and at least one player must have been happy to find a new name on his roster this year. Woods, who has been defeated twice by
Nick O'Hern
at the Accenture Match Play Championship in the past three years, will be able to call O'Hern a teammate on his Isleworth team.
16.
The Futures is now
Much has been made about how Nationwide Tour players have been coming off the minor league circuit ready to win on the PGA Tour, but there's a similar situation in women's golf, too, where those from the Futures Tour have shown a remarkable amount of success in recent years. The latest example was Meaghan Francella, who not only took
Annika Sorenstam
to a playoff at the MasterCard Classic, but she beat the game's top player with a birdie on the fourth playoff hole. "Annika is the best player in the world," Francella said afterward. "I was a little intimidated, but I just tried to stay patient. I didn't want her to intimidate me. I just tried to stay focused. ... I was like, 'Am I really doing this?' I felt like I was dreaming."
17.
Manic Monday
What's that? You missed Francella's victory over Annika on Monday? You're hardly alone. Because of weather delays throughout last weekend in Mexico, the final round and ensuing playoff were contended on Monday ... but without any television coverage. The LPGA, which sells its own advertisements for its broadcasts, reportedly decided to forgo airing the Monday finish rather than give its fans a glimpse of what turned out to be history. For a tour -- and a commissioner, Carolyn Bivens -- that has been criticized for some poor decisions in recent years, this can only be added to that list.
18.
Quote of the week
"Yeah, I broke 80."
--Tiger Woods, when asked whether there was anything positive he could take from his second-round 73.
Jason Sobel is ESPN.com's golf editor. He can be reached at Jason.Sobel@espn3.com
Golf Editor, ESPN.com
Jason Sobel, who joined ESPN in 1997, earned four Sports Emmy awards as a member of ESPN's Studio Production department. He became ESPN.com's golf editor in July 2004.
EDITORS' PICKS
Will Adam Scott use his anchored putter for the Masters, and was Dustin Johnson treated fairly?
#AskESPNCaddie

Baddeley's birdie at the Valero Texas Open included a penalty stroke.
Michael Collins »

What was Henrik Stenson so worked up about?
Bob Harig »
MOST SENT STORIES ON ESPN.COM