Playing The Honesty Game
Updated:
March 21, 2007, 12:36 PM ET
By
Jason Sobel
| ESPN.com
While driving to the office on Tuesday (a little late; don't tell the boss), I listened to ESPN Radio's Colin Cowherd play something he called "The Honesty Game." The concept isn't too difficult to grasp. Basically, he gave his opinions on some issues -- opinions that were pretty tough to disagree with.
Never one to bypass an opportunity for piracy, I figured this was a game that could easily translate to the golf world.
So here are a dozen and a half points to be made about the current state of the game. Call it the Bonus Weekly 18.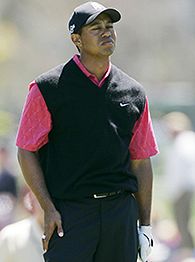 AP Photo/J. Pat CarterWoods' final-round 76 at the Palmer included a triple-bogey and two doubles in his final eight holes.
Honestly …
Anytime
Tiger Woods
gets within one shot of the lead on Sunday, only to shoot a back-nine 43 and lose by 11 strokes, we're gonna write about it. And analyze it. And criticize it. Based on the reader feedback comments to my
Alternate Shot
piece with Bob Harig on Monday, many of you think we're jumping the gun by insinuating that something could be wrong with Tiger's swing and putting stroke, not to mention the fact that he needs to get his game in order soon for the Masters. But we'd be remiss if we
didn't
talk about Woods' final-round collapse at Bay Hill. The guy is the world's most dominant athlete. When he screws up, it's news.
Honestly … We should take Phil Mickelson for his word when he says if he had to play Winged Foot's 18th hole all over again, he'd still hit driver. It was the right play. But until Mickelson admits that it was a mistake trying to play through a tree with his next shot rather than knocking one down the fairway and attempting to get up-and-down, we can still criticize his course management on that fateful hole.
Honestly … There are only about 20 players who can win next month's Masters. Is that so wrong? It was the USGA's Sandy Tatum who once famously said that organization's objective was to identify the best players, but the Masters now does a better job of meeting that goal than the U.S. Open. Because of the difficult course setup, we simply won't see a fluky Masters champ for a very long time.
The Thundering Herd
What did ESPN Radio's Colin Cowherd have to say in his Honesty Game? Listen here to find out.
The Thundering Herd

Honestly … We'd all like to anoint the Next Great Player when a guy is in his early 20s, but greatness takes time to develop. Your latest in a long, long line of examples: Charles Howell III.
Honestly … Too many folks are too quick to criticize the FedEx Cup. Is it a forced, contrived system that defies golf's long-standing traditions? Yes. But it also eliminates the final two months of a schedule that ran two months longer than necessary. Addition by subtraction in its purest form.
Honestly … Meaghan Francella was as surprised as anyone that she defeated Annika Sorenstam in a playoff last week. Golf Channel just produced a show on the 10 most intimidating golfers of all time; Tiger was No. 1, followed by Jack and Hogan. Annika was further down the list, but you really want to talk intimidation? Here was the scene when she stepped to that first playoff hole. "We got up there and I said, 'I'm playing a Titleist,'" Francella recounted to the Futures Tour's Lisa Mickey recently, "and she said, 'I'm playing a Callaway 59.'" Ouch. To her credit, the rookie didn't let it get to her. "I was thinking, 'Ooh, I wonder if I can get one of those.'"
Honestly … Nick Faldo isn't just the best color guy in all of golf. He's the best color guy in all of sports television -- a meteoric rise for an announcer who started the gig only last year.
Honestly … There's something fishy going on with the recalled Nike Sumo2 drivers. If you bought one in a golf shop during the past year, it was nonconforming. But the one that K.J. Choi used to win in Tampa last year was perfectly legal? We sure about that?
Honestly … I don't care if a course is a par-70 or a par-72 or a par-1,000. It's just a number; it doesn't matter. Todd Hamilton recently told The Associated Press that he thinks par should be abolished. That's the best shot he's fired in three years. (How's that for a backhanded compliment?)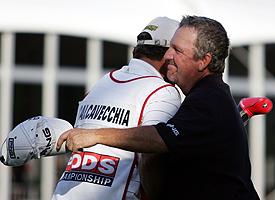 Marc Serota/Getty ImagesCalcavecchia and caddie Eric Larson partnered for their first victory together since 1995 at the recent PODS Championship.
Honestly …
Golf is the only sport in which a professional could emotionally support a buddy who was in prison for 11 years for selling cocaine, give him a job upon his release -- and have it transpire as a warm, fuzzy story. If
Mark Calcavecchia
were an NFL or NBA player, we'd be talking about how he needs to cut ties with his shady acquaintances.
Honestly … There's plenty of sentiment out there that Natalie Gulbis needs to win an LPGA event soon to avoid becoming golf's version of Anna Kournikova. But really, she could equal Annika's win total for her career … and she'll still be known more for those bikini calendars than anything she's done on the course.
Honestly … If you think this is a down period for American golf, just wait a few years. It's only gonna get worse. It has less to do with the ineptitude of U.S.-born players and more to do with the fact that golf is an ever-growing sport on the global scale. A decade from now, there will be a greater number of European, Australian and Asian players seeking the riches of the PGA and LPGA tours, which means fewer spots for Americans. It's good for the sport as a whole, but not necessarily for its prevalence in this country.
Honestly … Of all the golf statistics out there, the only one that really matters is the number on the scorecard. That said, I could give you 100 guesses at this season's PGA Tour leader in scoring average and you still wouldn't get it right. No, it's not Tiger … or Phil … or Vijay. Give up? It's Jose Coceres, a two-time playoff loser already.
Honestly … When Henrik Stenson can ascend to No. 5 in the world despite playing only seven career majors and Nick O'Hern can reach No. 17 without any career wins on the PGA or European tours, the Official World Golf Ranking needs some fixing.
Honestly … I could watch tournaments at venues like HarbourTown, Colonial and East Lake every single week. Give me 7,000 yards of tight fairways and small greens over 7,500 yards of wide-open spaces in wide-open places any day, anytime.
Honestly … Golf needs more characters -- or at least more players with character. The days of Chi Chi Rodriguez are long gone, Peter Jacobsen is on the Champions Tour and who knows how much longer Rocco Mediate will be around? Who will give us the great quotes of the upcoming generation? Paging Will MacKenzie. Will Mr. MacKenzie please report to the front of the interview room?
Honestly … The rank-and-file players can fight the good fight about there being too many WGCs and invitational tournaments on the schedule -- and they're probably right -- but the claims are going to fall on deaf ears. Quite simply, the PGA Tour will do whatever it damn well pleases and the argument won't gain much support among mainstream media and casual fans because, well, they just don't care if guys like Kirk Triplett and Woody Austin can't play some weeks.
Honestly … If a player wants to be included in more tournament fields, there's an easy solution: play better.
Jason Sobel is ESPN.com's golf editor. He can be reached at Jason.Sobel@espn3.com
Golf Editor, ESPN.com
Jason Sobel, who joined ESPN in 1997, earned four Sports Emmy awards as a member of ESPN's Studio Production department. He became ESPN.com's golf editor in July 2004.
SPONSORED HEADLINES
MORE GOLF HEADLINES
MOST SENT STORIES ON ESPN.COM
EDITORS' PICKS
What's next in the progression of Rory McIlroy?
Farrell Evans »

The tour's schedule is built around roughly a dozen players.
Bob Harig »

Rory, Tiger took the ALS Ice Bucket Challenge plunge together.
Blog »