Disappointment spawns more optimism for Els
Updated:
April 17, 2007, 4:06 PM ET
By
Jason Sobel
| ESPN.com
Let it forever be known that professional golf is not quite as dependable as the United States Postal Service, whose unofficial motto remains: Neither snow nor rain nor heat nor gloom of night stays these couriers from the swift completion of their appointed rounds.
On Sunday, just after the final group of Jerry Kelly, Ernie Els and Kevin Na began its appointed round at 1 p.m. local time, play at Harbour Town was suspended for … high winds?
No doubt that letter carriers throughout Hilton Head would have taken great pride in knowing they could deliver the mail (had it not been a Sunday) on a day when the world's best golfers couldn't mark their golf balls on those greens nearest the water.
The weather delayed Boo Weekley's first career PGA Tour victory by one day and extended Els' winless streak by one more. But as the Weekly 18 begins, things are looking up for the Big Easy.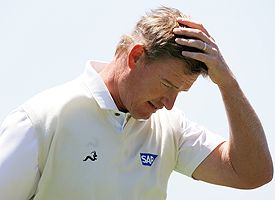 Streeter Lecka/Getty ImagesEls shot a final-round 70 finish in solo second.
1.
Els has cause for optimism
Ernie Els is a blogger. Oh, he may not even know he blogs -- Els refers to it as a "diary" on his Web site, which conjures images of a preteen girl keeping track of which classmates are cute and which have cooties -- but every week (and sometimes more frequently) he shares his innermost thoughts on golf, life and, well, how golf is affecting his life.
The most recent entry couldn't have been an easy one for the Big Easy. Once thought to be a logical choice to own a few green jackets, Els suffered another Masters letdown last week, shooting 78-76 to miss the cut at Augusta National.
"As you can probably imagine it's hard for me to put any kind of positive spin on things when you've just missed your first cut in a major championship for the best part of seven years," Els wrote after the Masters. "Impossible, really. I mean, what can I say? It's a major downer."
Pretty candid stuff from a guy who often doesn't enjoy sharing too much with the public. After discussing what went wrong and admitting more of his disappointment -- "If I don't win here, it will be a big blank page in my career and I hate the idea of that" -- Els began looking ahead to the Verizon Heritage, one of his favorite events on the schedule.
"Overall, I genuinely believe that my game is in as good a shape as it has been for some time," wrote Els, who owned six top-10s in eight career starts at Harbour Town entering this week. "I think it's one of those tournaments where I feel comfortable as soon as I arrive. I'm often here with the family and we rent a nice place down by the beach, go bike riding together in the evenings; it's a nice way to wind down after a day at the golf course. That's often been the kind of recipe that helps me play my best golf."
And Els did indeed play his best golf, shooting 65-65-71-70 to finish in solo second place. Of course, there are good runner-up finishes and bad runner-up finishes; Els should consider this latest close call a job well done. Had neither of Boo Weekley's par chips on the final two holes found the bottom of the cup, Els would have found himself in the winner's circle. As it was, he gave a valiant effort, landing his eagle from the right rough less than two feet from the pin on 18. He later called it his best shot of the year, which makes sense considering only one-quarter of the field reached that green in regulation and no other player was closer than eight feet.
However, that next PGA Tour win remains as elusive as ever. Els is now mired in a 36-event winless stretch that dates back to 2004 -- his longest such streak since he made his initial tour start in 1990.
During that time, Els has suffered through -- and recovered from -- season-ending knee surgery in 2005. He's seen success; the Heritage result was his second top-three finish (along with the Nissan Open) this season. He's seen failure; the missed cut at the Masters was his first in 46 PGA Tour events. And he's seen plenty of change; Els has replaced both his agent and his equipment manufacturer in recent months. All that's left is to find that next victory.
Based on Els' play at Harbour Town, it's coming very soon. That'll give him something to write home about.
2.
Weekley 18
Despite having similar names, the Weekly 18 and Boo Weekley are as much relatives as Tiger Williams -- the old NHL enforcer -- and
Tiger Woods
. Which is to say not at all. Of course, that won't keep us from calling ourselves the Weekley 18 this week, in honor of the man who chipped in for par on each of the final two holes. In case you missed it, Weekley (him, not us) duffed his greenside chip on the par-3 17th hole on Monday, but followed it by chipping in for par. On 18, he chipped all the way through the green and onto the rough that borders the hazard, only to chip in once again.
3.
Not well Fed
The PGA Tour is, quite obviously, trying to promote its yearlong FedEx Cup competition. Here's guessing this quote from Weekley about the new points system won't be included in any upcoming advertisements: "I'm trying to understand it, but I ain't figured it out yet."
4.
Weekley's own words
Really, it's not fair to give one Weekley quote and not all the others. Here is a Greatest Hits list from his final-round news conference:
On playing golf at Abraham Baldwin Agricultural College: "They did away with the golf program, I think, for the bull riding or something like that."
On having to make short putts: "Still to this day, that three-footer, they still give me a little bit of a jitter."
On earning exemptions into certain tournaments: "It might take me another year to figure out all the exemptions. I don't keep up with golf. I call them and they say, 'All right, you're in this tournament,' and I just go and play."
On the ride home after the event: "We're fittin' to fly home first and drop [off] Joe Durant. We're going to kick him out of the airplane."
On whether he might consider taking his comedy routine to the stage: "No, sir, I ain't good at that."
5.
Streak snappers
Els' consecutive PGA Tour cut streak was snapped at 46 last week, leaving
Jim Furyk
as the current leader in that category … until Hilton Head, that is, when Furyk's string of 20 straight was broken when he shot 71-73 to miss the weekend by one stroke. The new leader?
Vijay Singh
, with 19 in a row.
6.
Going streaking
Sean O'Hair
must be encouraged by his play of late. The 2005 Rookie of the Year began the season with only one made cut -- a T-56 at the Nissan Open -- in six starts, but has since recorded a pair of T-14s and a seventh-place finish at the Heritage. The difference? Putting. He ranked 170th in putting average entering the week, but was T-9 in that category at Harbour Town.
7.
Green's jacket
One final post-Masters tidbit on
Zach Johnson
. Among the many things he said last Sunday that were never uttered by
Arnold Palmer
or
Jack Nicklaus
upon their Masters wins was this: "My caddie is probably a better player than me." Johnson was kidding … but only a little bit. Damon Green is a former Nationwide Tour regular (his last full season was 1996), who is often considered the best player among tour caddies. The Masters champ noted the importance of Green's assistance at various times throughout his post-round news conference. He finished T-6 at Harbour Town.
8.
Five alive
Rookie
Anthony Kim
shot an opening-round 2-under 69, but faded with scores of 72-70-74 over the final three days to finish in a share of 36th place. The difference? His performance on the par-5 holes. On Thursday, he birdied all three on the course, but played them in just 1-under for the final three rounds. For the season, Kim's 56.04 birdie percentage on par-5s ranks behind only
Phil Mickelson
and
Robert Allenby
.
9.
Blown away
How bad was the wind at Harbour Town on Sunday? You can see all the pictures of bent flagsticks, hear all the tales about players unable to mark their golf balls because they wouldn't stop moving, but one fact alone remains the most telling:
J.B. Holmes
, he of the lashing, guttural swing that produces some of the longest shots on tour, had a 130-yard approach shot into the wind before the tournament was suspended. He hit 6-iron … and came up 40 feet short.
10.
Pat down
Pat Perez
's first-round 81 and subsequent withdrawal didn't appear very promising, but the man known as Double-P insisted it was all the result of a lingering elbow injury. Had he consistently been playing, Perez said he would have WD'd prior to Hilton Head, but after taking five consecutive weeks off, he wanted to give it a go. Expect him to skip this week's event in New Orleans and return for next week's
Byron Nelson
Championship.
11.
Stuck in Park
The good news for PGA Tour rookie
Parker McLachlin
? When
Justin Rose
withdrew just before his Thursday tee time, it meant McLachlin had earned his way into the field. The bad news? He shot 81-78 to finish dead last of those who finished two rounds.
12.
New Orleans ain'ts
As the only PGA Tour winner at TPC-Louisiana (last year's Zurich Classic was held at English Turn due to Hurricane Katrina), expect a little extra attention on
Tim Petrovic
this week. Haven't heard his name mentioned too often since he defeated
James Driscoll
in a playoff two years ago? It's not surprising. In 60 starts since then, he's made the cut 31 times, with only two top-10s, none since August of 2005.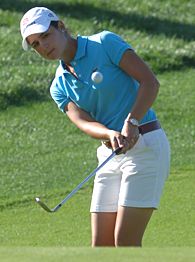 Phelan M. Ebenhack/AP PhotoOchoa came in second place at the Ginn and remains the No. 2-ranked player in the world.
13.
Lo and behold
Trivia time. Though Lorena Ochoa failed to win the Ginn Open on Sunday and didn't move up to No. 1 in the world, she likely will soon. Ochoa trails
Annika Sorenstam
by just .19 average points in the Rolex Rankings and with Annika out for at least one month due to a back injury, it seems inevitable that she will be replaced for the first time since the ranking was introduced on Feb. 20 of last year. Now for the trivia: In what position on the initial list was Ochoa and which players were ahead of her? Less than 14 months ago, Ochoa debuted at No. 7 on the list, behind Sorenstam, Paula Creamer,
Michelle Wie
, Yuri Fudoh, Cristie Kerr and Ai Miyazato.
14.
Tough stretch
There were 32 former PGA Tour champions in the Nationwide Tour's South Georgia Classic field this past week. That's right, close to three dozen players who had reached the pinnacle of their profession at one time only to find themselves toiling in golf's minor leagues once again. For some guys, like seven-time winner
John Huston
, it provided a chance to earn some cash and maybe regain some status in the big leagues. For others who already own full playing privileges but haven't been able to get into recent smaller-field events, like
Kyle Reifers
and
Michael Putnam
, it provided a chance to simply play competitive golf -- something they haven't been able to do much of recently. Last week's Masters was, of course, by invitation only and was preceded two and three weeks earlier by the CA Championship and Arnold Palmer Invitational. With the Heritage employing a field of only 130 (about 26 players fewer than a normal-sized event), that means only one PGA Tour event of the last five (Houston Open) has been available for all players with status.
15.
Long and strong
The South Georgia Classic's venue, Kinderlou Forest Golf Club, measured at -- hold on to your seats, golf purists -- 7,781 yards this week. This winner, a big-hitting Georgian named John Kimbell, finished at 10-under, a pretty respectable score for such a long course. What does that mean? It's only a matter of time until we see a course, either on the PGA or Nationwide Tour, whose length starts with the number 8.
16.
Another Aussie?
Those who only casually noticed the homeland of China Open winner
Markus Brier
(rhymes with "beer") on Sunday likely thought,
Oh, just another Aussie winning another title. Yawn.
Nuh-uh. Look closer and you'll find that Brier is a native of
Austria
not
Australia
, making him a rare commodity for a country known more for its skiiers and California state governors. The win was Brier's first career title outside of Austria.
17.
Helping Hend
Big basher
Scott Hend
led the PGA Tour with an average driving distance of 318.9 yards per clip in 2005, but finished 170th on the money list and lost his card. Last season, he made the cut in only six of 19 Nationwide Tour events. So far this year he's competed in four European Tour events, making the cut in each one. After finishes of T-35, T-53 and T-62, Hend earned a share of second place in China. Though a guy with his length off the tee may not become the most consistent player, you've got to imagine he'll make enough birdies to have some more successful weeks like this in the near future.
18.
Quote of the week
"It was almost my first 55-hole lead."
-- Jerry Kelly, who held his first career 54-hole lead entering Sunday at the Heritage, then saw play postponed before his group could finish the first hole.
Jason Sobel is ESPN.com's golf editor. He can be reached at Jason.Sobel@espn3.com
Golf Editor, ESPN.com
Jason Sobel, who joined ESPN in 1997, earned four Sports Emmy awards as a member of ESPN's Studio Production department. He became ESPN.com's golf editor in July 2004.
SPONSORED HEADLINES
MORE GOLF HEADLINES
MOST SENT STORIES ON ESPN.COM
EDITORS' PICKS
Rory's Open win set him on course for a great stretch of golf.
Harig »

A Pinehurst No. 2 win landed Kaymer his second major.
Bob Harig »

Bubba struggled most of 2014 after a second Masters win.
Bob Harig »