Commentary
On the Hot Seat: Tiger Woods
Updated:
August 30, 2007, 2:14 PM ET
By
Jason Sobel
| ESPN.com
NEW YORK -- In recent months, Tiger Woods has talked about becoming a father for the first time. ("It was a dream come true for both Elin and myself.")
He's compared his golf game to where it was during that historic 2000 season. ("I have more shots than I did then.") He's discussed venturing into golf course design work. ("My goal is to design a handful of very unique courses around the world.") He's even addressed the PGA Tour's new FedEx Cup format. ("We're trying to build a lot of excitement toward the end of the year.") So when Woods sat down on ESPN.com's Hot Seat during a tour of Manhattan to promote his new EA Sports video game on Tuesday, we poked and prodded the world's No. 1 player with some questions he isn't often asked.
Q:
I'll start you out with an easy one. What's the best thing about being Tiger Woods?
A:
Doing the thing I love to do, each and every day.
Q:
And the worst thing?
A:
Anonymity. Something I think I lost when I left college.
Q:
When was the last time you went somewhere and nobody recognized you?
A:
At home all the time. [Laughs] No, that's a good question. It doesn't happen very often.
Q:
You own a yacht named Privacy. How much of a treasured commodity is that for you?
A:
It is. It really is, to be able to get away. Once you're out there on the ocean, it just feels so good to get away and basically shut everything out. And for me, I love to dive, love to spearfish. So for me to drop one down and go hunting and just escape everything, basically, you're so focused on the fish that you don't think about anything else. That to me is such a great rush.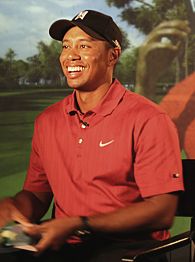 Loren Schwartz/ESPN.com"Greatest fear? I don't really have any," Woods said.
Q: I spoke with Michael Jordan a few days ago and he said, "Ask him about his basketball skills. He's a black guy who can't play basketball." Your response?
A: [Laughs] Well, I think that's the half-Asian in me.
Q:
Can you dunk?
A:
No, I can only grab the rim, that's it. I can dunk a tennis ball.
Q:
This one comes from Charles Barkley, who called you his "son": He wants to know how long until you go fully bald.
A:
I'm sneaking up on it quickly. Quicker than I want to, let's put it that way.
Q:
Are you going to catch up to Charles soon in the hairstyle department?
A:
Him and MJ. They both did it. And they both were kind of doing the moonwalk up there and then they decided to do it, so I totally understand.
Q:
What's it like to have guys on speed dial like Jordan, Barkley, Roger Federer, Peyton Manning? Do you pick each other's brains on competition and winning? Or is there just a whole lot of trash-talking?
A:
You know, it's interesting. We really don't talk about sports. We're friends and we understand what one another go through, but it's kind of weird that we're just great friends. I'm lucky to be able to have people like that who I can talk to about anything. That's just pretty cool. Especially Michael, picking his brain about a lot of different things, because he was the one who paved the way. I guess it was [Muhammad] Ali and then obviously him. And what he did, all the things he had to deal with, since it's so close to my generation, he helped me out just an inordinate amount.
Behind The Scenes
Tiger Woods took New York City by storm earlier this week and Jason Sobel was there to chronicle his journey every step of the way. Story ...

Q: Who's the best athlete in the world?
A: I'd have to say probably Ronaldinho.
Q:
Where are you on that list?
A:
Well, somewhere in the top billion [laughs].
Q:
What is your greatest fear?
A:
Greatest fear? I don't really have any.
Q:
No fears at all?
A:
No, not really. I can't think of any.
Q:
Switching gears a little bit, you served cheeseburgers and fries for your first Masters champions dinner in 1998. When was the last time you had a cheeseburger and fries for dinner?
A:
Like three days ago.
Q:
Really? You still do that?
A:
Oh yeah.
Q:
How much can you bench?
A:
I don't bench.
Q:
Ever try it?
A:
I haven't done it in a long time. I don't do a whole lot of chest stuff.
Q:
If you were to play another sport, what would it be?
A:
I wanted to run track, but I was too slow. I could only run the 400 in 52.5 [seconds], and that's not going to get it done.
Q:
So no chance you're going to pull an MJ and switch sports midcareer?
A:
No. Uh-uh.
Q:
Let's talk a little golf. What's your greatest victory?
A:
1997 Masters.
Q:
Your greatest choke?
A:
In 1996 at Quad Cities, when I had the lead, because I kept thinking -- and I lost to
Ed Fiori
there -- if I had won that event, I'd get a two-year exemption. I did not have a [PGA Tour] card and I did not want to go to Q-school. And because I didn't win, obviously, I had to keep trying to get my card and that was the most important thing, to get my card so I had a place to play the following year. So I definitely blew that event.
Q:
Are you sentimental about your victories? Other than a trophy, do you keep a memento from each one?
A:
Depends. It really depends. Some events mean more than others, but I always have something from each major that I've won.
Q:
Do you have a closet full of once-worn red golf shirts?
A:
No. I always give them away. I always give them to charity.
Q:
I have to ask you about the new video game or else they won't let me come back here again next year. How often do you play the game?
A:
I probably play once or twice a month.
Q:
Do you go online and compete against people who have no idea who you are?
A:
No. Never. I would never do that. I don't want to get embarrassed like that [laughs].
Q:
You don't want to trash-talk some kid, tell him you're Tiger Woods and see if he believes you?
A:
Yeah, but I mean, 8-year-olds are great at these games and I don't feel like getting whupped.
Q:
One last question: Just so everyone can make sure they're watching, when are you planning on breaking Jack Nicklaus' career major record?
A:
Hopefully in the future [laughs].
Q:
C'mon, no specific date?
A:
If I knew, I'd tell you. But I don't know. That's the greatest thing about the future. It's just unpredictable.
Q:
Not even going to give me a guess, huh?
A:
I really don't know. I mean, to be honest with you, it took him a whole career.
Q:
Tiger Woods, you're off the Hot Seat.
A:
You got it, man.
Jason Sobel is ESPN.com's golf editor. He can be reached at Jason.Sobel@espn3.com
Golf Editor, ESPN.com
Jason Sobel, who joined ESPN in 1997, earned four Sports Emmy awards as a member of ESPN's Studio Production department. He became ESPN.com's golf editor in July 2004.
EDITORS' PICKS
Before Bubba's Masters wins, he lost Doral by 1. Coincidence?
Harig »

Paula Creamer drained a bomb again, this time in heels.
Watch

How fast can Rory turn things around at Doral?
Four-Ball »
MOST SENT STORIES ON ESPN.COM