Commentary
It's make-or-break week for many tour players
Originally Published:
October 31, 2007
By
Jason Sobel
| ESPN.com
If there was ever a time to suspend your midseason football fandom in favor of golf, a time to say, "Patriots-Colts? Eh, I can TiVo it," this is the week.
We know. It's a tough sell. But look at it this way: No matter who wins the Game of the Century on Sunday, both Tom Brady and Peyton Manning will still own steady employment come Monday morning. But many PGA Tour veterans are competing for their livelihoods at this week's Children's Miracle Network Classic (aka Disney), the final stop on the 2007 tour schedule. Up for grabs in the Magic Kingdom are Masters invitations (top 30 on the money list at the end of this week), exemptions into invitationals like Bay Hill, Colonial and Memorial (top 70), full status for next season (top 125) and partial status (top 150). The Weekly 18 looks at the situations of a dozen-and-a-half players in this week's field, each of whom could use a little Disney magic.
[+] Enlarge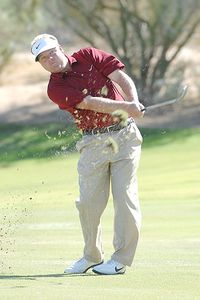 Marc Feldman/Getty ImagesWith a strong finish this week, Pettersson will receive a Masters invitation for the third straight year.
1. Carl Pettersson
Money list rank: 32
Though he made the cut this year for the second time in as many Masters starts, Pettersson's scores looked like the usual balmy April temps in Augusta, as he shot 76-76-79-76 to finish T-52. If he doesn't jump into the top 30, the aptly nicknamed Swedish Redneck may still earn an invite by year's end if he can move into the top 50 on the Official World Golf Ranking. He's currently 55th.
2. Ken Duke
Money list rank: 36
With a T-5 at the Ginn sur Mer Classic, last year's leading money winner on the Nationwide Tour improved eight spots on the current list. A similar result at Disney could see the late bloomer make it a career Grand Slam -- as far as starts are concerned -- in each of the four majors.
3. Sean O'Hair
Money list rank: 41
There aren't many players taking as much advantage of the Fall Series schedule as O'Hair, who has posted results of T-13, T-4 and T-5 in three appearances so far. Those finishes have netted him close to a half-mil in earnings and one more top-five could mean a trip down Magnolia Lane next year.
4. Daniel Chopra
Money list rank: 46
A long-anticipated victory on Monday morning moved Chopra from 104th on the money list to 46th, while netting him a two-year exemption and a trip to Kapalua come January. So what's left for the spiky-haired Swede? One more big week could equal his first career Masters appearance. Don't bet against him, either; when Chopra gets hot, he often stays hot for a few weeks.
5. Joe Ogilvie
Money list rank: 68
Ogilvie is in the unfortunate position of being one of three players (along with Fred Funk and Steve Flesch) who won a FedEx Cup regular-season event … and still didn't earn a Masters exemption. Like titles at the Mayakoba Golf Classic and Reno-Tahoe Open, Ogilvie's win at the U.S. Bank Championship (which coincided with the British Open) doesn't qualify because it came at an opposite-field event. He's also not a lock to reach the invitationals, as it will take a solid week to remain in the top 70.
6. Rich Beem
Money list rank: 121
As winner of the 2002 PGA Championship, Beem earned a five-year tour exemption, during which he finished between 71st and 183rd each season. That exemption concludes this week and while Beem has some cushion between him and those at least five spots behind, he'll need to reach the weekend to assure another year of full status in '08.
7. Mathias Gronberg
Money list rank: 124
Talk about living on the edge. Last year, Gronberg finished 124th on the money list, a mere $16,000 better than the No. 126 player. Currently, he finds himself again in the 124th position, with the difference between keeping full playing status and moving to the partially exempt list less than 10 grand. If you play with fire, scarecrow, you're bound to get burned.
8. Ted Purdy
Money list rank: 125
Yup, it's already been two years since Purdy won the Byron Nelson Championship, meaning his fully exempt status will expire on Sunday evening should he not remain within the top 125. Easier said than done. Although he's made the cut in each of his last four starts, Purdy has averaged paychecks of only $12,000 during that period. That may not be enough to get it done this week.
9. Kevin Stadler
Money list rank: 127
Baby Stads -- or "Maxi Me" as he's been hilariously called -- entered the Ginn at No. 125 on the money list and promptly shot 83-71 to miss the cut by 10 strokes. Ouch. Suffice to say, he'll need a, uh, slightly better result at Disney in order to lock up full status for next season.
10. Craig Kanada
Money list rank: 129
Only Eric Axley (35 starts) has started more events this year than Kanada (33, tied for second most with Chopra), but perhaps no one has struggled more during the past three months. Safely inside the number at the end of July, Kanada has made the cut in only three of 11 starts since the Canadian Open, earning just over $61,000 during that span. He showed promise last week, opening with a 67, only to see it dissolve into a T-39 finish.
11. Harrison Frazar
Money list rank: 130
For the past decade, Frazar has been the tour's Mr. Consistency. He's still searching for his initial victory, but the Dallas native has made between 24 and 31 starts each year since 1998, finishing between 48th and 98th on the money list without exception. A repeat of his 2005 third-place finish at Disney would clinch a 10th consecutive such season for Frazar.
12. Kent Jones
Money list rank: 134
Prior to the Fall Series, Jones had reached the weekend in only 11 of 23 starts, with no paycheck better than the $54,000 he earned in Milwaukee. In the past six weeks, however, he's surpassed that mark four times already. Flirting with the top 125 is nothing new for Jones, who's been inside the number in each of the past four seasons, though never better than 101st on the money list.
13. Steve Lowery
Money list rank: 149
We did a double take when noticing recently that Lowery is just three years away from becoming a Champions Tour regular. At 47, he's been very good for a very long time, finishing inside the top 125 every season since 1993, but even that may be too lofty a goal entering this week, considering his last -- and only -- top-10 this season came way back at the Sony Open in January. Realistically, he'd love to simply stay on the good side of 150 by earning some cash at Disney, where he's made the cut in each of his last seven starts.
14. Tripp Isenhour
Money list rank: 151
After a two-win season on the Nationwide Tour in '06, Isenhour has struggled in his return to the big leagues -- especially over the past six months. He earned the bulk of his $457,419 by the first week of March, then watched as much of the tour gradually passed him by. He'll need a decent week just in order to retain partial playing status next season.
15. Robert Gamez
Money list rank: 152
Gamez last took part in Q-school back in 1989. He made it through, won two events and the tour's rookie of the year honors the next season, and has never looked back, competing in at least 19 events every year since then. This isn't exactly unfamiliar territory, as he finished 151st a year ago, but armed with an exemption from winning the 2005 Texas Open there wasn't nearly as much at stake back then.
16. Jeff Gove
Money list rank: 153
If you can figure out this guy, call us. Please. After leading the PGA Tour's greens in regulation statistic for much of the season, Gove is currently third at 70.26, behind only Tiger Woods and John Senden. So why is such a solid ball striker so low on the money list? Apparently he's been putting with a sledgehammer, that's why. He's 195th in putts per round and 184th in putting average. Yikes.
17. Brendon de Jonge
Money list rank: 156
Call him King of the Oppies, as in opposite-field events. During the regular-season FedEx Cup schedule, de Jonge finished inside the top 40 on three occasions, each time coming when the world's elite players were plying their craft at an alternate location. He'll need a big-time money-making performance at Disney in order to avoid Q-school for the fifth straight year.
18. Michael Putnam
Money list rank: 157
It's been a disappointing season for the former Pepperdine product, who hasn't gotten much bang for his buck -- or bucks for his bang. Putnam has reached the weekend in 19 of 28 events this season, but has earned only $422,359 -- just over $22,000 per made cut. He begins this week $39,000 out of the 150th spot, but hasn't claimed a check that large since July 1.
Jason Sobel is ESPN.com's golf editor. He can be reached at Jason.Sobel@espn3.com
Golf Editor, ESPN.com
Jason Sobel, who joined ESPN in 1997, earned four Sports Emmy awards as a member of ESPN's Studio Production department. He became ESPN.com's golf editor in July 2004.
SPONSORED HEADLINES
MORE GOLF HEADLINES
MOST SENT STORIES ON ESPN.COM
EDITORS' PICKS
Nike's more interested in Rory McIlroy's clothes than his clubs.
Darren Rovell »

Chasing Majors

Tourney flaws