Commentary
On the Hot Seat: Justin Leonard
Originally Published:
February 15, 2008
By
Jason Sobel
| ESPN.com
It's been a career of highs and lows for Justin Leonard.
The highs are obvious. Eleven career PGA Tour victories, including his lone major championship title at the 1997 British Open. And there was also a little thing dubbed the "Putt Heard 'Round the World," which helped clinch the 1999 Ryder Cup for the U.S. side. You have to search a little harder for the lows, stretching the memory to recall his playoff losses at the British in 1999 and PGA Championship five years later. Count last year's string of missed cuts in this category, too. Leonard recently sat down on the Hot Seat to discuss each of these highs and lows -- and how they've helped shape him into the player he's become today.
The Leonard file
| | |
| --- | --- |
| | |
| | Leonard |
Full name: Justin Charles Garrett Leonard
Birthdate: June 15, 1972
Height: 5-foot-9 Weight: 170 lbs.
Turned professional: 1994
Joined PGA Tour: 1994
Special interests: Fishing, hiking, skiing
Q: If you could be remembered for only one thing in your career so far, would you rather it was the 1999 Ryder Cup, the '97 British Open or the '92 U.S. Amateur?
A: Well, not that I have a choice, but I think it's the '99 Ryder Cup. I get more comments about making that putt than I do the other two combined. I like being remembered for that.
Q:
You actually jumped my next question. I was going to ask if a day ever goes by when someone doesn't mention that putt.
A:
Yeah. I get a lot of comments on that, but certainly days and weeks go by where I don't hear anything.
Q:
Is there one thing about that day -- whether it was the putt itself or something from the celebration back at the clubhouse -- that sticks in your mind more than anything else?
A:
For me personally, that was really the last night that I was with Payne Stewart. So that certainly sticks out in my mind, just remembering that whole celebration and being able to celebrate with Payne is something that I think about quite a bit.
Q:
Did it also mean more to make that putt with
Ben Crenshaw
as the team's captain?
A:
Again, for me personally, probably a little bit, because I grew up admiring Ben. To become a peer of his and then to get to play for him -- to be able to do that as a member of his team, it made it even more special.
Q:
I want you to know that I played The Country Club this past summer. My entire foursome tried that 45-footer on 17 and no one came within 5 feet.
A:
[Laughs] Well, if mine hadn't hit the center of the hole, I wouldn't have gotten it within 5 feet, either.
Q:
You haven't been on the Ryder Cup team since that year. How has it felt watching from home while the team competes?
A:
Not a lot of fun, because I've enjoyed the two Ryder Cups that I've been in as well as the Presidents Cup teams and I know how much fun those weeks are. I'm doing my best to get back on there.
Q:
Where does making this year's squad rank on your list of goals for 2008?
A:
It's definitely a goal, but it's not something I think about a whole lot, because it's such a long process. My main goals are just to be ready to play each week and do the things that I need to do in order to have my game ready each week. And if I do those things and do them well enough, then making that team will take care of itself.
[+] Enlarge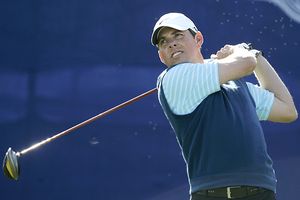 AP Photo/Chris CarlsonLeonard owns three top-10s in five starts this season.
Q: Talk to me about the recent Bob Hope Chrysler Classic. You were up 3 with nine holes to play. Was there ever a point where you thought, "I've got it. This one is mine," entering that back stretch?
A: I would say I approached the whole day that way. I felt like if I went out and played a solid round that the tournament was mine. I played pretty solid on the front nine and back nine I didn't play as well. Probably the most disappointing thing about the day was that at the last four holes, I never really gave myself a chance at a birdie putt. When I was 1 back with four to play, I never gave myself a chance to at least tie for the golf tournament and I was disappointed with that.
Q:
What do you take away from that loss?
A:
It's a missed opportunity, but it also shows I'm headed in the right direction, that my game has improved a lot in the past year. The momentum that I built up toward the end of last season, I was able to carry over to 2008.
Q:
Did it hurt your confidence to lose in that fashion or help it knowing how close you came?
A:
That's up to the individual. I try to use it as a positive. I know how hard it is to win a golf tournament out here. To give myself a chance like that shows that I'm going in the right direction, but at the same time it is a missed opportunity.
Q:
We've seen proven winners like yourself,
Vijay Singh
,
Phil Mickelson
and
Steve Stricker
lose to less accomplished players already this season. Any explanation for this?
A:
I think it just shows how hard it is to win. It also shows how deep the tour is. There are a lot of talented guys out there who maybe haven't won as many events, but it doesn't mean that coming down the stretch, they're not going to fight you tooth and nail and at times play better than you will.
Q:
You've undergone some pretty major swing changes in the past year, correct?
A:
I wouldn't say major swing changes. I would say some tweaking, getting back to what has worked in the past and the main thing was just getting my confidence back.
Q:
Is it more mental or mechanics?
A:
It's more mental. The mechanics was really the easy part. The difficult part was getting back to playing with confidence and going out with the right attitude on the golf course.
Q:
You had a streak last year where you didn't make a cut for two months at the start of the season. Was there a low point for you during this time?
A:
[Laughs] Pretty much each of those Friday nights was a low point. I wasn't missing those cuts by a lot, so yeah, that was a tough stretch, but I think in the long run it helped because I remember those feelings very well and it's shaped my character, made me mentally tougher.
On the Hot Seat
Who else has appeared on ESPN.com's Hot Seat to discuss golf? Everyone from Tiger Woods to Annika Sorenstam. Click here to find the entire list.
Hot Seat guests
Q: How do you feel about your game right now?
A: I feel good. I'm very comfortable with my golf game and I'm playing with confidence, which is something that I missed last year. That makes it a lot easier to go out and play well.
Q:
How often do you look at your statistics? Are they important to you?
A:
There are really a couple of things that I look at. I look at World Ranking and I haven't really yet, but come this summer I'll be paying a lot of attention to that Ryder Cup points list.
Q:
You won the Texas Open last year, your third career victory at that event. Does it mean more to you being a Texas native?
A:
Yeah, you want to play well every week, but especially close to home. Usually you've got family and friends there and always get support from the gallery, so it's very nice to play well at home.
Q:
Give me the top five players all time from the Lone Star State.
A:
Byron Nelson
, Ben Hogan,
Tom Kite
, Ben Crenshaw,
Lanny Wadkins
.
Q:
Wow, no [Lee] Trevino or [Jimmy] Demaret, huh?
A:
Oh, who do I take out? Put Trevino in there in place of Lanny. Demaret? Well, he's in my top six.
Q:
Jackie Burke is out, too?
A:
Hey, you only wanted five!
Q:
Just trying to make it tough on you. Do you ever think about the Hall of Fame? With 11 titles and one major, you might be only five or six more wins from getting in.
A:
No, I don't think much about that.
Q:
I asked a friend, "If you could ask Justin Leonard one question, would what it be?"
A:
Uh-oh.
Q:
Don't worry, it's nothing bad. He came back with: "Which shot in your career would you like do over again and why?" Your response?
A:
Well, knowing what I know now, I would have laid up on No. 18 at Carnoustie [during the final round of the 1999 British Open]. I thought I had to make birdie to win the tournament and as it turns out if I didn't make bogey, I would have won.
Q:
Your PGA Tour media guide entry mentions that you completed a marathon (in 3 hours, 55 minutes) in 2001. I guess they just haven't updated the entry with all the ones you've run since then, huh?
A:
No, one and done. Too much stress on my body.
Q:
You're a big-time University of Texas fan.
David Toms
was on the Hot Seat recently and talked about his allegiance to LSU football. And everyone knows
Chris DiMarco
is a Florida guy. So, who's the biggest backer of their school on tour?
A:
Probably one of those two guys. I would say the person that talks about it the most, the one who's the most vocal, is DiMarco.
Q:
Probably right about that. You don't want to take the title of biggest fan on tour away from either of those guys?
A:
No, no, I'm not even close.
Q:
A few quick ones about your peers to finish up. Who's the best player in the world not named Eldrick?
A:
Phil Mickelson.
Q:
Best player without a major victory?
A:
Let's see …
Sergio Garcia
.
Q:
You might have the same answer for this one. Best player under 30?
A:
Is Sergio under 30?
Q:
Yup.
A:
Then yeah, Sergio.
Q:
Best player without a PGA Tour win?
A:
Anthony Kim
.
Q:
That's all I've got for you. Justin Leonard, you are off the ESPN.com Hot Seat.
A:
All right. Thank you.
Jason Sobel is ESPN.com's golf editor. He can be reached at Jason.Sobel@espn3.com
Golf Editor, ESPN.com
Jason Sobel, who joined ESPN in 1997, earned four Sports Emmy awards as a member of ESPN's Studio Production department. He became ESPN.com's golf editor in July 2004.
SPONSORED HEADLINES
MORE GOLF HEADLINES
MOST SENT STORIES ON ESPN.COM
EDITORS' PICKS
McIlroy jumped to the early lead at the Scottish Open.
Bob Harig »

With Royal Birkdale giving players fits, Stacy Lewis managed to stay in the hunt.
Andy Farrell »

Zach Johnson shares the lead at the John Deere.
Recap »