Commentary
Fixing the FedEx Cup will take some time
FedEx Cup fixes. Potential Ryder Cup pairings. An ode to to the passing of a "Thunder Bolt." With a nod to the NFL season now in full swing, our man tackles these topics (and a whole lot more) in the Weekly 18, writes ESPN.com's Jason Sobel.
Originally Published:
September 8, 2008
By
Jason Sobel
| ESPN.com
"That's it. The season is over. We're finished."
The preceding statement was most likely muttered by which of the following on Sunday evening:
[+] Enlarge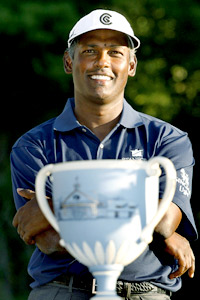 Hunter Martin/Getty ImagesHow could the PGA Tour add some of the drama that Vijay Singh sucked out of it after winning two of the first three playoff events? One solution could be a weighted points system that increases for each playoff tournament.
(a) Any pessimistic New England Patriots fans after Tom Brady's injury;
(b) Those returning from a last-ditch, late-summer vacation;
(c) The 29 players not named
Vijay Singh
who qualified for the Tour Championship.
If you answered "all of the above," you're right -- but for our purposes, let's focus on the last of those three choices. It's true that exactly 21 days before the final putt will drop at the FedEx Cup playoff finale, Singh had already clinched the overall victory based on wins in each of the first two rounds and a T-44 at the BMW Championship on Sunday. And yes, that essentially negated the newfound volatility to the points structure for Playoffs 2.0. What does this mean for the future of the FedEx Cup? The Weekly 18 begins with a few ideas on why the status quo won't live to see another year.
1. Change we can believe in?
In last year's inaugural FedEx Cup playoffs,
Tiger Woods
parlayed his No. 1 seed into an ultimate coronation at the Tour Championship, even skipping one of the four playoff events along the way. In an attempt to provide more entertainment to its postseason structure, the PGA Tour reconfigured its points format earlier this year -- and will somehow see an even less dramatic conclusion to this year's version, as Singh could hack it around East Lake like a 30-handicap and still clinch the cash. "If a guy is going to come out and play at the level Tiger did last year or Vijay is doing this year," PGA Tour commissioner Tim Finchem said prior to the BMW, "it's hard to get to a point where you've got four or five guys coming down to the last round, which is kind of what you'd like to see." No, that's
exactly
what the tour would like to see, so expect tweaks to continue being made in order to keep the increased volatility without relegating the regular season to spring training. There's no secret formula for getting this right; the fact is, the only way for the tour to ensure late-season dramatics is to wait for the results and work backward from there. That's not the solution, of course, and more than a tad underhanded, so we're left to debate the following conundrum: How can the FedEx Cup playoffs become more exciting? The easy answer is to steal a page from the LPGA's season-ending ADT Championship, in which eight players reach the final round, all slates are wiped clean, then they compete for 18 holes with the low score taking home the grand prize. Based on most PGA Tour players' comments, however -- there's been grousing for a month about the first 37 weeks on the schedule becoming irrelevant this time of year -- that's the exact opposite of what they'd like to see happen. The next best solution seems to be a format in which points are awarded in incremental increases for each of the four rounds, meaning a seventh-place finish at the opening Barclays would count less than a seventh-place finish at the Deutsche Bank Championship, which would count less than one at the BMW, which would ultimately count less than such a result at the Tour Championship. Of course, the tour needs to be aware that too much change can be a detriment, too. After all, considering Singh won two of the first three playoff events, shouldn't he have a better chance of winning heading into the Tour Championship than, say,
Camilo Villegas
, who just claimed the BMW?
[+] Enlarge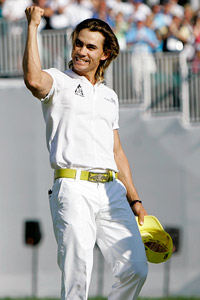 AP Photo/Jeff RobersonIf you weren't thinking that Camilo Villegas was ready to break through for his first win, then you probably hadn't been following the flashy Colombian's recent torrid stretch of golf.
Finding the right formula and the magic numbers to ensure that future editions of the playoffs are more of a success will likely be one of the primary objectives for PGA Tour officials in coming months. The trickiest part is, there's no right or wrong answer until we know the results. At least there's nowhere for the format to go but up. If there's some semblance of doubt heading into the Tour Championship in Year 3 of the playoff system, consider it a major step in the right direction.
2. It takes a Villegas
If you didn't see Villegas' first PGA Tour win coming, you just weren't looking very hard. Villegas had posted five top-10s in his previous dozen starts. That includes a T-4 at the PGA Championship, when he shot 67-68 on the weekend, and a T-3 at last week's Deutsche Bank Championship. He was T-39 at the British Open, but did card an incredibly impressive 65 during a windblown second round at Royal Birkdale. But most importantly, he was winning everywhere
except
on the PGA Tour. Since June, Villegas won the World Skins Game (beating a field that included
Colin Montgomerie
,
Greg Norman
,
Mike Weir
and
Fred Couples
), then teamed with
Bubba Watson
to claim the CVS Caremark Charity Classic one week later, and took the
Notah Begay III
Foundation Challenge a few weeks ago in a playoff against Singh, Weir, Begay and
Stewart Cink
. "I'm definitely a better person, a better player today than I was when I first got on the PGA Tour," Villegas said after winning Sunday by 2 strokes over
Dudley Hart
. "I think I've matured a lot as a person and as a player and learned how to be patient, learned how to go about my routine and my practice and my life. … Hopefully I continue learning … that makes me even a better player and a better person."
3. Bounce with me
Of all the great shots that originated from Villegas this week, perhaps none was better than the one Golf Channel cameras caught of him walking up the 11th hole during Saturday's third round. As he sashayed toward the green -- that's right, Villegas doesn't walk; he either sashays, swaggers or struts -- he twice nonchalantly bounced his wedge, literally throwing it down to the ground and having it come back to him, like some sort of steel-shafted yo-yo. Seriously, try that one at home. Or, better yet, in front of others at the local muni. We're guessing you'll be scraping it off the ground more often than not, looking decidedly less cool than Villegas with each flailing attempt.
4. On the outside looking in
With birdies on two of his final four holes at the BMW on Sunday,
Geoff Ogilvy
would have jumped into a share of 20th place and earned close to 300 more FedEx points, which would have been enough to move into the top 30 and qualify for the Tour Championship. Instead, the former U.S. Open champ made par on each of those last four holes, finishing in 32nd place on the list. Not that he cared. One day earlier, Ogilvy told the Australian AP, "If I make the Tour Championship, I make it. If I don't, I really don't give a f---. I'm not going to lie in bed tonight thinking about what I have to do tomorrow to get in. It's not the Tour Championship it used to be. It probably meant more before than it does now, because it was a reward for 40 weeks. Now it's a nod to the year and making the cut at [the first two playoff events]. The four weeks are as important as the 40 preceding them." Uh, right. That's sort of the whole point.
5. Five alive
What do
Kevin Sutherland
,
Ken Duke
,
Briny Baird
,
Billy Mayfair
and Bubba Watson all have in common? Well, a few things: None is ranked in the top 50 in the Official World Golf Ranking … or is currently in the top 30 on the PGA Tour money list … or has won a PGA Tour event this season … or finished in the top 16 at this year's Masters, top eight at the U.S. Open, or top four at the British Open or PGA Championship … or -- big shocker here -- won a prestigious amateur championship. And one other thing: All five players have already qualified for next year's Masters based on qualification No. 16 of the 18 listed, which states that "those qualifying for the season-ending 2008 Tour Championship" will be included in next year's tournament. In previous years, the top 30 on the money list were one and the same with the 30 entrants into the Tour Championship, but that changed with the invention of the FedEx Cup last year. Don't expect to see the greencoats strip any of the five -- each of whom still, it should be pointed out, can qualify through other means by the end of the year or even during the first three months of next season -- of their qualification status, but don't be surprised if this rule is given more serious consideration after next year's edition of the Masters.
6. Six of one, half dozen of another
U.S. Ryder Cup captain Paul Azinger's selections of
Hunter Mahan
,
J.B. Holmes
,
Steve Stricker
and
Chad Campbell
drew both ire and praise from his constituency -- if the American fans can be considered a "constituency" of the team skipper. Like 'em or not, the picks followed a pattern that may be evident at Valhalla. Prior to the PGA Championship, where the first eight players on the team would automatically qualify, Azinger talked about having some "obvious" pairings among those currently on the roster. Crack the code and you'll find five big hitters in
Phil Mickelson
,
Kenny Perry
, Stewart Cink,
Boo Weekley
and
Anthony Kim
, and three more known for their accuracy in
Jim Furyk
,
Justin Leonard
and
Ben Curtis
. Well, the captain's picks followed a similar path, with Holmes taking the role of banger, while Mahan, Stricker and Campbell play the part of ball strikers. Of course, that isn't to say that Holmes can't stick an approach shot to 3 feet once in a while and the latter three won't get ahold of a few mammoth drives, but, by and large, there may be a method to Azinger's madness. Let's take a look at the stats for the dirty dozen:
The Long And Short Of It
Player
Driving distance in yards (rank)
Driving accuracy percentage (rank)
Phil Mickelson
295.8 (33)
56.04 (182)
Kenny Perry
295.7 (34)
62.41 (102)
Stewart Cink
296.5 (27)
56.34 (178)
Anthony Kim
300.5 (11)
58.50 (157)
Boo Weekley
292.1 (57)
65.04 (70)
J.B. Holmes
310.9 (2)
52.28 (198)
Jim Furyk
280.1 (163)
70.23 (22)
Justin Leonard
279.9 (165)
67.38 (39)
Ben Curtis
284.1 (126)
66.96 (44)
Hunter Mahan
288.1 (83)
66.67 (48)
Steve Stricker
283.5 (135)
56.83 (172)
Chad Campbell
287.8 (85)
66.23 (52)
Perhaps we're barking up the wrong tree, but those "obvious" pairings just may look something like this: Like-minded players teamed together in foursomes, while opposite styles pair up in fourballs. The theory here is that in the alternate shot format, you'd rather have players competing from comfortable positions on the course, whereas in the best ball format it's a good idea to have one player who shoots at flagsticks and goes for the par-5s in two, while the other provides a steady influence of pars throughout the round.
(The only statistical anomaly is Stricker, who drives it neither long nor straight, but makes up for such inequities by consistently wielding one of the better putters on tour.) If that's the case -- and we have no inside knowledge that it is -- this is just a hunch -- then Azinger's squad is set up nicely, with six of each type of player available on the roster. It may not prove to be a winning formula, but it could certainly help make Azinger's decision-making process during the event a little easier.
7. Oh, baby
On Tuesday, Azinger held a news conference in New York City to announce his four captain's picks. Each of the players joined in later via teleconference, but it was Campbell who had a little news of his own about the impending birth of his first child. "I'm actually sitting in the parking lot of the doctor's office and my wife is up there waiting on me," Campbell reported before the captain dutifully let him off the hook to attend to more important matters. Though the baby didn't come that day, Dax Phillip was born on Saturday in Dallas, after the new dad withdrew from the BMW to be with his wife. On Sunday, Campbell received an unexpected gift from the PGA Tour and his fellow players. Though he didn't receive any points for the withdrawal, Campbell dropped only 16 spots, squeaking into the Tour Championship field as the No. 30 player in the standings.
8. Out with a Boom
Bad news for Kenny Perry. Yes, he reached his goal of making the Ryder Cup team. Yes, he'll be playing in his home state of Kentucky. But Perry may be carrying around the Curse of the Swami at Valhalla in a few weeks. Our friend Chris Berman left the following voice mail just a few days ago: "You missed my stellar play with Kenny Perry at the Deutsche Bank. There is no question that I put the U.S. Ryder Cup hopes in jeopardy after he had to spend five hours with me [in the pro-am]. Not my best golf. Not my worst, but not my best. Aloha!" There you go. If the U.S. team doesn't "circle the wagons," you'll know Boomer should shoulder part of the blame.
9. Casey at the tee
In the wake of Europe captain
Nick Faldo
leaving
Darren Clarke
off his team in favor of
Ian Poulter
and
Paul Casey
-- Clarke leads the other two in 2008 worldwide victories by a 2-0 margin -- most pundits have overtly hinted that it was Poulter who took the spot of the Northern Irishman on this year's roster. We beg to differ. While Poulter didn't quite back up claims that he would become the world's No. 2 player, he did sink a final-hole putt at Royal Birkdale when the British Open was still in doubt, showing off his best form on the grandest stage. Casey, meanwhile, owns eight international victories, but none this year and has never finished better than T-4 in 74 career PGA Tour-sanctioned events. This season, the dual member of the PGA and Euro tours posted only three top-10s in 15 U.S.-based tourneys with a top result of T-7 -- and last we checked, yes, Valhalla is in Kentucky, which is part of the U.S. Toss in the fact that Casey ranks 198th (out of 203 players) in both putts per round and putting average and it's easy to see that he was hardly a slam dunk to make the squad. That's not to say that Casey isn't deserving of his place on the team, only that he may have been the tougher decision for Faldo of the two final spots on the roster. Of course, we'll never know unless the skipper admits as much.
10. In defense of Casey
Then again, Casey does have at least one thing going for him: He owns the honored distinction of being the only player to make the cut in every major championship over the past two years. And we can even grant a little special dispensation for Poulter, too. He's reached the weekend in seven of eight, failing to cash a check only at this year's U.S. Open, where he was forced to withdraw during the second round due to a "sprained finger."
11. Swede and sour
One European player owns three victories in the past four seasons on what is inarguably the world's most competitive circuit -- that's one more than Casey, Poulter, Clarke and Colin Montgomerie have won on the PGA Tour combined in their careers -- and yet it's safe to say that
Carl Pettersson
was never a strong possibility to be named to the European team by Faldo. At least a few reports from across the pond are calling this xenophobia at its finest. Had Pettersson been a dyed-in-the-wool Brit, these reports claim, he would have had a much stronger case for being part of the team. Instead, he's a Swede who has lived in North Carolina since the age of 15 and hasn't competed in a nonmajor or WGC event in Europe since the 2006 Scandinavian Masters. Perhaps there's something to this claim, but it's for this very reason that the Euro Tour includes two separate points lists for its Ryder Cup qualifications. The first five players to automatically make the roster are taken from the world list, which allows European players who don't compete on that tour to remain eligible for inclusion on the team. Turn the tables -- let's say there was an American player who competed solely on the Euro circuit -- and it would be virtually impossible for him to make the team, unless he did so through solid results at majors and other co-sanctioned events. So, yes, a point can be made that if Pettersson was either British or a full-time member of the Euro Tour he may have received more recognition from the captain, but it's not as if he didn't have an opportunity to qualify for the team, either.
12. The challenge is on
Sure, it may not be saying much, considering the proliferation of "Product Showcase" and "What's in the Bag" programs -- not to mention "Big Break 83," which by now must be searching for golfers who
haven't
been on the show yet -- but we can honestly say we've never been more excited about a Golf Channel original production than "Faldo-Azinger Captains Challenge," which premieres on Monday at 7 p.m. ET. According to the listing on our local cable guide, the show is summarized as "Ryder Cup captains Nick Faldo and
Paul Azinger
compete in Texas Hold 'em, a fly-fishing competition and a golf contest." In a commercial for the program, Faldo admits he's never before played poker (
Rocco Mediate
, in a possible ploy to suck up to longtime friend Azinger in an unsuccessful attempt to be named as a captain's pick, plays the role of dealer) while his American counterpart suggests that he would never lose to a Brit in a fishing contest. Hmmm … sort of makes us think: This whole golf thing hasn't worked out too well for the U.S. in recent editions of the Ryder Cup, so maybe that should be only part of the competition. Let's let the two teams loose in an amusement park, have 'em go at it in such competitions as ring-toss, pop-a-shot and whack-a-mole, and see who comes out on top.
[+] Enlarge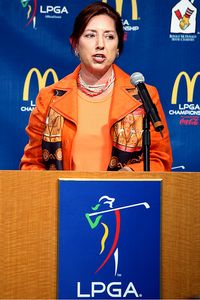 David Cannon/Getty ImagesCarolyn Bivens might not be the most popular person in South Korea right now. But it appears we might not have heard the final word on the controversial English language policy.
Hey, maybe the U.S. team would fare better than in golf, huh? Admit it, at least: You would watch that (if only for the alternate shot whack-a-mole matches). And we'll be watching the "Captains Challenge." Hey, it should provide plenty of fodder for our Ryder Cup Live Blog.
13. More than meets the eye?
There are two ways to look at the LPGA's decision to rescind its rule stating all players must complete an oral English test in order to avoid some form of punishment from the tour. Either it was a strong move by commissioner Carolyn Bivens, who listened to the incensed caterwauling of players, sponsors and fans, then reversed the process based on such comments … or it showed an extremely weak resolve to give in to the other side, when such a rule had already been established and discussed with its membership. Whatever the case, it's important to note that absolutely nothing changed, at least not until the LPGA releases a revised plan by the end of the year that would not include suspensions, although fining non-English speakers remains an option. For years, the LPGA has encouraged its foreign-born players to speak English during pro-ams and media interviews. The rule put into place would have accomplished the same thing, but with a crude penalty as part of the endgame. And now? Tour officials are back to encouraging players to speak more English, though failure to do so will not result in any sort of punishment. Lost among this debate is the misguided reasoning behind why the LPGA wants its players to be able to speak and understand English. Perhaps the rule would have been given more support if instead of pandering to sponsors, it was designed around keeping a level playing field for all involved in its competitions. After all, it may be only a matter of time until a player misunderstands a playing partner or rules official, receiving a penalty or disqualification that could mean the difference between winning and losing -- or keeping her playing privileges for the next season.
14. Taking the next step
It's now official. Vicky Hurst, 18, parlayed a debut season on the Duramed Futures Tour into four victories and five other top-four results to finish atop the money list and join nine others who received fully exempt status onto the LPGA Tour for the 2009 season. We've seen Hurst play and the reports are true -- she's the real deal. Anything less than one or two wins and a top-20 place on the money list in 2009 may be considered a disappointment for the reigning AJGA Player of the Year. Of course, her dominance on the developmental circuit also calls into question why a "battlefield" promotion doesn't exist from the Futures to the LPGA. On the men's Nationwide Tour, a trio of victories means automatic status in the big leagues for the remainder of that season and the entirety of the next season, too. It can be a big deal. Just three years ago,
Jason Gore
earned such a promotion and followed it with a victory on the PGA Tour as well. On the ladies' minor league tour, however, no such elevation exists, despite a relationship that grew in stature two months ago, when the LPGA purchased the Futures Tour. Basically that means Hurst could have won every one of her 13 starts by a dozen strokes each time -- and still failed to reach the big tour until next season. Let's consider it an oversight for now, but it's an issue that should be resolved for coming seasons. If the LPGA wants to showcase the world's best talent, shouldn't a player be able to earn her way onto the tour in midseason?
15. Q-ing it up?
Michelle Wie
, to some criticism, never tried to qualify for the LPGA Tour through the same means as Hurst, failing to play in a single Futures Tour event during her career. Wie also failed to earn playing privileges for 2009 through nonmember earnings produced via sponsor's exemptions, meaning she currently owns no LPGA status entering next season. That could change very soon, however. The deadline to enter the tour's Qualifying Tournament -- known, of course, as Q-school -- is Tuesday. According to reports, Wie's name will be included on that entry list. If so, she can play in a 72-hole sectional in Rancho Mirage, Calif., from Sept. 16 to 19 or one in Venice, Fla., from Sept. 30 to Oct. 3. And if Wie -- or any other player -- doesn't qualify through the first sectional, she can still try to do so through the second. From there, she will need to play in the final qualifying stage from Dec. 3 to 7. The top 20 players (and ties) will receive full playing privileges for the 2009 season, while the next 20 will earn partial status. It was an ultimately circuitous route, but after years of competing in men's tournaments and receiving sponsor's invites and "earning" big-money contracts, Wie may very well begin next season as a 19-year-old rookie on the LPGA Tour -- perhaps the most conventional thing about her career thus far.
16. For the birds
In light of the recent
Tripp Isenhour
news -- after killing a bird with a golf shot due to its loud chirps during the making of an instructional video, he pleaded no contest to the charge and agreed to one year of supervised probation, four hours of anger management classes, 100 hours of community service (40 of which must be performed at a wildlife or animal shelter) and a $500 fine -- it's interesting to note the parallel (or lack thereof) in the long-ago story of John Montague. The W18 summer reading list consisted of Leigh Montville's brilliantly researched biography "The Mysterious Montague," which tells the tale of title character John Montague (aka LaVerne Moore), a champion golfer who never competed in tournaments because he didn't want to call attention to himself for a previous armed robbery for which he was never charged. Montague did, however, own an arsenal of trick shots. He often won wagers by chipping golf balls from across a room into a water glass and once made birdie on a par-4 using a fungo bat, a garden shovel and a rake to beat Bing Crosby. And then there's this, as written in Montville's book:
"I was playing in a foursome at the Fox Hills Country Club," Montague eventually told Darsie L. Darsie of the Los Angeles Herald, establishing the framework of the tale. "At the 10th tee, which is probably 75 yards from Slauson Avenue, we were forced to wait for players ahead to get out of range. As I stood on the tee, I casually said to the others, 'See those birds on that telephone wire? Watch me pick off the farthest one to the right.' I teed up an old ball, took out a brassie and hit a full drive. It hit the bird in the neck, snapping its head off. The bird was perhaps 175 yards from me when I hit the drive."
Not only was there no public outcry for Montague to be charged with a crime, the tale only served to fuel to his legendary status as a renowned ball striker during the time. Fast-forward some 75-80 years and it's somewhat ironic that Isenhour has not only failed to receive consideration as great ball striker, but has been found guilty in both the court of public opinion and the legal system, too.
If Montague were around today, perhaps armed robbery would have been the least of his legal worries.

17. Days of Thunder


The next time you shank a shot dead right … or hit one thin … or fat … or, well, nowhere at all, try this: Take a strong grip on the club with both hands, grit your teeth, take a big swing and then let it go, leaving the club hurtling into a nearby tree or water hazard. Your playing partners may just think you're a hothead -- and, hey, they may be on to something -- but at least you'll have an excuse. Tell 'em the added aggression was in honor of Tommy "Thunder" Bolt, the 1958 U.S. Open champ and Hall of Famer who was one of golf's all-time legendary club throwers, often punctuating poor shots with temper tantrums. He passed away last week at the age of 92. In homage to "Terrible Tommy," here are five of our favorite quotes from the man: • "Never break your driver and putter in the same round." • "I think it's all right for a man to break his golf clubs, every one in the bag if he wants to. They're his clubs. He's the one to suffer. As for throwing clubs, that's something else. That could be dangerous." • "Always throw clubs ahead of you, that way you won't waste any energy going back to pick them up." • "In golf, driving is a game of free-swinging muscle control, while putting is something like performing eye surgery and using a bread knife for a scalpel." • "Putting allows the touchy golfer two to four opportunities to blow a gasket in the short space of two to forty feet." And here's a bonus quote from Ben Hogan, talking about Bolt's talent and temper: "If we could've screwed another head on his shoulders, Tommy Bolt could have been the greatest who ever played."

18. Quote of the week


"[No comment]"
-- Vijay Singh, who eluded interview requests after all but clinching the FedEx Cup on Sunday. Jason Sobel covers golf for ESPN.com. He can be reached at Jason.Sobel@espn3.com.
Golf Editor, ESPN.com
Jason Sobel, who joined ESPN in 1997, earned four Sports Emmy awards as a member of ESPN's Studio Production department. He became ESPN.com's golf editor in July 2004.
SPONSORED HEADLINES
MORE GOLF HEADLINES
MOST SENT STORIES ON ESPN.COM
EDITORS' PICKS
Farrell Evans shares six candidates for NTO minority exemption.
Story »

Sifford took his rightful place among the greats from his era.
Evans »

The good, the bad and the (not really) ugly of the LPGA's 2014 season.
Dottie Pepper »