Commentary
On the Hot Seat: Corey Pavin
Originally Published:
December 11, 2008
By
Jason Sobel
| ESPN.com
NEW YORK -- During the press conference to announce him as the next United States Ryder Cup captain on Thursday, Corey Pavin relayed a tale from his playing days as an example of what the biennial competition means to him.
"Back in '93, Lanny [Wadkins] and I were the first match off," he said. "We decided I was going to hit off the [odd] holes, basically, because I didn't want to drive it off 18. I wanted Lanny to do that. I didn't think about it very much. We walked to the first tee and they announced from the United States, you know, Corey Pavin to hit, and I realized then that I'm the first person to hit in the first match, first in the Ryder Cup.
"I was extremely nervous. I can't even describe how nervous I was. I put the tee in the ground and I went to put the ball on the tee, and I got about that far from the tee and I realized that my hand was shaking so much, and I decided, you know what, let's just drop the ball and hopefully it will stay on the tee. And thank goodness, it did." If that doesn't speak volumes about how important this event is to him, Pavin later proffered this late-season candidate for one of the top golf quotes of the year: "The Ryder Cup is in my blood. I think if you cut my arm open, Ryder Cup would just bleed out."
[+] Enlarge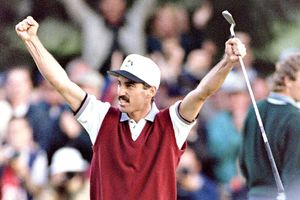 Timothy A. Clary/AFP/Getty ImagesCorey Pavin has played in three Ryder Cups and was an assistant captain for Tom Lehman in 2006.
For one of his first acts as the newest U.S. captain, we put Pavin on the ESPN.com Hot Seat to discuss Paul Azinger's strategy, the pressure of following a victory and whether that
Tiger Woods
fella is still a critical cog on this team.
Q:
When I say, "Ryder Cup captain Corey Pavin," what's the first thing that goes through your mind?
A:
The goosebumps that are all over my body. It's something that I've wanted to do for my whole career, basically, and ever since I played in my first Ryder Cup in '91, it's something that I've wanted. It's not something I can strive for, per se, because the PGA of America has to select the captain, but when I got that phone call -- pretty excited.
Q: Take me through the evolution of how this happened. When did you first meet with the PGA of America officials?
A: When I was assistant captain in 2006, I guess you could almost call it a little bit of a trial. I didn't really know the officials then, but as that week went on, I got to know them pretty well. We've been in touch since then, and they've talked to me about possibly being captain. It's just kind of every time I see them and we've had dinner or drinks or a phone call here and there, they've mentioned they're interested. And that's about as far as it's gone until I got the phone call on Nov. 24. Then I knew it was going to happen.
Q:
Was there an interview process at all? Or were you just offered the position?
A:
You know, I think just over the course of two years, that seemed to be the interview process, if you want to call it that. They got to know me, I got to know them, and we just forged a nice relationship -- whether they picked me or not, that would continue. I'm just glad that, in their wisdom, they did.
Going Overboard?

After the win at Valhalla, Paul Azinger made many believe the captain is crucial to winning the Ryder Cup. But the captain doesn't hit a single shot. It's all about making putts.
Bob Harig
•
Sobel: Pavin should follow 'Zinger's blueprint
Q:
I spoke with you prior to the start of this year's PGA Championship about a piece I was writing on the importance of the year's fourth major. You said to me, "There are four majors and every one is just as good as the other," but made a point of mentioning that each one ranks behind the Ryder Cup on your own personal scale. Did you always feel that way, or is it a viewpoint that has developed over time?
A:
Well, if you had asked me that before 1991, I probably would have had a different answer. But once I participated in the Ryder Cup and experienced it, it was something that you can never experience in major championships or regular tour events. It's just a whole different level. It's way, way, way up there. As I've said, I've never been so nervous in the Ryder Cup; hitting the last shot at the U.S. Open in '95 was like a walk in the park compared to the pressure that you feel in the Ryder Cup.
Q:
Speaking of pressure, is there more or less pressure to win coming on the heels of a recent victory as opposed to a U.S. losing streak?
A:
Well, certainly there is more pressure. Paul [Azinger] has raised the bar, and that's great. I embrace the opportunity and the challenge of winning over in Wales. You know, I think people will look at it and say, "We won once; we should be winning again." It's not quite that simple, especially with us going overseas and playing on their home field. It's going to be a lot tougher over there.
Q:
Let's talk about the win at Valhalla. What did you think of Azinger's so-called team-building system [in which he broke down the roster into three groups of four players each] that was implemented this year?
A:
Looking at it from the outside, because I don't have real firsthand knowledge of it, obviously the players accepted it, they embraced it, and maybe more than anything that was the most important issue. If you get your players to believe in anything you're doing, you're going to get better results. And whatever I choose to do in 2010, I have to get my players to believe in it and feel that I'm doing the right thing, and that's going to help us win the Ryder Cup.
Q:
As the first captain to win since 1999, do you plan to lean on Azinger for advice over the next two years?
A:
You know, I will ask him about what he did at Valhalla. I will ask other captains about what they've done in the past. I've been on three Ryder Cup teams; I've watched what those captains have done when I've actually been there on site. So I have a pretty good idea of how to make this work. I understand how you pair players together. I have my own ideas about it, my own concepts, and if what Paul did helps make my concepts better, I'll use them.
Captain, My Captain

Corey Pavin, who reportedly will be the 2010 U.S. Ryder Cup captain, has been on three teams for the biennial competition himself. Below is a breakdown of his history as a player in the Ryder Cup.
Appearances
3 (1991, '93 '95)
Matches
13
Overall record
8-5-0
Singles record
2-1-0
Foursomes record
2-2-0
Fourballs Record
4-2-0
Total points won
8
Percentage of points won
60%
-- Source: RyderCup.com
Q:
I don't personally agree with this, but there are those who contend it was actually beneficial for the 12 players on this year's team to be without Tiger Woods, knowing they didn't have him to bail them out during the matches. Your thoughts?
A:
Yeah, I don't agree with that, either. I mean, Tiger is the best player in the world and the most competitive player I've seen in my life. If you don't want him on a Ryder Cup team, you've got to be out of your mind. I watched him play firsthand at the Ryder Cup in 2006, and I saw an individual who was very determined to get the Ryder Cup in our hands. Nothing is going to change with Tiger, and he'd be the first to tell you that he was unhappy with the results in 2006 and he wants to get on a team and win.
Q:
What changes, if any, do you anticipate making to the Ryder Cup qualification process?
A:
Well, it's something that the PGA of America and I will sit down and discuss. I don't think there needs to be a whole lot changed -- a tweak here and there maybe, but maybe nothing. We'll sit down and discuss it over the next couple of months. We certainly have to decide by Masters time, because that's when the first points are given out right now, so something has to be decided before then. But I would just think it has to be a tweak here and there, if anything.
Q:
What did you learn as an assistant captain for
Tom Lehman
in 2006?
A:
Just the whole process of what captains and administrators, so to speak, have to go through. That helped me a lot. I know all about the playing and that type of deal, but to be a captain there are a lot of things to manage and to take care of. Part of that is picking really good assistant captains to help you. So that's a big thing and being over there on foreign soil for the Ryder Cup will certainly help me for this one on foreign soil in 2010.
Q:
You're still an active member of the PGA Tour. How will this affect your playing schedule?
A:
It won't affect my playing schedule at all. Next year, I'm going to play pretty much my normal schedule. I really would want to, just because all next year I will be talking to players, discussing things with them, getting their input. I want players to feel that they're part of the decision process, too, or they all have input, at any rate. The decisions will be mine, but I want to bring the players in and let them feel that they are definitely part of the process.
Q:
There have been past captains -- Lehman, to name one -- who contended they would compete on the team if they made it on points. I know it's a nice problem to have, but any initial thoughts as to what you'd do if your game was that good heading into September 2010?
A:
Well, it's an interesting question. I would certainly love to play on another Ryder Cup team. I'm not sure if I'll get to that position. I tell you what: If I get there, you can come back and ask me that in 2010.
On the Hot Seat
Who else has appeared on ESPN.com's Hot Seat to discuss golf? Everyone from Tiger Woods to Annika Sorenstam. Click here to find the entire list.
Hot Seat guests
Q:
Fair enough. If any potential members of your team are reading this right now, what message do you have for them?
A:
The message I would have to potential players is if you make the team, I expect you to be there 100 percent, play as hard as you can in the matches, do everything you can to win your matches and do everything you can to win the Ryder Cup.
Q:
Any message for the guys on the European team?
A:
My only message to them is, we're going to be coming out there to win again. I know that they're going to be trying to win again. I just hope that we have a great competition and everything goes beautifully. I'm hoping we win, but we will give it our 100 percent effort.
Q:
That wasn't exactly the guarantee I was looking for.
A:
[Laughs] There are no guarantees in golf. You just do the best you can, and the results are what they are. But for me, if you give the best you can and you've done everything you know you can do, the results hopefully will be what you want. But sometimes they're not. And that's just part of life.
Q:
Corey Pavin, you are off the ESPN.com Hot Seat.
A:
All right. Thanks.
Jason Sobel covers golf for ESPN.com. He can be reached at Jason.Sobel@espn3.com.
Golf Editor, ESPN.com
Jason Sobel, who joined ESPN in 1997, earned four Sports Emmy awards as a member of ESPN's Studio Production department. He became ESPN.com's golf editor in July 2004.
SPONSORED HEADLINES
MORE GOLF HEADLINES
MOST SENT STORIES ON ESPN.COM
EDITORS' PICKS
Tiger's new coach might be just what the doctor ordered.
Harig »

Stacy Lewis claimed the LPGA Tour's three top awards.
Story »

Stenson defended his title in Dubai, holding off McIlroy among others.
Story »