Commentary
2009 Open infamous for its failings
Updated:
July 20, 2009, 7:40 PM ET
By
Jason Sobel
| ESPN.com
TURNBERRY, Scotland -- Think back to April. Specifically, the Masters. Even more specifically, the final round. What sticks out as most memorable? If you said champion Angel Cabrera's earning the green jacket, consider yourself in the minority. Instead, it was the story of runner-up Kenny Perry, who faltered down the stretch in his bid to become the oldest major champion ever, that left the most lasting impression.
Now try last month's U.S. Open. Recall, if you will, the images that first flash through your mind when the subject of the final round arises. Is the foremost thought that of Lucas Glover raising the silver trophy aloft? Maybe not. After all, it was the close calls of Phil Mickelson and David Duval that grabbed most fans' imaginations, titillating to the point that the eventual winner was largely considered disappointing.
Neither of those results, however, ranks nearly as high on the bummer meter as that of the Open Championship.
With an opening-round 65 that elevated him to the second spot on the leaderboard, 59-year-old Tom Watson -- he of the five career British Open titles -- was a nice story Thursday, a blast from the past on a Turnberry course that was the site of so much of his previous success.
When he finished the second round, Watson held a share of the lead, and quick, two-word questions became the only form of communication necessary to elocute the magnitude of the moment: What if? How so? Could he? Watson allowed our minds to wander, trying to calculate whether this storybook conclusion could come to fruition.
After Round 3, it was full-bore Tom-mania. The 54-hole leader was on the verge of rewriting the record books, becoming the oldest major champion by 11 years and earning his sixth Claret Jug to tie Harry Vardon for the most all-time.
Forget the numbers, though. Watson had an opportunity to surpass the greatest moments in golf history, from Ben Hogan's comeback from a near-fatal accident at the 1950 U.S. Open to 46-year-old Jack Nicklaus' back-nine 30 at the 1986 Masters to Tiger Woods' injury-riddled playoff victory at last year's U.S. Open. This could have, would have ranked among the most spectacular instances in all of sports -- right up there with the Miracle On Ice -- in a country that serves nothing on the rocks.
[+] Enlarge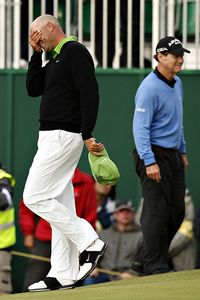 AP Photo/Peter MorrisonIt's difficult to know which emotion was stronger Sunday: Stewart Cink's joy or Tom Watson's disappointment.
Instead, Old Tom fell agonizingly short of history. He hung in there, battled until the very end, kept hope alive that history could actually happen. He held a single-stroke advantage on the 72nd hole, needing a par to claim the title. Instead, Watson missed an 8-foot putt, then carried over his disappointment into a four-hole playoff with Stewart Cink, losing by a half-dozen shots in overtime.
Sort of goes with the theme of the entire season, doesn't it?
Though Watson's close call was certainly the most memorable storyline of Open week, it was hardly the only lasting image from Turnberry.
We'll remember an opening round that more closely resembled Scottsdale than Scotland, yielding low scores while Mother Nature apparently took a mulligan. It wasn't until Friday that the British Open really started looking like a British Open. The weather eventually kicked into overdrive, with blustery winds and brief periods of heavy rain.
We'll remember Tiger Woods' missing the cut in a major for only the second time in his professional career. And you thought the 14-time major champion's T-6 finishes at the Masters and U.S. Open were disappointing? Woods' rounds of 71-74 were marked by play that was extraordinary only in how ordinary it really was.
We'll remember the likes of Steve Marino and Mark Calcavecchia and Miguel Angel Jimenez climbing the leaderboard, only to turn invisible by Sunday afternoon.
We'll remember Matteo Manassero, the 16-year-old wunderkind who held his own among the world's best. And Chris Wood, last year's low amateur, who topped that performance with a T-3 result this time around.
We'll remember Lee Westwood, who came within a putt of making last year's U.S. Open playoff a three-man contest. Inevitably, he could have achieved the same result at Turnberry, but carded a bogey on the final hole to ensure a similar fate.
And, yes, we'll remember Stewart Cink. Previously famous for a failure much like that of Westwood's back at Southern Hills in 2001, he was on the list of best players in the world without a major victory, though certainly not atop such a ranking. For much of the week, Cink flew under the radar, simply going about his business in relative anonymity. In the end, though, he prevailed in the same way that Padraig Harrington earned the Claret Jug in each of the past two years. Patience and perseverance paid off, as his 15-foot birdie putt on the 72nd hole became his new career-defining moment.
Consider it a well-deserved win for a popular player, the third time this year that a solid, unassuming pro not only bested the field, but thwarted the big story, too.
We'll remember Cink's triumph, of course, but much like at the Masters and U.S. Open, we'll remember it more for what could have been.
Jason Sobel is a golf writer for ESPN.com. He can be reached at Jason.Sobel@espn3.com.
Golf Editor, ESPN.com
Jason Sobel, who joined ESPN in 1997, earned four Sports Emmy awards as a member of ESPN's Studio Production department. He became ESPN.com's golf editor in July 2004.
SPONSORED HEADLINES
MORE GOLF HEADLINES
MOST SENT STORIES ON ESPN.COM
138th OPEN CHAMPIONSHIP

Stewart Cink might seem the villain after foiling Tom Watson's run at a sixth Claret Jug at the British Open. In time, though, the six-time PGA Tour winner will receive his due. Bob Harig
When: Thursday-Sunday, July 16-19
Where: Turnberry's Ailsa Course, Scotland
Yardage/Par: 7,204 yards; par 70
2009 champion: Stewart Cink

MONDAY
SUNDAY
SATURDAY
MORE COVERAGE
NEWS
OPENGOLF.com
GOLFDIGEST.com