Commentary
Score one for the older guys
Originally Published:
February 10, 2008
By
Jason Sobel
| ESPN.com
The Weekly 18 knows a guy -- let's call him Shanky Shankerson -- who took his annual ultimate golf vacation this week, playing 36 holes per day on some of the most beautiful, challenging courses around. (We weren't invited. Again.) The only problem was a lack of TV and Internet coverage of pro tournaments for seven days. Well, you didn't miss much, buddy. Nope, nothing exciting. Just the usual same ol', same ol'.
At Pebble Beach,
Steve Lowery
earned his third career PGA Tour victory by beating Hall of Famer
Vijay Singh
in a playoff. Someone named S.S.P. Chowrasia, ranked 388th in the world, won the European Tour-sanctioned Indian Masters over a field that included
Ernie Els
. The U.S. Open was awarded to a brand new course.
Phil Mickelson
made a sextuple-bogey.
Tiger Woods
didn't win for a third straight week. (OK, so he didn't play -- it's still newsworthy.) Yep, not a lot going on in the world of golf that would be cause for surprise -- unless you actually broke 90, Shanky. Ha! We begin the W18 with the notion that age is merely a number -- and doesn't impact the one that really matters on the scorecard.
[+] Enlarge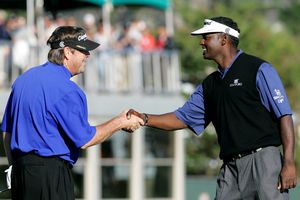 AP Photo/Marcio Jose SanchezLowery (47) and Singh (44) have combined for more than 900 career PGA Tour starts.
1. Age is just a number
Score one for the old dudes this week. Sorry, old
er
dudes. Lowery won his third career event on Sunday at age 47; if the schedule remains the same, he'll be eligible for the final three or four events on the Champions Tour in two years. The man he defeated, Singh, will turn 45 in two weeks. Among those 1 stroke further back was
Corey Pavin
, who's 48. Like a fine wine (or an undervalued golf course), many players tend to get better with age -- or at least maintain some semblance of competitiveness while the gray hairs start multiplying. Unlike other sports that require speed, strength and agility in order to gain a competitive advantage, golf is one that rewards patience and experience. That was on display around the three-course rotation at Monterey Peninsula, which yielded the highest winning score since 1994. Lowery was, in fact, the very picture of patience this week; just 1-under-par through the first three holes of his third round, the Alabama native carded 12 birdies in his final 33 holes of the weekend, then produced a meticulous, textbook birdie on the first extra hole to clinch the win. Of course, one of the most unique things about golf is its ability to cross generations, enabling people of different ages to compete on the same level. It's what not only allows a man to play a match against both his father and son, but often comes to fruition on the professional level, too. Though some of the old -- er, old
er
-- guys finished higher this week, just as many youngsters dotted the leaderboard, with
Jason Day
(20),
Dustin Johnson
(23) and
Nicholas Thompson
(25) also reaching the top-10. Day, who may as well change his middle name to "The Future of Golf Himself," competed with fellow Australian
Greg Norman
through the first three rounds. Though some may sadly call it an official passing of the torch -- Day beat Norman, who sparingly plays competitive golf and turned 53 on Sunday, by 15 strokes over the opening 54 holes -- the act of men from different eras playing together is invariably unparalleled in most other sports. Think about it: Dan Fouts never floated a screen pass to LaDainian Tomlinson; Magic Johnson never fed a fast-break ally-oop to Kobe Bryant; Reggie Jackson never knocked in Derek Jeter with a game-winning double. So, yes, while it's unique to golf that players of such wide age ranges can compete together, it's even more unique that the old
er
guys can beat the talented young 'uns -- like they did this week.
2. Old hat
As soon as Lowery and Singh headed back to the 18th tee box for the playoff, the first thought that came into our mind was, "Is this the oldest combined age of two playoff competitors in PGA Tour history?" Uh, not so much. In fact, it's not even the oldest combined age in the past 12 months --
Fred Funk
(50) and
Jose Coceres
(43) squared off in extra holes at last year's Mayakoba Classic.
3. Side by side
It seems that Singh and Mickelson have been playing a little game of, "Anything you can't do, I can't do, either" the past two weeks. Just seven days after Phil lost on the first extra hole at the FBR Open, Vijay matched the feat at Pebble. It's only fitting considering how similar their career numbers are:
Mickelson vs. Singh
Player
PGA Tour starts
Wins
Runner-up finishes
Top-10s
Phil Mickelson
366
32
21
132
Vijay Singh
386
31
24
158
One would assume that Mickelson, who's seven years younger than Singh, would continue his lead over the long term, but don't be surprised if Vijay still winds up with more career top-10 finishes. He averages about seven more starts per year than Mickelson.
4. Bringing sexy back
For those who recall our major championship live blogs from last year, you'll know that a sextuple-bogey is heretofore referred to as a "sexy." (Don't believe it?
Check No. 24 for proof
.) Unfortunately for us -- and fortunately for pro golfers everywhere -- we haven't had much of a chance to invoke the "sexy" definition ... until now. On the par-5 14th hole at Pebble Beach in Saturday's third round, Phil Mickelson hit two balls O.B. en route to a sexy 11, dropping from 2-under to 4-over for the tournament. Though only the final remnants were shown on the day's telecast, Mickelson spoke with Golf Channel after the round and explained what happened: "I went after a drive. I felt like I could get it right in front of the green and try to make a birdie. I was at 2-under and the leaders were at 8. I thought, 'Gosh, if I can make three of four coming in, I'll have a chance to win.' I ended up pulling two of them out of bounds and made an 11 and that was basically it. ... I needed to make a birdie there on 14. I felt like if I birdie 18 and maybe one or two more, I could be in striking distance of the leaders. That was kind of the thinking [but] the ball kind of shot right on me." Before we dismiss this as simply the latest retort to the query, "What will Phil do next?" let's take a closer examination into Mickelson's reasoning. He cited an abundance of missed putts during the round as the explanation for why he had to make up for lost time and go for the green in two. Whatever the case, the sexy led to a 78, leaving the defending champ on the wrong side of the cutline.
5. Extra, extra
Speaking of Mickelson, it was reported in this space last week that he now owns a 7-3 career playoff record following his loss to
J.B. Holmes
on the first extra hole at the FBR Open. We should have prefaced it by noting that was only his number on the PGA Tour. Though Mickelson doesn't play much golf outside of the U.S., he's been involved in two recent playoffs overseas. In July, he lost in the first extra hole to
Gregory Havret
at the Scottish Open. Four months later, he defeated
Ross Fisher
and
Lee Westwood
at the HSBC Champions tournament in Shanghai.
6. Dudley do right
Lowery wasn't the only winner at Pebble Beach.
Dudley Hart
, who was tied for the lead entering the final round, birdied the final two holes on Sunday to finish T-3. Hart is currently playing on a Major Medical Extension (family crisis) due to the fact that he was limited to only 12 starts in 2007 when his wife, Suzanne, was diagnosed with a nonsmoking related tumor in her lungs last May and subsequently had one of them removed. Hart has 15 events to earn $485,931; combined with last year's earnings of $299,249, he needs that total to equal 2007's No. 125 earnings of $785,180. Prior to this week, Hart had earned only $10,971 (one made cut -- a T-66 at the Sony Open -- in two starts this season). At the AT&T, his three-way tie for third place was good enough to earn $312,000, leaving him just $162,960 shy of his goal with 12 more chances remaining.
7. Caddie beats Paddy
Excuse us if we didn't see
Padraig Harrington
's T-14 result coming prior to the AT&T. A few weeks ago, the reigning British Open champ contracted shingles, forcing him to withdraw from the Abu Dhabi Championship. And although he was healthy enough to travel to California this week, the pretournament assessment of his game didn't offer much hope for success. "I played Harding Park on Saturday in the rain, it didn't get warmer than 40 degrees," Harrington said on Tuesday. "It's just cold and wet, and my caddie managed to beat me." Losing to a caddie isn't usually the best sign that a player is ready to contend for a title, but Harrington fared well, shooting 72-70-70-72 to earn a decent paycheck.
8. Who's your caddie?
As usual, Singh's pro-am partner for the week was Ted Forstmann, owner of IMG and a senior partner of Forstmann Little & Co. On the 10th hole during their opening round at Pebble Beach, Forstmann (who plays to a 6 handicap) hit the wrong ball onto the green, choosing one in the fairway rather than his, which was in the left rough. That's enough to get a caddie fired -- unless her name is Natalie Gulbis. That's right, the LPGA star and longtime friend of Forstmann was making her looping debut at the AT&T. Her excuse for letting the player hit the wrong ball? "I guess that's what he gets when he has an amateur caddie," she told the Golf Channel. "I have a new appreciation for [her caddie] Greg [Sheridan] and I'm going to be nice to him all year."
9. Greens with envy
Last year, Tiger Woods led the PGA Tour with a greens in regulation percentage of 71.02. Entering the AT&T, there were 52 players above that number. Exhibit A in the case against U grooves? Perhaps, but we have some other theories behind this. First, let's look at the top 15 entering this week:
No, the rest of the tour hasn't caught up to Tiger in terms of proficient iron play. The explanation for such inflated GIR numbers can be tracked to the venues; on the West Coast Swing, cold, wet conditions often let players take aim without having to worry about firm fairways helping to advance tee shots into the rough. This is especially true at the season-opening Mercedes-Benz Championship, where the field average for greens in regulation was 82.87 percent for the week. And so it's no surprise that all but four players in the top 15 -- Durant, Brooks, Senden and Goggin -- competed at Kapalua. Oh, and for the record, Woods isn't exactly going to give up his title without a fight. Although he didn't have enough rounds to qualify for the list above, Woods hit 80.56 percent of the greens in regulation in four rounds at the Buick Invitational.
10. The Tiger factor
Say what you will about the so-called "intimidation factor" when playing with Woods, but
Kevin Streelman
and Damien McGrane have both benefited from their recent pairings. Two weeks ago, Streelman vaulted to second place on the leaderboard entering the weekend at Torrey Pines, then the Q-school grad played with Tiger (and
Stewart Cink
) in the final group of the third round. Perhaps drawing on that experience, he climbed all the way to a share of second place at the AT&T on Friday before ultimately missing the cut. McGrane had the experience of playing two rounds with Woods last weekend in Dubai, then parlayed that into a solo second-place result at the Indian Masters.
11. New York state of mind
It was announced this week that year-old Chambers Bay GC will serve as host of the 2015 U.S. Open, the first major to be held in the Pacific Northwest since the 1998 PGA Championship at Sahalee. If the folks in Tacoma, Wash., want to send out some thank-you notes, they should begin with a pair of New York-based courses some 3,000 miles away. The first would be Bethpage Black, which held the Open to such acclaimed success in 2002 that it opened the door for other municipal courses to hold future editions of the event. The other is Winged Foot GC, site of the '06 Open, which was withdrawn for consideration by members of the club in late December. From everything we hear, Chambers Bay should be a perfect venue to hold the Open, but let's not forget the confluence of events that led to this decision.
12. Native son
After hearing the announcement about Chambers Bay getting the Open, the Weekly 18 reached out to
Michael Putnam
, who grew up about a half-mile from where the course now exists and just happened to play in the first official foursome when it opened up. "This is kind of a big deal for us Tacoma folks up here," said Putnam, who was enjoying a week off from the Nationwide Tour. He told us about how the presidential candidates were in the area on Friday -- and the U.S. Open trumped that news on the front page of local newspapers. "When I first played it, before it even opened, it was hard for me to visualize a U.S. Open being there," said Putnam, who's one of very few from the Pacific Northwest to be competing on a major tour. (
Fred Couples
, who originally from Seattle,
Ryan Moore
of Puyallup, Wash., and
Jeff Gove
of Seattle are among the others.) "When I played it again a year later, I thought maybe they could host an Open, but I was thinking way down the road, like 2018, 2019, 2020, because it's not normal for a U.S. Open to declare a course that isn't well established yet." So far, Chambers Bay has hosted the Pac-10/Big-10 Challenge and a skins game featuring Putnam, Moore,
Aaron Baddeley
and
Bubba Watson
. It will hold the WCC Championships later this year and the U.S. Amateur in 2010 in advance of the Open. What does Putnam remember about that first round at Chambers Bay? He knows he played with his father, the general manager and an assistant pro, and he carded the first birdie ever, though he couldn't recall which hole. ("And probably the first bogey, too," he recalled with a laugh.) He shot a 2-under 70, which, he assumes, was the course record for "at least a couple of weeks." When asked if he felt like going out to qualify for the 2015 Open right away, Putnam exuded confidence. "I'll just be hitting my stride then," he said. He figures to be top-50 in the World Ranking, meaning he won't need to qualify. And, as he said, Tiger will be pushing 40 by then ... which could leave the door open for a certain local boy to make good that week. For the Tacoma folks, that would certainly be "kind of a big deal."
13. Charles in charge
Charles Howell III
will defend his title at this week's Northern Trust (Don't Call it the Nissan) Open, site of his come-from-behind playoff victory over Mickelson a year ago. So far this season Howell owns three top-25 results in four starts. "I'm getting there," he told the Weekly 18 recently. "The game's improving, had a nice start to the year. Got some good events coming up, so we're going in the right direction." Howell will be joined by 17 of the world's top 20 players and 32 of the top 48 at Riviera CC on Thursday.
14. L.A. story
In his first and only PGA Tour start so far this season, Woods was asked during the Buick Invitational if he'd play in the Northern Trust, just a few hours up the coast in Los Angeles. Here's the exchange during his interview session on Wednesday of that week:
Q: Do you see yourself getting to Los Angeles this year, and how much do you want to get that one under your belt?
TIGER WOODS: Yeah, L.A. is still kind of up in the air. I've always loved playing Riviera. I've only played well I think two times. But hey, hopefully one year I'll be able to get it under my belt.
It was a noncommittal, but (possibly) honest answer at the time. So when he won the Buick four days later, it made sense that one reporter asked of his intentions once again:
Q: What about L.A.?
TIGER WOODS: What about it?
Q: Any thoughts yet, yes or no if you're in yet?
TIGER WOODS: I don't know.
Well, we now know that "I don't know" translates to "No way" in Tigerspeak, at least on this occasion. This marks the second straight time Woods is skipping the festivities at Riviera, which has proven to be his personal kryptonite over the years. He has competed in the tournament 11 times (nine as a pro), compiling two runner-up results but no victories.
15. Surf's down
One week before making his 2008 season debut in the U.S.,
Adam Scott
was busy filming a promotional advertisement for the PGA Tour. The spot was to show the Aussie shredding some killer waves on his longboard ... but the ocean didn't cooperate. "Well, we paddled around a little bit," Scott told the Weekly 18 after the lengthy shoot on Thursday. "There were a couple of waves. Hopefully, they're going to make me look better than I was."
16. Hey, Paula
Wondering where the ladies are? The LPGA season gets under way at Turtle Bay this Friday -- six full weeks after the PGA Tour kicked off at Kapalua. While many have criticized the men's circuit for starting its schedule too early, we've never heard much praise for the LPGA's placement on the calendar. So, the Weekly 18 asked Paula Creamer her thoughts on when the tour begins during a teleconference earlier this week. Her response:
That's a good question. Well, for me, I like to have a break. I really like the offseason that I had this year, just being able to be home, practicing some things. I feel like you're constantly living out of a suitcase. A lot of other sports do start very early, you know, [PGA Tour] golf, tennis, so they're all back right away in January. I guess it depends on the events that are happening. I think, as an athlete, you do need a rest, you need to rest your body, and it's kind of hard to get better if you're always on the road."
Our take? Mid-February is the perfect start to the LPGA season. With all other major tours already under way, the women's circuit can make its own fashionably late appearance on the schedule to more fanfare than it would have, say, one month earlier.
17. Standing Pat?
In the past two weeks, Matt Walsh has become the most famous assistant golf pro in the sports world. But what do we know about the golf credentials of the former New England Patriots video assistant who reportedly spoke with staff members from Sen. Arlen Specter's office this week amidst revelations that he may have videotaped the opposing St. Louis Rams prior to Super Bowl XXXVI? The Weekly 18 did some digging and found the following from Walsh's bio at Ka'anapali Golf Resort on Maui:
Matt was hired as an Assistant Golf Professional at Ka'anapali in November 2006, after serving in similar capacities at Troon Country Club (Scottsdale, Ariz.) 2005-06; Eastward Ho! Country Club (Chatham, Mass.) 2005 and Twin Hills Country Club (Coventry, Conn.) 1994. ... After an All-State and All-Conference high school playing career, Matt went on to play golf collegiately at Springfield (Mass.) College, where he earned a bachelor's degree in sports management.
So, how's his game? We'll have to make the investigative journey to paradise to find out. Walsh doesn't currently have a listed GHIN handicap.
18. Quote of the week
"Yeah, I don't think that was going to happen."
-- Lowery, on whether he was trying to psych out Singh during the playoff.
Jason Sobel is ESPN.com's golf editor. He can be reached at Jason.Sobel@espn3.com.
Golf Editor, ESPN.com
Jason Sobel, who joined ESPN in 1997, earned four Sports Emmy awards as a member of ESPN's Studio Production department. He became ESPN.com's golf editor in July 2004.
SPONSORED HEADLINES
MORE GOLF HEADLINES
MOST SENT STORIES ON ESPN.COM