In golf, anything can happen on any given Sunday
Updated:
July 2, 2007, 10:06 AM ET
By
Jason Sobel
| ESPN.com
Whether you're Lorena Ochoa (who came up short yet again in her quest for a major championship), Michelle Wie (whose game seems to be in complete disarray) or just some hacker who lost a $5 Nassau at the local muni on Sunday, we've got good news for you.
Golf is one fickle game.
OK, so it's not exactly "news," but this notion was never more apparent than on Sunday, when some of the year's most unlikely and unpredictable winners found themselves choking back tears while holding trophies aloft on the green.
The Weekly 18 begins with the idea that in golf it's never a good idea to give up on yourself -- or anyone else -- because on any given Sunday, well, you know how it goes ...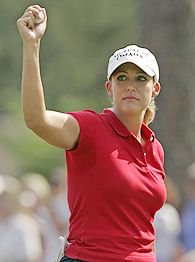 AP Photo/Chuck BurtonKerr shot a final-round 70 to win by two strokes on Sunday.
1. On any given Sunday
While Ochoa gets most of the ink and first dibs on the Best Player To Have Never Won A Major label, Cristie Kerr is a top-five player in her own right, owns more than twice as many career starts and until Sunday was the most overlooked player around.
Let's just call her the LPGA's Jim Furyk.
While much of the focus in women's golf is often centered around the top two players (Ochoa and Annika Sorenstam), the up-and-comers (Morgan Pressel and Paula Creamer, among others) and the disappointments (Wie and, uh, well, just Wie), Kerr simply slides by largely unnoticed. She probably doesn't get enough credit for her nine career wins, nor did she receive enough criticism for failing to win a major in her first 41 career chances.
So if you didn't see her win at the U.S. Women's Open coming, consider yourself excused.
Of course, Kerr's win was a lot more predictable than that of Brian Bateman, who earned his first career victory at the Buick Open on Sunday. In eight previous starts on the PGA Tour this season, Bateman had made the cut four times and didn't own any finishes better than T-31. And yet, there he was picking on the big boys at Warwick Hills, passing a trio of former champions with a 12-foot birdie putt on the final hole.
Didn't see that one coming, did you?
Meanwhile, two of the players right behind Bateman -- Jason Gore and Justin Leonard -- were a combined 14 for 30 in making cuts prior to finishing as runners-up at the Buick. (More on them later.) Steve Elkington? Marco Dawson? No top-10s between 'em this year. Until Sunday.
Need more?
A former cake factory worker won on the European Tour. (More on that one later, too.) Lonnie Nielsen, who had never won in 229 PGA Tour-sanctioned starts (91 on the Champions Tour, 124 on the PGA Tour, 14 on the Nationwide Tour), claimed victory on the senior circuit.
Moral of the story: Never discredit any professional golfer from winning any tournament, because as we learned once again this weekend, you just never know what's going to happen.
Like the saying goes, on any given Sunday ...
2. Words of wisdom?
The words of a champion? Guess who said the following on Saturday evening: "Winning the Open would be great, but I would be happier if I executed all my shots the way I wanted to, because the score is kind of irrelevant if you do the things you're trying to do." Ochoa? Nope. Sorenstam? Nuh-uh. Wie? She was long gone by then. Those are, incredibly, the words of Cristie Kerr, who apparently executed the way she wanted to on Sunday, shooting a final-round 70 with only one bogey. Or did she? For the day, Kerr hit only half of the fairways and half of the greens in regulation, but her 28 putts were three fewer than she took in any other round and more than made up the difference between her and the second-place finishers.
3. Lo and behold
How
didn't
Ochoa win the Open on Sunday? Based on the numbers, we're not exactly sure. For the week, Ochoa ranked third in driving distance (271.4 yards per drive) and tied for first in greens in regulation (76 percent). But she did struggle keeping the ball in the fairway, ranking T-50 in driving accuracy (64 percent) and, of course, putting, ranking T-30 in total putts (30.25 per round). And then there are the finishing holes. Despite making only two bogeys on the front side all week, Ochoa played the final four holes in 3-over-par, failing to make a birdie on that stretch during three of the four rounds.
4. Young and restless
Alexis Thompson, the 12-year-old who this week became the youngest player ever to compete in a U.S. Women's Open, shouldn't hang her head over the rounds of 76-82 that left her in a share of 141st place, 10 shots off the cut line. Her stats were actually pretty respectable, hitting 17 of 28 fairways and taking only 59 total putts, and she defeated 12 other players who completed the opening 36 holes. For the record, when Pressel played at Pine Needles as a 13-year-old (prior to Thomson, the youngest player to compete in the Open), she shot 77-77.
5. A Wie bit much?
There's not much we can add to the Michelle Wie saga that hasn't been written already. With two WDs in the past month, her game is in an obvious state of decline -- wrist injury or no wrist injury -- and her confidence must be at an all-time low. That said, the amount of vitriol and contempt that has been directed toward Wie by "fans" recently continues to amaze. (Just click
here
and
here
.) Other than collecting a few multi-million-dollar sponsorship deals and accepting exemptions into tournaments -- and, really, who among us would turn down such offers? -- we're still wondering why there's such a public backlash against a 17-year-old girl who's trying to play golf at a high level. Is it the big-money contracts? The media attention? The appearances in men's professional tournaments? Certainly, there have been other young athletes who failed in their endeavors, but none has done so to more delight in the public arena than Wie.
6. Out of nowhere
Considering the recent run of champions at Warwick Hills, how surprising was it to see Bateman's name atop the leaderboard when the Buick Open was all said and done Sunday night? We could tell you ... but it's easier to show you:
Buick Open champions, 2002-07
Year
Winner
World Ranking before win
2002
Tiger Woods
1
2003
Jim Furyk
3
2004
Vijay Singh
3
2005
Vijay Singh
2
2006
Tiger Woods
1
2007
Brian Bateman
408
7. Gore story
We've said it before and we'll say it again: Jason Gore may never be a consistent week-in, week-out performer, but he's as streaky as they come, meaning you never know when he'll pop up on the leaderboard. Further evidence of this came at the Buick, where a final-round 67 propelled Gore into a share of second place. It's been a long time coming. Since that mercurial 2005 season, during which he reached the final pairing of the U.S. Open, won three times on the Nationwide Tour and claimed the PGA Tour's 84 Lumber Classic, he owned only four top-10s entering the Buick (all last year) and had missed the cut in more than half of his starts. He has also switched up equipment, no longer wearing the swoosh logo as he did all last season. "It was a decision I made based on trusting my abilities and I believed I was a better player than that," Gore told CBS after shooting a final-round 67. "I just had to get something I believed in and I went after it, I followed my heart and played with what I want and I'm finally feeling comfortable on the golf course."
8. Justin time
As mentioned earlier, Justin Leonard enjoyed a big week as well, finishing T-2 at the Buick for his first top-10 finish since last year's FBR Open -- a span of 41 tournaments. After missing the cut in his first six starts of this season, Leonard left swing instructor Butch Harmon for his previous coach, Randy Smith, and appears to be back on the right track.
9. Hey, rook!
If the PGA Tour Rookie of the Year race were a horse race,
Steve Marino
would be stealthily sneaking up on the outside, ready to kick into an extra gear down the stretch. With a T-10 finish at the Buick, he now owns four top-10 finishes this year and is less than $12,000 from the $1-million mark. His PGA Tour card now guaranteed for 2008, it'll be intriguing to see whether Marino will play pressure-free over the season's final two-plus months. If so, expect a few more top-10s.
10. Daly dose
John Daly
had his first top-20 finish of the season this week -- he was T-16 at the Buick -- and he may have a friend to thank: Kid Rock. Yep,
that
Kid Rock. Long John hung out with the singer, who's a Michigan native, throughout the week and obviously made an impression. "I like it," Kid Rock said of the tournament in a Golf Channel interview. "I think it's good. It's a pressure sport, which can be very fun to watch." It's even more fun when Daly is doing his usual thing; he led the field with an average driving distance of 324.9 yards at Warwick Hills (while finishing dead last in driving accuracy, hitting 32.1 percent of fairways). It was only his fifth made cut of the season in 13 starts.
11. Don't follow the leader
The secret to staying atop the leaderboard at the Buick Open? Don't get there in the first place. Let us explain.
Rocco Mediate
grabbed the opening-round lead with a 64 only to follow with a 71 the next day and finished T-62.
Brett Quigley
took a share of the 36-hole lead (alongside Kenny Perry and Jim Furyk) with rounds of 65-69, but followed with 75 the next day and finished T-43. And Tom Pernice Jr. owned the lead entering the final round only to shoot 75 on Sunday and finish T-20.
12. The firing line
After Quigley took the solo lead into the weekend at Warwick Hills, he celebrated the effort by ... firing his caddie. Getting rid of the guy on your bag mid-tournament is a pretty rare thing on tour, but doing so when you're in the lead is absolutely unheard of. And yet, Quigley did exactly that, firing Tim Mork in favor of Matt Hauser (formerly
J.J. Henry
's man) before the start of Saturday's round. Said Quigley of the move: "It was just time for a change. Tim didn't do anything wrong and I'm not mad at him." After falling out of contention on the weekend, Quigley continues to hold the dubious distinction of leading the PGA Tour in career earning among those players without a victory.
13. Quick starter
When an odd number of players makes the cut in a professional event, often the first man off the tee each weekend morning will fly solo -- and we do mean
fly
. Players will turn these into pretty quick rounds, but
Robert Garrigus
may have set the land-speed record at the Buick on Sunday, finishing his round of 5-over 77 in one hour, 41 minutes. (And no, he didn't use a cart.)
14. Who's got the Funk?
Interesting decision by
Fred Funk
to skip this week's U.S. Senior Open in favor of playing the AT&T National at his old stomping grounds in Bethesda, Md. A former golf coach at the University of Maryland, Funk, 51, owns victories on both the PGA and Champions tours this year, but will play as much as possible on the former circuit in hopes of earning a second straight trip to the Presidents Cup in September.
15. Defending chumps?
With Woods, the defending champion at the Buick, taking the week off, it marked the ninth straight week that a 2006 winner failed to finish in the top 10 of that event this season, dating back to
Brett Wetterich
's T-10 at the
Byron Nelson
Championship in May. In 26 PGA Tour events so far, defending champs have finished in the top 10 eight times, with only one player returning to the winner's circle, as Tiger captured back-to-back titles at the Buick Invitational and CA Championship.
16. Easy as cake
Graeme Storm
shot a final-round 66 to win the French Open on Sunday, a victory that was a long time in the making. Storm was the 1999 British Amateur champion and holed the clinching putt for the GB&I squad in that year's Ryder Cup, but while teammates such as
Paul Casey
and
Luke Donald
took a direct path to stardom, Storm was, uh, detoured, to say the least. After losing his playing privileges following the 2002 season, he resorted to washing baking trays in a cake factory for a living during the winter, earning only 145 British pounds for a 40-hour week, according to Reuters. "Working in a cake factory was a bit of a come-down for me," Storm said. "But in a way it helped me because it showed me the other side of life and how hard you have to work. This win has now changed my life I can't believe it's true. It's like a dream."
17. Value of the Euro
Is the European Tour struggling? On the heels of commissioner George O'Grady's comments that the tour would try to solidify itself by trying to aligning with other worldwide tours in the future, there are two important stats of note: First, of the top 10 players on the Order of Merit, seven have played more U.S.-based events this year (some of which are co-sanctioned by the Euro Tour) than tournaments on the European schedule. And second, of the 33 events played so far this year, 14 have been won by a first-time champion. What does that tell us? Either the talent pool is growing ... or so many of the top players are skipping so many tournaments that there are more opportunities for other players to claim victories.
18. Quote of the week
"I'm officially his whipping boy. I'm his red-headed stepchild, there's no doubt about it. He beats me like a drum."
--
Paul Claxton
, after finishing second to frequent practice partner
Roland Thatcher
in the Nationwide Tour's Peek'n Peak Classic.
Jason Sobel is ESPN.com's golf editor. He can be reached at Jason.Sobel@espn3.com
Golf Editor, ESPN.com
Jason Sobel, who joined ESPN in 1997, earned four Sports Emmy awards as a member of ESPN's Studio Production department. He became ESPN.com's golf editor in July 2004.
EDITORS' PICKS
Rory's game is what other pros judge themselves by now.
Harig »

Can Rory McIlroy keep his impressive play going?
Bob Harig »

Tiger might do best to learn from other pros with back issues.
Harig »
MOST SENT STORIES ON ESPN.COM