Commentary
Life as a caddie: Eager, excited ... and nervous as hell
Updated:
October 17, 2007, 7:18 PM ET
By
Jason Sobel
| ESPN.com
CHATTANOOGA, Tenn. -- I should be taking note of premium aiming points from each of the 18 tee boxes. I should be anticipating pin positions for the next four rounds. I should be walking off yardages, double- and triple-checking the distance from each sprinkler head to the center of the green.
Instead, I'm concentrating on another aspect important to the ancient art of caddying. I'm thinking about the cash. Can you blame me? After all, I'm about to spend four days on the bag of
Roland Thatcher
at the Nationwide Tour's Chattanooga Classic, and while it might take a proficient caddie to determine proper yardage and choose the right clubs, you'd better believe any guy who has ever looped in a professional tournament knows how to extract 10 percent from a winner's check.
In case you haven't been paying attention to this sport's version of the Triple-A circuit, my man Thatcher can golf his ball. He already has earned $401,632 in 25 events and has two wins this season. If he wins a third event, he will receive an in-season promotion to the PGA Tour and, this week, an $85,500 first-place prize.
Haney's caddie tips
Noted instructor Hank Haney has spent a fair share of time with a bag on his shoulders, caddying for Mark O'Meara at the 2004 PGA Championship and various other events. I recently contacted Haney for some advice about looping and he responded with the following 15 tips: 1. Have a clean white towel each day. Usually the course will supply these.
2. Get your player his range balls when you get to the practice tee.
3. Put his watch, money clip, etc. in his bag where he always keeps them.
4. Rub his grips down every day with a wet towel and then rub them dry.
5. Know what time it is. Tell him during his warmup how much time he has before he needs to be at the first tee.
6. Count his clubs at the first tee. Make sure you do this.
7. Have a yardage book, just in case. He will probably do his own yardages with a rookie on the bag, but be ready anyway.
8. At the first tee, fold two pin sheets into thirds to separate the holes -- one for you and one for him.
9. If your man is the last one putting, get the pin from the caddie who is holding it. If you don't, it ticks off the other caddies.
10. If your man holes out first or second, hand the pin to the caddie whose player will putt last.
11. If another caddie's player is in the bunker and the last to get to the green, rake the trap for him. If another caddie is still raking a trap, wash the ball for his player.
12. Make sure your shadow isn't on a player or in his way, especially on the tee boxes.
13. Wear shoes that are waterproof. It makes for a long day if your shoes and socks get soaked on the first hole.
14. Do a little treadmill work if you don't already work out regularly. It is a lot harder than it looks.
15. If it rains, good luck. You'll need it unless you grow an extra hand or two. There are a lot of things to do and take care of. Most importantly, keep both the towel and the player as dry as possible.
-- J.S.
That's right. He's already a lock to join the big-timers next season. I've never caddied before. And yet, he's the one who asked me to loop for him this coming week, which is like the starting quarterback asking the homely girl from math class to the senior prom.
I prepared for the upcoming assignment by watching "Caddyshack" a bunch of times. (Although, truth be told, the legendary flick has a permanent place in my DVD rotation anyway.) I also played a few rounds of golf, choosing to carry my bag rather than opt for a cart (again, not much of a sacrifice), while making sure to give correct yardage to my playing partners (whether or not they asked) and tending the flagstick on all lengthy putts. Maybe I should have weighed down my bag with a couple of bricks. After all, tour bags routinely weigh some 40-50 pounds. Thatcher offered a carry bag, but hey, if we're going to do this thing, we're going to do it right. And doing it right requires much more than lugging a bag for 18 holes each day and handing a different club to your player every few minutes. Things like yardage distance, club selection and wind direction must be ascertained quickly and accurately, while raking traps and cleaning your player's ball at the greens should be second nature. And if you do the job well? There's little fanfare, if any at all. Fact is, good caddies are like good baseball umpires -- the less you hear about them, the better they are. That's why I plan on adhering to the old caddie motto of, "Show up, keep up and shut up." Oh, and don't screw up. I'm already having nightmares about Miles Byrne, the guy who caddied for
Ian Woosnam
at the 2001 British Open and saw his man surge into the lead Sunday morning only to discover -- whoops! -- there were 15 clubs in the bag. That was hardly an isolated incident of player-caddie miscommunication. In recent months, Mike Mollet was canned by
Jay Williamson
mid-round, while Matthew Tritton became so frustrated with his boss,
Robert Allenby
, that he walked off the course.
No caddie is immune to mistakes. Even Steve Williams, this generation's face of the profession, fumbled Tiger Woods' 9-iron at last year's Ryder Cup, left to hopelessly watch as it drifted to the bottom of a water hazard.
All of which has left me eager, excited ... and nervous as hell. My fellow bag men have done all they can to ease my concerns. "You'll be fine," contended Brennan Little, longtime looper for
Mike Weir
. "You'll have no problem," agreed Joe Damiano, caddie for
Stuart Appleby
, adding, "Just stay out of the way, that's all you gotta do. I mean it. Just be on time and stay out of the way. Don't step in anybody's line. Be aware of the other players." I can do that. I think. Honestly, win, lose or DQ -- and really, as long as I don't get Thatcher disqualified, the week will be considered a success -- my goal this week is to integrate myself into the caddie culture. I've got to think like a caddie, act like a caddie and -- if history has anything to say about it -- drink like a caddie.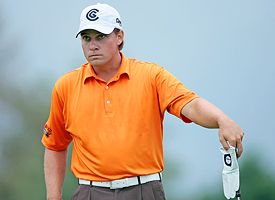 Chris Condon/Getty ImagesThatcher will have our man on the bag this week.
The great essayist P.G. Wodehouse once wrote, "There were three things in the world that he held in the smallest esteem -- slugs, poets and caddies with hiccups." In this case, "he" referred to the fictional Rodney Spelvin, a character from the 1920s who found the game later in life, but it can be safely assumed most players live by the same code.
Of course, avoiding the occasional auditory mishap is easier said than done. "The professional [caddie] is a reckless, feckless creature," wrote turn-of-the-century British author Horace Hutchinson. "In the golfing season in Scotland he makes money all day and spends it all the night. His sole loves are golf and whiskey." Proving old habits -- and reputations -- die hard, Bushwood caddie master Lou Loomis told his merry band of rumpled loopers, "I'm going to put it right on the line. There's been a lot of complaints already. Fooling around on the course, bad language, smoking grass, poor caddying. If you guys want to get fired, if you want to be replaced by golf carts, just keep it up." When asked what he looks for in a caddie,
Ernie Els
once shot back, "Someone who turns up at the first tee on time and sober." It's for these reasons that some of the best caddie nicknames -- and you'd better believe any caddie who can rake his way out of a greenside bunker has a nickname -- have to do with postround, uh, celebrations. They include Last Call Lance, Reefer Ray, Penitentiary Larry and Baghdad, called such because, as a fellow caddie told me, "He gets bombed every night." Must make that 40-50 pound bag feel about three times heavier. As I embark on my caddying debut, I have no idea what to expect, no matter how much advice has been tossed my way. (And I've received plenty.) But one notion continues to be at the forefront of my mind, something Damiano mentioned about being a professional looper: "You see everything out there. Every day is a different adventure."
Coming Tuesday: Nine-hole practice round.
Jason Sobel is ESPN.com's golf editor. He can be reached at Jason.Sobel@espn3.com.
Golf Editor, ESPN.com
Jason Sobel, who joined ESPN in 1997, earned four Sports Emmy awards as a member of ESPN's Studio Production department. He became ESPN.com's golf editor in July 2004.
LIFE AS A CADDIE
ESPN.com's Jason Sobel is caddying for Nationwide Tour leading money winner Roland Thatcher during the Chattanooga Classic, dispatching reports from the course each day.