Commentary
Annika gracefully entering last phase of her career
Updated:
May 15, 2008, 7:00 PM ET
By
Jason Sobel
| ESPN.com
Annika Sorenstam was bundled up, buried beneath a hat, scarf and one of those oversized, insulated winter coats used to shield the body from brutally cold weather. It wasn't exactly the most fitting attire for a world-class golfer, but then again she wasn't exactly in world-class golfer mode, either. This was December in British Columbia, five months ago, and Sorenstam was engrossed in the role of golf course designer, one of the many off-course projects she has undertaken in recent years.
Just the fact that she was working that day, braving the elements of a cold Canadian day -- not playing or practicing or resting -- spoke volumes about how close Sorenstam was to beginning the next phase of her life. She paused that afternoon only briefly to reflect on how quickly that next phase would become a total transformation.
"I'm on the back nine of my playing career, if you know what I mean," she said at the time. "But I don't know if I'm on the 11th hole or on 17. I think really the key is, where's my motivation? Do I enjoy the hard schedule that it takes? Can I push my body any harder? I think those are factors that play a big role."
As it turns out, the clubhouse was clearly in view. The LPGA's third-winningest golfer of all time announced Tuesday that this will be the final season of her illustrious career.
[+] Enlarge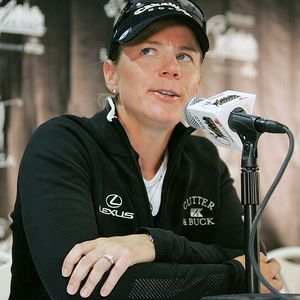 AP Photo/Rich SchultzAnnika Sorenstam said she's got lots of things left to accomplish off the course.
The news shouldn't come as a surprise to anybody who has been listening carefully over the years. Sorenstam never planned on gradually fading from the limelight or the Rolex Rankings. She never intended to battle the aging process while continuing to battle her younger peers on the leaderboard. In fact, it can be argued that the announcement of an early exit was even more predictable than any of Annika's 72 victories, most of which came when she was the top-ranked, no-doubt-about-it, best player in the world.
Though Sorenstam is quitting her day job, it would be a miscalculation to insinuate that she is retiring. On Tuesday, she halted at using what she called "the 'r' word," instead reeling off the many pursuits, both personal and professional, that will become greater priorities in her life.
"While I'm stepping away from competition, I will be very engaged and very involved in the game of golf, but in a different way," said Sorenstam, who addressed the media from the Sybase Classic in Clifton, N.J., where she will compete this week. "I want to make sure that I can get back to the game that's been great to me, by helping and inspiring young kids to develop and reach their dreams. I know I can do that with the growth of my academy. I can do that with the growth of my foundation, and I want to do it with the commitment from my sponsors that have been there for me all these years and have played an instrumental part in my success. So I'm looking forward to doing clinics, outings, promotions, you name it."
More Sorenstam
Golf World's Ron Sirak, in a story for the magazine's May 16 issue, says the time was right for Sorenstam to retire. It was released Tuesday after being embargoed until the Sorenstam's news conference. Story

More from GolfDigest.com:
• Sorenstam photo gallery
• From April: Sirak on Sorenstam

More from GolfforWomen.com:
• Sorenstam's life after golf
• Editors' blog: Learning the ropes with a legend
The ANNIKA Academy opened in Orlando last year, providing, according to the academy's site "a way for Annika to share her passion for golf and fitness, along with her own personal coaches." Her number of course design projects now totals five, with two more in the works. She has developed her own apparel line called -- what else? -- the ANNIKA Collection. And the ANNIKA Foundation was created in 2007 to, according to a release, "provide educational and financial resources that will help children of all backgrounds realize their full potential."
And then there's the matter of her impending wedding to Mike McGee, scheduled for January 2009. She has never been bashful about wanting to have children, and at 37 that might become more of a priority with every passing day.
All of which means we should refrain from having any images of Sorenstam whittling away the days in a rocking chair with nothing to do and nowhere to go.
"I'm just very happy with life," she said. "You start thinking, 'What else is important in life?' and 'What else do I want to achieve on the golf course?' It's been a year or so where I've just been very content and I felt like when I come back after [last year's back] injury, I've proven to myself I can do it and, you know, it's a special feeling for myself."
Sorenstam will allow for a farewell tour over the LPGA's remaining months, ending her playing career with a Ladies European Tour event in Dubai this December. Until then -- until she becomes a full-time golf ambassador, course architect, clothing designer, wife and everything else imaginable -- Annika Sorenstam will remain one of the best golfers in the game today, continuing to rewrite the record books with every win.
When the year is completed, she will finally, gracefully, hang up the soft spikes for good, entering the next phase of her life that she has contemplated for so long. Just don't call it the "r" word.
Jason Sobel covers golf for ESPN.com. He can be reached at Jason.Sobel@espn3.com.
Golf Editor, ESPN.com
Jason Sobel, who joined ESPN in 1997, earned four Sports Emmy awards as a member of ESPN's Studio Production department. He became ESPN.com's golf editor in July 2004.
EDITORS' PICKS
In the gloomy weather, Harrington focuses on the positives.
Harig »

Don't read too much into Rory McIlroy's missed cut.
Bob Harig »

Vikings WR Greg Jennings tries to squeeze a little golf into an otherwise crowded schedule.
Nicole Elliott »