Commentary
Experience at Q-school is a double-edged sword
Originally Published:
December 5, 2008
By
Peter Yoon
| Special to ESPN.com
LA QUINTA, Calif. -- Guys in Q-school for the first time aren't supposed to be leading at the midway point.
Back To School
In an effort to give ESPN.com readers insight into different golfers at various stages in their careers, we will select one player from each of the three categories listed below each day during PGA Tour Q-school and delve into their story of how they got here and where they are headed.
The categories are: 1. PGA Tour veterans trying to hold on to their cards in the final years before they are old enough to attempt to play on the Champions Tour. 2. Players in the middle of their careers trying to revive a derailed PGA Tour dream or reach the tour after past failed attempts. 3. Rising stars seemingly destined for success who are trying to reach the tour for the first time.
Check back daily during Q-school for the latest news and results from one of the most grueling tests in golf.
Friday's Players:
Veteran:
Kent Jones
Career revival:
Chris Tidland
Rising star:
James Nitties
-- Peter Yoon
They're supposed to be shaking over putts, fanning drives into water hazards and gripping too tight while chipping. The field at Q-school is filled with 20 former PGA Tour winners, two former Ryder Cup team members, three former Presidents Cup team members and nine players who have made the Q-school finals at least eight times. But
James Nitties
, 26, an Australian who had no status on any major tour this past year and who has not played in the Q-school finals before this year, has a share of the lead with a three-day total of 15-under 201 at the midway point after shooting 3-under 69 Friday on the Stadium Course at PGA West. His lack of experience could be a hindrance as the tournament heads to the homestretch and the famed pressure of Q-school starts to mount, but his youth could also be an advantage because he might not feel as much tension knowing he'll have more chances ahead if he fails to make it through. "[Experience in Q-school] is probably a little bit of double-edged sword," said
Kent Jones
, 41 and playing the Q-school finals for the ninth time. "You've been there before, so you know how to handle it, but if you've been here a lot, you know you're getting older and might be running out of chances to get back to the tour, so you might feel that a little."
Nitties isn't exactly inexperienced at tournament golf. He won a mini-tour event in Australia two weeks ago and finished second at the 2004 Australian PGA. Over the past year, he has played all around the world on the Hooters Tour, the Australasian Tour, the European Tour and the Golden State Tour.
But he also has had no full status, and he's playing for that for the first time. He made it to the second stage of Q-school twice, but never to the finals. "I regard myself as not totally inexperienced," he said. "I've played against some of the PGA Tour guys in Australian events. But it is a new experience for me. I'm just trying to do everything the same every day and not get too far ahead of myself. It's a win-win situation because I've never been on the Nationwide Tour and coming in here I knew I had some kind of status, so it's good for me either way."
[+] Enlarge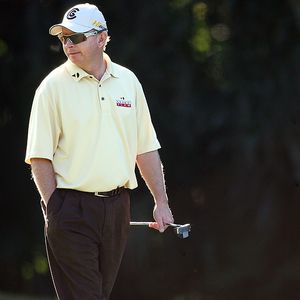 Marc Serota/Getty ImagesIf Q-school ended after three rounds instead of six, Kent Jones would earn his PGA Tour card for 2009.
But although getting status on the Nationwide Tour might sit fine with the younger sect, players such as
Chris Tidland
would rather not have to go back there -- again. Tidland, 36, is in the Q-school finals for the 11th time -- tied for the most of anybody playing this week -- and his string of nine consecutive finals appearances is the longest of any active player. He has made it to the PGA Tour twice, is itching to get back and said having been through Q-school so many times teaches you to be patient. "There's going to be some ups and downs," he said. "It's a long week. There's going to be times when your swing feels great and times when your swing feels lousy and you just ride through it, so you just try to stay as even keel as you can and try to hit the next shot good." That came in handy Friday when he made a triple-bogey 7 on his 16th hole but then rallied with two birdies to finish off a 74 that kept him within 3 shots of the top 25. "When you haven't experienced this, a triple-bogey might cause things to go the wrong way," said Tidland, who shot 64 in the second round. "I realize that I've made it through here and not played six flawless rounds. I've had some nice rounds, but a lot of it is just piecing stuff together."
Jones, who has earned his card through Q-school four times, including a tie for 11th last year, has played three steady but unspectacular rounds, and that's exactly the way he likes it. He's tied for 19th at 10-under after shooting 67-69-70.
"You have to pace yourself in this tournament," he said. "You have to know there's a big difference between a four-round tournament and a six-round tournament. You don't play a lot of six-round tournaments, so there's not much to prepare you for it when you do it the first time." Nitties said he's just happy to be playing any golf at this time. Four years ago, while visiting friends in Dallas, he wound up in the hospital with pain in his right hip so severe that it took two shots of morphine to calm it. "It felt like someone stuck a screwdriver in there and was turning it," Nitties said.
[+] Enlarge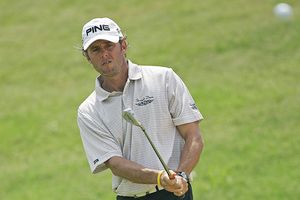 Dave Martin/Getty ImagesChris Tidland has been to the Q-school final stage 11 times, including the past nine in a row.
It took two weeks before doctors came up with the proper diagnosis of juvenile arthritis, and it was nearly two months before the pain subsided. In the meantime, he stayed in a hotel, leaving the door open so he wouldn't have to get up to answer it and doing whatever he could to avoid walking. "I didn't eat much because I didn't want to go to the toilet because it would take me 40 minutes to get up and try to get there," he said. He feared he'd never walk again, especially when the disease moved to his knee and caused it to swell to the size of a basketball. So believe him when he says he's just happy to be here. "It took me a good year until I was able to reposition myself back into golf," he said. "It wasn't until the middle of last year where I started getting back to my healthy self." Now, he'll try to match shots with players under the mounting pressure of Q-school without the ability to rely on the experience of having been there. Which, according to at least one player who has been to a few too many Q-school final stages, isn't such a bad thing. "Q-school experience is experience you'd rather not have, if you know what I mean," Jones said.
Peter Yoon is a contributor to ESPN.com's golf coverage.
ESPNLosAngeles.com
Has covered sports in Southern California for 15 years
Previously a staff writer for the Los Angeles Times from 1995-2008.
Covers UCLA for ESPNLosAngeles.com
SPONSORED HEADLINES
MORE GOLF HEADLINES
MOST SENT STORIES ON ESPN.COM
2008 PGA TOUR Q-SCHOOL FINALS

Harrison Frazar rode a magical 59 to become the 2008 Q-school medalist, winning by 8 shots. The "other" magic number? Nineteen under: the score needed to earn a 2009 PGA Tour card.
What: PGA Tour Q-school final stage
When: Dec. 3-8
Courses: PGA West, Nicklaus Tournament Course (par 72, 7,204 yards) and TPC Stadium Course (par 72, 7,266 yards)
Location: La Quinta, Calif.
At stake: Top 25 and ties earn 2009 PGA Tour card.
Field: 163 golfers, 6 rounds, 108 holes


Day 6
•
Frazar, 27 others earn Tour cards
|
Scores
•
Sobel: Grading the 28 Q-school graduates
•
Yoon: Vranesh a true Cinderella story at Q-school
Day 5
•
Yoon: Expect a little tightening up at Q-school
•
Frazar increases lead to 5
|
Scores
Day 4
•
Yoon: After 59, Frazar keeps it in perspective
•
After 59, Frazar leads by 4 strokes
•
Yoon: Slow start doesn't damper hopes for some
Day 3
•
Yoon: Sometimes green is good at Q-school
•
Day, Nitties share PGA Q-school lead
Day 2
•
Yoon: For many at Q-school, it's all about status
•
Nitties grabs lead after 36 holes of Q-school
Day 1
•
Yoon: Brooks, Han find own forms of inspiration
•
Kanada part of 3-way tie for lead in Q-school
Preview
•
Kaddy Korner: Here's how to survive Q-school
•
Yoon: Q-school a true litmus test
•
13 players to watch at PGA Tour Q-school finals
•
Yoon: It's back to class for Q-school vet Tidland
LPGA Tour Q-school
•
Wie earns her LPGA card; Lewis wins Q-school
•
Watch: Wie discusses earning her Tour card