Commentary
Rough starts for Huston, Gore, Day yield improved results as week goes on
Originally Published:
December 6, 2008
By
Peter Yoon
| Special to ESPN.com
LA QUINTA, Calif. -- The long and winding road of Q-school is filled with bumps and potholes.
Back To School
In an effort to give ESPN.com readers insight into different golfers at various stages in their careers, we will select one player from each of the three categories listed below each day during PGA Tour Q-school and delve into their story of how they got here and where they are headed.
The categories are: 1. PGA Tour veterans trying to hold on to their cards in the final years before they are old enough to attempt to play on the Champions Tour. 2. Players in the middle of their careers trying to revive a derailed PGA Tour dream or reach the tour after past failed attempts. 3. Rising stars seemingly destined for success who are trying to reach the tour for the first time.
Check back daily during Q-school for the latest news and results from one of the most grueling tests in golf.
Saturday's Players:
Veteran:
John Huston
Career revival:
Jason Gore
Rising star:
Jason Day
-- Peter Yoon
There are times over the course of six rounds that it feels like nothing will go right. Times when the hole looks as small as the eye of a needle and the swing feels just a little bit off. The hope, of course, is that those days come early in the week. The earlier, the better, so that you have plenty of time to make up ground.
Jason Gore
knows all about that. Gore opened Q-school with a 2-over 74 -- a round that included a quadruple bogey -- but rallied back with rounds of 69-68-68 to get within striking distance of the top 25 who will receive a PGA Tour card after the sixth round. "Almost everyone is going to have a bad round in this tournament," he said. "It's not the end of the world so you just keep plugging away and try to put up a couple of low numbers to get back into it."
John Huston
could be the poster child for Gore's strategy. Huston also opened with a 74 and was tied with Gore for 142nd place after the first round, but has followed with 69-65-65 and is tied for 10th heading into the home stretch. "I was sick the first day, got a couple of bad breaks and didn't putt good," Huston said. "That can happen to anybody at any time. One or two little hiccups and you can make a big number out here quick." Huston is no stranger to going low. The 21-year PGA Tour veteran has seven career victories -- tied with
Mark Brooks
for the most of anyone at Q-school this year -- and once held the tours 72-hole scoring record after shooting 28-under at the 1998 Hawaiian Open. Huston, 47, said having been under pressure so many times before helped him bounce back after his poor opening round. "Certainly, experience has a little bit to do with it," he said.
Jason Day
knows a thing or two about poor starts at Q-school. He joined Gore and Huston at 74 after the opening round and was experiencing a bit of déjà vu. When he played Q-school in 2006, he opened with a 77. But unlike two years ago when he followed with rounds of 75 and 77, Day has steadily worked back into contention this year with three consecutive rounds of 69 that have him seven shots out of the top 25.
[+] Enlarge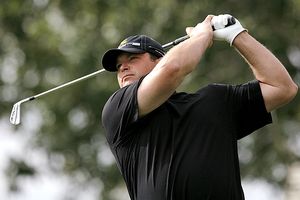 AP Photo/Jae C. HongJason Gore, once known as the Prince of Pinehurst, still has a shot to earn his 2009 PGA Tour card despite a rough start to the 2008 Q-school finals.
Even though he's only 21, he said the experience of two years ago has helped this year. "I had a bad start and I let it get away from me," he said of 2006. "I tried too hard to make it up right away and you can't do that out here. You have to be patient, be patient, be patient. You play so much golf in six days. If the putts aren't falling for you one day, you have to believe that they will the next." Across the board, players will tell you that it's too early to look at the leaderboard after one round, especially in a six-round event. Gore, for instance, made his quadruple bogey on the eighth hole of the tournament. He said he went to the ninth hole relaxed.
"I knew I still had 100 holes to play," he said. "You can make a lot of birdies over 100 holes."
The real pressure will start to mount over the next two days. With 94 of the 163 players still within seven shots of earning a coveted PGA Tour card and 123 of them within 10 shots, hardly anybody can be counted out.
That's where Gore, 36, said he hopes experience will come into play. Gore, who earned the moniker as the Prince of Pinehurst, held the 36-hole lead at the 2005 U.S. Open and was three shots out after 54 holes. But his dreams of a major were derailed after shooting an 84 in the final round. Two months later, he won the 84 Lumber Classic.
PGA Tour Q-school
1. Frazar (-24)
2. Aldridge (-20)
3. Williamson (-18)
T-4. Glen Day (-17)
T-4. Bryce Molder (-17)
T-4. James Nitties (-17)
T-4. Fathauer (-17)
• Complete scores
"There's no substitute for experience under pressure," Gore said. "You're going to get guys here who all of a sudden realize that their dream is about to come true with 18 holes left and they start not sleeping as well at night. It happens. This is what we all work for and I think what you see is guys who have been there before start to rise."
Still, Huston said, it's best not to rely on other people cracking under pressure. If he had his way, he'd be 10 shots clear of the cut line in the final round and be cruising toward winning the tournament instead of still trying to overcome a poor start.
"Hopefully, you get on a roll and you get to playing more toward winning than you do making it on the number," he said. "That's when it gets hard is when you're just trying to make it on the number. If you can get toward the lead and have that cushion going to the last day, that certainly helps."
Peter Yoon is a contributor to ESPN.com's golf coverage.
ESPNLosAngeles.com
Has covered sports in Southern California for 15 years
Previously a staff writer for the Los Angeles Times from 1995-2008.
Covers UCLA for ESPNLosAngeles.com
2008 PGA TOUR Q-SCHOOL FINALS

Harrison Frazar rode a magical 59 to become the 2008 Q-school medalist, winning by 8 shots. The "other" magic number? Nineteen under: the score needed to earn a 2009 PGA Tour card.
What: PGA Tour Q-school final stage
When: Dec. 3-8
Courses: PGA West, Nicklaus Tournament Course (par 72, 7,204 yards) and TPC Stadium Course (par 72, 7,266 yards)
Location: La Quinta, Calif.
At stake: Top 25 and ties earn 2009 PGA Tour card.
Field: 163 golfers, 6 rounds, 108 holes


Day 6
•
Frazar, 27 others earn Tour cards
|
Scores
•
Sobel: Grading the 28 Q-school graduates
•
Yoon: Vranesh a true Cinderella story at Q-school
Day 5
•
Yoon: Expect a little tightening up at Q-school
•
Frazar increases lead to 5
|
Scores
Day 4
•
Yoon: After 59, Frazar keeps it in perspective
•
After 59, Frazar leads by 4 strokes
•
Yoon: Slow start doesn't damper hopes for some
Day 3
•
Yoon: Sometimes green is good at Q-school
•
Day, Nitties share PGA Q-school lead
Day 2
•
Yoon: For many at Q-school, it's all about status
•
Nitties grabs lead after 36 holes of Q-school
Day 1
•
Yoon: Brooks, Han find own forms of inspiration
•
Kanada part of 3-way tie for lead in Q-school
Preview
•
Kaddy Korner: Here's how to survive Q-school
•
Yoon: Q-school a true litmus test
•
13 players to watch at PGA Tour Q-school finals
•
Yoon: It's back to class for Q-school vet Tidland
LPGA Tour Q-school
•
Wie earns her LPGA card; Lewis wins Q-school
•
Watch: Wie discusses earning her Tour card
MOST SENT STORIES ON ESPN.COM