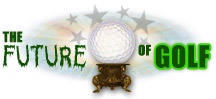 Discussion
Teens taking golf by storm in 2009
Originally Published:
March 31, 2009
By
Jason Sobel
| ESPN.com
Look around, golf world. You are rapidly approaching the intersection of Present Place and Future Way, the convergence of two clearly defined eras. Watch closely as one glides precipitously by, still very much in control of the road yet glued to the rearview mirror as the other quickly gains ground.
Observe the panic-stricken looks on the faces of those who have toiled at their craft for so long, only to hover on the verge of being passed in the fast lane by those who just recently ...

Read full story
ROAD TO AUGUSTA

The elite in golf know how they are judged: By major victories. As we approach the year's first major on April 9, ESPN.com will share stories that bring to light the exceptional importance of these special tournaments.
STORIES
MASTERS MOMENTS VIDEOS