LEADERS AT Arnold Palmer Invitational presented by MasterCard
MONEY LEADERS:
1. Tiger Woods
$5,849,600
2. Adam Scott
$2,207,683
3. Webb Simpson
$1,759,015
4. Hunter Mahan
$1,682,939
5. Charles Howell III
$1,659,138
Complete Leaders
DRIVING DISTANCE:
1. John Daly
300.13
2. Ryan Palmer
299.23
3. Bubba Watson
298.89
4. Sean O'Hair
298.32
5. Justin Rose
297.80
Complete Leaders
PUTTING AVG:
1. Tiger Woods
1.692
2. Brian Gay
1.718
3. Freddie Jacobson
1.731
4. Ryan Palmer
1.734
5. Ernie Els
1.736
Complete Leaders
STOCK UP / STOCK DOWN

Though there's been much focus on other twenty-somethings recently, Lucas Glover has four top 10s in seven events this season. This is his first Bay Hill Invitational, but he's won on tour before and hits it long and straight.

It's too bad for Stuart Appleby the tour doesn't play every event in Hawaii. Continuing a trend he started in 2004 with his first of three Mercedes Championships titles, Appleby is winless outside the Aloha State since then.


This Week in Golf: Sergio's time?
STAT OF THE WEEK

10

Number of players who have surpassed the $1 million-mark through the first 10 weeks of the PGA Tour season.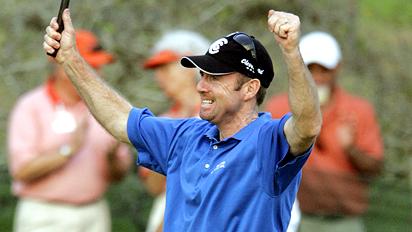 AP Photo
Lightning Rod
Greg Owen three-putted from three feet on the 17th hole, then bogeyed 18, leaving Rod Pampling as the champion at the Bay Hill Invitational.
Story
COURSE: Bay Hill Club & Lodge
LOCATION: Orlando, FL
2005 CHAMP: Kenny Perry - 1, 276 (-12)
START DATE: Mar 16, 2006
PAR: 0-0--0
YARDS: 0
PURSE: $5,500,000
BOB HARIG'S 5 THINGS TO BANK ON
1. There will be a good bit of discussion concerning the re-naming of the tournament to the Arnold Palmer Invitational beginning next year. The only question is, why didn't it happen sooner?


---
2. Will Vijay Singh regain his edge? He admitted losing it after taking just one week off -- including a trip to the Middle East -- in the first two months. Singh took off last week's Honda to get himself back together.


---
3. Out of deference to Palmer, the murmurs are kept to a minimum. But they are still to be heard. A good number of players have come to dislike the Bay Hill course, believing it is either too difficult or tricked up. Some have decided to stay away because of it.


---
4. It is unfair to keep comparing Annika Sorenstam to her past. She has to slow down at some point, right? Well, until she does, we'll see if Sorenstam can match her start of last year, when she won her first two events, including the Safeway International.


---
5. You won't hear any boasting at this week's Toshiba Classic about carts coming back to the Champions Tour. First, it won't happen until the next tournament in Mexico. And those in favor know they shouldn't be crowing, because a good number of name players are against carts.

Harig:Lehman should be playing captain | Ask Harig
BAY HILL PREDICTIONS

Bob
Harig

Jason
Sobel

Ron
Sirak

Brian
Wacker
It's about time Stuart Appleby won a tournament other than the Mercedes Championships.
Palmer's 18-year-old grandson Sam Saunders won't win, but it'll be fun to root for him anyway.
Camilo Villegas is going to win at some point this year, and he seems to play well every other week.
His putting is still a problem, but Sergio Garcia has a solid track record at Bay Hill
Fact or Fiction: Is the 'Palmer' a good idea?

FANTASY FOCUS
Today's best players hit it long and high, but being long and high doesn't make you a top-tier performer. Adam Scott hasn't played a stroke-play event since the Nissan Open, where his closing 64 vaulted him to second. It was the best round of the day by three strokes, validating an equipment change he made shortly before arriving in Los Angeles. -- John Hawkins

Fantasy Focus