LEADERS AT 84 LUMBER Classic
MONEY LEADERS:
1. D.A. Points
$2,151,022
2. Steve Stricker
$1,977,140
3. Jason Day
$1,849,362
4. Hunter Mahan
$1,682,939
5. Charles Howell III
$1,659,138
Complete Leaders
DRIVING DISTANCE:
1. Robert Garrigus
303.35
2. John Daly
300.13
3. Scott Piercy
298.78
4. Jason Day
298.76
5. Sean O'Hair
298.32
Complete Leaders
PUTTING AVG:
1. Greg Chalmers
1.705
2. Brian Gay
1.718
3. Justin Leonard
1.721
4. Jeff Overton
1.739
5. Steve Stricker
1.740
Complete Leaders
84 LUMBER Classic Leaderboard
POS
PLAYER
SCORE
BY ROUND
EARNINGS
1
Ben Curtis
274 (-14)
66-69-69-70
$828,000
2
Charles Howell III
276 (-12)
67-69-68-72
$496,800
3
Brett Quigley
277 (-11)
69-70-68-70
$312,800
T4
Robert Garrigus
278 (-10)
67-70-68-73
$202,400
T4
Ted Purdy
278 (-10)
66-72-73-67
$202,400
T6
Charles Warren
279 (-9)
70-72-66-71
$154,100
T6
Ryan Moore
279 (-9)
68-67-71-73
$154,100
T6
Kent Jones
279 (-9)
69-68-75-67
$154,100
T9
Hunter Mahan
280 (-8)
67-71-67-75
$115,000
T9
Jeff Overton
280 (-8)
72-68-71-69
$115,000
View Complete Leaderboard
STAT OF THE WEEK

4

Members of the U.S. Ryder Cup team who will prepare for next week's event by competing at the Nemacolin Woodlands Resort this week. Two others (Tiger Woods and Jim Furyk) will compete in the HSBC World Match Play Championship in Wentworth, England.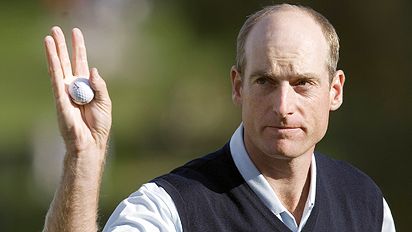 AP PHOTO/CP, Paul Chiasson
Second Rate
Tiger Woods is the top-ranked player in the world, but the man in the No. 2 spot may surprise you. With his victory at the Canadian Open, Jim Furyk surpassed Phil Mickelson on the World Ranking, just part of his already-successful season, reports Bob Harig.
Story
COURSE: Nemacolin Woodlands Resort
LOCATION: Farmington, PA
2005 CHAMP: Jason Gore - 1, 274 (-14)
START DATE: Sep 14, 2006
PAR: 36-36--72
YARDS: 7,516
PURSE: $4,600,000
BOB HARIG'S 5 THINGS TO BANK ON
1. It wasn't long ago that the 84 Lumber Classic was being hailed as one of the best new tournaments on the schedule. Now, six months after 84 Lumber surprisingly pulled the plug, there are plenty who are still wondering what happened. This week's tournament is the last, leaving Pennsylvania without a regular PGA Tour event.


---
2. Vijay Singh heads the field at the 84 Lumber, but a foursome of U.S. Ryder Cup players will get plenty of attention: David Toms, Chad Campbell, Scott Verplank and Brett Wetterich are playing before heading to Ireland.


---
3. Michelle Wie will get the most scrutiny of the week, and if she misses another cut by a wide margin, calls for her to stop playing against men will intensify.


---
4. The HSBC World Match Play Championship got a big boost with the addition of Tiger Woods, who is playing for the first time since losing in the final to Mark O'Meara in 1998.


---
5. The match play event will be an excellent tune-up for the Ryder Cup for both Woods and Jim Furyk -- unless you think that 36 holes a day could be too much.

Got a question? Ask Bob Harig!
FANTASY FOCUS
Vijay Singh's game finally appears to be coming around just in time for the 84 Lumber's swan song at Nemacolin Woodlands Resort's Mystic Rock course -- a setting in which Singh has fared well in the past, finishing T-13 last year and winning in 2004. He also possesses the two skills most agree are necessary there: hitting it long and hitting it on the green.
-- E. Michael Johnson

Fantasy Focus