Memories flood back for defending champ
Originally Published:
March 29, 2004
By
Bob Harig
| Special to ESPN.com
Winning a major championship, especially The Masters, changes your life. There is no denying it, as much as Mike Weir would like to think he is the same person -- not to mention the same player -- who arrived at Augusta National a year ago with little fanfare.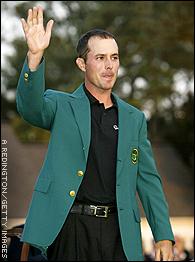 Mike Weir says the '04 Masters memories flood back.
Example? How about the guy who showed up at Weir's Utah home shortly after he won the tournament?
"I got a knock on my door, and there was a guy standing there, and he had five Masters flags," Weir said recently during a conference call.
The unannounced visitor was from Calgary, apparently on his way home from The Masters. He decided to stop in Salt Lake City to see if he could find Canada's first major championship winner. Weir, born in Sarnia, Ontario who ended up attending BYU, lives in suburban Draper, Utah.
Somehow, the man located Weir's house. Apparently, he asked around until he figured it out.
"He came right to my front door," said Weir, who noticed the man's wife in the front seat of the car, waving.
"You'd think his wife would say, 'Don't you think it's a little odd to be going to the guy's house?' But no, he thought it was OK," Weir said.
Weir, though uneasy, chatted with the stranger and eventually signed the flags.
Later, the man heard about how uncomfortable Weir was and wrote him to say he was sorry.
But there was no apologizing for the way Weir got into this situation, by becoming a hero in his native Canada because he persevered in a tough game to win one of the sport's most revered titles.
Weir, 33, the first left-hander to win The Masters, did so by rallying to tie Len Mattiace, who had shot 65 on the final day last year. Weir needed a birdie at the 15th hole, then three tough pars, including a "gut-wrenching" 7-footer at the final hole to force a playoff.
He then won on the first extra hole (No. 10) with a bogey.
At the time, it marked the third victory of the year for Weir. With a repeat earlier this season at the Nissan Open, he now has seven PGA Tour wins and the respect that goes with being a top-10 ranked player in the world.
That's some journey from where Weir came. He needed six tries at the PGA Tour Qualifying Tournament before he made it. There were forays onto foreign tours, where Weir wondered if pro golf was the career for him.
The story he often tells is about the Indonesian Open, where in the mid-1990s Weir was struggling. Staying an hour from the golf course for the event, Weir took a cab to get to his tee time, only the cab broke down. So Weir had to hoof it through some flooded back roads to get to the course on time.
"I carried my bag through all this muddy water," he recalled. "I was hitchhiking back to the golf course. I got through it and shot 80, making a 9 on a par-3. I think probably then, I had a tough time thinking I would win The Masters.
"But those times made me tougher and makes it even more rewarding, the six or seven years I've spent playing smaller tours and driving everywhere, finding a way just to make ends meet to keep going. I appreciated it as much as the other guys who came from a different background to get there."
Even when Weir made it to the PGA Tour, nothing was easy. In his second year (1999), Weir found himself in the final group at the PGA Championship paired with Tiger Woods. While being heckled, Weir shot 80. But a week later, he won his first PGA Tour event -- the Air Canada Championship.
Last year, with a rain-soaked Augusta National seemingly too long for a medium-length hitter like Weir, he used his short game to overcome his shortcomings. Weir finished at 281, 7-under par, despite hitting only 38 of 72 greens. In the second round, he hit eight greens but shot 68. During the last round, he made seven putts longer than four feet, including that knee-knocker at the 18th.
"I always felt like if I could get my ball-striking at a little bit better level that I'd really be able to contend around there, and last year it did get a lot better," said Weir, who worked hard to hit a fade at Augusta [right to lef]), which goes against his normal ball flight.
Weir got in a little more work on that when he visited Augusta National a few days before The Players Championship. He played the course with his father and his caddie, Brennan Little.
It was a nice chance to see the storied layout without all the fanfare. And to recall a special week.
"I had a chance to take my dad and play," Weir said. "Each hole, we went around and I just reminisced about a certain shot, showed him where I was on a certain hole and what I was thinking. That was cool to relive that."
Bob Harig covers golf for the St. Petersburg Times, and is a frequent contributor to ESPN.com. He can be reached at harig@sptimes.com.
SPONSORED HEADLINES
MORE GOLF HEADLINES
MOST SENT STORIES ON ESPN.COM
EDITORS' PICKS
Tiger Woods shot 82 to miss his 13th career cut.
Bob Harig »

Tiger Woods' most dangerous foe is Tiger Woods.
Ian O'Connor »

World No. 1 Rory McIlroy leads by 1 at the Dubai Desert Classic.
Story »