Augusta changes will be the talk of the tournament
Updated:
April 4, 2006, 2:25 PM ET
By
Bob Harig
| Special to ESPN.com
The gates have yet to open officially, and already there is conversation. Lots of it. It seems to be a big story every year, and it will be again next week when the 70th Masters Tournament is played.
For what feels like the 70th time, the Augusta National course underwent significant change.
That is an exaggeration, of course, but it is no stretch to say the alterations are controversial.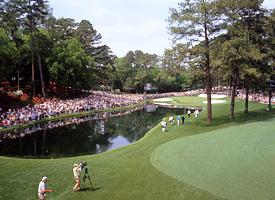 Stephen Munday /Getty ImagesThe 16th hole didn't always have a pond running the length of the hole.
Past champions and Augusta National members Arnold Palmer and Jack Nicklaus have weighed in, both saying in a Golf Digest story that they are uncomfortable with what has taken place.
And several participants who are eligible for the tournament journeyed to the course in recent weeks to get in some practice and check out the differences.
"I did see the changes, obviously, and they are quite major," said Ernie Els, who visited Augusta National for two days before the Bay Hill Invitational.
Tiger Woods, who got his fourth Masters win last year in a playoff over Chris DiMarco, took in 36 holes at Augusta National three Sundays ago and described it as "interesting, very interesting."
After adding 285 yards in 2002, Augusta officials spread another 155 yards over six holes this time.
The real eye-openers are at the par-3 fourth, which has been stretched to 240 yards (it can play to 260 because it has such a big tee box), and at the par-4 seventh, which used to be considered a short, tricky hole but is now 460 yards.
To find the first tee now, you need only walk toward the practice putting green. They are just a few yards apart.
"I didn't hit enough club to No. 4," Woods said. "I needed a wood to get to 4. [No.] 7 is certainly changed. It's a totally different hole now. [No.] 1 is 300 yards just to get to the [fairway] bunker. If we get any kind of cool north wind, you won't be able to see the flag [for the second shot]. You won't be able to see the green. Some of the changes are pretty dramatic and certainly going to be very interesting if the wind ever blows."
The other changes occurred at the 11th, 15th and 17th holes. In all cases, the tee was moved to make the hole longer and bring original landing areas back into play. The 11th is especially troublesome, as the par-4 plays to more than 500 yards and has had trees added down the right side of the fairway. That means a tougher tee shot, and a much more difficult second shot to a green guarded by water.
Almost all have suggested that if the potential pool of winners has not been reduced greatly, it at least will be much more difficult for a player of medium length off the tee to win.
"It eliminates a lot of guys, yeah," Woods said.
Mike Weir, the 2003 champion, is not counting himself out, but he knows it will be much harder to win now. His comments were the strongest, as he suggested Augusta National founder and golf legend Bobby Jones "would be like, 'What are you guys doing?'
"I don't know what they're doing," Weir said. "I don't mind them lengthening it. ... What disturbs me is they are getting away from the character of the golf course. They're bringing all these trees in."
Weir said he wasn't aware until he got there that the tee at the par-5 15th had been moved back 20 yards and to the golfers' left. He was surprised so many trees had been planted at the 11th hole. He believes that the accuracy will be rewarded more than ever but that the longest hitters still will have an advantage.
"All in all, it's very tough," Els said.
All this, and we have yet to get to Masters week.
QUICK TAKE
| | |
| --- | --- |
| | |
| | Masters |
There was some rumbling last year that The Masters was considering putting back in place a rule that grants invitations to winners of PGA Tour events in the preceding year. Here's hoping it does so.

Wouldn't it be great for this week's BellSouth Classic if a player not already eligible for The Masters emerged to win and got a pass to drive down Magnolia Lane?

That's how it used to be, before Masters officials decided against the automatic exemption and instead instituted the Official World Golf Ranking as a measure for qualification, while also expanding the PGA Tour money list invitation to the top 40 from the previous year.

Although nobody at Augusta said so, the idea was to rid the tournament of the "fluke" winner who does not back up his victory with strong play. And perhaps there was some validity to the argument, with the numerous opposite events on the schedule.

The simple solution is to limit the "win-and-you're-in" invitation only to winners in the FedEx Cup portion of the schedule next year and also not offer it to winners of opposite events. That's a potential pool of just 37 players, many of whom will qualify in the other areas.

But for a few, it will be their only ticket to Augusta. And for tournaments within the FedEx window that don't traditionally draw the best fields, it will be one more thing to promote.
MAILBAG: ASK BOB HARIG
Got a question about the PGA Tour? Ask ESPN.com golf writer Bob Harig, who will answer your inquiries in his column each week.
Q. How do you think Davis Love III will respond this week after going from having the lead at the Players to missing the cut?
Tim Ter Horst
Sioux Falls, S.D.
A. He didn't have the BellSouth Classic on his schedule until that occurred Friday, so he obviously wants to use the tournament to work out the kinks in his game. The way to look at it is Love shot 65 in the opening round without a bogey. He can't be that far off. But this is a good move, to try and erase the sting quickly.
Q. How many other players have led a tournament after the first round only to miss the cut the next day?
Keith Hughes
St. Petersburg, Fla.
A. It is rare. The PGA Tour does not keep the statistic for all players who have done so, but the last to do it before Love was Brian Kortan, who was in an eight-way tie for the lead at the 2004 U.S. Bank Championship in Milwaukee after a 65, then shot 79 the next day. Rod Pampling led the first round of the British Open at Carnoustie in 1999, then missed the cut the next day.
Q. With a T-13 finish last year, Ryan Moore qualified for this year's Masters. Since he won't play due to an injury, will he still be able to roll over this invitation to 2007 or is that strictly up to Augusta National?
Patrick Yocum
Hanover, Pa.
A. According to Masters qualification procedure, the invitation goes to players who finished among the top 16 and ties at the previous year's tournament. That would suggest no. Although The Masters can do what it wants, it is unlikely it would extend the invitation. Moore will have other opportunities to play his way into next year's field.
Bob Harig covers golf for the St. Petersburg Times and is a frequent contributor to ESPN.com. He can be reached at harig@sptimes.com.
SPONSORED HEADLINES
MORE GOLF HEADLINES
MOST SENT STORIES ON ESPN.COM
EDITORS' PICKS
Rory's Open win set him on course for a great stretch of golf.
Harig »

A Pinehurst No. 2 win landed Kaymer his second major.
Bob Harig »

Bubba struggled most of 2014 after a second Masters win.
Bob Harig »