Mickelson pulls away late for second green jacket
Updated:
April 10, 2006, 4:49 PM ET
Associated Press
AUGUSTA, Ga. -- There was no reason to leap, no reason to look utterly stunned.
Phil Mickelson simply smiled as he fished the ball out the cup, waved to the gallery and made his way to the scoring trailer with his three kids draped around his neck.
The Masters -- multiple winners
6 -- Jack Nicklaus

4 -- Arnold Palmer
4 -- Tiger Woods

3 -- Jimmy Demaret
3 -- Nick Faldo
3 -- Gary Player
3 -- Sam Snead

2 -- Seve Ballesteros
2 -- Ben Crenshaw
2 -- Ben Hogan
2 -- Bernhard Langer
2 -- Phil Mickelson
2 -- Byron Nelson
2 -- Jose Maria Olazabal
2 -- Horton Smith
2 -- Tom Watson
There was no need for a nail-biting birdie to win this Masters.
Shadows stretched across the 18th fairway late Sunday afternoon at Augusta National as Mickelson casually made his way to a major championship that was never this easy.
"I loved it," he said. "The stress-free walk up 18 was incredible. I had been wanting that. It was a great feeling walking up there, knowing that I had the tournament in hand."
Once known as the lovable loser who went a dozen years before he figured out how to win golf's biggest tournaments, Mickelson captured his second straight major at the Masters. He closed with a 3-under 69 for a two-shot victory over Tim Clark and his second green jacket in three years.
This was nothing like the others.
He holed an 18-foot birdie putt that swirled into the cup two years ago at the Masters, keeping everyone in suspense until the final moment and sending Mickelson leaping into the air when it finally plopped in. Then there was Baltusrol last summer at the PGA Championship, when he hit a flop shot out of deep rough to within 2 feet for a birdie to win by one shot.
Instead of a heart-stopping finish this time, he methodically built a lead that forced Fred Couples, Tiger Woods and Vijay Singh to try to catch him. But they stumbled along with three-putts and a litany of other mistakes, the kind Mickelson used to make.
"In '04 when I won, I felt this great feeling of relief that I could win the tournament I dreamt about," Mickelson said. "This time, it's a great feeling of satisfaction and accomplishment to have been able to beat such a great field."
2006 Masters news & notes
• With his two-shot victory, Phil Mickelson became the fifth player since 1934 to win the tournament before The Masters and then go on to win the green jacket (Mickelson won the BellSouth Classic last week). Other back-to-back winners include: Sandy Lyle (1988 Greater Greensboro Open, Masters), Art Wall (1959 Azalea Open, Masters), Sam Snead (1949 Greater Greensboro Open, Masters) and Ralph Guldahl (1939 Greater Greensboro Open, Masters).

• Along with his one-stroke win at the 2005 PGA Championship, Mickelson became the first player since Tiger Woods in 2002 (Masters and U.S. Open) to win back-to-back major championships.

• 2006 marks the 16th straight year that the winner of The Masters has come out of the final pairing.

• Mickelson went 13-under on the par-5s this week at Augusta National, including birdies all four days on Nos. 8 and 15.

• Mickelson has posted 28 of his last 32 rounds at the Augusta National Golf Club at par or better. He has recorded all four rounds at par or better on four occasions (2001, 2002, 2004, 2006), all of which resulted in top-3 finishes.

• Mickelson becomes the 16th multiple winner of The Masters (2004, 2006). Nicklaus leads that category with six green jackets.

• Mickelson's victory marks the third win by a left-hander at The Masters, including three out of the last four (Mike Weir in 2003, Mickelson in 2004 and 2006).
The rest of the Big Five was lined up behind him, all within four shots going into the final round.
None could touch him.
Mickelson finished at 7-under 281 and earned $1.26 million, putting him atop the PGA Tour money list. The victory moved him up to No. 2 in the world behind Woods and identified him as a major force.
This was the third straight year Mickelson has won a major -- Woods is the only other player to have done that in the last 20 years. Only five others have won majors in three straight seasons since the Masters began in 1934.
"I'm having the best time right now," Mickelson said. "I'm having so much fun being able to compete for major championships. It's just incredible. And to win a couple now, it's an amazing feeling."
Clark holed a bunker shot from across the 18th green for birdie that left him alone in second with a 69.
Woods, who was trying to become the first player to twice defend his Masters title, could only blame his putter. He had two eagle putts inside 15 feet on the back nine and missed them both, and he had six three-putts this week. He holed a 25-foot birdie on the 18th hole that just about made him curse, although it gave him a 70 and a tie for third.
"I putted atrociously today," Woods said. "As good as I hit it, that's as bad as I putted."
At the green jacket ceremony, Mickelson asked the crowd for a moment of silence to pray for Woods' father, Earl, who could not travel to Augusta for the first time because of cancer.
Woods said he would talk to his father Sunday night, and joked that "he's probably a little mad at how I putted today."
Joining Woods at 4-under 284 were Couples (71), Retief Goosen (69), Chad Campbell (71) and Jose Maria Olazabal, whose 66 was the best score all week on the super-sized course.
But it was Couples who had the best chance to challenge Mickelson, and had he won, it would have been especially poignant.
This is the 20-year anniversary of Jack Nicklaus' stunning back-nine charge to win his sixth green jacket at age 46. Couples was poised to become the oldest Masters champion -- 46 years, six months -- and he hung with Mickelson until his putter betrayed him.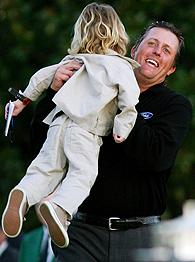 Andrew Redington/Getty ImagesMickelson picked up his son Evan before picking up his second green jacket in three years.
First came a three-putt on the 11th, his 3-foot par putt spinning around the cup. On the 14th hole, Couples had a 4-foot birdie putt to pull within one shot. It caught the lip and spun 6 feet away, and he missed that one, too.
"I didn't hit the ball like I was 46," Couples said. "I putted like I was 66."
Mickelson poured it on with an eagle chip that caught the lip on the 15th, and steady pars the rest of the way until the 18th.
Then it was off to Butler Cabin, where Woods slipped the green jacket on Mickelson's shoulders.
"Great playing," Woods told him.
If Woods bothers to watch the highlights, it should look awfully familiar.
The last time Augusta National was overhauled to add length, Woods built a big lead and let an All-Star cast of contenders collapse around him with shots into the woods and the water.
The course was stretched even more for this Masters -- at 7,445 yards, the second-longest in major championship history. Mickelson played it impeccably. The longest par putt he had all day -- besides the meaningless one from 20 feet that he missed on the 18th hole -- was the 5-footer he made after a solid bunker shot on the 10th.
"I think what I'm most proud of is that I didn't let other people back in it," Mickelson said. "They had to come chase me down and make birdies to do it."
Mickelson won for the 29th time on the PGA Tour, tying him for 17th on the career list.
And he became the first Masters champion since Sandy Lyle in 1988 to win the week before coming to Augusta. Mickelson captured the BellSouth Classic last week by 13 shots.
This one was closer, but it sure didn't seem that way.
He took a one-shot lead into the final round by making the fewest mistakes Sunday morning, when the rain-delayed third round was completed in cool, mostly calm conditions. Mickelson shot 70 and was at 4-under 212, the highest 54-hole score to lead the Masters since 1989. Couples shot 72, making two birdies on the final four holes to get into the final group.
The possibilities were endless.
Ten players were within three shots of the lead, a list that included Woods and Singh. Ten more were within five shots of Mickelson.
But no one did anything to bring Augusta National to life.
There was a five-way tie for the lead early in the final round -- Mickelson, Couples, Campbell, Rocco Mediate and Miguel Angel Jimenez -- all at 4 under before making the turn. But it didn't last.
Mickelson took the outright lead with a long pitch to the par-5 eighth that checked up 2 feet behind the hole for birdie, and everyone else either stalled or spiraled, none worse than Mediate. He hit three balls into Rae's Creek on the par-5 12th -- two from in front of the green, one from the bunker behind it -- and made 10.
Campbell had a three-putt bogey on the 11th and hit into the water on the 15th trying to reach the green in two. Jimenez fell out of the chase with bogeys on the 10th and 12th, and Clark was lurking until a bogey from the bunker on the 12th.
Mickelson was untouchable, as Woods was in 2002 after the first big course renovation.
And in the final act of this Masters, their roles were reversed in Butler Cabin, the way Nicklaus and Arnold Palmer swapped Masters titles 40 years ago.
"I really don't want to trade next year," Mickelson said. "I certainly enjoyed the jacket put on me."

Copyright 2006 by The Associated Press
SPONSORED HEADLINES
MORE GOLF HEADLINES
MOST SENT STORIES ON ESPN.COM
Wimbledon
Dates: June 26-July 9
Defending champions: Venus Williams, Roger Federer
Coverage: ESPN2
Time difference: Great Britain is 5 hours ahead of ET

Week 2
• Day 13: Federer wins men's title
• Garber: Federer maintains supremecy
• Sheppard: Nadal No. 2, and closing, on grass
• Notebook: Gilbert deal to coach Murray not official ... yet
• Jensen: Federer learned from French Open

• Day 12: Mauresmo wins women's title
• Garber:Mauresmo keeps nerves in check
• Sheppard: Bryans complete career Grand Slam
• Shriver, Fernandez: Mauresmo held up when it mattered
• Men's final preview: Nadal won't be an easy out
• Day 11: Men's semis
• Garber: Flawless Federer
• Sheppard: Don't write off Nadal on grass
• Notebook: Henin-Hardenne doesn't watch women's tennis
• Day 10: Women's semis | Nadal reaches semifinals
• Garber: Mauresmo breaks through
• Garber: Nadal's transition to grass
• Shriver: Two Grand Slam finals in one
• Navratilova loses final Wimbledon match
• Paul Goldstein blog
• Day 9: Men's quarterfinals
• Garber: Baghdatis awaits Nadal-Nieminen winner
• Garber: Navratilova wants one more title
• Sheppard: Bjorkman wins five-set marathon
• Notebook: Women's semifinal previews
• Nestor-Knowles win longest Grand Slam doubles match in history
• Day 8: Women's quarterfinals
• Garber: Belgians meet for third time in '06
• Garber: Mauresmo at home in Wimbledon
• Hawkins: Sharapova not fazed by streaker, Dementieva
• Notebook: Quarterfinal previews

• Day 7: Men | Women
• Garber: Ancic hopes to end Federer's streak
• Sheppard: State of American tennis
• Notebook: Na Li makes history for Chinese
• Week 1 photo gallery
Week 1