Recollections of a 'surreal, very surreal' 71st Masters
Bill Fields offers his thoughts on an interesting 2007 Masters, begun by Arnold Palmer and won by Zach Johnson.
Updated:
April 9, 2007, 3:49 PM ET
By
Bill Fields
| Golf World
AUGUSTA, Ga. -- Walking toward the Augusta National GC clubhouse Sunday afternoon, I approached the ninth fairway and watched as Luke Donald prepared to play his approach to the elevated green. I stopped about 30 yards shy of the gallery rope, so as not to distract him, but in a few moments it was evident that all was not right with the talented young Englishman. He selected a club and backed off. Then he did it again. He was awfully fidgety. Was this swirling wind giving him fits? Was he feeling the pressure of being only two strokes off the lead in the Masters?
In an instant, the British accent of Donald's caddie, his brother Christian, filled the air. The problem was about to become evident. "Excuse me, ma'am," Christian said, "Can you stop eating the chips?"
After Donald struck his shot, which didn't stay on the canted green and rolled some 30 yards back down the fairway, I saw a woman holding a bag of Lay's Masterpiece BBQ potato chips by her side as she stood still by the gallery rope.
Donald's third shot didn't make it up the hill. Neither did his fourth. He was on in five and two-putted for a triple-bogey to fall five shots behind and en route to a T-10 finish. "That's called karma," said an unsympathetic man standing nearby.
Luke Donald is known as one of the tour's likable and appealing characters, but maybe it was just one of those weeks. Maybe he has excellent hearing and the lady doesn't eat quietly. But the moment was the perfect vignette for a wacky, chilly and windy Masters, a sometimes silly and occasionally cranky Masters, a tournament that slumbered under a blanket until Zach Johnson woke it up with some final-nine heroics that would do a legend proud -- not to mention a 31-year-old, one-time PGA Tour winner who did hard time apprenticing on the mini-tours.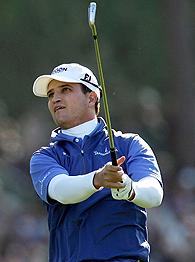 Harry How/Getty ImagesZach Johnson joined Jack Fleck as the only major champions to hail from the state of Iowa.
"The whole state of Iowa won't forget this," Johnson's father, Dave, said as he speed-walked up the 18th hole. Indeed, it probably won't. With a closing 69, Johnson finished at 1-over-par 289 (which equaled the highest winning score in Masters history, by Sam Snead in 1954 and Jack Burke Jr. in 1956) to edge Tiger Woods, Rory Sabbatini and Retief Goosen by two strokes. "Surreal, very surreal," was the assessment of the victor, who joins Jack Fleck (1955 U.S. Open) as the only Iowans to win major championships. "I thought those [Hooters Tour] days were the best days of my life," Johnson said. "Chicken wings and everything. But that's how I got better. Those mini-tours, a lot of good players have come through the ranks there."
"Where were you in '34?" With either a camera or notebook in hand, I have been to every Masters except one since 1985, when Bernhard Langer won his first green jacket dressed in a red outfit that made him look like an oversized Twizzler. That means I am closing in on having spent six months of my life in Augusta. I had believed this was a significant milestone, worthy of putting a candle atop a pimento cheese sandwich or some other appropriate commemoration, but those thoughts were quelled Wednesday morning.
Augusta National, in a nice touch, acknowledged 14 journalists who have covered 40 or more Masters tournaments with a Masters Major Achievement Award. The recipients ranged from the longtime sports editor of the Salisbury, N.C., newspaper, Horace Billings, to Golf Digest's Dan Jenkins, who one-upped Joe DiMaggio last week by reporting from his 57th straight Masters.
"My son reminded me that I have spent, give or take a few days, a year of my life covering the Masters," said Ron Green Sr., who was at his 53rd. "I thought that was pretty good until I read that Gary Player had spent four years of his life on an airplane."
The honorees received handsome plaques sculpted from a hardwood tree adjacent to the second tee that was taken down last June. "Couldn't they have used one from Amen Corner?" one of the grizzled veterans joked after the ceremony, but the prevailing sentiment was gratitude that someone noticed.
"I was going to say, 'It's about time,' " Jenkins said. "I'm more moved than that."
The senior member of the group was 89-year-old John Derr, the longtime radio and television commentator, who was at his 62nd Masters. "Mr. [Cliff] Roberts called one day and said, 'John, I see you've missed a couple of Masters. Where were you in '34?' " Derr remembered. "And I said, 'Cliff, if they had had any child labor laws in North Carolina, I wouldn't have been here in '35.' "
Indeed, Derr was only 17 when he came to the 1935 Masters as a reporter for the Gastonia (N.C.) Gazette. The previous fall he had met O.B. Keeler, the Atlanta sportswriter and friend of Bobby Jones, in the press box at a Duke-Georgia Tech football game. "Keeler said, 'We had a tournament at Bobby Jones' course, you ought to come down, it's a great tournament.' Nobody called it the Masters then," Derr recalled. "I didn't think much about it. When April rolled around, we had a cotton broker in Gastonia named Brown Wilson, who said he was going down to Augusta for the golf tournament and asked if I wanted to ride down with him. I said sure. Did not know there was such a thing as a press badge. I paid my two dollars and bought a ticket."
Derr ran into Keeler, who introduced him to Grantland Rice. "Granny was a Southern man and he liked Southern reporters. He said, 'Have you met Mr. Jones?' " Derr said. "He took me to meet Bobby. Bobby more or less took me under his wing as a friend of O.B.'s. from that day." Derr was on the clubhouse balcony the afternoon of the final round. "Press used to be up there, and they dropped their stories down on a string to the Western Union operator. The son of a caddie came running up and told somebody downstairs that 'Mr. Gene had a 2 on 15.' Everybody held up on their Craig Wood stories. That was my claim to fame: I was there that day and didn't see Gene Sarazen's double-eagle."
In the ensuing years Derr got to know Roberts well enough to ask the club's co-founder if he could have his ashes spread at the 15th hole, his commentary post in CBS' early broadcasts. (The answer was no.) When Jones' health failed, he literally leaned on Derr. "Jones was an honorary pallbearer when Grantland Rice died," Derr said. "He said, 'John, I need that good right arm of yours.' A year or two later, they unveiled a portrait that Eisenhower did of Jones. He said he needed my right arm again. So I caddied for Jones twice."
Jones critiqued the TV broadcasts, and Derr's work didn't escape his keen observations. "I asked Jones what I could do better," Derr said. "He said, 'John, you've probably ruined as many shots as anyone could.' " Derr grew defensive and wondered what the great champion meant. "You say, 'He's going to hit an 8-iron,' " Jones told him. "You don't 'hit' an 8-iron. 'Hit' is when two trucks run together. You 'play' an 8-iron."
"The perfect specimen for golf" As he went for his third straight major championship, and fifth Masters title, Tiger Woods was in a lot of pre-tournament questions. While some of his contemporaries occasionally get irritated with a Tigercentric press, the appraisals from the game's great champions grow more generous with each year.
"What Tiger has done is raise the bar so nobody can reach it," Tom Watson said in back of the clubhouse Wednesday. "He continues to keep it higher than anybody can reach by a significant margin. Jack [Nicklaus] had that bar above everybody, but certain people could get above that bar. We may have the perfect specimen for golf in Tiger Woods. Tiger has proved that he's the best who has ever played, in my opinion. I think Jack would agree with that. I think Jack's the next guy in line. You'd have people argue that Snead and Hogan are right there, too. But Tiger has proved he wins when he's not playing well. He wins when he's playing well. He doesn't back down and rarely has lost when he's had the lead."
Golfers used to be shaped like pretzel sticks or pears, with only the odd one muscled up so you could notice. Tiger's torso grows upward into a "V," as in victory. Tiger's people put out a 15-page handout of accomplishments at the start of the tournament: For the jaded sportswriter, it is good light reading. The cover sheet sums up his professional career, which began in 1996, the numbers cascading down the page more gaudy than someone could make up. Woods has entered 204 PGA Tour events, won 56, finished second 20 times, has been third in 17 others and placed in the top 10 in 135, more than half. Only four times has Tiger missed the 36-hole cut, just once in a major championship, last year's U.S. Open, when he only recently had buried his father. The financial yardstick: $68,179,382 in PGA Tour earnings, and an additional $16 million from overseas tournaments -- the on-course dollars only a fraction of his total income.
"I kept plugging because of my background," says Gary Player, who was in his 50th Masters last week. "My son had so much ability as a golfer. If he wanted a motor car, he had it. If he wanted clubs, he had it. If wanted balls, he had it. He could go overseas if he wanted. If I had put him in jail for a year, he would have been a helluva player. People laugh at me; they think I'm joking, but it's the truth. Are you ever going to do that? No. But you've got to be hungry. You look at Tiger, he plays like a starving man. Hundreds of millions in the bank, and it doesn't change the way he plays."
"The next Tiger Woods" A decade ago, when Woods waltzed to a 12-stroke victory at the Masters that was full of social overtones because he was the first minority to triumph at Augusta, there was an expectation that his arrival would be the harbinger of a more diverse population on the PGA Tour. But the complexion of the tour is as pale as ever.
Nobody is more acutely aware of the situation than Joe Louis Barrow, the executive director of The First Tee. The program has grown steadily since it began shortly after Woods burst on the competitive scene. "Kids are now in the pipeline who weren't in the pipeline before," Barrow told me. "Fifty percent of the people in The First Tee are from diverse backgrounds, versus 16 percent in all of golf. Where the expectation and disappointment is, people don't see [great increases] on the PGA or LPGA tours. Those may have been unrealistic expectations that were set by [media] once Tiger got on the scene. When I first joined The First Tee in 2000, I was on a TV show and was asked specifically when I thought the next Tiger Woods was going to emerge from The First Tee. And before I could answer it -- because he was also on the show -- Earl Woods said, 'It took me 20 years to create Tiger Woods -- give The First Tee and other programs a chance.' If you go by Earl's standards, stay tuned until 2015 or 2020."
The First Tee now has 257 facilities, and Barrow is excited about a new program that is introducing elementary-school students to golf through physical-education classes. "We hope to be in as many as 4,000 or 5,000 schools by 2010, and reach as many as 2½ to 3 million kids through that program. If we are able to do that, golf will be at a very different place in our society. When all those things start to happen, participation at the highest levels is going to start to happen. But there's an expectation that it should happen tomorrow."
To get more kids in competitive golf, kids with talent who have a prayer of rising from an increasingly deep pool of talent, Barrow is bullish on funding programs that will assist minority golfers with competitive potential by providing financial assistance for everything from travel to junior tournaments to top-grade instruction.
"If the golf industry is disappointed there are not more kids of diverse backgrounds on the PGA and LPGA tours," Barrow said, "then the industry has to determine whether these are things that should be done to assist that."
It is impossible not to talk to Barrow, at the Masters, where the presence of Woods is so powerful, and not think about Barrow's father, heavyweight boxing champion Joe Louis. "I think my father would be very impressed with Tiger Woods," Barrow said. "I think he'd be amazed like all of us by his golf skill and amazed how Tiger is in terms of character, in how he conducts himself. Tiger is going to have an impact similar to my dad's, but not as broad as my dad's, because the times have changed. My dad grew up in a segregated country. He was the black heavyweight champion. He transcended sport to all of society and truly was an American hero. I think Tiger will have an impact in a different way, and I think my dad would be proud of that."
Green is the color of the Masters Standing amid the 60-deep throng on a hillside near the seventh green of the Par-3 Course Wednesday afternoon, it's hard to fathom that the Masters was once anything but a hot ticket, or that the telecast was blacked out locally to encourage Augustans to show up. The Par-3 Contest is digi-cam heaven, and spectators straining to capture a megapixel moment above the crowd have two distinct styles. There is the one-handed snap, as if hailing a cab, and the two-handed approach, as if signaling a touchdown.
Make no mistake, the practice rounds are a home run for the club, the large merchandise building equipped with enough cash registers to make Sam Walton smile. The regular pro shop is bustling, too. The Masters certainly leads the PGA Tour in souvenirs purchased by players. Three-time champion Nick Faldo, on the eve of his first Masters in a CBS tower, was among the shoppers Tuesday afternoon, asking in vain for highlight DVDs of two of his victories, 1989 and 1996. While paying for two key fobs I heard the clerk at the adjacent register perkily tell the customer next to me, who had two less-than-bulging plastic bags of Masters stuff, "That'll be $590.64." Green is the color of the Masters in more ways than the winner's jacket, the sandwich wrappers, the Coke cups, the observation stands and the trash bags.
A flip book of memories The prelude to this Masters included the news that the Masters would, among other qualification tweaks, reinstate an automatic invitation to winners of PGA Tour events, a long-standing tradition removed during the chairmanship of Hootie Johnson. It is unfathomable now, the notion that a man with all his faculties would pass up an invitation to play in the Masters, but it has happened.
Lee Trevino, famously, did it for years because Augusta National wasn't welcoming to his shot shape or his skin color. Peter Alliss also had his reasons for taking a pass, as he recalled Wednesday morning on the veranda. Alliss was here for his 22nd Masters as a BBC commentator, and thanks to his many years on the air for ABC's golf telecasts, his voice seemed as familiar as a lifelong friend's though I'd never enjoyed a conversation with him.
"I think I got five or six invitations and only came twice," said Alliss, who competed in 1966 and 1967. "You tell that to someone now, and they think you must have been daft. It was a long way to come. You got $400 if you didn't make the last day. It was $3.20 to the pound. You had to have a local caddie, and the caddies didn't want you because you had no hope of doing anything. The times I played here, it totally overwhelmed me. On the last few holes, the crowds seemed to go up forever. It was awesome, in a day when 'awesome' wasn't used too often."
In 1967, 20 years before Larry Mize created the most magical memory at the par-4 11th hole, Alliss saw his putting disintegrate into a yippy mess on the same green during the second round. "I was right of the 11th green and came up to about five feet," he remembered, "and the next thing I'm over there, then there, then there. I don't know what I'm doing. Gene Littler was playing with me, and we never knew how many shots I really had. I thought to myself, 'Have I put down enough [strokes]?' I looked at the records and saw the worst score for that hole is 9, and it's not me, so I think I possibly cheated there."
Alliss breezily leafs through his many years in golf the way someone turns through an old flip book that used to bring to life the golf swings of people such as his father, Percy. He has quick and keen observations on the game's best, present and past.
Tiger Woods: "There are 20 or 30 people who could win this, but are they turning up with their No. 1 game? Tiger never turns up with anything [less] than his No. 2 game. Never. It's more of a story if he fails to win than if he wins. Every week, he does his best. It's like a Jack Nicholson movie: You know it's going to be good."
Gary Player: "Gary Player has never had the adulation I think he warranted. He won nine majors, and he traveled more than anyone else. He's like a Jack Russell dog. He's always there."
Arnold Palmer: "I think 99.9 percent of golfers in the world adore him. And I think he is the only one -- adored. Some are hugely admired, maybe verging on being loved, but not adored. Arnold's adored by everybody."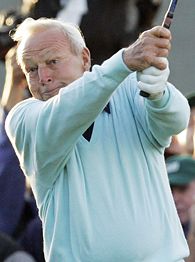 AP Photo/Chris O'MearaArnold Palmer revived a Masters tradition that had been missing since Sam Snead's death in 2002.
The adoration was evident the next morning, when Palmer took his first swing as the tournament's honorary starter, a tradition missing since Sam Snead's death in 2002. Palmer had voiced ambivalence about assuming the role, even though he will be 78 on his next birthday, but finally there he was on the first tee, in a robin's egg-blue sweater that accentuated his tanned face.
"I can still bend over, anyway," he joked as he teed up his ball. He then looked down the fairway and said, "It's real pretty, isn't it?"
His shot had the right-to-left shape of his prime-time drives, without the steam, of course, and it finished in the left rough. "That little draw kept me out of that sand trap up on the right," he said later to laughs all around. Against a strong northwest wind, though, the yawning bunker was out of reach to plenty of golfers who were keeping score Thursday. The breeze, though, was only one of their challenges.
"A little too fancy" Twenty years ago Larry Mize, Seve Ballesteros and Greg Norman finished 72 holes at 3-under-par 285, sending them into a playoff that Mize ended -- if you consider the timing and the degree of difficulty -- with the second-most spectacular shot in tournament history, after Sarazen's albatross in 1935. The winning score in 1987 was the highest since Nicklaus' 286 in 1972, in no small part because 1987 was the first time the greens, which had been converted from Bermuda to bent grass in 1981, were triple-cut, making the putting surfaces particularly glassy. The cumulative stroke average was 74.546, a full shot higher than in 1986, and there were only 674 birdies.
The course measured 6,925 yards in those quaint old days. This was before the advent of solid-core golf balls that spin, space-age driver clubheads, longer and lighter shafts and golfers who know their way around a weight machine. It was also, of course, prior to the chairmanship of Hootie Johnson, under whose watch from 1998 to 2006 Augusta National added 520 yards, scores of trees (including, most jarringly, at several holes, where there had been few) and a "second cut" of grass more commonly called light rough.
Now, two years after the classic course was altered, thanks in part to a persistent northwest wind and cool, dry weather, the alterations finally were in full view. And if you appreciated the old course, it was not necessarily a pretty sight, much like an aluminum carport tacked onto a stately Colonial home.
I found myself in almost complete agreement with Tom Watson's assessment last week: "They had to do what they did with the length of the course because the equipment mandated it," Watson said. "The drivers and the balls go so much farther, and the kids are stronger. They had to do that. When Tiger hit two sand wedges and two pitching wedges into No. 5, they said that's enough. They had to do something. And that was right. Add the length, and let these guys play it the way they did before. But they added the trees. They dressed it up a little too fancy. It used to have a simple elegance to it off the tee."
Indeed, why couldn't the club simply have lengthened a few of the holes -- perhaps half of the yardage that was added -- without altering the look and playability in such a wholesale fashion? I believed that when all the trees were planted, and I believed it even more last week. So drowsy were the galleries through the first three days, with reward having been removed from risk-reward, it was as if free sleeping pills were available at the concession stands.
Billy Payne, who replaced Johnson as chairman, supported the course's evolution without hesitation. "We were at a point in time, as Tiger said the other day, where Augusta National was being played with driver and wedge on all par-4 holes," Payne said in his pre-tournament news conference, "and that was not the original intention of our founders. My predecessor and those before him had the courage to do something about it. It's something we must always be aware of and never ever be afraid to do whatever we have to do to protect … this great course." It doesn't sound like any chain saws will be powered up anytime soon.
Players tried to be diplomatic about the course, but the truth slipped out. "I equate it to the personality of Bobby Jones, graceful and educated," I heard two-time Masters champion and highly regarded course architect Ben Crenshaw tell a radio reporter on Wednesday under the large live oak next to the clubhouse. But following the second round, Crenshaw was asked when the course, usually so alive with cheers during the tournament, had been so quiet.
"Yeah, [the last] four years," he said, his answer covering the period of the most extensive changes. "A day like today, this course is real difficult. It's a combination of the length and the width of the fairways. If you're just a little bit offline now, you can be behind a tree or a funny spot, in the little bit of rough, then you just can't play. It's the nature of the course now, you try not to get hurt."
While Crenshaw was talking to reporters he was interrupted by Chris DiMarco, who was making his way from the ninth green to the 10th tee.
"How is it out there?" DiMarco said.
"Pulling teeth," Crenshaw said.
For decades Augusta National had a rhythm as familiar as a favorite song. "We're all nervous playing the first few holes," observed Davis Love III, "because any one of them can jump up and get you, and you don't want to get behind. Used to be, Nos. 1, 2 and 3 you'd get some birdies; 4, 5, 6 you'd hang on; 7, 8, 9 you'd get some more birdies. It's just so hard now, if you don't get off to a good start it's become more U.S. Open-like. You've just got to grind it out and make lots of pars and hopefully every once in a while make a birdie. The last few years, they've been at the mercy of the rain. They can dial it right where they want. I think they've got it right where they want it. Just seeing what they want is the problem."
Red directional flags were rippling all week atop the tall fence at the end of the practice range, but yellow, the universal symbol of caution, would have been more appropriate. By week's end, I hadn't seen any golfer wave a white flag, but it must have been tempting.
"The difference between making a triple and making a par is so small," said Sandy Lyle, who unfortunately spoke from experience. He wasn't nailed by any of the new forests but was sabotaged the old-fashioned Augusta way, five-putting for a 6 on the wavy green of the par-3 16th hole Saturday. As Peter Alliss says of the Masters, "Everything changes, but nothing changes."
"They gave us a break" Three days of blustery weather were wearing out the field and creating a boon in the sale of cold-weather gear in the merchandise shop. I woke up Sunday to a thick frost on the windshield of the rental car, which recalled what Georgia resident Stewart Cink had said the day before, "We've never seen the Masters played in January." I opened an e-mail from a old friend, a keen observer of tournament golf for five decades, who was distressed by the take-no-prisoners feel of the play. "One U.S. Open is enough," he wrote. "I don't think we need another one."
Stuart Appleby, despite a triple-bogey on the 17th hole Saturday, led Woods and Rose by one shot at 2-over 218, the highest by a 54-hole leader in tournament history. Johnson, Augustan Vaughn Taylor and Padraig Harrington were two strokes behind. In all, 22 golfers were within six strokes of the lead, but it was a Tiger who had the lion's share of the attention, as is so often the case.
"Tiger's going to do what he's going to do, and you just have to worry about yourself," said Taylor, who was then informed that Woods had never come from behind to win any of his 12 professional major championships. "He's Tiger Woods, though," said Taylor, who lost the lead -- and momentum -- by closing the third round with three straight bogeys. "[My finish] makes me kind of angry," said the soft-spoken Taylor, who was playing in only his second Masters. "It's disappointing to see Tiger up there, because you know he's going to play well on Sunday. It's just going to be even that more difficult."
Taylor and Johnson were off in the third-to-last pairing. They were aware, like everyone else in the chase pack, that not since Nick Faldo in 1990 had the Masters champion begun the final round anywhere but in the day's last group. Although officials clearly had tried to mitigate the tough conditions with slightly easier hole locations -- ("They were probably one or two steps from where they normally are," Woods said, "so they gave us a break.") and a bit more water on the greens (the putting surfaces regained a bit of color Sunday), and the stroke average was three shots less than Saturday's sky-high 77.35 -- the layout was far from docile.
Trailing by four after three rounds, Phil Mickelson zoomed into reverse at No. 1, where he found the fairway bunker, caught the lip coming out, buried his third in the greenside bunker, left his fourth in the sand and made a triple-bogey. Goosen and Sabbatini made the strongest moves on the first nine, while Woods, who was not his customary, airtight, gasket-sealed self with a major on the line, bogeyed No. 1 en route to a 1-over 37 on the front nine. Taylor, normally a superb putter, three-putted twice and missed a 4-foot eagle putt on the first five holes.
"He's not afraid of anything" It was Johnson who was steady as she goes, making the turn at 1-under to get to within one of the lead. Among the most interested observers of the Johnson-Taylor pairing was putting instructor Pat O'Brien, who has worked with both players for about seven years. "It's an interesting dynamic for me," said O'Brien, who flew home to Texas from Augusta Thursday and returned Sunday morning. "I can feel depressed and elated on the same hole."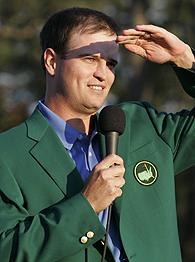 AP Photo/Elise AmendolaZach Johnson saw clear enough to avoid trouble and win the Masters by two shots.
That was the case on the par-5 13th, where Taylor found the greenside creek on his second shot and could do no better than par while Johnson pitched and putted for a birdie. In fact, Johnson took the cautious, cunning route every day on the par 5s, never once going for a green in two, instead content to rely on his wedge and putter.
O'Brien used to be a tour rep for SeeMore putters before he became a teacher, having been impressed with the late Payne Stewart's use of the same model to win the 1999 U.S. Open. The putter features an alignment aid to promote a square putter face, eye position and body alignment, and Johnson and Taylor switched to the brand once they began taking lessons from O'Brien. Johnson spent time prior to the Masters working with his swing coach Mike Bender and sport psychologist Morris Pickens. "I'd never seen him come into a tournament totally, 100 percent prepared, like he was this week," O'Brien said. "I watched him hit about 15 drives Tuesday and Wednesday, and every one was right down the middle with a 3-yard draw."
Whatever the benefits of his various instructors, Johnson also was buoyed by his experience in the 2006 Ryder Cup matches, where he and Taylor were among four American rookies. "It proved they both can play and that they belong in this arena," said O'Brien. "The thing I love about Zach is that he's not afraid of anything."
No sooner than O'Brien said that, Johnson holed a 7-foot birdie putt on the tricky 14th green. Two holes later, he curled in an 8-footer for a birdie at the 16th hole. "His attitude is probably the best out here," Taylor said of Johnson. "He works hard. He never gets down." A bogey at the 17th was followed by a crafty chip for a tap-in par at the 18th.
The square-jawed, straight-shooting guy from Cedar Rapids would soon see how he looked in a 40-regular jacket, Masters green.
Although Woods had eagled the 13th hole, the less-heralded golfer made the most of the final nine this day. While many people will remember this Masters for the disagreeable weather and diabolical course, and spectators bundled up like tailgaters on a November weekend, Johnson takes home something else. Exposed to the elements of a major championship, he stood up better than anyone else.
"He's Superman's brother, I think," Taylor said when someone asked him Sunday about Woods' invincibility. For a day, at least, Johnson was a distant cousin.
Bill Fields is a senior editor for Golf World magazine
SPONSORED HEADLINES
MORE GOLF HEADLINES
MOST SENT STORIES ON ESPN.COM
EDITORS' PICKS
Antonio Murdaca clinched a Masters invite with his APAC win.
Story »

Ted Bishop called Ian Poulter a "little school girl."
Story »

Will MacKenzie, Andrew Svoboda share the McGladrey Classic 54-hole lead.
Story »