The story of Smylie and Luckie
Updated:
April 3, 2007, 12:10 PM ET
By
Jason Sobel
| ESPN.com
AUGUSTA, Ga. -- They get it. They understand. Brothers Smylie and Luckie Kaufman will meet folks who don't want to know about their burgeoning junior golf careers, don't care to ask about the thousands of dollars they raised for their Kids vs. Cancer organization. Not yet anyway. The first question, invariably and inevitably, is about their names. So, ask away. Smylie and Luckie don't mind. They are expecting it.
The answer is pretty simple, really. Carter Smylie Kaufman, 15, was named after their grandmother's cousin, Smylie Gebhart, while Connor Luckie Kaufman, 13, was named for their great-grandfather, Austin Luckie Shipman.
But these are more than just family hand-me-downs. Shakespeare once asked, "What's in a name?" For the Kaufman kids, the answer is everything. The names define the boys, their values, their optimism, their philosophies on life.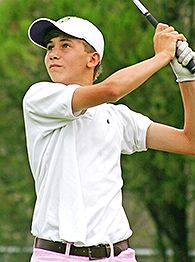 AJGASmylie Kaufman reached last year's U.S. Junior Amateur at age 14.
Wait a second. Teenagers? Philosophies on life? While most kids their age are defined by how much pizza, Nintendo Wii and instant messaging they can eat, play and do each day, Smylie and Luckie enjoy two things above all: Playing golf and helping people -- and not necessarily in that order.
Last year the boys came up with a plan. They wanted to raise money for children with cancer, a charitable cause that had become important to them when they saw so many others in their community of Birmingham, Ala., suffering from the disease.
"There were just a bunch of adults with cancer in our area and then kids started getting it," said the boys' mother, Pam. "Every time we went to church, we'd say names we were praying for. We got to be good friends with the kids. When that happened, [Smylie and Luckie] knew they had to do something. They wanted to do something more."
It was a cause that hit even closer to home, considering the Kaufmans had family members who were afflicted with cancer as well. Smylie's original namesake was an All-American defensive end at Georgia Tech before suffering an injury that left him a quadriplegic and was later a coach at Mississippi State. He died in 2001 from stomach cancer.
And so Smylie and Luckie decided to combine their two passions. They decided to play golf in order to help people.
The boys set up a marathon day of golf, sending out close to 1,000 letters asking for donations to the charity they had founded, Kids vs. Cancer, with all of the proceeds benefiting the American Cancer Society. (Just the thought of licking all those envelopes makes Luckie scrunch his nose in disgust. "It was so hard," he said.)
In his own words
The following is a letter Smylie Kaufman sent to the American Junior Golf Association, explaining why he and Luckie have decided to raise money for Kids vs. Cancer.
My name is Smylie. I am 15 and live in Birmingham. My mom shared her love of the game with me when I was very young. This is how we spent our days together. Her lessons to me about the game were not just the final score at the end of a round; it was more on the life lessons that the game could teach me. Yeah sure, every child dreams of winning the Masters against Tiger, but there are other things that golf can do for kids, too.
One of those lessons I remember was the giving back part. My brother Luckie and I started an organization called Kids vs Cancer. We played 100 holes of golf in one day and had people sponsor us to see how many holes we could play. We raised over $18,000 all going back to find a cure for cancer. We have now taken our project a step further and we have got other junior golfers (some AJGA members) involved doing the same thing throughout the state with all proceeds going to the Children's Hospital of Alabama Pediatric Oncology Research Department. We have one city team where the whole high school golf team is participating. I can't wait until the summer to see the outcome.
I have one more project going on and it involves a classmate of mine, Nick. He has Down Syndrome and I have been teaching him how to play golf so we can play in the Special Olympics golf tournament on April 24. Nick has been working hard and is extremely excited about this. It will be HIS day!
I love to compete with the best in golf, but I also like the way it makes me feel when I help others in golf.
On another note, my name Smylie comes from my grandmother's cousin, Smylie Gebhart, who was a football All-American at Georgia Tech and coached at Mississippi State and was a quadriplegic from a football injury. When my mom met him for the first time, it was very life changing. She knew then she would name her firstborn after him. Luckie, my brother, is named after my great-grandfather.
That is me in a nutshell.
Thanks,
Smylie Kaufman
"The challenge became all these adults saying, 'Oh, I bet you couldn't play more than 50 holes,'" Pam recalls. "People were pushing them and challenging them to play as many holes as they could play."
On Aug. 7 last year, Smylie and Luckie took to famed Shoal Creek, site of Wayne Grady's 1990 PGA Championship victory, at 6:30 a.m. armed with a pair of assistant pros, just enough golf balls and a limited supply of Gatorade.
They completed the journey some 12 hours later, playing a total of 100 holes in 100-plus degree heat. Not only did they play, they played well. As Luckie remembers it, he shot 73 over the opening 18 holes, while Smylie shot 69 -- a score he would equal on the next 18, too.
(That's hardly a rarity for the older brother, who last year at age 14 became one of the youngest players to qualify for U.S. Junior Amateur, even making it through medal play before being knocked out in the match-play portion of the prestigious event.)
But the only number that mattered that day was the final tally. Smylie and Luckie raised a grand total of $18,000 for pediatric cancer research. "We were just very excited to do something to help those kids with cancer," Luckie said.
Building on the momentum of last year's initial success, the Kaufmans have now gone statewide in their pursuit to raise more money for Kids vs. Cancer. They've recruited junior golfers in cities such as Mobile, Huntsville and Montgomery to join their charitable drive this summer. It might just be the beginning of something much bigger.
"First, we wanted to see if it would work here," Pam said. "Then we wanted to see if it would work in our state. If it does, and we know it will, we'd love to have chapters in each state."
On Monday, Shoal Creek owner Hall Thompson took a group of junior golfers to a practice round at the Masters. Smylie was supposed to be part of that contingent but couldn't miss school. He was replaced by Luckie, who -- pardon the pun -- might have been the luckiest kid at Augusta National Golf Club this week.
"It's awesome," Luckie said, standing just outside the ropes aligning the opening hole. "Just a great golf course. ... We kind of saw Tiger [Woods], but we kept on going, kept on walking."
It remains the boys' biggest goal, coming back to Augusta National someday as top-ranked professionals, getting a chance to play in the Masters. Right now, though, they're content with playing golf and helping people.
For a pair of kids named Smylie and Luckie, it all makes sense.
Jason Sobel is ESPN.com's golf editor. He can be reached at Jason.Sobel@espn3.com
Golf Editor, ESPN.com
Jason Sobel, who joined ESPN in 1997, earned four Sports Emmy awards as a member of ESPN's Studio Production department. He became ESPN.com's golf editor in July 2004.
SPONSORED HEADLINES
MORE GOLF HEADLINES
MOST SENT STORIES ON ESPN.COM
2007 Masters Tournament
When:
Thursday-Sunday, April 5-8
Where:
Augusta National Golf Club
Yardage/Par:
7,445 yards; par 72
2007 champion:
Zach Johnson