Commentary
50 years later, Palmer's first Masters win still remains controversial
Updated:
April 5, 2008, 12:26 PM ET
By
Bob Harig
| ESPN.com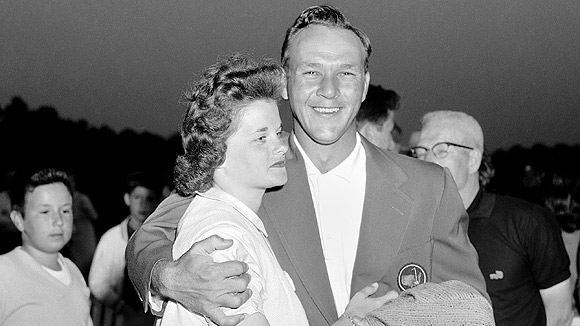 AP Photo/Horace CortPalmer (with wife Winnie) celebrated the 1958 Masters win -- his first of seven major titles.
All these years later, it is necessary to remind yourself that in 1958 Arnold Palmer was not yet Arnold Palmer. Not the Arnie we have come to know as one of golf's greatest champions and ambassadors. Not the Arnie who carried a sport on its back, helped usher in the television age, inspired the masses.
Nope, back then, the son of a greenskeeper from Latrobe, Pa., was a well-regarded pro who had yet to win his first major championship. His "army" was in its formative years, and his megawatt personality had yet to capture the fancy of marketing gurus and advertising reps. In truth, Palmer, then 28, was working for a living, trying to support his young family, playing for pay and counting his pennies.
1958 Masters Moment
Arnold Palmer's first green jacket came in 1958. Take a look back with one of our series of Masters vignettes.
• Watch: Palmer's First Green Jacket
• More moments/Masters video channel
This is why all these years and millions of dollars in endorsements later, Palmer remembers what that first Masters victory paid. "I know exactly," Palmer, 78, said in a recent interview. "It was $14,000, and I know that because in all the excitement and things that were happening, I gave my wife [Winnie] my checkbook. I said, 'Write Ironman [his caddie] a check for $1,400.' Well, she was pretty excited also. And she wrote the check for $14,000. If it had been cashed, it would have been a tough situation. It was something I couldn't afford. "So, yes, it was an awful lot of money. And I was pretty excited." Official Masters records say he was paid $11,250 for that victory, but who is going to argue? Fifty years later, Palmer was emphatic. It was just the third year of television coverage for the Masters, with only the 15th through 18th holes shown. The term "Arnie's Army" was first used by a group of military personnel who came to help at the tournament from nearby Camp (now Fort) Gordon. Tickets -- now sold only through a patrons list -- could then be bought at the gate. And Palmer very much looked forward to getting to Augusta, where the grass was always greener, the conditions always better than anything he had seen along the way playing the tour. "I remember a pro who I had played with in the winter, and he was considerably older than I was," Palmer said. "His name was Lloyd Mangrum. I remember in those days talking to Lloyd about the Masters, and one day I asked him, 'How important is it to you to be playing in Augusta at the Masters? You have the course record [64 at the time]. What does that mean to you?' This was about 1956 or '57. He said, 'Are you kidding me? I'd give every title I have won for one Masters.' "That kind of told it to me. He said it and he meant it: 'This is the greatest tournament I've ever played.' And that sort of set the standard for me." Palmer arrived at the Masters in 1958 having won the eighth title of his career at the St. Petersburg Open, although he did not have much professional major championship experience. At that time, he had yet to play in a British Open or PGA Championship. The year prior, he tied for seventh at the Masters and had been seventh at the 1956 U.S. Open. "I felt like I was playing well enough to win, good enough to win," Palmer said. "In my early years at Augusta, the experts, so to speak, some of the people who classed themselves as knowledgeable about what it took to win the Masters ... I remember it running in my ears constantly that I didn't hit the ball the way you have to hit it to win at Augusta. "I always hit the ball low and on the line. Very rarely did I ever hit it up in the air like Jack [Nicklaus] does or some of the players that were successful at Augusta. And that made me determined to win Augusta even more, because I figured that if there is a way to get to where you have to get on all of the holes at Augusta, hitting a low ball still made it possible to win and it worked for me." Palmer trailed Ken Venturi after two rounds, but a third-round 68 vaulted him into a tie for the lead with
Sam Snead
. Palmer and Venturi, who was three strokes back, were paired for the final round, and Venturi trailed by just one stroke by the 12th hole. And that is where a controversial rules incident occurred, one that is still the subject of some debate today. Palmer's tee shot to the par-3 hole landed behind the green and plugged. Palmer believed he was entitled to relief -- under a local rule in effect that week -- because the ball was embedded. And Venturi agreed. But the rules official on the scene, Arthur Lacey -- a former president of the British PGA and a member of the 1933 and '37 GB&I Ryder Cup team -- did not. He ruled Palmer had to play without relief. An argument ensued, and Palmer eventually played the ball, gouging it out of the turf, hitting a poor chip past the hole, then two-putting for a double-bogey 5. Venturi had made par and assumed the lead. Or so he thought. Feeling he had received a bad ruling, Palmer announced he was playing a second ball. This time, with a drop to a clean lie, he chipped up near the hole and made par. The twosome played on, waiting for a rules committee to decide Palmer's fate. To this day, Venturi believes that Palmer played the second ball incorrectly. He should have played the two balls concurrently and declared it at the time, Venturi said in his 2004 autobiography, "Getting Up and Down" and again in a recent interview from his home in Palm Desert, Calif. "It could never happen today," said Venturi, 76, the 1964 U.S. Open champion who went on to a long career as a CBS golf analyst. "There were only five of us there and no cameras. I told Arnold he should get a drop, and that's when Arthur Lacey said it was half embedded. Well, that's like being half pregnant. It either is embedded or it isn't. "But that's what he ruled, and when Palmer played the second ball, I told him you can't do that. You have to declare it before you hit it. Suppose he had chipped in the embedded ball?" In Palmer's book, "Playing by the Rules," he wrote that he told Lacey he was going to play a second ball and appeal to the rules committee. But, Palmer said, Lacey wouldn't allow that, either. (The rules do allow for playing of a second ball.) It is possible that Venturi did not hear this conversation, as he elected to play out. Palmer and Venturi went to the 13th tee, with Palmer convinced he was right and Venturi convinced he was right. The ruling didn't come until the 15th hole, and Palmer was given a 3 instead of a 5. "There was never a question in my mind that I wasn't right about the 12th hole," said Palmer, who hit his approach onto the green at No. 13, made an eagle and went on to win by a shot over
Fred Hawkins
and
Doug Ford
and by two over Venturi. "I was very confident that I was right and I played with that confidence." John Morrissett, the director of rules of golf for the United States Golf Association, said he believes Palmer originally got a poor ruling, and perhaps the committee was trying to make up for that when it allowed the second ball to stand. According to Morrissett, it does not appear that Palmer played the second ball correctly. If it happened today, Morrissett said, Palmer would have had to score the first ball. But the way the rule was written in 1958, there is some room for interpretation. "Before playing a stroke with either ball, the competitor must announce his intention and must announce which ball he wants to score with," Morrissett said. "Should the competitor fail to announce in advance his procedure or selection, the score with the second ball shall be his score if played in accordance with the rules. "The only thing that makes me hesitate is the last sentence of the rule ... the second ball is his score," Morrissett said. "My guess is that it was intended to cover a case where a player was playing out both balls simultaneously. That's very different from what it is today. That could very well mean the answer was correct then. I kind of doubt it, but it's possible." Venturi in no way believes Palmer got special treatment. After all, Palmer was not yet Palmer. But the making of Arnold Palmer would happen soon enough. He went on to win the Masters again in 1960, birdieing the final two holes. He won his only U.S. Open a few months later, and the idea of the modern Grand Slam was born. He went on to win a total of four Masters, seven major championships and 62 PGA Tour titles. He is now a member of Augusta National. Palmer has no special celebration planned to mark the 50th anniversary. He will be at the Champions Dinner on Tuesday night. He will hit the ceremonial first tee shot on Thursday morning. And he will surely reminisce. "Of course, 50 years is a long time," he said. "But it doesn't seem very long right now. The only time it really seems like a long time is when I walk out on the first tee and hit a drive -- then I know it's 50 years."
Bob Harig covers golf for ESPN.com. He can be reached at BobHarig@gmail.com.
2008 MASTERS TOURNAMENT


When: Thursday-Sunday, April 10-13
Where: Augusta National Golf Club
Yardage/Par: 7,445 yards; par 72
2007 champion: Zach Johnson
Details: Course | Field | Tee times
More: Past champs | Masters.org
Leaderboard: Follow the action
ESPN TV coverage
April 10
• Round 1: ESPN/ESPN360.com, 4-7; 8-11 p.m. ET
April 11
• Round 2: ESPN/ESPN360.com, 4-7; 8-11 p.m. ET
ESPN Video
•
Van Pelt/North: Who Will Win?
•
Complete Masters video coverage
•
Amen Corner audio slideshow

•
Sunday Conversation: Tiger Woods
•
SportsCenter: Drew Weaver feature
•
Sobel: The aura of Augusta
•
Sobel: Preparing for the Masters
Features/Columns
From Augusta National:
•
Harig: Woods begins Grand Slam pursuit
•
Masters Tournament FOREcaster
•
Harig: Amen Corner is a nervy proposition
•
Harig: Masters Monday is like no other
•
Sobel: Wagner excited about Masters opportunity
•
Harig: Grand Slam has developed over time
•
Harig: Just another Sunday at Augusta National
•
Sobel: Sunday before Masters is peaceful
•
Weekly 18: Questions abound
•
On the Hot Seat: Zach Johnson
•
Harig: Monty's lesson? Play better
•
Alternate Shot: All about Tiger
•
Fact or Fiction: How should players prepare?
•
Fact or Fiction: Should winners reach Masters?
Masters Memories
•
Harig: O'Meara couldn't believe '88 win
•
Harig: Lyle still relishes '88 victory
•
Sobel: Player makes Masters history
•
Sobel: De Vicenzo's '68 gaffe still rings true
•
Harig: Palmer's '58 win still controversial
•
Harig: Past champs share Masters memories
•
'07 E-Ticket: Thompson's walk with his late father
Blogs
•
Sobel: Readers' best Masters stories
•
Sobel: Searching for Masters stories
Podcasts
•
Sobel with Jerry Kelly
•
Harig and Sobel: Weather or not?

•
Sobel and Anderson: Previewing the Masters

Games/Widget Center
•
Putting at Amen Corner
•
Masters Best Ball Challenge
•
Add a Masters widget
More coverage
•
GolfDigest.com's Masters Countdown
•
Golf World Masters preview edition
•
ESPNMag.com: Six words about Tiger
Golf Goes Worldwide
The Masters has an initiative to get people, especially kids, playing, watching and talking about golf. Send ideas.
English language version
•
French
|
Spanish
|
Chinese
|
Japanese
|
Korean
MOST SENT STORIES ON ESPN.COM