Commentary
Monty could have reached Masters by simply playing better
Updated:
April 1, 2008, 6:55 PM ET
By
Bob Harig
| ESPN.com
Golf offers a simple solution for anyone who has ever felt slighted by the various and sundry rules, qualification criteria and exemption categories that litter the game: Play better.
Those often-used words come to mind again in the aftermath of Colin Montgomerie's most recent rant in which he questioned the invitations of three players to next week's Masters while he will have to sit at home in Scotland, awaiting his wedding. Monty may very well be right when he says the special invitations granted to India's
Jeev Milkha Singh
, Thailand's
Prayad Marksaeng
and China's Liang Wen-chong were extended with television sets in mind. The Masters, after all, sells TV rights to those countries, and more are likely to tune in from those faraway lands if one of their own is teeing it up on golf's most hallowed ground.
[+] Enlarge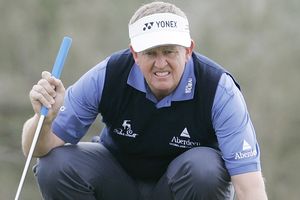 AP Photo/Sue OgrockiMonty isn't eligible for this year's Masters.
The only thing that seems odd is that those players are ranked below Monty in the Official World Golf Ranking.
"I am not the only one who feels that way, and not just because I am not in,'' Monty was quoted as saying in Germany, where he was promoting a tournament. "In or not, I'd be saying the same thing. It is a strange criterion to pick a major field.'' Perhaps, but it is not as though Monty didn't have his chances. A top-16 finish at last year's Masters would have done the trick, or a top eight at the U.S. Open. Top-four finishes at the Open Championship or PGA Championship would have done it, too. Failing there, he could have been among the top 50 in the World Ranking by the end of 2007. That didn't happen. Then there was another chance, had he been in the top 50 by this week. That didn't happen either -- he is 75th. Montgomerie, 44, who has missed the cut in his past four appearances at the Masters, wasn't even close. He had a glimmer of hope when he dispatched
Jim Furyk
and
Charles Howell III
at the Accenture Match Play Championship. But since then, he did nothing to help his cause. He finished well back in the pack at the Johnnie Walker Classic in Thailand. He then skipped an appearance fee in Korea to play the
Arnold Palmer
Invitational, where he missed the cut. Then at the CA Championship, Monty needed a top-4 finish -- instead, he tied for 65th. Monty suggested that the Masters is the only major that issues invitations, which is not exactly true, either. The U.S. Open grants special exemptions and the PGA Championship offers a slew of invitations to give it one of the strongest fields of the year. The Masters has long granted international exemptions, going back to the days when foreign players had a much more difficult time qualifying. Now, the world rankings and the abundance of players competing in U.S.-based PGA Tour events has changed all that, yet the tournament still gives those international exemptions. And it is very likely for the reasons Monty suggested. Monty would have been better served by playing better when he had a chance to do something about the predicament that will leave him out of the year's first major for just the second time in 17 years. Life is not always fair, but in the case of golf, it is best to let the clubs do the talking.
Bob Harig covers golf for ESPN.com. He can be reached at BobHarig@gmail.com.
2008 MASTERS TOURNAMENT


When: Thursday-Sunday, April 10-13
Where: Augusta National Golf Club
Yardage/Par: 7,445 yards; par 72
2007 champion: Zach Johnson
Details: Course | Field | Tee times
More: Past champs | Masters.org
Leaderboard: Follow the action
ESPN TV coverage
April 10
• Round 1: ESPN/ESPN360.com, 4-7; 8-11 p.m. ET
April 11
• Round 2: ESPN/ESPN360.com, 4-7; 8-11 p.m. ET
ESPN Video
•
Van Pelt/North: Who Will Win?
•
Complete Masters video coverage
•
Amen Corner audio slideshow

•
Sunday Conversation: Tiger Woods
•
SportsCenter: Drew Weaver feature
•
Sobel: The aura of Augusta
•
Sobel: Preparing for the Masters
Features/Columns
From Augusta National:
•
Harig: Woods begins Grand Slam pursuit
•
Masters Tournament FOREcaster
•
Harig: Amen Corner is a nervy proposition
•
Harig: Masters Monday is like no other
•
Sobel: Wagner excited about Masters opportunity
•
Harig: Grand Slam has developed over time
•
Harig: Just another Sunday at Augusta National
•
Sobel: Sunday before Masters is peaceful
•
Weekly 18: Questions abound
•
On the Hot Seat: Zach Johnson
•
Harig: Monty's lesson? Play better
•
Alternate Shot: All about Tiger
•
Fact or Fiction: How should players prepare?
•
Fact or Fiction: Should winners reach Masters?
Masters Memories
•
Harig: O'Meara couldn't believe '88 win
•
Harig: Lyle still relishes '88 victory
•
Sobel: Player makes Masters history
•
Sobel: De Vicenzo's '68 gaffe still rings true
•
Harig: Palmer's '58 win still controversial
•
Harig: Past champs share Masters memories
•
'07 E-Ticket: Thompson's walk with his late father
Blogs
•
Sobel: Readers' best Masters stories
•
Sobel: Searching for Masters stories
Podcasts
•
Sobel with Jerry Kelly
•
Harig and Sobel: Weather or not?

•
Sobel and Anderson: Previewing the Masters

Games/Widget Center
•
Putting at Amen Corner
•
Masters Best Ball Challenge
•
Add a Masters widget
More coverage
•
GolfDigest.com's Masters Countdown
•
Golf World Masters preview edition
•
ESPNMag.com: Six words about Tiger
Golf Goes Worldwide
The Masters has an initiative to get people, especially kids, playing, watching and talking about golf. Send ideas.
English language version
•
French
|
Spanish
|
Chinese
|
Japanese
|
Korean
MOST SENT STORIES ON ESPN.COM