Commentary
Lyle still relishes memory of Masters-winning bunker shot
Updated:
April 5, 2008, 1:17 PM ET
By
Bob Harig
| ESPN.com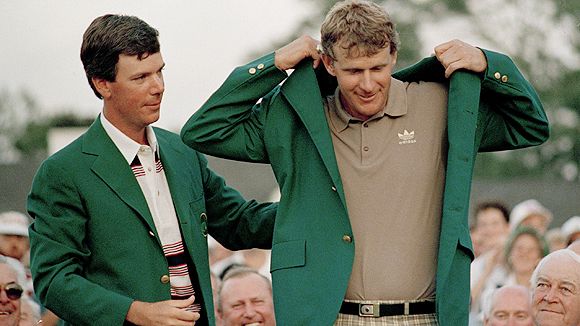 AP Photo/Bob DaughertyLyle became the first-ever British player to win the Masters in 1988.
The time has flown by nearly as quickly as the ball rose up off the sand, toward the green and trickled into range for Sandy Lyle to consummate the defining moment of his career.
Twenty years ago, he became the first Briton to win the Masters, breaking Mark Calcavecchia's heart in the process. Twenty years since he became the first player in nearly three decades to win the tournament with a birdie at the 72nd hole. Twenty years to bask in the glory of being a Masters champion.
1988 Masters Moment
Sandy Lyle's famous bunker shot is still talked about today. Take a look back with one of our series of Masters vignettes.
• Watch: Lyle Gains Augusta Glory
• More moments/Masters video channel
"It seems like 20 months to me. I can't believe it's been 20 years," Lyle said of his 1988 Masters victory. "It's amazing. Not a day goes by playing on the golf course where an amateur or pro doesn't talk about the bunker shot. I've gotten a lot of mileage out of that. "And I can be on the other side of the world in China and say hello to somebody, and they know you're a Masters champion. All of sudden it's 'Wham!' It opens your eyes a little bit." Lyle, now 50, was at the height of his game back then. He had become the first British player since Tony Jacklin to win the Open Championship when he won at Royal St. Georges in 1985. Two years later, he captured the Players Championship, becoming the only foreign-born player to win the title. And at Augusta, he was coming off a victory at the Greater Greensboro Open. Leading for a good bit of the final round, Lyle hit his ball in the water at the par-3 12th to fall a shot behind Calcavecchia. Then he failed to birdie either of the back-nine par-5s. But he made a birdie at the 16th to tie, then came to the 18th with a chance to win or force a playoff with a par. Things did not look good, however, when he hit his 1-iron tee shot into the left fairway bunker. Calcavecchia figured he might win the tournament outright. But Lyle hit his 7-iron shot cleanly, and the ball landed on the green on a slope, then trickled back toward the cup, stopping 8 feet away. "I can remember it like yesterday," Calcavecchia said. "Every time I play the hole, I look over there. And I shake my head. The lip is bigger now. Those bunkers are bigger and deeper than they used to be. And he was a picker. He could hit the ball straight up in the air anyway. He was on an upslope and the sand was firm. It was a question of hitting it straight and solid. "Getting it over the lip wasn't a problem, but it's the last hole of the Masters. Guys would choke, but he had to hit it in there 8 feet. I knew he was going to make that." And he did. Lyle, of Scotland, became the first British winner of the Masters, starting a four-year run that would see him followed by England's Nick Faldo in 1989 and 1990 and Wales' Ian Woosnam in 1991. And he became the first player to birdie the final hole and win since Arnold Palmer in 1960. Lyle would never contend in another Masters and had just one more top-10 in a major -- a tie for seventh at that year's British Open. And he added just four more European Tour titles, the last of his 18 coming in 1992. Perhaps that is why he cherishes that Masters win even more. "The fact that I can tee it up in the Open Championship and the Masters is like a wish come true," he said. "Many players would love to tee it up in the Masters every year, and I have the privilege of doing that. I love that I can still play, but the highlight really is that one moment on Tuesday at the Champions Dinner. Everybody is equal, whether you have six jackets or one like I have. "To see a group of players who have done so much ... they are enjoying themselves, talking about various things. It's a highlight of your week. Of your year.''
Bob Harig covers golf for ESPN.com. He can be reached at BobHarig@gmail.com.
SPONSORED HEADLINES
MORE GOLF HEADLINES
MOST SENT STORIES ON ESPN.COM
2008 MASTERS TOURNAMENT


When: Thursday-Sunday, April 10-13
Where: Augusta National Golf Club
Yardage/Par: 7,445 yards; par 72
2007 champion: Zach Johnson
Details: Course | Field | Tee times
More: Past champs | Masters.org
Leaderboard: Follow the action
ESPN TV coverage
April 10
• Round 1: ESPN/ESPN360.com, 4-7; 8-11 p.m. ET
April 11
• Round 2: ESPN/ESPN360.com, 4-7; 8-11 p.m. ET
ESPN Video
•
Van Pelt/North: Who Will Win?
•
Complete Masters video coverage
•
Amen Corner audio slideshow

•
Sunday Conversation: Tiger Woods
•
SportsCenter: Drew Weaver feature
•
Sobel: The aura of Augusta
•
Sobel: Preparing for the Masters
Features/Columns
From Augusta National:
•
Harig: Woods begins Grand Slam pursuit
•
Masters Tournament FOREcaster
•
Harig: Amen Corner is a nervy proposition
•
Harig: Masters Monday is like no other
•
Sobel: Wagner excited about Masters opportunity
•
Harig: Grand Slam has developed over time
•
Harig: Just another Sunday at Augusta National
•
Sobel: Sunday before Masters is peaceful
•
Weekly 18: Questions abound
•
On the Hot Seat: Zach Johnson
•
Harig: Monty's lesson? Play better
•
Alternate Shot: All about Tiger
•
Fact or Fiction: How should players prepare?
•
Fact or Fiction: Should winners reach Masters?
Masters Memories
•
Harig: O'Meara couldn't believe '88 win
•
Harig: Lyle still relishes '88 victory
•
Sobel: Player makes Masters history
•
Sobel: De Vicenzo's '68 gaffe still rings true
•
Harig: Palmer's '58 win still controversial
•
Harig: Past champs share Masters memories
•
'07 E-Ticket: Thompson's walk with his late father
Blogs
•
Sobel: Readers' best Masters stories
•
Sobel: Searching for Masters stories
Podcasts
•
Sobel with Jerry Kelly
•
Harig and Sobel: Weather or not?

•
Sobel and Anderson: Previewing the Masters

Games/Widget Center
•
Putting at Amen Corner
•
Masters Best Ball Challenge
•
Add a Masters widget
More coverage
•
GolfDigest.com's Masters Countdown
•
Golf World Masters preview edition
•
ESPNMag.com: Six words about Tiger
Golf Goes Worldwide
The Masters has an initiative to get people, especially kids, playing, watching and talking about golf. Send ideas.
English language version
•
French
|
Spanish
|
Chinese
|
Japanese
|
Korean