Commentary
Golf's professional Grand Slam has developed over time
Updated:
April 7, 2008, 11:31 AM ET
By
Bob Harig
| ESPN.com
AUGUSTA, Ga. -- Unlike the man who first made this Georgia dateline famous, Tiger Woods openly embraced the idea of capturing all four major championships in a single year. A simple comment on his Web site near the end of 2007 took life and grew into non-stop chatter about the Grand Slam, with Woods doing nothing to quiet the talk, either with his words or his clubs.
That discussion will only intensify if Woods is able to win this week's Masters Tournament at Augusta National Golf Club, the place co-founded by amateur golfer Bobby Jones -- the only player to win golf's Grand Slam. The differences, of course, start with Jones' accomplishing a different version of the feat, with victories in the U.S. and British Opens as well as the U.S. and British Amateurs in 1930. He then retired from competitive golf and, among other things, helped start Augusta National and the Masters.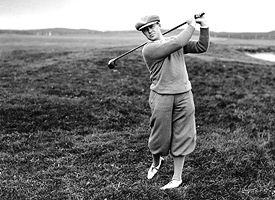 Hulton Archive/Getty ImagesJones won the Grand Slam back when it included two amateur events.
Jones, however, never openly embraced the idea of winning all four tournaments in the same year.
"Jones first conceived the notion of winning the Grand slam in 1926, four years before he did it," said golf historian Sidney Matthew, who has written several books about Jones. "That year, he won the double [the British and U.S. Opens] and that was the first time he thought he might be able to win all four in one year." Jones finished runner-up at the 1926 U.S. Amateur, but lost in the sixth round of the British Amateur, a tournament he believed might have been the hardest to win because of its seven 18-hole matches in five days that preceded the 36-hole final. And he would not compete in that tournament again until 1930, when he could play it along with the British Open and the Walker Cup, where his expenses could be picked up by the United States Golf Association for the trip overseas. Even after winning both tournaments in Britain, the idea of winning all four stayed with Jones, who confided only in his wife, Mary. "He kept it quiet for years, even from [O.B.] Keeler," said Matthew, referring to the Atlanta-Journal columnist who chronicled all of Jones' exploits. "He never told Keeler until Interlachen [site of the 1930 U.S. Open]. Once he won at St. Andrews [the British Amateur] and Hoylake [British Open], it was pretty obvious. The question became could he win at Interlachen and that was really the time that he confessed to Keeler that he had planned it all along." When Jones won the fourth of four major championships by winning the U.S. Amateur at Merion, Keeler referred to it as the "Grand Slam," borrowing the bridge term used when a player wins all the tricks in a hand. Grand Slam had also been used to describe a bases-loaded home run in baseball and would later be used in relation to the four biggest tournaments in tennis. But in golf, the calendar year Grand Slam would never occur again.
Can Tiger do it?

Tiger Woods has already stated that winning all four majors during this calendar year is "easily within reason." The Tiger Watch begins at this week's Masters Tournament, where some of the game's all-time greats will be keeping a close eye on Woods' pursuits. Here's how some notable former champions handicap his chances:
Jack Nicklaus: "Realistically, the Grand Slam was possible, but not likely. It was my goal to start every year. ... I think Tiger looks at it much the same way. Tiger probably even more because he has held all four of them at one time. So that's a pretty lofty goal. But for a guy like Tiger, I wouldn't put it past him." Arnold Palmer: "I got halfway there, felt like I got a little further than halfway. I can see Tiger doing it. Since I created it about 1960, we really haven't had many people come close, except Tiger. Jack did a pretty good job of it and Gary ... but Tiger is by far the most advanced into that situation. I think a lot of that depends on just how determined he is to win the four events in one year. And of course, I think that is pretty damn exciting myself. It's something that should stimulate the golf world and certainly should stimulate Tiger because he's the guy who's on the hot spot right now." Gary Player: "Tiger can do it. If you look at the [world ranking] system, Tiger is twice as good as anybody else. ... I've always said the word luck is the residue of design. And the harder you work, the luckier you get. And you do have to have luck." Tom Watson: "I used to say that about Nicklaus' championship record: Nobody will surpass it. And I remember a few people saying, 'Well, the competition is so tough, nobody will ever get to there.' Well, you were wrong! I always said it's improbable that somebody is going to match [Nicklaus], but not impossible. To win four major championships, it's not impossible, but it's improbable. Well, Tiger has proved that improbable wasn't the right term, and it is possible."
-- B.H.
The pro version
After Jones retired, the thought of anyone's ever winning those four majors quickly began to wane. It took a golfer of considerable skill to win at that level, and amateurs were less inclined to have the ability and funding to pursue such dreams. The top players turned professional, eliminating them from the amateur majors. It wasn't until 30 years after Jones' 1930 season that the idea was reborn, courtesy of
Arnold Palmer
. The Masters had grown in stature from its humble 1934 beginnings and Palmer won it and the U.S. Open in 1960. He was about to make his first trip to the British Open, at St. Andrews, when a conversation with Pittsburgh sportswriter Bob Drum led to the modern Grand Slam -- the Masters, U.S. Open, British Open and PGA Championship. "One thing led to another," Palmer said. "Drum got me all excited about it. He wrote about it. He got the British press all excited about it. And they picked up on it." Seven years earlier, Ben Hogan won the Masters, U.S. Open and British Open -- the only player before Woods in 2000 to win three in a year. But there was no mention of a Grand Slam. Nobody had thought of it; and competing in the British and PGA was all but impossible, because of conflicting dates. "It was not talked about," Palmer said. "There was no such thing. The Grand Slam was Bob Jones and that was it." Palmer finished second in 1960 at the British Open, by one stroke to Kel Nagle. And he never got as far as winning the first two majors again, nor did he ever capture the career Grand Slam, missing out on the PGA. Palmer, now 78, won seven professional majors.
Jack's attempt
After Palmer, the only player before Woods in 2002 to win the Masters and U.S. Open in the same year was
Jack Nicklaus
in 1972. After he won the Open at Pebble Beach, talk immediately turned to his ability to capture the third leg of the Slam at Muirfield -- where he had won his first British Open in 1966. Nicklaus finished a stroke behind
Lee Trevino
, then tied for 13th at the PGA Championship. "I never got as close as Tiger's gotten, but it was fun trying," Nicklaus said. "When I went into every season, that was my goal, from about 1965 on, I felt I had the ability. More realistically, the Grand Slam was probably not likely. It was always my goal to start every year. Every time I started preparing in January for the Masters, that's what I looked at." Nicklaus, now 68 and winner of 18 majors, won the first two majors in a season just that one time. He did, however, hold three major trophies heading into the 1972 British Open because the 1971 PGA Championship had been played in February. So while he didn't win three in a row, he was the reigning champion of all three.
Other Slam bids
Just five players -- Gene Sarazen, Hogan,
Gary Player
, Nicklaus and Woods -- have won all of the major championships in their careers. So it stands to reason that few players ever had the chance to win all four in a season. For Sarazen, it wasn't realistic. His last major title came in 1935 at the Masters, just the second year of the tournament. Hogan, as Palmer explained, probably never thought about it. He played in just one British Open, winning it in 1953 -- also his last major title. In 1951, when Hogan also won the Masters and the U.S. Open, he did not play in the British or PGA. (The only other player to win the Masters and U.S. Open in the same year was Craig Wood in 1941; there was no British Open that year, and he lost in the round of 32 at the PGA Championship, then a match play tournament.) Player, who captured nine major titles, won two of them in 1974 at the Masters and British Open. He also tied for eighth at the U.S. Open and was seventh at the PGA. "In 1974, I believed I could do it," said Player, 72, of capturing the Grand Slam. "I was swinging very, very well and putting well. It's always how well you're putting. ... I won the Masters and the British Open. At the U.S. Open, I was tied with
Hale Irwin
after 36 holes, and I did well at the PGA. So I came pretty close."
Tom Watson
won eight major titles, but never the PGA Championship. Twice, in 1977 (Masters, British Open) and 1982 (U.S. Open, British Open), he won two majors in a season and finished in the top 10 in the others. "I did have dreams of [the Grand Slam]," said Watson, now 58. "I thought '80 was my best year. That was the year I thought maybe everything would fall into place." Watson, who won seven times in 1980 on the PGA Tour and led the PGA Tour money list for the fourth straight season, managed just one major victory, at the British Open. He tied for 12th at the Masters, tied for third at the U.S. Open -- won by Nicklaus at age 40 -- and tied for 10th at the PGA.
So what about Tiger?
Woods achieved the career Grand Slam when he won the British Open at St. Andrews in 2000. That same year, he matched Hogan's feat of winning three majors in a season, capturing the U.S. Open, British Open and PGA after finishing fifth at the Masters. He would go on to capture the 2001 Masters, making him the only player to hold all four major trophies at once, called by some, the "Tiger Slam." A year later, Woods captured the Masters and U.S. Open, becoming the first player since Nicklaus in 1972 to win them both in the same year. The British Open was at Muirfield, where Woods was in contention after 36 holes, two strokes behind leader
Ernie Els
. But Woods teed off in horrible weather conditions in the third round, leading to his highest score in a major, 81. He fell off the pace and eventually tied for 28th. He rebounded to finish second at the PGA Championship. His own experience shows the difficulty of the task. And yet Woods, 32, who has won 13 major championships overall and nine times has won a minimum of four PGA Tour events in a season, has not wavered. "I think it's the development of my game over the years," he said. "For most of my career, I've won more than four tournaments per year, and all I have to do is win the right four. And I've done those a few times. "I think if you put it all together, have luck on your side, all the stars will line up, and it certainly is possible."
Bob Harig covers golf for ESPN.com. He can be reached at BobHarig@gmail.com.
SPONSORED HEADLINES
MORE GOLF HEADLINES
MOST SENT STORIES ON ESPN.COM
2008 MASTERS TOURNAMENT


When: Thursday-Sunday, April 10-13
Where: Augusta National Golf Club
Yardage/Par: 7,445 yards; par 72
2007 champion: Zach Johnson
Details: Course | Field | Tee times
More: Past champs | Masters.org
Leaderboard: Follow the action
ESPN TV coverage
April 10
• Round 1: ESPN/ESPN360.com, 4-7; 8-11 p.m. ET
April 11
• Round 2: ESPN/ESPN360.com, 4-7; 8-11 p.m. ET
ESPN Video
•
Van Pelt/North: Who Will Win?
•
Complete Masters video coverage
•
Amen Corner audio slideshow

•
Sunday Conversation: Tiger Woods
•
SportsCenter: Drew Weaver feature
•
Sobel: The aura of Augusta
•
Sobel: Preparing for the Masters
Features/Columns
From Augusta National:
•
Harig: Woods begins Grand Slam pursuit
•
Masters Tournament FOREcaster
•
Harig: Amen Corner is a nervy proposition
•
Harig: Masters Monday is like no other
•
Sobel: Wagner excited about Masters opportunity
•
Harig: Grand Slam has developed over time
•
Harig: Just another Sunday at Augusta National
•
Sobel: Sunday before Masters is peaceful
•
Weekly 18: Questions abound
•
On the Hot Seat: Zach Johnson
•
Harig: Monty's lesson? Play better
•
Alternate Shot: All about Tiger
•
Fact or Fiction: How should players prepare?
•
Fact or Fiction: Should winners reach Masters?
Masters Memories
•
Harig: O'Meara couldn't believe '88 win
•
Harig: Lyle still relishes '88 victory
•
Sobel: Player makes Masters history
•
Sobel: De Vicenzo's '68 gaffe still rings true
•
Harig: Palmer's '58 win still controversial
•
Harig: Past champs share Masters memories
•
'07 E-Ticket: Thompson's walk with his late father
Blogs
•
Sobel: Readers' best Masters stories
•
Sobel: Searching for Masters stories
Podcasts
•
Sobel with Jerry Kelly
•
Harig and Sobel: Weather or not?

•
Sobel and Anderson: Previewing the Masters

Games/Widget Center
•
Putting at Amen Corner
•
Masters Best Ball Challenge
•
Add a Masters widget
More coverage
•
GolfDigest.com's Masters Countdown
•
Golf World Masters preview edition
•
ESPNMag.com: Six words about Tiger
Golf Goes Worldwide
The Masters has an initiative to get people, especially kids, playing, watching and talking about golf. Send ideas.
English language version
•
French
|
Spanish
|
Chinese
|
Japanese
|
Korean