Commentary
Unlike most practice rounds, the Masters' brings plenty of passion
Updated:
April 7, 2008, 6:59 PM ET
By
Bob Harig
| ESPN.com
AUGUSTA, Ga. -- Call it Masters Madness. There is no tournament like the Masters, and especially none like the Masters on Monday. Or Tuesday. Or Wednesday.
The days leading up to a golf tournament typically are quiet affairs, with players practicing or participating in a pro-am while a few hundred curious spectators might amble about the premises. That is hardly the case at Augusta National in the days preceding the Masters. Spectators line up at the gates well before the course opens at 8 a.m. and swarm into the merchandise pavilion as soon as they are allowed in. By 9 a.m. Monday, this place was filled with people who scattered to all parts, exploring all the green grass and visiting famous locales such as Amen Corner. By noon, you could hear the roars for practice shots, simply unheard of anywhere else.
[+] Enlarge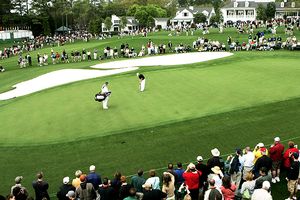 AP Photo/Elise AmendolaThousands of fans walked through Augusta National's front gates on Monday.
"It never ceases to amaze me how many people are here on a Monday,'' said Jon Johnson, a former Augusta National assistant pro who for the past 20 years has come to Augusta from Florida to work in merchandise sales during tournament week. "It's such a different crowd. The majority have never been to Augusta. They stand around the museum area; they all want to shop. The lines are seemingly a block long. During the tournament, most of them have been here before. It's really easier Thursday through Sunday.'' Masters madness has much to do with the Masters' mystique. People simply want to get a glimpse of Augusta National, and unless you've been coming here for years, that is not so easy to do. When the Masters began in 1934, you could walk up to the gate and purchase a ticket. That practice continued for years, into the 1950s, when the club was struggling financially and doing all it could to attract spectators, or "patrons." Back then, those who bought tickets were put on a list and Augusta National would send the patrons a letter each year inquiring if they wanted to purchase tickets again. According to Augusta National, it wasn't until 1966 that the tournament was sold out before its start. The patrons list was closed in 1972 and a waiting list was started, but that quickly closed as well. The waiting list was reopened in 2000, then closed again the same year. Badges cannot be willed, so names occasionally do come off the list. Because there is no public sale, a $175 Masters badge, good for all four days of the tournament rounds, is a scalper's dream. A check of Internet sites shows prices listed from $1,500 to more than $5,000. And just getting in to see Augusta National -- tournament attendance is estimated to be 30,000-40,000 per round -- has become such a priority that practice-round tickets, which used to be sold at the gate, are now sold via an annual lottery. That practice began in 1995. Anyone can apply for up to four practice round tickets per day. Those who get them are notified in September and asked to send in payment. Paul Mooney of East Providence, R.I., was one of the lucky ones this year. He attended the Masters 20 years ago when Sandy Lyle won and has been fortunate enough to get practice round tickets four times since. "It's easier to see in the practice rounds, and everything is more calm and relaxed among the players,'' Mooney said Monday as he stood near the first tee. "You get to see them hit different shots, work on things in their game. I was watching Tiger [Woods] down on 11 and he was practicing the shot from where [Larry] Mize chipped in [to defeat Greg Norman in 1987]. He was hitting to where the Sunday pin usually is. "I've been to a lot of golf tournaments, but never to the practice rounds. Wouldn't even think of it. You just don't do that. But this is the tournament where you do it.'' Mooney turned around to see a huge entourage heading toward the Augusta National clubhouse. It was Woods, his coach Hank Haney, Mark O'Meara and at least 10 security guards. Woods had just finished a nine-hole practice round. Lost in the sea of people was another golfer, Australian Richard Green, who played the practice round with Woods and was taken by the scene. "There's a lot of people out there,'' Green said. "A great atmosphere, for sure. Very enjoyable.'' And then he noted just how difficult it is for Woods to even practice. "He's trying to prepare for the biggest tournament of the year and there are constantly flashes from cameras,'' he said. "It's a good experience for me, but it's got to be so distracting.'' Augusta National does not release attendance figures, but many observers feel there are far more in attendance for the practice rounds than are here for the tournament rounds. The lines for restrooms, concession stands and the merchandise pavilion bear that out. "Today was like chaos out there with everything going on,'' said first-time Masters participant Boo Weekley. "There are a lot of people here. There are more people here than there is in my whole hometown. I can tell you that right now.'' An understatement, to be sure. Weekley's hometown of Milton, Fla., boasts approximately 8,000 residents -- which is about as many people as were hanging out at Amen Corner. Those who were looking for souvenirs had their choice Monday. In addition to the standard golf shirts, golf balls, sweaters, hats and jackets were such items as an official Masters USB Flash Device, an eyewear case, binoculars, coaster sets, tees, watches, note cards. Anything and everything Masters. And it's only Monday.
Bob Harig covers golf for ESPN.com. He can be reached at BobHarig@gmail.com.
2008 MASTERS TOURNAMENT


When: Thursday-Sunday, April 10-13
Where: Augusta National Golf Club
Yardage/Par: 7,445 yards; par 72
2007 champion: Zach Johnson
Details: Course | Field | Tee times
More: Past champs | Masters.org
Leaderboard: Follow the action
ESPN TV coverage
April 10
• Round 1: ESPN/ESPN360.com, 4-7; 8-11 p.m. ET
April 11
• Round 2: ESPN/ESPN360.com, 4-7; 8-11 p.m. ET
ESPN Video
•
Van Pelt/North: Who Will Win?
•
Complete Masters video coverage
•
Amen Corner audio slideshow

•
Sunday Conversation: Tiger Woods
•
SportsCenter: Drew Weaver feature
•
Sobel: The aura of Augusta
•
Sobel: Preparing for the Masters
Features/Columns
From Augusta National:
•
Harig: Woods begins Grand Slam pursuit
•
Masters Tournament FOREcaster
•
Harig: Amen Corner is a nervy proposition
•
Harig: Masters Monday is like no other
•
Sobel: Wagner excited about Masters opportunity
•
Harig: Grand Slam has developed over time
•
Harig: Just another Sunday at Augusta National
•
Sobel: Sunday before Masters is peaceful
•
Weekly 18: Questions abound
•
On the Hot Seat: Zach Johnson
•
Harig: Monty's lesson? Play better
•
Alternate Shot: All about Tiger
•
Fact or Fiction: How should players prepare?
•
Fact or Fiction: Should winners reach Masters?
Masters Memories
•
Harig: O'Meara couldn't believe '88 win
•
Harig: Lyle still relishes '88 victory
•
Sobel: Player makes Masters history
•
Sobel: De Vicenzo's '68 gaffe still rings true
•
Harig: Palmer's '58 win still controversial
•
Harig: Past champs share Masters memories
•
'07 E-Ticket: Thompson's walk with his late father
Blogs
•
Sobel: Readers' best Masters stories
•
Sobel: Searching for Masters stories
Podcasts
•
Sobel with Jerry Kelly
•
Harig and Sobel: Weather or not?

•
Sobel and Anderson: Previewing the Masters

Games/Widget Center
•
Putting at Amen Corner
•
Masters Best Ball Challenge
•
Add a Masters widget
More coverage
•
GolfDigest.com's Masters Countdown
•
Golf World Masters preview edition
•
ESPNMag.com: Six words about Tiger
Golf Goes Worldwide
The Masters has an initiative to get people, especially kids, playing, watching and talking about golf. Send ideas.
English language version
•
French
|
Spanish
|
Chinese
|
Japanese
|
Korean
MOST SENT STORIES ON ESPN.COM